Every important American airport, ranked by its food/drink
Everyone has been faced with the same harrowing decision when stuck in an airport: what in the hell am I going to eat and drink now? So, in an effort to help you best sort that out, allow us to present our ranking of every single meaningful American airport's food and drink.
We did it like this: first we broke down every essential airport by the number of planes that fly in, plus region so every state was included. Then we looked up every single restaurant and bar available at each spot, and broke the airports down into four tiers. Once we had the tiers, we went deeper and figured out our proper rankings, paying particular attention to two factors: a) whether the options were unique and illustrative of the foods of that region, and b) the quantity of quality places available. But we tried to weigh the first factor higher, so smaller airports with more local food got more credit than massive places with 85 chains.
Like any piece on the Internet ever, we assume there will be some disagreements, so please illuminate us in the comments. But until then, start booking some flights, and get hungry:
72. Bozeman Yellowstone International
Bozeman, MT
There's the Copper Horse Restaurant and Bistro, and there's the Copper Horse Market, and then there's, well, not really anything else.

71. Jackson-Evers International
Jackson, MS
This past year, my 10:30am plane out of Jackson backed into the grass beside the runway and got stuck in mud. We disembarked, were escorted by US Marshals across the tarmac, and remained stuck in the airport for hours while our luggage was on the plane. When I left at 5pm, I had only eaten a salad that had mustard for dressing and was sold at the newsstand because there are NO DINING OPTIONS in the terminal. There's a bar in the other terminal, which, I imagine, was nice for someone.

70. Des Moines International
Des Moines, IA
On the airport website, they describe all of the food options in a paragraph. A very small paragraph.

69. Wichita Dwight D. Eisenhower National
Wichita, KS
There's a Waffle Bar in the food court before security, so whoever you sucker into driving you to the airport is going to be quite happy while you sit at your gate with the two identical bagel shops and two generic bars.
68. Sioux Falls Regional
Sioux Falls, SD
You only have two options here: SkyDine (specializing in wood-roasted pizza!), or the Wildcat Corner, which has these cool planes from WWI on the ceiling, and "a wide variety of food", which kind of has to be a lie, right?
67. Hector International Airport
Fargo, ND
YOU THINK SOUTH DAKOTA IS THE ONLY PLACE YOU CAN SKYDINE?!?! Those folks to the North also prefer to SkyDine, on top of drinking coffee at Java Classics, beer at Red River Brewing Co., and whatever you eat at Marlin's Express (marlin?). Also, I very much enjoyed watching their namesake city's television series.

66. Eppley Airfield
Omaha, NE
One-sixth of the dining options are Godfather's Pizzas. If you're behind on your Nebraska-based, NY-style pizza chains, that's the one that Herman Cain was CEO of and the one that makes very uncomfortable commercials where a Marlon Brando knock-off threatens to kill you for not liking their pizza. So, there's that.

65. Fort Lauderdale-Hollywood
Fort Lauderdale, FL
Apparently by 2017, this airport will have 25 new food and beverage outlets, including an Anthony's Coal Fired Pizza. But for now, it kinda just seems like they have a Lima-A-Rita bar and one of Jimmy Buffett's myriad restaurants where you can get extremely chill food like a "Cabana Chicken Sandwich".

64. Bradley International
Hartford, CT
Usually when people say, "I'm not trying to brag", they mean the opposite. But I really mean I'm not trying to brag when I say I flew out of this so many times going to school in Hartford, and the only memorable thing about it was the Brooks Brothers in case you'd forgotten pleated business slacks. And maybe the restaurant named after that plane that used to fly to Europe in three hours, but is now retired for safety reasons.

63. Charleston International
Charleston, SC
Charleston is another spot that's undergoing a massive overhaul. But, right now, it's limited to two Sam Adams Bars (at least it's not just one... right?), two quick-service sandwich shops, and a winner called Triple B's, where you can get your fill of bourbon, beer, and burgers starting at 10:30am.

62. Cincinnati/Northern Kentucky International
Covington, KY
They've got a Gold Star Chili, if you want to get that weird chili with the spaghetti and shredded cheese people from Cinci seem to love. And a Chick-fil-A, which I like to point out everywhere. But other than that, the people of Northern Kentucky have to contend mainly with chains, and people asking if it is close to "where Justified is filmed".
61. Jackson Hole International
Jackson Hole, WY
There's only one restaurant in the entire airport: Jedidiah's at the Airport. But they have a 100+ year-old sourdough starter to make their homemade biscuits and pancakes and toast, and mix up Moscow Mules in proper copper mugs and pour Wyoming beers. And since their express location doubles as a gift shop, this is basically a Cracker Barrel run by a grandmother who grew up on a ranch.

60. Yeager Airport
Charleston, WV
The good people of West Virginia get a slight bump up for having a Tudor's Biscuit World, but once you get past Tudor's, you've got Gino's Pizzeria, Kanawha Cafe, and, um, yeah, that's pretty much it.

59. Manchester-Boston Regional
Manchester, NH
Don't worry, friends. There is a Dunkin' Donuts. And a Shipyard Pub, which is, in all seriousness, pretty great. And also two vending machines for snacks. So maybe you should worry?

58. Portland International Jetport
Portland, ME
Since Portland, OR already got the name "airport", Maine graciously offered to take "jetport", which sounds cooler, anyway. And people with jets can eat at Linda Bean's Lobster Cafe and a Shipyard Brewport. But if they want any other food, they have to bring it with them in plastic containers.

57. Louisville International
Louisville, KY
Woodford Reserve Bar & Grill, the only good option, is by the ticket desks. Which is great... if you love showing up at a busy airport obnoxiously early just to get a well-made Manhattan. Otherwise, you're limited to a Quiznos, a Chili's Too, a kiosk, and a bar called Stars of Louisville Sports Pub, which sounds like a glorious neighborhood bar with signed old-school pictures of approximately 13 really amazing basketball players and maybe three horses. But it's not: it's a place where you can order alcohol with your Pizza Hut and WingStreet.

56. Tampa International
Tampa, FL
Do yourself a favor: next time you are visiting your cousins who live in Tampa (NOTE: everyone has cousins that live somewhere around Tampa) -- it doesn't matter if you are in any of the other terminals -- just go to Airside C, and go to Cigar City Brewing. They make some of the best beer in the country. Drink several of their beers. Then maybe go to Shula's Bar and Grill, and talk knowingly about Mark Duper.

55. Norfolk International
Norfolk, VA
James River Grill?!? Phillips Seafood?!? A place called LaTapenade?!?! Yeah, that's about it.

54. Bill and Hillary Clinton National Airport
Little Rock, AR
The food court snags an outpost of national champion BBQ-ers Whole Hog Cafe, and there's an Oachita Brewhouse, which pours local microbrews. So if you hate 'cue, at least all that Arkansas beer'll make your Great American Bagel sandwich taste more exciting than it did at the other 59 airports where you ate it. Or just go to the Oachita Landing that's more restaurant, less booze-heavy.

53. Ted Stevens Anchorage
Anchorage, AK
I wanted to put Anchorage as number one, based strictly on the fact that they have a store called Moosellaneous, but, sadly, they don't even sell food. So just go to Grizzly Pizza and Wings, and get me something nice from the moose store.

52. Orlando International
Orlando, FL
If you took all the fast-food and fast-casual restaurants located on the main street near the mall in a random mid-size town in America and then put them all in one building, you'd have the Orlando airport.

51. Norman Y. Mineta San Jose International
San Jose, CA
Out of the three big airports in NorCal, someone has to be last. Enjoy Red Mango.

50. McCarran International
Las Vegas, NV
Before you leave your hotel, sneak as much Tupperware into the all-you-can-eat buffet and load up. Because, well, there's nothing bad at the airport, but there's also nothing... great. Except for the awesomely-named regional mini-chain Jody Maroni's Sausage Kingdom. So just eat there a bunch and see if they have t-shirts.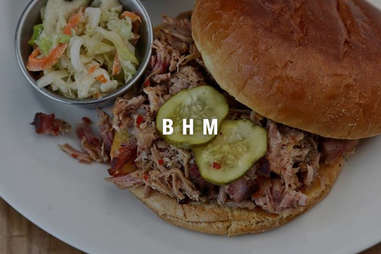 49. Birmingham-Shuttlesworth International Airport
Birmingham, AL
Stuff your pockets with as many Jim 'N Nick's cheddar biscuits before you board, and, if your flight gets delayed, entertain yourself by saying Shuttlesworth three times fast after sitting at Good People Brewing's outpost.

48. Will Rogers World Airport
Oklahoma City, OK
There's a Salt Lick, and it's not often you get to eat some of the best 'cue in the country while you're flying. Unless it's at one of the other, larger, better airports that also has a Salt Lick.

47. Burlington International
Burlington, VT
They only have two places, but their names are the Skinny Pancake and the Chubby Muffin, and they serve local beers and all local food and, oh man, those names! If they end up opening a Moosellaneous too, the world will instantaneously implode.

46. Boise Airport
Boise, ID
Yet another spot that's undergoing a huge revamp, but right now... enjoy that Smashburger.

45. Baltimore/Washington International Thurgood Marshall
Baltimore, MD
Fly Southwest, give yourself the longest layover possible, and go eat as many crabs and oysters at Obrycki's as you can handle. Then shove the rest in that expensive leather luggage you got from your step grandmother.

44. Francis Green State Airport
Providence, RI
Not too shabby Rhode Island: Federal Tavern, another Shipyard Brewpub (they kind of run the small New England airport scene, apparently), a freaking Providence Oyster Bar, and Dunkin'. Plus something called Budweiser Bowtie, which serves "modern American fare", "cold beer", and quite possibly preppy, suds-related neckwear.

43. Albuquerque International Sunport
Albuquerque, NM
I was just there last week. I went to Rio Grande Brew Pub & Grill (which has great green chile chicken stew/soup, delicious sliders, and very solid craft beers). Also, outside of Panda Express, they've got mostly local chains like Comida Buena, Tia Juanitas, and Black Mesa Coffee. Plus, they have this store that sells cactus candy, and a cool statue of a dude chasing a bird. But there's just not enough stuff to move them any higher.

42. Oakland International
Oakland, CA
Terminal 2 (Southwest!) has two full bars (the airport-ubiquitous Gordon Biersch, and the less-so Pyramid Ale Taproom), one of those Vino Volo wine bars, and an Andale. But then we get into serious chain fast-food moves.

41. General Mitchell International
Milwaukee, WI
Did you know that Wisconsin has cheese? And brats? Like, a ton of brats. Go eat ALL OF THEM at Usinger's. You should probably (definitely) buy a cheesehead hat to wear while you eat.

40. Port Columbus
Columbus, OH
Fun fact: Ohio State is in Columbus. And the Columbus airport certainly wants you to know that when they welcome you to the Buckeye Hall of Fame Cafe. Or bypass that, and hit up Columbus Brewing Company, where you can drink solid craft beers and talk about Joey Galloway WHO WENT TO OHIO STATE, REMEMBER?! THAT'S LOCATED RIGHT HERE, IN COLUMBUS!

39. Memphis International
Memphis, TN
If you like BBQ, you're a handsome person, and we respect you, and you may want to check out our list of the best ones in the country. And you'll also be at home in this airport, thanks to their Memphis BBQ/Sam Adams Bar and Interstate Bar-B-Q. They've also got a Memphis City Blues Wine Bar and a place called Sun Studios Cafe, which is surprisingly not a tanning salon.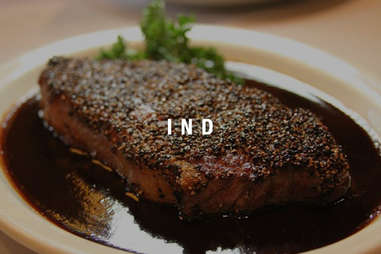 38. Indianapolis International
Indianapolis, IN
In the EXACT SAME WAY racecar beds are infinitely better than normal beds, Indy 500-themed restaurants are better than national fast-food chains. Points docked for only one, Indianapolis International. But things are slightly redeemed with an outpost of Harry and Izzy's Steakhouse -- one of the best in the country -- local burger legend 96th Street Steakburger, and delightfully-named Naked Tchopstix (EDITOR'S NOTE: it's not a Pan-Asian-themed strip club... just a Pan-Asian restaurant).

37. Honolulu International
Honolulu, HI
Aloha! That means hello and goodbye, which is convenient to know when at a Hawaiian airport. And now that we've gotten the small talk out of the way, please enjoy your Lahaina Chicken and Pizza buffet or Kona Brewing or some tropical treats from Lani Moo's, because you don't have a lot of other unique choices. Aloha!

36. Detroit Metropolitan Wayne County
Detroit/Romulus, MI
Back in 2007, Detroit's concessions won ALL KINDS OF AWARDS. But I'm fairly certain the Michigan Sports store netted that win, not the boulevard of fast-food chains. So go buy your Vinnie "The Microwave" Johnson jersey so you look cool eating at the local spot: National Coney Island.

35. Louis Armstrong New Orleans International
New Orleans, LA
"The Pelicans tip-off at the Smoothie King Center tonight" is a weird sentence people in New Orleans can now say since their NBA team is no longer the Hornets and since that pureed fruit king bought the arena's name-rights. Now that you're up to date, you can think about fun basketball news while you walk past that locally-based chain at the airport and go have even more po'boys and beignets and to-go beers than you already had while in NOLA.

34. Buffalo Niagara International
Buffalo, NY
When we first started doing research, I thought B-lo was going to be one of those ones near the bottom and I would make timely Thurman Thomas and Don Beebe jokes, and we'd all go home and play NHL '94 as the Sabres. But then I saw Anchor Bar! The originator of spicy wings! And "Red Osier beef sandwiches"! And Queen City Kitchen! And Which Wich sandwich shop! And I suddenly realized that the good people of Nickel City have a relatively underrated airport.

33. Cleveland-Hopkins International
Cleveland, OH
Lebron and Johnny Manziel's favorite airport has two really big things going for it: Great Lakes Brewing and their secret weapon: Obrycki's, which is actually a famous Baltimore crab shack, with ridiculously delicious crab cakes. They've also got a Winner's Sports Bar for Brian Hoyer, and a Quaker Steak and Lube, which just seems like it was named by a hilarious, pun-savvy 10th-grade boy.

32. Dulles International
Washington, DC
Fly through at this time next year and you'll have a Chef Geoff's, Bar Symon, and District Chophouse and you can feel fancy while you eat in one of the most suit-filled airports int he country. But for now, there's Potbelly, Matsutake Sushi, another Potbelly, a Five Guys, and, well, another Potbelly.

31. Ronald Reagan
Washington, DC
Like Dulles, but add in a Ben's Chili Bowl, so you can eat a half smokenot on U Street and not at 2am.

30. Chicago Midway
Chicago, IL
Do you know Manny? Because he has a deli here, and it's not bad.

29. Lambert-St. Louis International
St. Louis, MO
STL has a few strong moves, like St. Louis Brewmasters Tap Room, Schlafly Tap Room, and Mike Shannon's Steaks and Seafood, which is NOT a tap room. They've also got Grounded in St. Louis, which is actually a burger place and not just a play about Chingy getting caught breaking curfew. But after you get tired of hanging in tap rooms and making '90s rapper jokes, you're left with a whole bunch of chains.
28. Pittsburgh International
Pittsburgh, PA
They're the only airport IN THE WORLD that has Michael Symon's damn good Bar Symon (for now), so that is reason enough to make them at least middle of the road. They've also got a Burgh Sportz Bar, which brings up a small editorial point: at what point in planning a name for a restaurant/bar do the marketing people start to think that simply adding a "Z" is the answer?

27. George Bush Intercontinental
Houston, TX
Yes, Cat Cora has a spot in here, as do the Texas-ubiquitous Pappas brothers, with Pappadeaux Seafood Kitchen. But the main reason we're even talking about an airport named after the guy Ann Richards once said was born with a silver foot in his mouth is because of Houston's legendary Shipley Do-Nuts. Go there, and get eleventy kolaches. AND NO, I DON'T CARE IF THAT'S NOT A REAL NUMBER!

26. Miami International
Miami, FL
You can get epically caffeinated on Cuban coffee at Cafe Versailles or eat actually amazing ropa vieja at Ku-Va or you could go on a multi-hour fast-food restaurant crawl and cover every major brand in America. It's like a "Choose Your Own Adventure" book that ends with burgers, rather than being trapped in an attic by a voodoo priest.

25. Salt Lake City International
Salt Lake City, UT
The city's High West Distillery is the first place to make booze since the 1800s in the very not-boozy state of Utah, which just generally makes them sassy, but THEN you find out they're one of the best craft distillers in the country, and they have a spot in the airport that you can just walk to and drink at instead of skiing up to the real location, because it's hard to ski after drinking craft whiskey, and suddenly you find yourself inexplicably flying through Salt Lake City ALL THE TIME and not even caring that their NBA team is named the Jazz despite being in place that seems like they'd actively ban that kind of music if they could.

24. Hobby
Houston, TX
If you hate food from the Pappas brothers, don't fly out of Hobby. Otherwise, the world/airport is your Tex-Mex, seafood, burger, and Bar-B-Q-filled oyster.

23. Kansas City International
Kansas City, MO
Important things first: there's a spot called Missouri Vineyards that specializes in... Missouri wines. Which you may not have known existed. Also great: there are two outposts of Boulevard Brewing Co. The sad news: there's no BBQ in this airport, and HOW CAN PEOPLE BE EXPECTED TO FLY THROUGH KCI HAPPILY WITHOUT BURNT ENDS?

22. Charlotte/Douglas International
Charlotte, NC
I regularly fly through Charlotte and couldn't remember any food or drink options before starting research. I think the lesson here is this: rocking chairs and excessive windows improve airport happiness. So thanks for that, CLT. But Carolina Beer Co. and Taste of Carolina, a place that serves NC microbrews with, obviously, California Pizza Kitchen, also help, as does a Carolina-style BBQ spot. Because BBQ and beer are also improved by rocking chairs. It's science.

21. San Antonio International
San Antonio, TX
Sure, you can dance with "Macho style" burritos from Las Palapas or a craft beer at Alamo City Microbrewery, but why do any of those things when you could just go to Iceman Gervin's Sports Bar, which has amazingly hilarious basketball-based names of pub foods, like a Slam Dunk turkey sandwich, Base Line nachos, and a Nothing but Net club sandwich. Though I'm still patiently waiting for their Danny Green Eggs and Ham.

20. Raleigh-Durham International
Raleigh, NC
You know how that girl you vaguely knew in high school went to Chapel Hill and was all nervous because Southern schools are all about that frat life and she wasn't a legacy so she was all nervous, but she put on her pearls and totally did the best with what she had and got in a top-tier house and now has totally mastered the monogrammed-everything lifestyle? Well, the Raleigh-Durham Airport doesn't have much, y'all, but it's TOTALLY working it. 42nd St. Oyster Bar and a Carolina Ale House -- two of The Triangle's major restos -- are here, plus Brookwood Farms BBQ, Carolina Vintages, and, since this is an airport after all, a Gordon Biersch.
19. Philadelphia International
Philadelphia, PA
There are 86 restaurants in the Philly airport. But really, there are only three you should focus on, while locals pelt you with farewell batteries: Tony Luke's, of course, because cheesesteaks; Chickie and Pete's for crab fries that will make you very unpopular-smelling on your flight, and Smashburger, for whatever it is they serve.

18. Logan International
Boston, MA
Assuming you're not flying on Virgin and stuck in that little satellite terminal where the security people actually warn you to go get something to eat elsewhere before going in, you've got some good local Boston options: a Harpoon Tap Room, a Cisco Brew Pub, Boston Beer Works, Lucky's, Game On, and THOSE ARE JUST THE BARS. There are also a bunch of Legal Sea Foods, which makes the chowder for the Presidential Inauguration, Todd English's Bonfire, and Stephanie's, the original of which is a fancy Newbury spot where ladies enjoy brunching in pink Sox caps and speculating about Julian Edelman's relationship status.

17. Phoenix Sky Harbor
Phoenix, AZ
Sky Harbor has one of our favorite breakfast spots IN THE COUNTRY in Matt's Big Breakfast (get the salami scramble or one of those Belgian waffles with sweet cream butter or even the Frosted Flakes, which come with banana, nicely). Want beer instead? Go to Four Peaks. Actually, just want pie? WHY ARE YOU ASKING FOR SUCH SPECIFIC THINGS? Well, that won't work, because Humble Pie is actually a pizza joint. In fact, I could maybe move into Terminal 4, and live there like Tom Hanks in that movie no one liked.

16. Sacramento International
Sacramento, CA
I once flew into here, and was expecting nothing. Maybe a Cinnabon and at least one place to get a pretzel dog. But when I got into Terminal B there were all of these non-chain offerings, like Cafeteria 15L (American comfort cuisine!), Jack's Urban Eats (sandwiches!), a Burgers and Brew (um, burgers and brew!), and I realized that you can't judge an airport by its city's status as that place where you're like, "Wait, that's the capital?"

15. Seattle-Tacoma International
Seattle, WA
SEA-TAC is a fun airport to say aloud. It is also one of the only airports that seems to have a theme, and that theme is "You're not in an airport, you're actually in a mildly chill ski town". So enjoy the Mountain Room Bar or, perhaps, Alaska Lodge or Bigfoot Food and Spirits. Or if you prefer to go off-theme, Beecher's Handmade Cheese, the Seattle Taproom, and Dungeness Bay Seafood House will do just fine.

14. LaGuardia Airport
Queens, NY
Once this multi-billion dollar remodel goes through, LaGuardia is destined to be the Pippa Middleton of New York airports (hotter, but less famous?), but, until then, it still has some decently underrated moves, like a Five Guys, Todd English's Figs, Bowery Bay Tavern, and Six Blocks Bakery, which slings baked goods from Balthazar.

13. Austin-Bergstrom International
Austin, TX
Twenty-three times a week, there are live music acts playing in the Austin airport. Let me repeat that: more than three times a day, you can see free, live music at Ray Benson's Roadhouse, Earl Campbell's Sports Bar, or Annie's Cafe & Bar while waiting for your flight. And that's on top of getting to eat BBQ (or tacos!) at Salt Lick, Tex-Mex at Maudies, and ice cream at Amy's. Now if they just added a few more options (and maybe a Moosellaneous), they'd be sitting in the top spot.

12. Chicago O'Hare
Chicago, IL
Rick Bayless. Tortas Frontera. Perhaps the single greatest airport restaurant in the country. It's too bad most of the other options are just Chili's Toos, Romano's Macaroni Grill, and a strange lounge called Ice that looks like it belongs in Miami.

11. Minneapolis-St Paul
Minneapolis, MN
I was entranced mostly by the Shoyu Ramen. And then the selection of sandwiches and wine at Surdyk's (a 78-year-old classic MPLS liquor store). And also Andrew Zimmern's Sloppy Ko 'wich at Minnibar (get it? No? Nevermind.). And maybe the pints of Surly at Mill City Tavern. And fine, also the pizza at Vero. And the mussels and fries at Mimosa. BUT WHERE ARE THE JUICY LUCY'S?!!?
10. Hartsfield-Jackson Atlanta
Atlanta, GA
ATL could've just populated their airport with 97 Chick-fil-As that are open on Sundays and maybe a few self-serve Coca-Cola stations like in the basement of the World of Coca-Cola museum, but they went SO MUCH FURTHER with Southern/Asian One Flew South, which might actually be one of the best restaurants in the whole city, an Ecco outpost, an airport rendition of 60+ year-old soul spot Paschal's, LowCountry, and, well, a few Chick-fil-As that are not open on Sunday.

9. Nashville International
Nashville, TN
Nashville requires a game plan, but it's damn worth it. First, go to the Yazoo Beer Kiosk; get their pale ale or the Sly Rye Porter if it's there. Then, go to Whitt's for a pulled pork sandwich. Eat that, wash it down with your beer, and get another. Then, go to Swett's for the full meat-and-three experience from one of the icons of that institutional Southern lunch. Be sure to get okra. Get another beer. Get some pie from Swett's. Have an extra piece of pecan pie for me. Take a nap somewhere. Then see how Jack Daniels pairs with a piece of challah from Noshville.

8. Denver International
Denver, CO
Considering you're legally allowed to get Rocky Mountain high, this place is a delight, and not just because Steve's Snappin' Dogs hot dogs are "delivered directly from New Jersey". They've also got a Boulder Beer Taphouse, a New Belgium Hub, Ben & Jerry's, an outpost of Denver's incredible Root Down, some sort of Russian coffee place, and Elway's, because no airport is complete without a restaurant or bar from someone who played or coached local professional sports.

7. San Diego International
San Diego, CA
Because my father resides here, I've probably flown into this airport upwards of 100 times. And until last year, it would've been somewhere near the very bottom in food and drink. But then they did a very fancy renovation, and now the Whale's Lady Parts airport is a food/drink powerhouse, thanks to a bunch of kick-ass spots like Phil's BBQ, Bankers Hill Bar, a place by Stone Brewing, a Counter, and even a PGA Tour Grill! Apparently golfers eat the sh*t out of shrimp & mahi ceviche and vegetarian crispy kale, avocado & hummus!

6. Portland International Airport
Portland, OR
You'd expect Portland's hipster obsession with local foods to come through in their airport, so you shan't be surprised that, this year, they opened nine new restaurants and a local food carts section, including Pok Pok and Koi Fusion. On top of those, they've got a ton of other local options, like Rogue and a Laurelwood Public House and Brewery, Gustav's Pub, and Beaches, which is likely named after that emotionally crippling Bette Midler movie.

5. Newark Liberty International
Newark, NJ
First of all, congrats Newark! You beat LaGuardia. Now turn towards Grand Central Oyster Bar and Gallagher's Steakhouse, two of the biggest old-school culinary spots of Manhattan, and buy them a few Crumbs cupcakes to say thank you.

4. JFK
New York, NY
​JFK not only runs a lineup of some of the biggest chef names in NYC, but it manages to spread it out through terminals. You can get an Andrew Carmellini 'wich at Croque Madame, American eats from Marcus Samuelsson's Uptown Brasserie, or, well, a beer at Laurent Tourondel-planned BKLYN Beer Garden. There's totally trippy, blue-lit sushi spot Deep Blue and actually good steakhouse 5ive Steak, tapas from a chef who runs one of Chelsea's best Basque spots, and a bistro from former Minetta Tavern chefs. Shake Shack has TWO locations, and they don't even skip on the regular stuff: there are two airplane-themed concretes. There's even a Balducci's if you want to grab food to go. So, what we're saying is, if you're coming to NYC just to eat, you may not need to leave the airport. (But you should, because that's just sad otherwise.)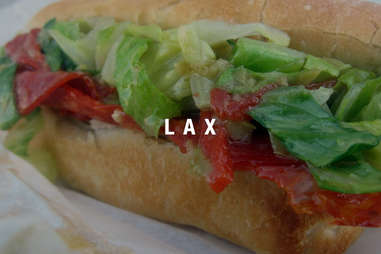 3. Los Angeles International
Los Angeles, CA
Just mentioning LAX tends to evoke a strong reaction from people. They hate it because it's spread out, and they had bad experiences getting through the maze of security; or they love it because one time they saw Ed Begley, Jr. there, and he gave them a fist bump. But, in terms of food, it's hard to argue with some of the finest options of any airport. Like the fantastic sandwiches at ink.sack; the seventh sensation-packed bombs at Umami Burger; the Pork, Pork, Pork Burger with romesco and manchego at The Larder at Tavern; super-fresh sushi and sake at Lucky Fish; Neapolitan-style pizza at 800 Degrees, and even a damn caviar and Champagne bar, because, like I said before, LAX kind of needs you to love it or hate it.

2. San Francisco International
San Francisco, CA
This is my home airport, so naturally I am biased and wanted it to be number one. After all, if anyone has been to Terminal 2 in SFO, they know it is the greatest place on Earth to spend a couple of hours, outside of the White Hut in Springfield, MA. And sure, I could go name dropping all the restaurants (Burger Joint, Lark Creek Grill, Napa Farms Market, Plant, Wakaba, Cat Cora, etc.), but we should likely focus on the fact that they've just opened a Centurion Lounge in Terminal 3. And though it is annoyingly only open to American Express card members (WHERE IS THE DISCOVER CARD LOUNGE!??!), it is likely the biggest deal airport restaurant of all time, with food from the three Michelin star-winning chef from The Restaurant at Meadowood, drinks from Jim Meehan from PDT in NYC, and wine from Food & Wine's Anthony Giglio. That sort of star power would be headline news for food blogs in any city, so the fact that it's happening at a freakin' airport is ridiculous. But then again, so is the food scene at SFO.

1. Dallas/Fort Worth International
Dallas, TX
Trust me, friends. We were just as surprised as you were when we came to this decision. Flying through DFW always seemed like a hassle, the unintended consequence of having to switch planes while on an American Airlines flight. But then you see what they've got: four BBQ spots (including Ft. Worth legend Cousin's); eight Mexican spots (Urban Taco, Pappasitos' Cantina); eight bars (Belgian Beer Cafe), plus Sky Canyon from Dallas legend Stephan Pyles, and even a damn cereal restaurant. And they've got the popular chains too, if you prefer them, but why make that mistake when you can plan your own damn BBQ and beer crawl through an airport?
Kevin Alexander is Thrillist's Food/Drink executive editor and plans to open a Moosellaneous store in at least 71 more airports. Follow him to their franchising page: @KAlexander03.
Liz Childers is Thrillist's Food/Drink associate editor and has never met a meal eaten in a rocking chair in an airport that she didn't like. Follow her to hyper-specific dining locations: @lizchilders1.