The Absolute Best of Anthony Bourdain on Netflix Right Now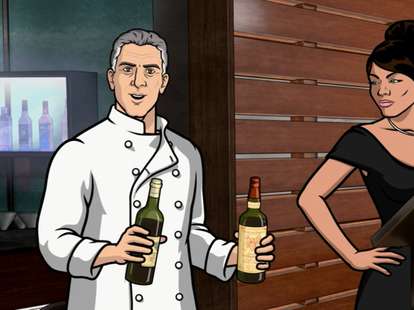 The Mind of a Chef: "Noodle"
Season 1, Episode 1
Though Mind of a Chef only actually features Bourdain's voice -- as the narrator -- he's a producer on the critically acclaimed PBS series, and that classic Bourdain-ethos manages to shine through in the overall look and feel of the show. Each season of the series brings in a different chef to shepherd the viewer through the surprisingly complex and always fascinating world of food, drink, and cooking. Season 1 -- which teams Bourdain up with friend and fellow chef David Chang -- is the best place to start, naturally.

Parts Unknown: "Copenhagen"
Season 2, Episode 4
Bourdain visiting the Danish city and (DEBATABLY) the food capitol of Europe, dining at what's consistently rated the World's Best Restaurant, and exploring the cultural and pastoral beauty of Scandinavia? How could this not be one of Tony's best? Though early on, he states, "I am intimidated and made uncomfortable by safe, clean, orderly places where everything works and people seem creepily content," in regards to Scandinavian countries, he changes his tune quickly after a few courses at Noma. And we are all better for it.
Parts Unknown: "Tokyo After Dark"
Season 2, Episode 7
Bourdain has long sung the praises of Japanese cuisine and culture, but this episode from the second season of Parts Unknown explores the darker side of Japan's capital city in one of the series' (ironically) lighter and funnier episodes. It focuses on Tokyo's idiosyncratic and kind-of-pervy nightlife. There are plenty of local dives, excessive drinking, and of course, giant technicolor seizure-inducing fighting robots.
Parts Unknown: "Congo"
Season 1, Episode 7
"It is the most relentlessly f***ed-over nation in the world, yet it has long been my dream to see Congo. And for my sins, I got my wish." This is how Bourdain's raspy, New Yorkian voice opens up the seventh episode of PA's inaugural season, set in the Congo region of Africa, and heavily tinged with Heart of Darkness references. Like Joseph Conrad's classic allegorical novel, the region and culture Bourdain explores is intricately complicated, at times frustrating, and exudes danger. This episode set the bar high early on in Parts Unknown's run -- and remains one of the series' best.
Parts Unknown: "Iran"
Season 4, Episode 6
Like Congo before it, the Iran episode of PA did what Bourdain's shows do best: taking on broad, political, and socio-ecological issues through a lens of food and culture. For a country that has occupied so much of the West's headlines over the past few decades, in general, Americans (myself included) know shockingly little about Iran. Not only does this episode shed light on the country, it exposes what life is really like for Iranian people. It's a must-see.
The Layover: "New York"
Season 1, Episode 2
The Layover's premise is basically letting the consummate traveler, Mr. Bourdain, loose in a city to attempt to squeeze a meaningful cultural experience into a 12-30 hour time window. Despite the fact that most real people spend their layovers huddled over $12 beers at the airport bar, The Layover is a quirk-filled spin on Bourdain's more famous travel shows. Here, he hits his hometown of NYC in rapid-fire style, focusing on down and dirty accessible food and drink spots. It's a viable game-plan for real-life tourists. There are so many hot dogs.
Parts Unknown: "Charleston"
Season 8, Episode 8
Aside from profiling one of America's (vastly underrated!) food meccas, and doing his usual Bourdain-thing (eating, drinking, culture, etc.), this episode features Tony breaking bread with Bill Murray. Yep, that Bill Murray. This scene alone is worth the price of a Netflix subscription and justifies the existence of the Internet, overall.

Parts Unknown: "Massachusetts"
Season 4, Episode 7
The Massachusetts episode eschews the trappings of Boston, and instead turns its lens on areas like Provincetown -- sentimentally, as this was the spot of Tony's first cooking gig -- and then rural Franklin County to explore New England's devastating heroin epidemic. This episode focuses less on food than most (don't worry -- there's still food and drink aplenty) but remains one of the more memorable episodes due to its heavy (but important) themes and Tony's personal ties to the area.
Archer: "Live and Let Dine"
Season 4, Episode 7
International super-spy and Thrillist contributing author Sterling Archer, convinced Bourdain to trade in his third dimension for cartoon digs -- and the result is a very Gordon Ramsay-esque demanding head chef (voiced by Bourdain, if you didn't get it by now) that actually whips the bumbling man of mystery into a competent chef. It's fun!
Parts Unknown: "Thailand"
Season 3, Episode 7
Tony drinks. He eats late-night street food with Chef Andy Ricker. He gets a tattoo. This is Bourdain at his most Bourdain-iest. If aliens landed on earth, and demanded a 43-minute example of our finest travel/food program -- this episode of Parts Unknown is the prototype. It's a great place to start for beginners, and a welcoming, entertaining hug for long-time fans.
The Layover: "Atlanta"
Season 2, Episode 4
Until you've streamed footage of Anthony Bourdain and a bow-tied Alton Brown at an Atlanta strip club in the office on your company-provided laptop, you haven't truly lived. Trust me.
Sign up here for our daily Thrillist email, and get your fix of the best in food/drink/fun.

Wil Fulton is a staff writer for Thrillist. Personally, he'd like to see Bourdain spend an hour walking around Whole Foods. Follow him: @wilfulton.