When you're confronted with a buffet of juicy apples in the produce aisle, it's tough to know which to buy. Do you go with the apples you already know? Or them apples that Matt Damon is always shouting about?
We consulted with produce experts to steer you towards the best stuff on the shelf.
The apple pickers
To help educate apple shoppers everywhere, we stopped by Whole Foods Headquarters in Austin, TX and had produce gurus Carol Medeiros and Travis Nordgren rank their favorite apples on the shelf.
These are the tastiest apples (for now)
Apples are very seasonal and regional, so these aren't what you'll see everywhere, and the taste can vary from day-to-day, so just because one placed low on our list doesn't mean it's a rotten apple. Our experts assured us they'd devour just about any apple on the shelf, these are just the cream of the late fall crop.
So keep reading to find out exactly how our tasters liked... them apples.
10. Jonahgold
Even though it came in at #10, that doesn't mean the Jonahgold is the Jonah Hill of apples (Superbad!), it's just a little past peak season. There's still some sweetness, but the one they tasted was a tad mealy.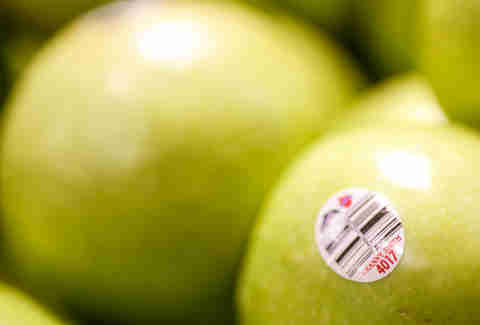 9. Granny Smith
Named after an actual Australian Grandmother who developed the apple variety in the late 1800s, the Granny Smith is an ideal baking and juicing apple, but not as great for regular eating, as the thick exterior leaves you with a mouthful of skin.
8. Roxbury Russet Heirloom
"Roxbury" like A Night at the, "Russet" like the potato, and "Heirloom" like really old. This was the first American apple variety, and it's characterized by dry, bitter flavors that contrast a buttery texture.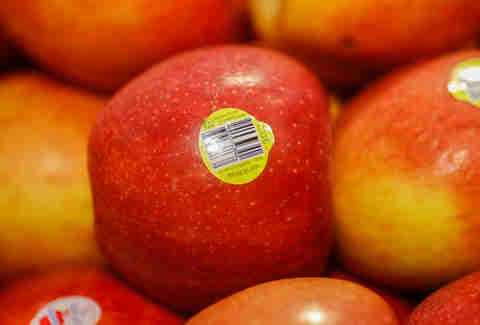 7. Braeburn
The child of Granny Smith and parent of Jazz (which they'll talk about later!), Braeburns' most significant characteristic is the satisfying snap you get when you bite into it. Its dense texture and tartness led our experts to describe it as "zippy".
6. Gala
Renowned for its incredible sweetness and softer texture, the only apple more popular with consumers is the Red Delicious. What they're saying is, "You'll have a real ball when you eat a Gala!" Sorry.
5. Honeycrisp (Washington)
This apple's incredibly suggestive name is actually an accurate description of the flavor. The Washington-grown version blasts you with tartness, but finishes with a honey-like sweetness.
4. Fuji
The most famous of the Japanese-bred apples (there are actually several), Fuji was called the perfect eating apple by our tasters because, in addition to sweetness, there's something indescribably sassy about it. And our tasters like their apples to have a little attitude.
3. Pink Lady
In some ways you can tell an excellent apple just by slicing it. When cutting into a Pink Lady you hear a satisfying crunch and a little juice drips on the knife. The density and intense tart aftertaste mean you don't want this for baking, but it makes for an excellent everyday apple.
2. Honeycrisp (New York)
The New York-grown Honeycrisp is similar to its West Coast counterpart, but is a much wilder ride. The flavor changes dramatically throughout chewing, starting with sweetness, followed by a tart kick, and closing with an even sweeter finish.
1. Jazz
Developed in New Zealand (probably by Hobbits), the Jazz apple should really be named the Crazy Delicious. It's so sweet it doesn't even taste like fruit -- it's more like dessert. The dense flesh is similar to the Braeburn (of which it's derived), and each bite gushes with juice.
It's so good that even if someone asked you about them in an aggressive Boston accent through the window of a diner, you'd have no choice but to admit that you like... them apples.
Dan Gentile is a staff writer on the National Food and Drink team at Thrillist. He'd like to personally apologize to every apple that's sat neglected on his counter, quietly bruising in boredom. And also for the Good Will Hunting jokes. Follow him to more fruits named after music genres at @Dannosphere.