Fancy Balsamic Vinegars You Need in Your Pantry
Modern, high-quality vinegar brands are innovating the versatile kitchen condiment that has been around for centuries.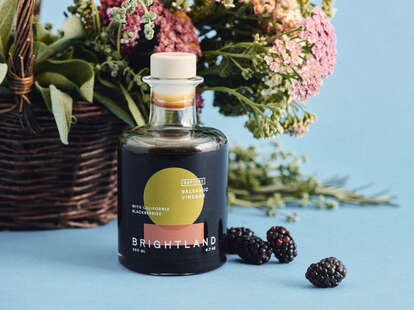 "Rapture" Balsamic Vinegar

| Photo courtesy of Brightland
"Rapture" Balsamic Vinegar

| Photo courtesy of Brightland
Balsamic vinegar isn't a new kitchen staple. You probably have a bottle of it sitting at the back of your pantry right now. Originally hailing from Italy, it's one of the most dynamic culinary products on the market, thanks to the endless ways it can be utilized in recipes, from adding it into cocktails to glaze reductions to, sure, that "healthy Coke" trend.
These are all perfectly fine uses. But that bottle you have sitting on your shelf might not even be balsamic vinegar at all. Low-quality and imitation vinegars lurk on grocery shelves. There's still a place for this kind of product, but its lesser quality means it's best used for cooking. It's the good stuff we want.
Recent launches by small, innovative companies are finally breathing a fresh life into the centuries-old product—and inspiring home cooks to see balsamic through a brand new lens.
Balsamics of the highest quality have a much simpler original purpose: a drizzle. Best used for adorning fruit or sharp cheese—even consumed like an aperitivo in Italy on special occasions—these are known as Aceto Balsamico Tradizionale in the "D.O.P.," or Denominazione di Origine Protetta, grading system. This means that the contents of that bottle can be sourced back to the Italian regions of Reggio Emilia and Modena, and contain only grape must, which is a mixture of the fruit's juice, skin, and seeds, which is then barrel-aged.
Aceto Balsamico Tradizionale can easily set you back between $150–350. More accessible balsamics, called "condimento" or ones labeled with "I.G.P." for "indicazione geografica protetta," are most likely what you'll be looking for. Both connote that the vinegar was produced and aged in the region, but the grapes may have been sourced from elsewhere.
"I was blown away when I first tasted true balsamic vinegar from Modena," says Sardel Kitchen founder, Daniel Kamhi. "The taste was so different from the cheap, imitation balsamic vinegars you find on most grocery store shelves. I wanted other people to experience the difference."
Through his organic balsamic, Kamhi is hoping to open the door for more people to discover the true range and versatility of the flavorful vinegar.
"Consumers are starting to pay more attention to ingredients that used to be afterthoughts— things like olive oil, vinegars, salts and spices. They want high-quality ingredients in their kitchens, and they take pride in knowing where these products are sourced from, and how they're made," he says. "Balsamic vinegar is a perfect example of such a product, and the taste difference between the good and bad is so substantial that once your eyes are open to it, you don't look back."
Kamhi isn't the only one catching onto consumers' newly heightened awareness of quality, or their search for something new and exciting to bring into their kitchens. That's why, from balsamics made from roasted vegetables to bourbon barrel-finished vinegars and more, we're rounding up some of the most shelf-worthy bottles you should be stocking up on now.
Stock your pantry with fancy balsamic vinegar
Sardel's Organic Balsamic Vinegar
Family-run business, Sardel is actually known for their high-end cookware, for which they partner with a small, multi-generational manufacturer in Italy to create. Their balsamic vinegar is no different, utilizing partners in Modena, Italy that have been producing the stuff for three generations. The end result is an organic, high-quality product with no additives, with a rich flavor that can be used to finish anything from a caprese salad to a fresh bowl of pasta.
Brightland's "Rapture" Balsamic Vinegar
When Brightland first came on the scene in 2018, the olive oil category was ripe for disruption, and the brand quickly gained a following for their delicious—and aesthetically pleasing—bottles of extra virgin olive oil. The women-owned brand is now known for out-of-the-box releases, including artist series bottles and flavored oils. The company's foray into balsamic vinegar is rich in fruity flavors. "Rapture" is double-fermented on a family-run farm in California's Central Coast using champagne and zinfandel grapes, navel and valencia oranges, and ripe triple crown blackberries.
Acid League's Roasted Vegetable Balsamic
Leave it to Acid League, a company founded by two vinegar-obsessed food scientists, to create this intensely savory spin on a classic product. Vegetal and aromatic, this balsamic vinegar is made not with grapes, but roasted red pepper, sauteed onion, carrot, and celery. The result is a highly versatile product with a deep, caramelized onion flavor that'll make you want to pour it on all your roasted vegetables dishes, meat marinades and more.
George Paul Vinegar's Emilia Balsamic
While many balsamic vinegars try to hide behind the guise of an "Italian product" to entice buyers, this family-run business in the Sandhills of Nebraska has proudly been making small batch American balsamic vinegars since 2008, using local grapes. "Emilia" is named after the owner's daughter, who handmakes the pressed letter labels for each bottle. Rich and mellow with not too much sweetness, their balsamic vinegar should be used as a finishing agent, and can even be sipped as the Italians do.
San Giacoma Balsamela Apple Cider Balsamic
This organic balsamic vinegar is produced at Acetaia San Giacomo, the balsamic version of a distillery, located in the Reggio Emilia region of Italy. That is where Andrea Bezzecchi oversees the production of aged balsamic vinegar, from their original Aceto Balsamico Tradizionale di Reggio Emilia to this unique version, created by the direct firecooking of organic apple juice and apple vinegar. The deeply syrupy, fruity vinegar is great drizzled over cruciferous vegetables like kale and Brussels sprouts, soft cheeses like ricotta and goat, or on top of ice cream.
Queen Creek Bourbon Cask White Balsamic Vinegar
Queen Creek is a family-run olive mill in Arizona, known for their award-winning small batch extra virgin olive oil. While they also make a classic white balsamic, produced in Modena, this version that they finish in bourbon casks adds a whole new dimension of flavor. For the unfamiliar, white balsamic is created from the same grape must, but pressure-cooked rather than simmered, and aged for a shorter amount of time, resulting in a brighter, less syrupy flavor.
Austa Somvichian-Clausen is a freelance food and travel writer, who lives in Brooklyn with her girlfriend and two fur babies.