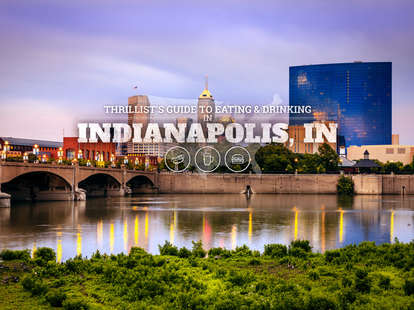 Shutterstock/Alexey Stiop
Shutterstock/Alexey Stiop
Indianapolis struggles with its chain restaurant reputation, but beneath the hazy cloud of neon, there's an expanding list of independently owned restaurants that can compete nationally, a growing cocktail scene, and a slew of Indy's signature mammoth-sized breaded pork tenderloin sandwiches. But also, there's a LOT of fast food underneath that neon, so, to help you navigate the maze, these are the locals' favorite spots to eat and drink in Indy.
Mass Ave
Why you're here: Gastropub fare, a communal table, and excellent cocktails
What you're getting: The daily pickle plate and the Black Market burger are always solid, although Chef/owner Micah Frank's salads are good enough to tempt any carnivore. If you spot a pork chop on the dinner menu, go for it -- although we might be swayed by the rabbit and dumplings. Dessert? Don't pass up the salted chocolate brickle.
Fletcher Place
Why you're here: Brunch and booze in the buzz-worthy Fletcher Place neighborhood
What you're getting: We love Milktooth for its atypical brunch. Get a toasted house-made bialy and sorghum-glazed bacon. Or a Dutch baby cornmeal pancake with peach-amaro jam. Or maybe sweet-tea fried chicken or beef tartare with steak frites.
Downtown
Why you're here: For a business lunch or a date-worthy dinner
What you're getting: A bento box lunch with a main and three sides, like, oh, say, wild salmon with asparagus, chorizo potato salad, and squash bisque. For dinner? Gorgeous and delicious food with a modernist influence. And don't skip dessert. Really. Just don't.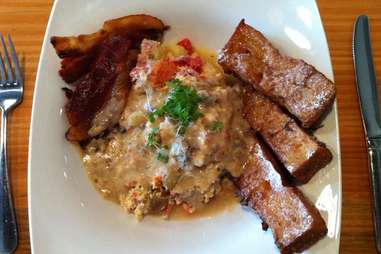 Fletcher Place
Why you're here: Come for the creative menu and cool vibe. Stay because you get the literary reference to Indy native Kurt Vonnegut.
What you're getting: Bread, olives, and oysters from the snacks menu or a few items to share from the small-, medium-, and large-plates list. Maybe radish crudo, chicken liver pate, and a papardelle beef Bolognese. And about that bread: they're Italian-style hearth-baked loaves made at the adjacent Amelia's bakery.
Downtown, Meridian-Kessler, Keystone at the Crossing, Carmel, and the airport
Why you're here: For everything from business meetings to breakfast or a Bloody Mary-laden brunch
What you're getting: Breakfast stars here with omelets made with locally sourced ingredients (try the Hippie with a Benz), killer cinnamon toast, broken-yolk sandwiches, and salads -- and lots of coffee. Or maybe prosecco. Or locally brewed Sun King beer.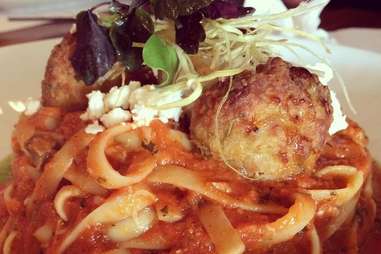 Northside
Why you're here: For date night or to share starters with friends in the restaurant's Kitchen Nook
What you're getting: Whether it's meatloaf, shrimp with wild boar, or duck confit, food from James Beard semifinalist Chef Steven Oakley is going to be delicious and beautifully presented. And whatever you're having, add on the butternut squash soup and the mac & goat cheese pesto side. Too pricey? The Kitchen Nook menu offers plenty of shareable small plates.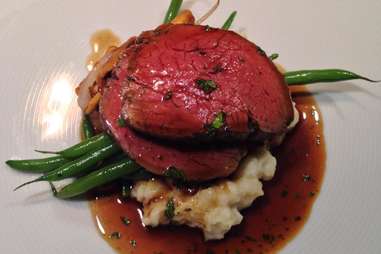 SoBro
Why you're here: To experience Chef/owner Greg Hardesty's food in his "culinary playground"
What you're getting: Whatever the James Beard semifinalist chef is serving: it's a four-course, prix fixe menu in the $60-per-person range, and the only options might be a choice between the beef or the lamb and whether you want the wine pairing. (You do.) For a few less pricey a la carte options, head next door for tacos or a burger at Hardesty's adjacent Room Four.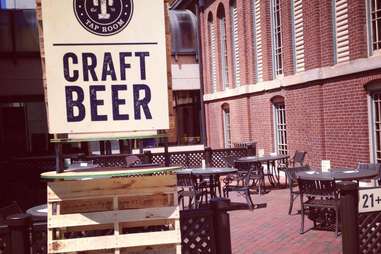 Downtown
Why you're here: An all-Indiana beer list
What you're getting: It's a good bet you'll find a Sun King or a 3 Floyds brew among the 16 Indiana taps, but check out smaller local breweries as well, such as Scarlet Lane, Two Deep, or Chilly Water. For food, order bacon fat frites, mac and cheese, or beer can chicken nachos from Circle City Soups, located just downstairs in the City Market.
SoBro
Why you're here: It's a neighborhood bar that was a setting in the coming-of-age book and movie Going All the Way
What you're getting: Go ahead and have a Stroh's -- no one will disapprove in this old-school tavern. There's also locally brewed Sun King too, which goes nicely with a burger and potato salad. But be sure to bring cash (or hit up the handy ATM) and mind your manners. Longtime owner Russ Settle, who passed away in 2010, had a few house rules that are still in effect. So keep your feet off the chairs and be sure to hang up your coat. And if you see Going All the Way author Dan Wakefield, say hello.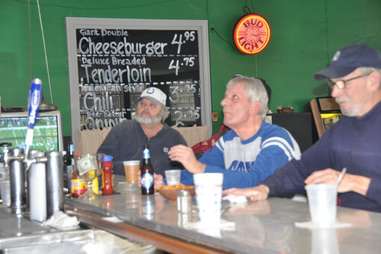 Mass Ave.
Why you're here: Some of the best cocktails in Indianapolis
What you're getting: The classics are always spot-on, but so are cocktails made with mezcal, moonshine, and elixirs from locally based Wilks & Wilson. To accompany that cocktail, try the cheese plate, local charcuterie, or even an Indy original King David hot dog.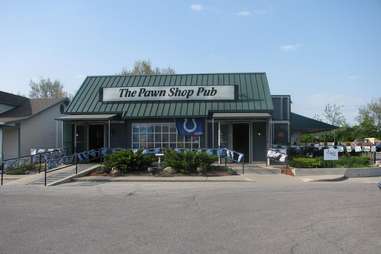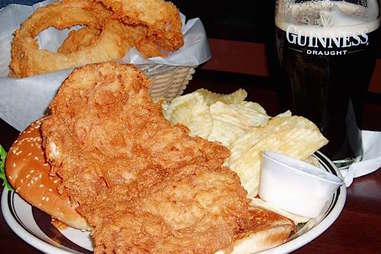 Carmel
Why you're here: Sometimes, you need a tenderloin sandwich after shopping in Carmel's Arts & Design District
What you're getting: A basic breaded tenderloin and fries. This tenderloin is a little on the thin side, but not too crisp. Straightforward. No bells and whistles. A well-seasoned sandwich served in a down-to-earth pub -- in the middle of this high-end Hamilton County city.
Broad Ripple
Why you're here: Indy takes its high school basketball seriously, and Bobby Plump of the Milan Miracle of 1954 is the owner here
What you're getting: The tenderloin is a classic, just like the movie Hoosiers and owner Bobby Plump, who made the famous 14ft shot that won the state championship for tiny Milan High against powerhouse Muncie Central.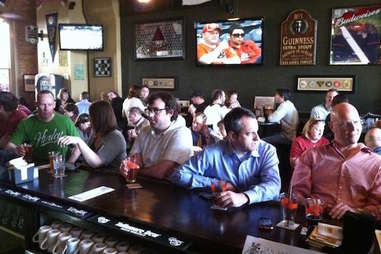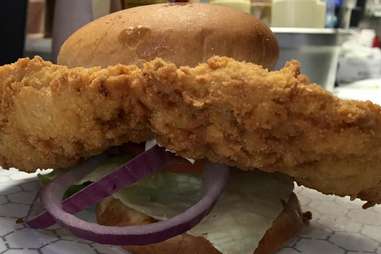 Greenfield
Why you're here: Farm-to-fork food at a classic drive-in
What you're getting: It's a 20-minute highway drive to the Hancock County seat, but the farm-to-fork drive-in food, like the thick breaded tenderloin made from locally raised, pastured pork, is worth the effort. A carhop will actually come take your order -- although these days carhops type on iPads. And don't wear roller skates.
Jolene Ketzenberger runs the local food site Eat Drink Indy and reviews restaurants for Indianapolis alt-weekly NUVO. Follow her on Twitter: @JKetzenberger.