For true believers, BBQ is a religion steeped in old-timey tradition, fire, and brimstone. Still, while BBQ of all styles has experienced a massive surge in popularity in recent years -- transcending itself from a glorious peasant food to darling of bougie food folks and blue-collar eaters alike -- it's still very much a regional thing. Despite its increased presence in major metropolitan areas, in many parts of the country, BBQ is an abstract. Something you have to travel to get, or settle for an inferior product just to get an idea of what the bark-covered fuss is about. 
To that end, chains serve as the missionaries of BBQ. In many places, they introduce the very concept of slow-and-low to populaces whose ideal of a good rib comes from an ancient Chili's jingle. This is a mixed blessing. Because chains often provide an introduction to BBQ, the arrival of a mediocre one in a BBQ desert can ruin BBQ for those who flock to it. But, though Texas truebloods might call heresy, there are in fact some chains that do fantastic work, employing master smokers to create authentic, sometimes even transcendent BBQ experiences. Some have roots in the most storied BBQ regions in the world. Some are the result of fanatics who fell in love with regional BBQ and decided to bring the style back to those who might otherwise never have it. If you live in a place without a wealth of BBQ these are the chains you should be excited about. And if you do live in a BBQ hub, maybe it's time to reevaluate your opinion of chains. 
Recommended Video
Please Don't Hang Up: The Best BBQ & Barcade in Dog-Friendly Kansas City
Where they are: Georgia and Florida
Floridian John Rivers fell in love in Texas, both with his wife and with brisket. He'd spend years trying to perfect the latter in his garage (the former, we're sure, was already perfect), where he started a "Barbecue Ministry" to help support a local girl's battle with cancer. Five years later, Rivers was drawing huge lines for his juicy, bark-covered meats, going from guy in a garage to local legend faster than you can say Aaron Franklin (provided you speak really, really, really slowly). Now with 14 locations, the garage days are far behind 4 Rivers, but the brisket remains on point, still taking a solid 18-hour sauna in the smoker, resulting in juicy meat and explosive burnt ends. The chain also offers up a great tri-tip with housemade chimichurri, succulent smoked chicken that pairs great with Alabama-style white sauce, and spot-on ribs. Not bad for a dude who spent half his life in healthcare before firing up the smoker. And in case you were wondering, the whole Barbecue Ministry thing still holds water: The place remains committed to helping others beyond simply helping them get the meat sweats.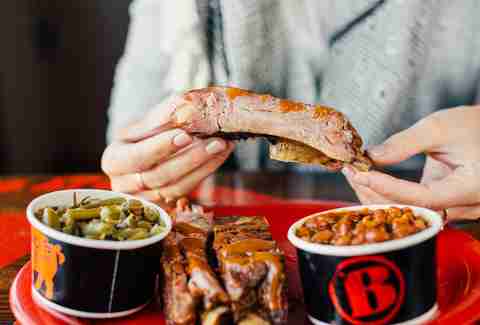 Where they are: Florida and Colorado
Here's some BBQ you can feel good about: $1 from each rack of baby-backs sold here goes toward the ONE foundation, which -- wait, no. Wait. Wrong Bono. (Sorry). That said, this Florida-based Southern BBQ chain is active in local fundraisers, and doesn't pull the move of loading mediocre albums onto your iTunes. Instead, they do what they've been doing since Mr. Lou Bono first fired up the pit back in 1949… only now you can get it at some 20 locations, including one in Colorado. This is one of those places that does everything pretty well, including southern staples like smoked turkey and chicken and sausages, plus more regional fare like Texas-style brisket and St. Louis ribs. It can be tough to choose, so definitely spring for a multi-meat platter, or put it all together on one of the Smokehouse Stacker sandwiches, which include a sausage link-topped pulled pork number called the Bo-Hawg, the Bird Dog with smoky turkey and sausage, or another unholy option to pick any two meats in order to play choose-your-own adventure with own your mortality (a game that will likely involve a nap afterward). Before you do anything, grab some smoked wings and some Brunswick stew, two other staples of this exemplary menu.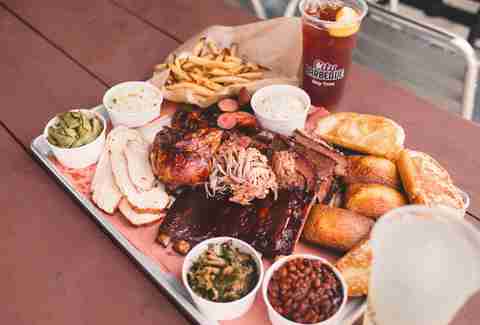 Where they are: Georgia, Illinois, Indiana, Kentucky, Michigan, North Carolina, and Ohio
City Barbecue opened its doors in Columbus, Ohio in 1999, immediately adopting the slogan "the best barbecue in the city" through a mix of moxy and default. The Great Lakes region, after all, doesn't exactly have its own barbecue style, with respect to the legacy pitmasters in Chicago and the best efforts of Michael Symon and Slow's. So rather than reinvent the wheel, City decided to be like a United Nations of regional BBQ styles. A little brisket here. A little slaw-topped pulled pork there. Or, more accurately, a lot of those things, along with burnt ends, turkeys, chickens, peach cobbler. And eventually, City became something of a crash-course in BBQ to places that were starved for it. Now at more than 50 locations, they're rocking that "best barbecue in the city" slogan across seven states. And in many of those locations, it holds true.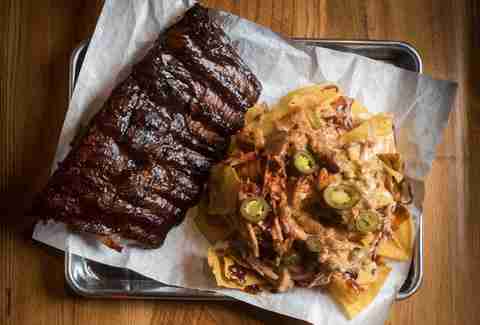 Where they are: Arkansas, Tennessee, Texas
Were it only for Corky's stellar BBQ nachos -- a glorious pile of tortillas piled high with either pulled chicken or pork, plus liquid-gold cheese sauce, peppers, and BBQ sauce -- Corky's would have a place on this list. They're an exemplary version of perhaps Memphis' greatest contribution to bar-snacking culture, and now that Corky's is expanding beyond Bluff City, it's proving a worthy ambassador to barstool BBQ fans in other states. But Corky's also nails that other Memphis BBQ staple, the rib, which they serve wet, dry, or muddy, which is in reference to the fact that it's dry rubbed and covered in BBQ, not to the old bluesman, though you'd be forgiven for thinking otherwise. For a taste of the other stuff Corky's does right, grab a combo to get those ribs with brisket or pulled pork, or even some fried catfish. They even serve it with spaghetti. Unexpected? Maybe. But way more delicious than what they do with slow-cooked meat and spaghetti up north in Cincinnati.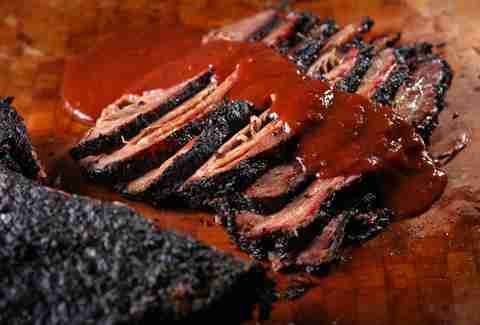 Where they are: Connecticut, New Jersey, and New York
When Dinosaur opened up its first of two shops in New York, it immediately popped up on the list of the best BBQ in the city on the strength of its pulled pork and outstanding St. Louis-style ribs, which get a dry rub before being smoked to impossibly tender bliss and hit with the shop's signature sauce. The place also managed to score a place on our list of the best wings in the city, thanks to their habit of dry-rubbing then smoking those suckers, and those accolades are hard fought in the state that made the wing perhaps the best bar snack in the world. Not bad for a place that began its life as a biker biker hang in Syracuse. Each of the eight subsequent bars they've since opened have kept that commitment to live music and biker pastiche that defined the original back in the '80s, but there's an even more important distinction that each Dinosaur location manages that tops its love of honkey-tonk attitude: Each time one opens, it immediately enters the "best BBQ' conversation for whatever city it's in, be it a the Big Apple or Stamford, Connecticut.  
Where they are: Alabama
The self-dubbed Best Little Porkhouse in Alabama has come a long way since it first opened more than 30 years ago, with more than a dozen locations now operating across the state. But it's the things that haven't changed during that growth that make Full Moon so special. The 'cue is still fired up using hickory, with each location featuring a custom-made brick pit. The chow-chow is still made using the original recipe. And people still willingly line up for a taste of the now-chain's long-loved fare, which includes impossibly juicy smoked turkey that glorious pork, and the ribs that have kept people coming back for decades. Under no circumstances leave without a side of their vinaigrette slaw, a bucket of game-changing pimento cheese, or their now-iconic Half Moon cookies, a southern cousin of the New York Black and White with a generous half coating of chocolate hiding a delicious chocolate-chip showstopper. 
Where they are: Kansas and Missouri
Kansas City barbecue has always been an eclectic affair, dating back to the first commercial shop in the city, which sold smoked raccoon along with slabs of pork ribs. The burnt end is the region's signature cut, but KC 'cue is a cuisine that's really about the full dining experience. This is certainly true of Gates, Kansas City's largest, oldest, and best-loved chain of barbecue spots. Gates opened 1946, when the founder got sick of cooking on railcars and opened his spot in a neighborhood now known as the Jazz District. It's since expanded to six locations straddling the Missouri-Kansas state line. Gate's makes great meats -- the tender, spice-rubbed ribs are a standout -- but it's more about the feeling inside these dim, smoky halls where jazz blares, liquor flows, and everyone who walks in is briskly greeted with the restaurant's trademark "Hi, may I help you." The complex menu (center cut, long end, short end, four bone?) confuses even longtime customers. Just tell them what you want, and they'll get it for you then hand you a bill. (Oh, and you do want that yam pie.)
Where they are: Texas
Few grocery chains have as rabid a fanbase as H-E-B. The acronym stands for Howard Edward Butt, son of Florence Thornton, who founded the chain in 1905. Over the past century they've expanded to 340 stores. They tested the barbecue program at their Mueller outpost in Austin, one of the most modern locations in the grocery empire, and although only 10 locations boast a full True Texas BBQ restaurant, a recent report from the BBQ snob of record at Texas Monthly calling it the best chain in the state means you can expect many more to come. They operate on rotisserie smokers fueled by oak wood, the same source revered by Texas pitmasters for a strong-but-not-overpowering smoke flavor, which results in barbecue that puts most other state's best joints to shame. Naturally the all-natural Choice-grade brisket gets top billing (you are in Texas, after all), but don't limit yourself to just spartan slices of moist or lean -- it's available in everything from frito pies to loaded potatoes (you are at a grocery store, after all).
Where they are: Arizona, Alaska, California, Colorado, Florida, Hawaii, North Carolina, Nevada, New York, Oregon, Texas, Tennessee, Utah, Washington
A standard Hawaiian barbecue spread is nothing like the typical finger-lickin' riblets and brisket mainlanders envision when it comes to the term barbecue, and that's what makes it so special. L&L, the Hawaiian barbecue fast-food chain that specializes in plate lunches, has been slinging local favorites since the '70s and does Hawaiian classics right. They capture the spirit of aloha -- as well as diverse influences and flavors -- that have become standard in Hawaiian food. The kalua pork is simmered in a slow cooker for hours to capture that tender, pulled-pork consistency. Barbecue chicken is glazed in a sweet and tangy sauce, while bone-in short ribs are smokey and juicy. Every plate arrives with scoops of creamy macaroni salad and white rice -- a hearty and decadent addition that complements the meat perfectly. Fans of seafood also get a shoutout here, with plates of garlic and fried shrimp available. Order sides of Spam musubi for the road if you know what's good for you.
Where they are: Connecticut, Delaware, Florida, Illinois, Indiana, Kentucky, Maryland, Michigan, New Jersey, North Carolina, Ohio, Pennsylvania, South Carolina, Tennessee, Virginia, and Wisconsin
How serious is Mission about its dedication to honoring servicemen and women, veterans, police, firefighters, and anyone else who risks their life for America? Very. This is a chain that opened its doors on September 11, 2011, donates to various service-minded charities, and stops service at noon every day for the National Anthem. It is essentially Lee Greenwood's "God Bless the USA" in restaurant form. But there are no half measures here: The place takes its BBQ as seriously as its patriotism. Before opening in Baltimore, the owners hit up all the BBQ hubs of America to hone the craft. And while most chains that put multiple geographical locations on their menu do so flippantly, here it's a badge of honor and actual commitment to flavor. That means everything from the NC-style pulled pork to Texas-inspired brisket are juicy and delicious, and wouldn't be out of place in their states of origin. That's kind of clutch, considering Mission has waged an aggressive campaign against BBQ deprivation nationwide, expanding to 80 locations and counting. That means their St. Louis ribs could soon be in actual St. Louis. The miracle is, they wouldn't be out of place. Mission accomplished. 

Where they are: Arizona, Colorado, New Mexico, and Texas
Texans know barbecue, and knowing barbecue means loving the those off the beaten path smoke shacks that could be knocked over by a strong wind. But even the most spoiled Central Texans have a low-and-slow spot in their hearts for Rudy's. The chain, which opened as a convenience store in the 1800s, began serving barbecue in 1989 in addition to roadside staples and may just have the best quality-to-volume ratio in the country. One benefit of the size is that they can cook it all – staples like brisket, sausages, and ribs, but also pork loin, spicy chops, and a half chickens, all smoked the old-fashioned way. That's an immense achievement for any restaurant, let alone a chain with 34 locations in Texas alone and another 10 spread out over four more states. Pro-tip: arrive before eleven for the grab-and-go brisket breakfast tacos.
Sign up here for our daily Thrillist email, get Eatmail for more food coverage, and subscribe here for our YouTube channel to get your fix of the best in food/drink/fun.