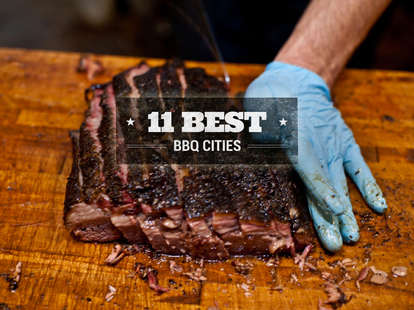 Dan Gentile/Thrillist
Dan Gentile/Thrillist
Few styles of food are more satisfying and primal than barbecue. Meat and fire tend to do that sort of thing. And while we've pointed out the best barbecue spots in the country before, we've never sat down over a pound of brisket and hashed out, not only the best cities in the country in which to eat it, but how those cities stack up against each other. Well, until now.
Our ranking of America's 11 top barbecue cities is the first in our series examining and arguing about both the best and the most underrated cities across the country in a variety of our favorite food and drink categories. We judged each barbecue city on tradition, mastery of style, technique, and density. We want to put our opinions out there and hear yours, too. So what do you say we start with meat and fire, and see where we go from there?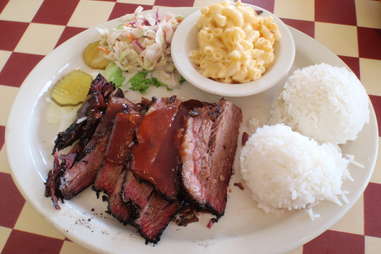 11. Honolulu, HI
Okay, first things first: to truly get the best cross-section of distinctive Hawaiian BBQ, you may have to travel a little bit outside of the city, too, but, even so, the point is clear: with its famous Kalua pork, Honolulu and its surrounding towns in Oahu have a BBQ culture unlike anywhere else in the country. Of course, there are the Asian influences, like the delicious Korean inflected specialities at the Soup Nazi-esque Me's BBQ (get the Kalbi Bar-b-q plate) or Gina's for a BBQ bulgogi beef plate lunch. But you can also go outside the city for an island take on the Southern technique, at places like Uncle Bobo's (pork shoulder sandwich, all day), and Molly's Smokehouse. Either way, you can't truly talk about BBQ in the US without giving Hawaii its fair shake.
Major players: Me's BBQ, Uncle Bobo's Smoked BBQ, Gina's BBQ, Molly's Smokehouse
10. Murphysboro, IL
It's a curious thing that a Midwestern state known more for Chicago and its Great Lakes border boasts one small town that has championship-level 'cue in every style and meat. Thanks to one man, Mike Mills, Murphysboro, Illinois manages to be part of the barbecue conversation -- not just part of it, but firmly, very naturally rooted in it, despite being North of the traditional, smokey arenas. Mills runs 17th Street Bar & Grill and is the man behind one of the winningest teams at the Memphis in May World Championship Barbecue Cooking Contest. He's barbecue smart, well-studied, and, thanks to a removal from the constraints of regional bias, he's mastered it all -- baby back ribs, juicy pulled pork, pink-ringed brisket slices -- to the point that pit masters from Texas Hillcountry to Carolina's coastline are impressed.
Major players: 17th Street Bar & Grill
9. Greenville, SC
Those who preach the gospel of South Carolina barbecue do so with a conviction that's hard to ignore. "We've got four different kinds of sauce!" they shout. "No one does a mustard sauce like us!" And they're right. Though others may argue for Columbia or even Charleston, we like Greenville for the proximity of spots all serving up classics like the BBQ sandwich with some Brunswick stew at Henry's Smokehouse; the ribs, chicken & chopped combo at Mike & Jeff's; the original Bucky's for the pork plate with cajun pinto beans and sweet potato crunch, or -- if you're looking for something a little more dignified -- Smoke'N Jackets (potato skins stuffed with pulled pork) and the beer-butt chicken at Smoke on the Water.
Major players:Bucky's Bar-B-Q, Henry's Smokehouse, Mike and Jeff's BBQ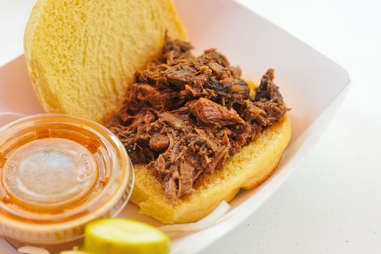 8. Owensboro, KY
I'm going to assume you've never had mutton, so let me make a taste-picture: think about how tough, bland pork shoulder becomes tender and juicy and literally falls apart after a night in a smoker... and then apply that to lamb, a meat that's already rich and earthy, no matter how you cook it. That's mutton, and the small city of Owensboro in Daviess County is the epicenter of this particular and peculiar tradition, that alludes to a far earlier time when sheep were plentiful (historians have record of Abe Lincoln's parents serving BBQ mutton at their Kentucky wedding, so America). The region also does pork shoulder and brisket over the same hickory coals, but you're in Western Kentucky for the mutton, basted and served with a variety of sauces, the most famous of which is a black "dip" sauce of Worcestershire and vinegar and tomato paste and sugar.
And once you're swayed to the style, come back in May for the International Bar-B-Que Festival when hickory-smoke pits for mutton and giant, bubbling vats of burgoo, the barbecue stew made with mutton, fill the town's streets.
Major players: Moonlite Bar-B-Q Inn, Old Hickory Bar-B-Que, Henry's Bougaloo BBQ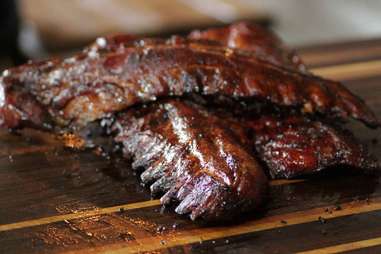 7. New York, NY
As a Southerner, I admittedly hate writing this: New York City has a formidable barbecue scene, one of the best in the country. Whereas other barbecue epicenters that're removed from the heart of the cuisine have melded styles or perfected specific, traditional dishes, New York spit barbecue out in its own special way, as the city tends to do.
NYC's BBQ can be compared to what folks in Southern cities (those ones that have an inherit claim to 'cue) would call new money. There are no third or fourth or -- let's be honest -- even second-generation pitmasters behind the smokers; the barbecue is fancy (finishing salt!) and requires million dollar ventilation systems and pairs well with specialty craft microbrews and reaches its moist, tender finished state under the watchful shadow of many a hipster beard. But from a Carolina-trained whole hog set-up in Bushwick to an East Village spot whose "Texalina" sauce covers pink-ringed brisket and fatty pulled pork, every spot boasts serious, studied knowledge of the craft and, importantly, a deep respect for barbecue in all its iterations... and it is damn delicious.
Major players: Briskettown, Fletcher's Brooklyn BBQ, Mighty Quinn's, Arrogant Swine, Morgan's Brooklyn Barbecue, Hometown BBQ
6. Hot Springs, AR
Do you like spicy, tomato-based sauce that kind of seems like it's the barbecue child of Memphis and Lockhart? Do you want to get involved in a barbecue scene that is criminally underrated outside of Arkansas? Do you like spas as well? Well then you're perfect for Hot Springs. The eleventh largest city in Arkansas (meaning it has 35,000 people), nestled deep in the Ouachita Mountains, is the home to two classic Arkansas joints -- McClard's and Stubby's -- but McClard's historical chops are unmatched. Started in 1928, they allegedly received their recipe for a fiery hot BBQ sauce from a tourist court resident who couldn't afford the $10 for his lodging. As of now, six BBQ joints sit in the small town, meaning you've got a good excuse to get a week of R&R (just hit McClard's twice).
Major players:McClard's Bar-B-Q Restaurant, Stubby's Bar B Que, Smokin' In Style BBQ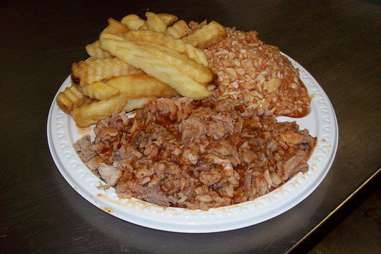 5. Lexington, NC
Lexington is at that the very smoky epicenter of pork shoulder barbecue's history. The birth of barbecue is debatable, but it almost definitely occurred along the Eastern coast, and North Carolina can confidently throw its hat into the ring as one of the first places to start smoking pig over hickory coals back in the 1700s. So, once you realize that pork shoulder is the meat of choice for pitmasters spreading West from NC until you hit beef-loving Texas, it's easy to let Lexington keep its self-given title of "barbecue capital of the world." And that's before you realize that, as Serious Eats points out, Lexington has a "BBQ restaurant-to-resident ratio of over 1:1000."
Oh, and if you want to judge on actual barbecue, rather than facts, it still stands up. The shoulder is served chopped or pulled, sandwiched with slaw or with the slaw on the side. And the slaw is red, mixed with the region's ketchup, vinegar, and pepper sauce. The tang of the slaw and the smoky pork... well, add that to the reasons Lexington is a centuries-old barbecue hotspot, and then maybe consider moving to the tiny town to upset that ratio.
Major players: Lexington BBQ, Speedy's Barbecue, Tar Heel Q, Smiley's Lexington Q, Smokey Joe's BBQ
4. Memphis, TN
Walking in Memphis is not just a song, but a good health recommendation after all the barbecue you're going to consume. In most people's minds, Memphis is a city of two great 'cue strengths, both involving pork: the slow-smoked shoulder barbecue sandwich and the dry or wet racks of pork ribs. If you're going for the former, you can't go wrong with Payne's with its neon mustard slaw or Bar-B-Q Shop's version on Texas Toast or Central's with the mustard/vinegar sauce. The latter can mean anything from wet ribs at Interstate to dry at A&R to "Vouz-style" at the famous Charlie Vergos' Rendezvous.
Either way, Memphis is on the list because, though it tends to centrally focus on the pig, it does it so well and in so many styles, that it can't be ignored. And if you come in May, and check out the hundred thousand people taking part in the World Championship Barbecue Cooking Contest, you can see why.
Major players:Central BBQ, Payne's Bar-B-Que, Bar-B-Q Shop, Charlie Vergos' Rendezvous
3. Lockhart, TX
In the fall of 2003, the Texas Legislature took it upon itself to pass a resolution proclaiming Lockhart to be the Barbecue Capital of Texas. To the outsider, it might seem strange that a place with only four BBQ restaurants would be considered quite possibly the best BBQ city in the entire world. But then you try them, and understand.
Like any small town, there is overlap. Smitty's actually is the original Kreuz Market, which opened in 1900 and was purchased by Edgar "Smitty" Schmidt in 1948. In 1999, a fight among his children meant the Kreuz name went to Kreuz Barbeque down the road, and Kreuz Market became Smitty's. Does that make sense?!? Either way, go to both of them and order pounds of that brisket and shoulder clod and sausage. Don't ask for sauce. Then go to Black's. Do the same. Then hit Chisholm on your way out. Nearly a quarter of a million people a year pay homage to the glorious meat paradise that is Lockhart, so really the only question for the Texas Legislature should be: why did you wait so long?
Major players:Black's Barbecue, Kreuz Barbeque, Smitty's Market

2. Kansas City, MO
KC is an odd place, thanks to its geographical spread over a state line, which results in KCK (the Kansas one, whose name makes a bit more sense) and Kansas City (the Missouri one, who actually had the name Kansas first but got "City" tacked on after the Kansas Territory became a thing). The cities could be one... but they're not, which means we fully have to separate the two. MO gets our love because, Henry Perry, the traditional Grandpa of KC 'cue settled on this side of the border and even Henry Miller, the other Henry who might've invented the style, was cooking in establishments in Missouri.
Like its generous accommodation of state identities and people named Henry, Kansas City boasts a barbecue scene that is a beautiful confluence of pitmasters' personal preferences; the one stickler is dry-rub -- cayenne, mustard powder, sugar, paprika. Otherwise, you can find basically any type of 'cue in the city and any sauce (although there's no denying KC Masterpiece's sweet-tomatoey national fame), and if you ask a local for their favorite spot, it's going to totally depend on their preference of crunchy burnt ends or sauce-soaked ribs or juicy chicken, because there's a different king in town for every option, and that is a truly beautiful thing.
Major players: Arthur Bryant's Barbecue, LC's Bar-B-Q, Fiorella's Jack Stack, Gates Bar-B-Q
1. Austin, TX
Yes, of course everyone knows Franklin. Franklin, Franklin, Franklin. It's like the Marcia meme of the Austin BBQ world. And yes, of course, it's amazing, but herein lies one of the best and most compelling arguments about the quality of Austin's BBQ scene: most of the places in the city with no line are still better than any other cities' bests.
As of now, la Barbecue usually has at least a 45-minute wait, but tasting that brisket alongside an El Sancho Loco has people whispering about it making a run at the throne. John Mueller is still the dark prince of the scene, and the sausage at the Micklethwait trailer change daily, but if you get the jalapeño cheddar, well, order eleventy more. The Lockhart scene is edging its way into Austin as well, with two different Black's-related outposts. But Austin pitmasters aren't afraid to experiment either, especially on the sides, as evidenced by Mueller's cheesy baked squash or the blue cheese coleslaw at Kerlin. And we haven't even said anything about Texas Monthly's BBQ Fest. Point being, line or no line, there's not a city in the country doing more in both creative and classic styles than Austin, and that's why we picked it as number one. Plan accordingly.
Major players:Franklin Barbecue, la Barbecue, John Mueller Meat Co., Micklethwait Craft Meat, Freedmen's
Kevin Alexander is the executive Food/Drink editor and wants to denote that, despite being born in Texas, he was totally objective. Follow him to geographical defensiveness @KAlexander03.
Liz Childers is the associate Food/Drink editor, is Alabama-bred, and could out-eat Kevin in BBQ any day, as he primarily grew up in Boston. Follow her to more pulled pork @lizchilders1.