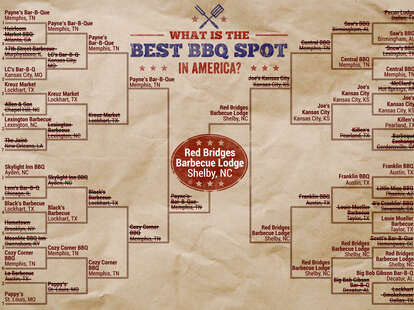 Jennifer Bui/Thrillist
Jennifer Bui/Thrillist
Don't worry, sad Michael Jordan, the NCAA tourney wasn't the only bracket in the game. While the Tar Heels missed out on yet another championship, the words of the prophet Petey Pablo still came true this week, as North Carolina did, indeed, raise up, with Shelby's Red Bridges Barbecue Lodge taking top honors in our first-ever BBQ bracket.
And make no mistake, Red Bridges fought. Hard. The seven-decades-old pride of a small NC town rallied hard in the name of chopped pork, taking down titans of industry including Memphis institution Payne's, Austin's Beard Award-sporting Franklin, Alabama's legendary Big Bob Gibson, and South Carolina's Scott's over the course of five rounds and nearly 80,000 votes logged for Bridges alone.

That's a hell of an accomplishment for a place that, until five years ago, specialized exclusively in chopped pork and sides like pimento cheese.
"We still do the same thing we did 70 years ago. We still pit cook our BBQ. None of the recipes have changed," says third-generation Bridges operator Natalie Ramsey, who added that the newest menu item is chopped chicken... for "the high blood-pressure folks."

"A lot of times, people change, turn to electric and stuff like that. We still pit cook. That's something we've done for 70 years and people love it. It's BBQ BBQ BBQ."

Per Thrillist's Kevin Alexander, who penned the 33 Best BBQ Joints in America list on which the bracket was based with co-pitmaster Liz Childers:
"There's a man named Warner Stamey, who is just about as famous in North Carolina barbecue circles as Louie Mueller in Texas. Stamey grew up in Lexington and learned the barbecue business in high school, then, after moving to Shelby, he started selling his own barbecue, and teaching others, including Wayne Monk (Lexington Barbecue) and Red Bridges, who used that knowledge to start this spot, and serve us fantastic chopped pork, which combined with BBQ slaw, is worth traveling long distances to eat. But since you've done the traveling, you might as well get Mama B's pimento cheese too. You've earned it."
So what do you do when you're crowned the best BBQ in America by a legion of fans and strangers? Disneyland? Watch Space Jam?

For Ramsey, the next day is a lot like any other: it starts with BBQ, and ends with BBQ. Despite our efforts, she didn't talk smack for messing with Texas, taking the pep out of Memphis' step, or giving Kansas City the blues.

"It's all about what you grew up eating. Gol... I really would like to go try out all these other places," she says. "That's my bucket list. They all gave us a great run. Now I just want to go grub on some good BBQ."

Us too, Natalie. Us too.
Sign up here for our daily Thrillist email, and get your fix of the best in food/drink/fun.