Shutterstock / Jennifer Bui/Thrillist
Shutterstock / Jennifer Bui/Thrillist
Our country 'tis of thee, sweet land of... burgers, pizza, and barbecue. We've already combed the map for the best burgers and pizza in all 50 corners of America (and DC), so it was time to take up the patriotic task of finding the most succulent barbecue in every state.
Even more than most foods, barbecue is personal. It defines regional identities, unites/divides families, and commands zealous loyalty amongst patrons. With a food so regional, each state had to be judged on criteria as unique as the snowflakey chars on a burnt end of brisket; some joints may be competitive circuit champions, while others are simply legends in their own neighborhoods. Although we've taken up this Herculean task with a Lucy Lawless-like ferocity, it's inevitable that your personal favorite might not be on this list. If you disagree, feel free to let us know in the comments, our combo plate always has room for one more meat.
Alabama
Big Bob Gibson Bar-B-Q (address and info)
Decatur
The Q: Bar-B-Q chicken platter
You know that peppery-vinegary-mayo goodness that your hip California 'cue joint just started serving? That's Alabama white sauce, and it was created at Big Bob Gibson's. The North Alabama institution has been around since 1925, when Gibson dug a pit in his backyard and started smoking chicken. That moist, succulent chicken is still the star, slathered in the white sauce, which has given Alabama its stake in barbecue history.

Alaska
Big Daddy's BarB-Q (address and info)
Fairbanks
The Q: Arkansas baby back ribs
When a place in a far-away land appears on Guy Fieri's Diners, Drive-ins, and Dives, we tend to view it with a suspicious eye, worrying that its inclusion on the show will mean it's soon to be a tourist trap, and not worth the hype. Not so with Big Daddy's. Harold Groetsema's spot in the second-biggest city in Alaska took home top honors at the 2008 Alaska State BBQ Championship (they have a picture with Sarah Palin to prove it!) and they still make the best in the state. Though the menu tends to cherry pick from states all over (Carolina pork, Kansas City brisket, etc.), the move here is to get the Arkansas baby backs slow-smoked over hickory, alongside some Texas Toothpicks (deep-fried jalapeños with ranch). Or, if they've got the brined smoked turkey, skip everything else, and just do that.

Arizona
Little Miss BBQ (address and info)
Phoenix
The Q: One of the best Central TX-style briskets outside of the state
The proprietors of Little Miss BBQ have parents in Central Texas, which means just about every visit home is a research trip. The countless pilgrimages to Texas BBQ meccas have paid off in the form of competitive circuit success, a proof-of-concept farmers' market operation, and finally a full-time trailer that was hands down Phoenix's biggest restaurant of 2014.
They riff off the simple Texas tradition by using local Gambel oak and keeping the rub relatively straightforward, albeit spiking the salt and pepper with garlic, cayenne, and onion powder. The focus on meat quality rather than sauce helps it stand out from the rest of the local sauce-drenched fare. Brisket is the stand-out star, but if you arrive on a lucky day you might find anything from lamb neck to pastrami.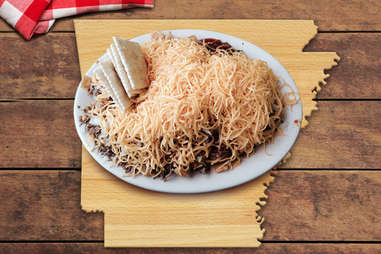 Arkansas
McClard's BBQ (address and info)
Hot Springs
The Q: Chopped beef
In 1928, Scott McClard's great-grandparents weren't running a BBQ joint; they had a motel for all the spa and horse-racing enthusiasts that flocked to Hot Springs. But that big career change happened after a broke guest asked to pay in the form of a BBQ sauce recipe. Four generations of McClards later, that subtly spicy, vinegar-and-tomato sauce is still on the tables, adding zest to the chopped beef, pulled pork, and ribs, which all go in the smoker without any rubs or sauce, so their flavor is pure hickory. Go with an appetite (or just stay from lunch into dinner) because, if you made it to Hot Springs, you can't leave without also trying a tamale plate, a hangover-helper of chopped beef topped with Fritos, beans, onions, and cheese. And you should, obviously, layer on that sauce.

California
Phil's BBQ (address and info)
San Diego, San Marcos, Santee
The Q: Baby back ribs
With all due respect to Bludso's BBQ in LA, B-Side BBQ in Oakland, and Smokestack and 4505 Burgers & BBQ in SF, we've got to give the nod to Phil Pace's San Diego joint. His amazing (and self-taught) recipes for rubs and sauces truly come through on everything we've tasted there, especially the baby back ribs. Plus, as his empire expands, you can now enjoy it and get your hands and face all messy in the airport.

Colorado
Wayne's Smoke Shack (address and info)
Superior
The Q: Extra low-and-slow smoked brisket
How two friends from Central Texas ended up in a suburban shopping center in Colorado making some of the finest BBQ in any state isn't important. What is important is that you can get antibiotic- and hormone-free brisket here that's been smoked between 24-28 hours. That's quite longer than most BBQ spots, and it shows.
It's no surprise that one of their fans is James Beard Award winner and soul food expert Adrian Miller, who told us it was one of his favorite spots in the state. It's easy to see why -- walk in and you'll see a selection of their impossibly tender meats laid out before you on a cutting board, and you'll also likely notice the walls are covered with photos of legendary TX BBQ spots like Franklin and Kreuz Market. And despite just opening in late 2013, Wayne's making a serious name for himself regionally, often selling out of meat at between 2-3pm.

Connecticut
Bear's Smokehouse Barbecue (address and info)
Hartford, Windsor
The Q: Burnt-end plate
Since CT isn't exactly a bastion of BBQ greatness, it took Kansas City native (and competitive eater) Jamie "The Bear" McDonald to come back from the Navy and open up a spot like the ones he'd worked at back in high school. You're going to want to start with the Moink Balls, which, of course, are slow-smoked BBQ bacon-wrapped meatballs, before you move onto the burnt-end plate. Said plate's near-perfection proves McDonald knows a thing or two about the place from whence he came. The Nutmeg State is lucky to have him there.

Delaware
Fat Daddy's BBQ & Grille (address and info)
Georgetown
The Q: Delaware-style brisket
Delaware is a small state, and Georgetown is a small town -- with a population of about 7,000 as of 2013. And yet on a recent weekend, one of the co-owners of Fat Daddy's made about 60lbs of mac and cheese for the town's residents. Three separate times. Clearly the word has spread beyond Georgetown about Fat Daddy's, which recently celebrated their third year of existence.
The owner's obsession with making everything in-house, from the sweet/tangy BBQ sauce to the self-styled "Delaware brisket" dusted with "seven seasonings and smoked low and slow all night long." And to keep the small-town vibe going, many of the license plates plastered on the dining room wall are from customers -- bring in your own, sign it over to them, and they'll give you five bucks off your next meal (and make your license plate practically immortal). Now that's small town hospitality.
Florida
4 Rivers Smokehouse (address and info)
Winter Park
The Q: Texas-style brisket, St. Louis-style ribs
The pitmaster behind 4 Rivers made a name for himself around an unconventional barbecue circuit: the fundraising one. His first smoke-out benefited a cancer patient, and soon thereafter he started making the rounds at churches and schools until it became clear that he could turn the charitable operation into a vocation. They've since expanded to nine Florida outposts whose accolades are impossible to ignore, including an invite to cook at the James Beard House. Without a firm Florida style to draw from, they cross regions from St. Louis ribs to Southern-style pulled pork, but the main event is the brisket, given a traditional salt & pepper rub and smoked for 18 hours over hickory.

Georgia
Wiley's Championship BBQ (address and info)
Savannah
The Q: Brisket and Brunswick Stew
Here in the heart of BBQ territory, this Savannah joint is young. But Wiley McCrary and his wife Janet ran a catering company for over two decades before going brick-and-mortar and launching into the BBQ competition circuit, where they've brought home awards since the beginning. You could go with the brisket. Or the ribs. Or the chicken. They're all decorated. But you also need the Brunswick Stew because you're in Lowcountry. And there's bread pudding with bourbon sauce. Just settle in... you're going to be here awhile.

Hawaii
Me's Bar-B-Que (address and info)
Honolulu
The Q: Kalbi beef BBQ plate
Don't come in here expecting a fancy time or traditional Southern barbecue. But do come in here and get the best Korean BBQ on the island and a place we love enough to name-drop it in the Best BBQ Cities rankings. The kalbi beef BBQ plate is the move. Get it at the counter. Move quickly. Go outside. Eat. Repeat.

Idaho
Pitmaster BarBQue Company (address and info)
Idaho Falls
The Q: Ribs
Like most barbecue heroes, Rob Harding's origin story begins at a rehearsal dinner. His ribs, tasted by members of the bride's family who were barbecue judges in Memphis, received high praise, and gave Rob the confidence to go forward in creating a restaurant. We have three recommendations here: 1) get the blue ribbon pork ribs; 2) try and go on Saturdays for the burnt-ends platter; 3) get the Pig Candy. It's like bacon mixed with magic.

Illinois
17th Street BBQ (address and info)
Murphysboro, Marion
The Q: Magic-Dusted championship ribs
The word legend sometimes gets tossed around in the barbecue world, but if anyone's earned it, it's 17th Street BBQ's Mike Mills. He dominated the circuit in the early '90s, taking home 1st in every major competition including four Grand Champion wins at Memphis' Superbowl of Swine. You can do no wrong by visiting his Vegas spots, or Danny Meyer's Blue Smoke in NYC (where he is a partner), but the home base in Murphysboro is the real destination. Start with a pimento cheese app that was served at the James Beard House, and then dig into his championship ribs that're smoked over apple and cherry woods, and coated in Magic Dust.

Indiana
Squealers (address and info)
Castleton, Indianapolis, Mooresville
The Q: Baby back ribs and pulled pork
Indiana's not particularly known as Q Central, but Squealers does the Hoosier State proud by taking the barbecue traditions of other regions and giving them a local spin by sourcing ingredients from nearby whenever possible, specifically meats from Indiana Kitchen brand. The big Southern Pride smokers out back run on a cherry-hickory blend and stink of the owner's signature rubs, which proved to be worth their salt (and pepper) on the competitive circuit before settling down in Indiana. Don't get distracted by the burgers or fish on the menu, go straight for baby backs and pulled pork, which you'll also see floating in their baked beans.

Iowa
Jimmy Jack's Rib Shack (address and info)
Iowa City
The Q: The Supreme sandwich
Jimmy Adrian and Jack Piper grew up together in Burlington, Iowa, and -- fast-forward biography many years -- eventually came to take routine pilgrimages to Kansas City for the 'que. Getting serious about it, they became certified Kansas City Barbecue Society Judges and started making their own sauces and smoking ribs and 10 years ago they opened Jimmy Jack's, and here we are today praising them for having the best damn BBQ in Iowa. Get yourself The Supreme sandwich (filled with pork, smoked turkey, and brisket) along with a couple slices of honey butter corn bread. And then do it again.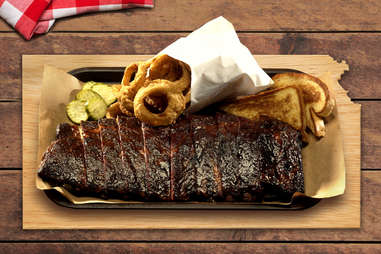 Kansas
Joe's Kansas City Bar-B-Que (address and info)
Kansas City
The Q: Z Man sandwich
A barbecue joint by any other name smells just as sweet, a maxim proven by Joe's Kansas City. Formerly Oklahoma Joe's, they recently changed the name and absolutely nothing else. Same old gas station location, same dedication to consistency that is basically science at this point. The house specialty is the pulled pork, which comes from huge 8lb shoulders that've been smoked for 17 hours, but it's hard not to order one of the most iconic sandwiches in the country: the Z Man, a pile of brisket, provolone, and onion rings on a kaiser roll that's named after an old-school radio jock

Kentucky
Moonlite Bar-B-Q Inn (address and info)
Owensboro
The Q: Chopped mutton plate
The whole idea behind barbecue is pretty simple: cheap, tough cuts of meat become tender and delicious after hours of slow-cooking. So maybe it makes sense that only one region ever bothered to take lamb, a rich, flavor-laden meat, and throw it in the smoker. Moonlite is the epicenter of this Western Kentucky tradition, throwing lamb into the hickory pits behind the Owensboro location. The move here is, obviously, the mutton, served sliced or chopped. But save room for burgoo, the spicy veggie and smoked meat stew that the region also made famous.

Louisiana
The Joint (address and info)
New Orleans
The Q: Ribs
For all its lauded food scene, New Orleans and, for that matter, Louisiana, isn't exactly a hotbed of barbecue activity. In 2004, The Joint set up in NOLA's Bywater and started to change that. The main move here is pork ribs, which are coated in a Cajun rub that gives them a spicy, blackened effect -- it's different and delicious. But you cannot leave without trying the chaurice, Cajun-style fresh sausage that's smoked and served on a sandwich. Oh, also, there's peanut butter pie. You should get it.

Maine
Salvage BBQ (address and info)
Portland
The Q: Meat Coma
Barbecue being anything but new, we're normally wary of the newer BBQ spots, especially in the upper reaches of New England. But Salvage (from the folks behind Local 188 and Sonny's) is all the right types of new, and it's clear that Chef Jay Villani did his homework -- custom building a smoker (burning Maine red oak) from an old propane tank, and setting it up in the quick-service style. Now open for two years, it's best if you go up and order the Meat Coma (Meat Fatality, another actual dish, is just too much): 1/4 rack of ribs, 1/3lb of brisket, chopped pork, and a cup of chili to wash it down. Oh, and if that doesn't do it for you, get one of their house-ground hot sausages, find a comforting corner, and take a nap.

Maryland
Andy Nelson's BBQ (address and info)
Cockeysville
The Q: Pulled pork sandwich
Before the Ravens, the Colts were Baltimore's favorite/only football team. More than 30 years ago, Alabama-born Andy Nelson played for that team, retired, and then started making BBQ for the Cockeysville neighborhoods before setting out on his own and opening a 'cue shack in a former gas station. Nowadays, Marylanders line up during their lunch hour to pour their house-made Bama Sauce over pulled pork sandwiches, alongside super-popular sides like slaw and beans. There's even more of a reason to visit in the Summertime -- about twice a month when it gets nice out, bands play concerts in the garage area where the fueling station used to be, and large amounts of people listen whilst drinking beers and consuming enormous quantities of 'cue.

Massachusetts
Pit Stop Barbecue (address and info)
Mattapan
The Q: Beef brisket and pork ribs combo
It's been around in Morton Village for a long time, but when the Debnams bought it eight years ago, the quality took a leap up, vaulting this long-time favorite ahead of other perennials like Soulfire, Blackstrap, Redbones, and Sweet Cheeks. You're not going to get a seat in the tiny spot, so just be ready to order up the beef brisket and the pork ribs as a combo, and two servings of banana pudding, and eat in your car selfishly, because, after waiting in that line, you won't want to give any of it up.

Michigan
Union Woodshop (address and info)
Clarkston
The Q: Burnt ends in Memphis sauce on Texas toast
Plenty of people might give Slows the nod for Michigan, but the truth is that they're better known for their chicken and mac & cheese. And while the guys at Detroit BBQ Co. are trying their damndest to pump out Franklin-style quality and technique, when we polled local pitmasters, they spoke loud and clear for Union Woodshop. Halfway between Flint and Detroit, the Clarkston-based Q spot was actually first envisioned as a wood-fired pizza spot before they realized that where there's smoke, there should be meat. You can't go wrong with any of their meats, but it's a starter that's a surprise stand-out, a heap of burnt ends tossed in Memphis sauce that might have traditionalists screaming blasphemy, but slices of Texas toast pay attrition for any regional mismatching.

Minnesota
Big Daddy's Old Fashioned Barbeque (address and info)
St. Paul
The Q: Beef short ribs
Gene Sampson, Ron Whyte, and Bob Edmond -- the pitmasters behind Big Daddy's -- may not have grown up in Minnesota (Kentucky and Georgia), but that is Minnesota's gain, thanks to the quality of 'que they bring to the state. Their "traditional smokehouse barbecuing" uses hickory wood, which you can really taste in the beef and pork ribs. If you want to be hilarious, try and handle a couple of their amazingly tender but gigantic Flintstone beef short ribs, or be classy about it and get it in sandwich form. Also, don't miss their famous rib tips, which come by the "dinghy, boatload, or shipload."

Mississippi
The Shed (address and info)
Ocean Springs
The Q: Baby back ribs, whole hog if you happen to be at a barbecue competition
You might've seen the Orissons on a short-lived Food Network reality show, heard about their various accolades (BBQ person and inventions of the year), or read about their heart-warming competition triumphs, but despite their national appeal, the proof is in that Mississippi pudding. Their original Ocean Springs location was built out of ramshackle junkyard "treasures," and after a devastating fire, still retains the same charm. Pecan wood and live blues tunes set the smells and sounds, and the full baby back rib racks are cooked to perfect tenderness, without the falling-off-the-bone mushiness that lesser pitmasters use as a crutch.
Missouri
Arthur Bryant's Barbeque (address and info)
Kansas City
The Q: Ribs with a side of burnt ends
Despite the wealth of KC 'que East of the very confusing state border, Arthur Bryant's is the clear choice here. Hell, their burnt ends are so famous that we dubbed them one of the most iconic foods in the country. You could make a meal out of just the crispy trimmings, but their eponymous pitmaster didn't get the name King of Ribs for nothing. Purists might scoff, but a generous coat of sauce is the way to go, so say everyone from presidents to Wilt Chamberlain, and that dude slept with, like, hundreds of barbecue sauces.

Montana
The Notorious P.I.G. (address and info)
Missoula
The Q: Burnt ends
Okay, so this place is young. Like in the last couple of months young. But the pedigree as a sister restaurant to legendary Pappy's in St. Louis and the way they smoke everything over cherry and applewood and their ridiculous burnt ends and tri-tip and cranberry-cayenne chicken wings have made somewhat difficult to choose any other place in Montana. Just consider us early adopters.

Nebraska
Swine Dining BBQ (address and info)
Bellevue
The Q: Pulled pork
Despite a location in the heart of cattle country, Swine Dining excels across the board. Its ribs are saucy and tender. Its pulled pork has a charred, crispy, spicy outer layer mixed with the juicy shreds. The brisket is also smoky and moist. And a daily corn special is a reminder that we're very much in the Midwest.

Nevada
Rollin Smoke Barbeque (address and info)
Las Vegas
The Q: Smoked meatloaf of brisket, hamburger meat, and smoked pulled pork, topped with mashed potatoes, mac & cheese, and potato strings
Our Nevada pick wins the hardest hustler award, and that's no relation to their location alongside one of Vegas' most notorious strip club districts. The father and two-son operation hails from a small, Arkansas town (population: 12,000), and they started selling sandwiches on the side of the road when they realized that the City of Lights was seriously lacking in Q.
The first day they did three sandwiches, then seven, and before you know it, Rick Harrison from Pawn Stars is investing to help them open a second location. Amongst the high-profile casino restaurant concepts, Rollin Smoke stands out for their bootstrap story, but wouldn't take the crown without some serious meat, including a hefty beef rib rarely seen outside of Texas, a hickory-smoked brisket burger that's been crowned Vegas' Best, and a totally bonkers smoked meatloaf.

New Hampshire
Goody Cole's Smokehouse (address and info)
Brentwood
The Q: St. Louis-style pork ribs
The original Goody Cole's was small and in Exeter and fantastic. And so, when they left to open a much bigger space, we were dubious that they could keep the quality up. But the Lenihans, with the help of their hickory wood-burning Oyler barbecue, produce the best smoked meats in the Granite State, especially the beef brisket and their St. Louis-style pork ribs.

New Jersey
Local Smoke BBQ (address and info)
Cookstown and Neptune
The Q: World Series of BBQ award-winning ribs
Taking home four titles at the NJ State Barbecue Championship is nothing to scoff at, but those accolades take on a new meaning when you throw in a first place win in ribs at the American Royal, aka the World Series of Barbecue. So basically, these Local Smoke boys have been around the barbecue block and returned with a bag full of smoky tricks. They use a mix of cherry and local sugar-maple woods, rocking specialties like a sweeter-than-most brisket, brined-for-days whole chickens, and vinegar-based pulled pork. Their tiny 28-seat beach-side location is most well known, but they earn bonus points for a second location which gets 90% of their business from neighboring McGuire Airport Base. And extra bonus points for running a real-deal Amish-made stick-burning smoker for larger catering gigs.

New Mexico
Danny's Place (address and info)
Carlsbad
The Q: Louisiana-based vinegar-sauced ribs or a pulled pork sandwich
If you want to know about New Mexican cuisine, you talk to Gil Garduno. The verbose restaurant reviewer who can't write his own name in under 100 words said the best in show was a toss-up between Danny's and Sparky's, but Danny's partially gets our nod because of the gall involved in tearing up a Dairy Queen franchise agreement when they wouldn't let him add his own smoked meats to the menu. Forty years later, Danny's now retired, but his son Tim is running the show and still cranking out the smoked meats that put the rest of the state to shame.
New York
Hometown Bar-B-Que (address and info)
Brooklyn
The Q: Monstrous beef ribs, split amongst several friends
New York is in the middle of a full-blown BBQ renaissance. From Fette Sau to BrisketTown to Mighty Quinn's, there's plenty of people doing brisket and doing it well. But according to the chatter amongst industry insiders/those willing to visit the far reaches of Brooklyn, Hometown's the current champ. Pitmaster Bill Durney grew up in Red Hook, so it's only natural he'd be smoking right on the shore in plain view of Lady Liberty. His place reeks of Texas, thanks to his apprenticeship at the best BBQ joint in the state (spoiler alert: it's Louie Mueller, and it's our pick for TX). But alongside the award-winning beef ribs, he pays homage to his 'hood with jerk baby backs, and keeps the menu current with Sriracha hot wings and a lamb belly bánh mì.

North Carolina
Skylight Inn (address and info)
Ayden
The Q: Chopped pork sandwich
Alongside Texas, North Carolina might have the highest concentration of great barbecue anywhere in the States. Wilbur's, The Monk, and Clyde Cooper's are all worthy of a spot on this list, but none have quite the rep amongst the barbecue community as Skylight Inn. Birthed in 1947, they earn the title of second-oldest smoker on our list, and just like our Texas pick, they're an operation that's stayed in the family since the start. Their specialty is whole hogs, chopped with just a little bit of skin to create a texture that's become the restaurant's calling card.

North Dakota
DJ's Smokehouse BBQ and Catering (address and info)
Bismarck
The Q: Ribs and homemade mac & cheese
The dream of many food truck owners is to one day open up a brick-and-mortar shop, and never have to deal with parking issues, the truck breaking down... the list goes on and on. DJ's truck set up shop every week at the Urban Harvest a few years back, a Bismarck event that's like a farmers' market on steroids. And now the folks behind DJ's are basically living the dream, having transitioned their successful food truck into a restaurant in September 2014. The Bismarck faithful flock to DJ's especially for their ribs and mac & cheese. But since you never forget your first love, the truck hits the road still, whether it's for a catering gig or to feed the beer-soaked masses in front of local microbrewery Laughing Sun.

Ohio
Eli's Barbeque (address and info)
Cincinnati
The Q: Pulled pork sandwich
You have two really good reasons to visit Eli's: the pulled pork and the record player. Pork shoulders take a rub of brown sugar, cayenne, garlic, and salt before hitting the hickory wood smokers for at least 18 hours. Get it piled onto the grilled, honey-rubbed bun, and add slaw and Eli's spicy, Memphis-influenced sauce. The spot does well with other classic 'cue, like St. Louis-style ribs and smoked chicken, but if you're ditching the pork sandwich, turn towards the hot dog instead. It may seem like a weird choice at a barbecue spot, but there's nothing weird about a beef dog topped with the delicious, crispy charred bits of the pork and more of that sauce. Whatever you get, though, rest assured that it all tastes even better with a constant background of scratchy classic rock.

Oklahoma
Swadley's (address and info)
Oklahoma City
The Q: Ultimate BBQ sandwich (bacon, ham, turkey, and brisket on a hoagie, side of campfire taters)
Chain barbecue can get a bad rap, but it's a different story when everyone in town knows the owners. The Swadleys are a big presence in the little town of Bethany just outside OKC, and have been for the last 17 years since opening their first restaurant. Nowadays their grandkids work the counter. They get our nod for being able to blanket every corner of Oklahoma City with consistently excellent hickory-smoked meats that, despite their scale, still get the traditional overnight smoking treatment.

Oregon
Podnah's Pit (address and info)
Portland
The Q: Salt- and pepper-rubbed brisket smoked on post oak imported from Texas
The Texas native behind Podnah's wins our nod for bringing an old-school mentality to a state whose Q scene mostly involves 55-gallon electric smokers. Sure, there isn't butcher-style service (the clientele just wouldn't get it), and he does use an Old Hickory with a gas assist (which is turned off as soon as the fires are lit), but otherwise it's about as close to the Lone Star State as you're going to find in the Pacific Northwest.
The brisket is salt- and pepper-rubbed only, and after fighting against fickle local wood for years, the pitmaster finally broke down and started importing truckloads of post oak from the South. The stellar results earned him a rapid expansion from a 30-seat spot to a new bigger location, plus he's got a taqueria next door that lets him taco the same delicious smoked meats.

Pennsylvania
Sweet Lucy's (address and info)
Philadelphia
The Q: Hand-pulled pulled pork
While "Philly BBQ" might just sound like regular BBQ drenched in Cheez Whiz, one of the co-owners of Philly-fave Sweet Lucy's says it describes their mixture of traditional Southern-style 'cue, including the ever-popular hickory-smoked pork, which sits in the smoker for 12-14 hours. Not surprisingly, the pulled pork flies out of the kitchen, in part due to the fact that it's hand-pulled. Even better -- their old warehouse space just got upgraded with a brand-new bar -- giving BBQ lovers more elbow room (and booze) for when they're devouring a plate of ribs and mac & cheese.
Rhode Island
Becky's BBQ (address and info)
Middletown
The Q: Rib plate
Tiny RI is not exactly a bastion of BBQ, but -- since 1998 -- Becky's has proven that top-quality 'que can exist in the land of frozen lemonade and grilled pizzas. Using all hickory smoke to cook their meats, you can't go wrong with the rib plate and their BBQ pulled beef, though the chicken thighs are also worth the trip.

South Carolina
Scott's Bar-B-Que (address and info)
Hemingway
The Q: Pulled pork with spicy sauce
Barbecue spots have to be judged by their 'cue, of course, but the atmosphere matters, too. It's a hard aura to describe -- well-worn and comfortable, like a friend's backyard party, but with juicy, tender smoked meats. But when you plan a trip specifically to Myrtle Beach, SC so that you have a reason to drive through Hemingway, and you pull up to the decades-old Variety Store and pulled pork haven, and you order your sandwich of seasoned and overnight-smoked pork with spicy sauce (always go with the spicy option) and you remember to ask for fresh-fried pork rinds, then you'll understand, because Scott's has mastered all that barbecue criteria.

South Dakota
Rowdy Hog Smokin BBQ (address and info)
Sioux Falls
The Q: Award-winning ribs
If you know anything about South Dakota, it's that they love their motorcycles. So it should come as no surprise that there's a popular BBQ event there called Ribs, Rods, and Rock & Roll. Shortly after opening up their restaurant in 2008, the Rowdy Hog crew took the People's Choice award there for their ribs.
Among all their competition circuit awards, they're pretty proud of that one in particular, and the locals and travelers (we'll let you guess the method by which they arrive at Rowdy Hog) coming through still order those award-winning ribs quite a bit -- they're dry-rubbed and smoked for six hours using a "special blend of wood." They've even got seven different house-made sauces to pair them with, including the ever-popular Boar's Blood, a mix of Buffalo sauce and a sweet/smoky BBQ sauce. And don't forget to order the bread pudding.

Tennessee
Payne's Bar-B-Que (address and info)
Memphis
The Q: Pork, BBQ sauce, slaw
Unassuming is an understatement when it comes to Payne's. The building looks straight out of 1972 (its opening date), stands alone on a quiet corner, and has an interior that isn't recommended for claustrophobics, but that's all forgiven thanks to its transcendent chopped pork sandwich. Tennessee has its fair share of fantastic pork, but despite Rendezvous' rep and Corky's fanatical following, our nod goes to Payne's for doing one thing absolutely perfectly. The pork manages to be both crispy and juicy, the barbecue sauce offers a perfect sweet/sour complement, and the mustard-based slaw on top adds a final flavor dimension that will knock the socks off even the most mustard averse.

Texas
Louie Mueller Barbecue (address and info)
Taylor
The Q: Slices of perhaps the most platonic of Texas briskets
You'd think choosing a Texas spot would be tough, but when it comes to Texas BBQ it's all about tradition, and no place has more of it than Louie Mueller Barbecue. Walking in is like entering another era, and each bite is the culmination of 65 years of post oak seasoning. The people who give out the James Beard Awards agree, as do thousands of barbecue pilgrims who make the journey every year and mark their hometowns with pins on a map in the dining room. Sure, Franklin's fatty brisket might best this on a good day, but for our money (and for our time... don't expect much of a line), there's nothing that tastes more like Texas than Louie Mueller.

Utah
R&R BBQ (address and info)
Salt Lake City
The Q: Brisket, or a Caveman Burger
Just as some WWE pro wrestlers surely got their start wrasslin' in someone's backyard, the guys behind R&R's heavily lauded BBQ competition team also got started in backyard contests. Nowadays, they win more impressive national awards on the regular. And even luckier for the people in Utah who don't want to travel to eat their BBQ, the brisket that flies out the door follows the exact same recipe it does when they feed it to extra-picky judges. The more purist judges might not approve of their Caveman Burger with pulled pork, smoked sausage, fried jalapeño, Jack cheese, and BBQ sauce, but that's their loss. Speaking of out the door, people line up each day from around 11am-2pm until it thins out at dinnertime, when people line up again. That explains why a new location that'll be twice the size, and have plenty of outdoor seating, is imminent.

Vermont
Bluebird Barbecue (address and info)
Burlington
The Q: BBQ Spare ribs
Vermont Maple is up there, and Prohibition Pig is one of our favorite restaurants in the state regardless, but we had to give it to Bluebird once we tried their BBQ spare ribs with the Vermont-tinged maple barbecue mop. Other greatest part: you can "add a taste" to your, say, plate of spare ribs, without having to get a whole other order. So we recommend getting a taste of the 15-hour brisket, and the Carolina pulled pork, and the cider-brined hand-shaved turkey, and the bourbon-glazed chicken, and...

Virginia
BBQ Exchange (address and info)
Gordonsville
The Q: Pulled pork and a BLT
Despite being in the South, Virginia claims no real regional barbecue style of its own. That could feed the fodder for a VA-isn't-in-the-South debate, but it certainly works in Craig and Donna Hartman's favor, who seem to be blissfully unanchored to any tradition, and fill their menu with every imaginable rendition of smoked pork -- from their smoked pork belly that's layered on a sandwich with collard greens and sauteed peppers to regular ol' pulled pork. And while we're always supporters of tradition, it only takes one bite of bacon that's been spice-cured for a week, then dried for a week, and then smoked overnight to decide new styles can wedge themselves onto a menu with the OG dishes.
Washington
Pecos Pit Barbeque (address and info)
Seattle
The Q: "Messy" sliced beef (brisket) sandwich
It's got stiff competition from places like Pinky's Kitchen (the parking lot-based operation slings an epic smoked fried chicken sandwich) and the new-ish Cask & Trotter, but this legendary lunch-and-walk-up-only Q spot is still Seattle's top destination for smoked meat. Posted up in an old gas station in the largely industrial SoDo neighborhood, P's P is still run by the better half of the husband & wife team that opened it 33 years later -- he's retired, but they still use the recipe developed in his family's Texas kitchen.
Pecos regularly draws long lines to its service window, from which it slings incredibly messy brisket, pork, or chicken sandwiches, and... not much else. But don't worry, when the meat is this good (the vivid red smoke ring on the brisket has been know to make novices think it's raw) you don't need much else, except maybe a hot link, or a few sides like smoked potatoes and BBQ beans that you can enjoy on the handful of tables they've scattered outside. If there's room.

Washington, DC
DCity Smokehouse (address and info)
The Q: The Brisket Champ sandwich with crispy fried onions and house-made pickles on Texas toast
DC's more of a wing town than barbecue (sorry, Frank Underwood), and even a place whose focus is brisket has got to have a serious half-smoke hot dog. DCity excels at both, while bringing a level of barbecue quality that's only been seen at the pitmaster's old Hill Country digs. They've only been open under two years, but the five-seat spot has smoked its way into a forthcoming expansion and a loyal following who've allowed them to increase production from a mere four briskets a day to around 15-20. It's cooked "the right way," with a basic salt/pepper/chipotle/brown sugar rub and smoked over cherry and red oak. The most popular move is the sandwich, but if you're going for local flavor, the half-smoke's a solid choice thanks to a steaming pile of burnt-end chili.

West Virginia
Hickory House (address and info)
Jane Lew
The Q: Smoked pork platter
John Butcher's "southern barbecue restaurant" in the awesomely named Jane Lew is legendary in these parts, and for good reason. Though they do have a BBQ version of shepherd's pie that involves chopped pork-smothering mashed potatoes, avoid fooling around and go simple with their hickory smoked pork platter, and make sure you get a quart of their homemade hot-sweet dill pickles before you leave.

Wisconsin
Smoky Jon's (address and info)
Madison
The Q: Ribs with their famed sauce
The namesake of Smoky Jon's is a BBQ lifer, having begun helping his dad with the charcoal BBQ at 8 years old, and starting to perfect his BBQ sauce at 18. You could say he's perfected it at this point (proof: the numerous awards it's won at national BBQ conventions, and the fact that it's currently on supermarket shelves in three states). His BBQ is also award-winning, having been named as one of the top 100 BBQ joints in America by multiple publications, including this fancy one you're reading right now.
But you should just let Jon's ribs do the talking, as that's the meat that most people make sure to cram into their mouths as they cram themselves into the 24-seat, red brick-floored space. The crowds have been present for about 20 years, and with the accolades rolling in with no sign of stopping, it seems likely that another 20 years of awards is forthcoming.

Wyoming
Bubba's Bar-B-Que (address and info)
Jackson Hole
The Q: Brisket and beans
Not many BBQ spots serve breakfast, but then again, there's only one Bubba's. Brisket at breakfast is an option here (mmm, brisket hash), and that's one reason it stands out in a sea of dining options in Jackson Hole. Located just 20 minutes from the ski slopes, it's also a half-hour from Grand Teton National Park and an hour and change from Yellowstone, meaning they're especially slammed with nature-loving tourists during the Summer, who intermix with the locals for brisket smoked between 12-13.5 hours and their famous beans, which are mixed with burnt ends to lend it a delectable smoky flavor.