Wine and Cheese is Over, Here's How to Pair Beer and Cheese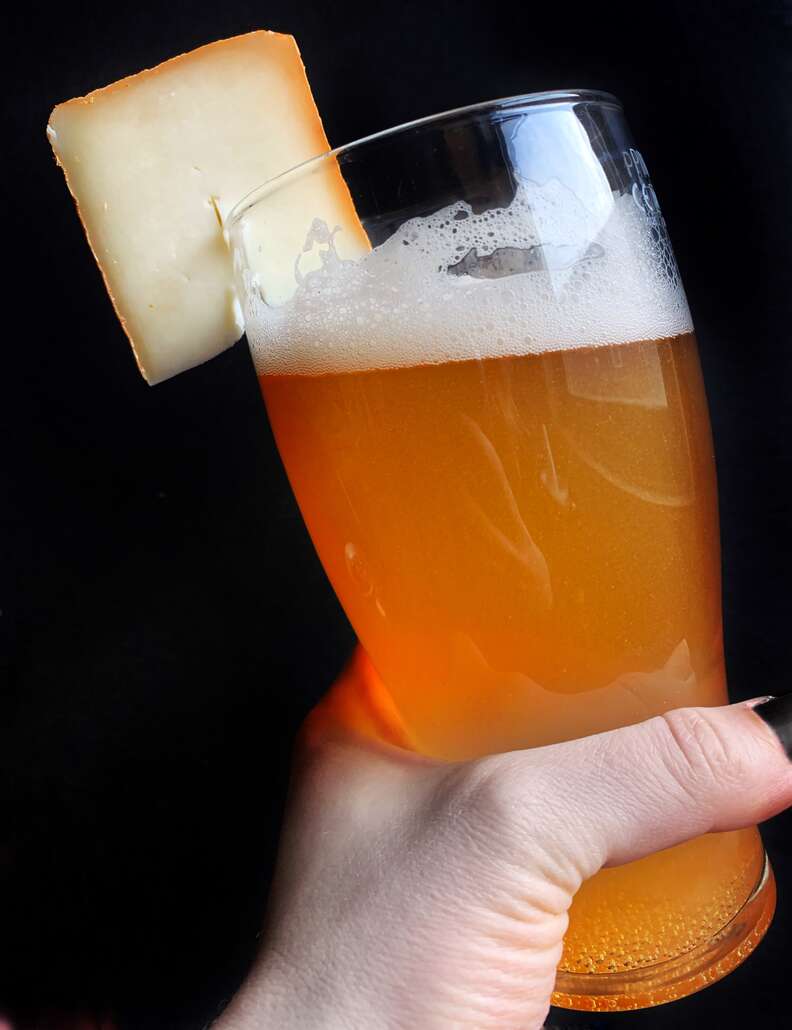 When you're getting ready to eat a cheese plate, you might instinctively reach for a bottle of red wine. Sounds like a sexy little eventing, huh? Let me stop you right there, buddy. That big red wine has a lot of tannins, a chemical compound that coats your mouth and dulls your tastebuds. That prevents you from tasting all the delicious complexities in your cheese. You're better off pouring yourself a cold, frothy beer. That frothy mouthfeel gives it an immediate upper-hand over wine. When the cheese coats your mouth with its fat, bubbly beer slices through all that richness and preps your palate for another bite.
It also has flavors that are more complementary to cheese. Because wine is made with grapes, they always have a fruity character. Beer is made with grains and grass-y plants. The resulting flavors are more similar to those in cheese, which is made with the milk of grass or hay-fed animals.
It's actually very simple to create a great beer and cheese pairing. All you have to do is balance the intensity and look for either complementary or contrasting flavors. Everyone's palate is different, so it might take you a few tries to find something that rocks your world, but there are some tried and true combinations that will always do you right.
Let me walk you through a few favorites, and remember: there's no shame in making a pint and a wedge your dinner.
1. Hefeweizen and Fresh Goat Cheese
Fresh chèvre has a delicate flavor and dense texture, so you want something gentle and fizzy. Hefeweizen has bubbles for days, which stands up to that cake-y cheese. Its citrusy character melts into goat cheese's lemony tang like a long lost lover. Together, they taste like lemon meringue pie.
2. American Lager and Cold Pack Cheese Spread
Miller High Life and a tub of Merkt's is Americana paradise. You don't have to get fancy. Cold, cheap beer, salty Ritz, and classic Wisconsin cheese spread is a match made in heaven. It's tangy, refreshing, and satisfying. What more do you need?
3. Saison and Gruyère
Aged Alpine-style cheeses like Gruyère have a huge range of flavors, like leather, toasted hazelnuts, and spring flowers. Like most aged cheeses, they're also pretty rich. Counter that heft with a dry, crisp saison. Those wild, yeasty notes mirror the fruity, animal character of the Alpine.
4. Sour Ale and Camembert
We're not talking about your basic grocery store brie here—you want a camembert that stinks. Sour ales have enough fermented funk to compliment that earthy, barnyard flavor. It's a pretty intense flavor matchup, so temper the combo with a drizzle of local honey. That golden sweetness will marry the two seamlessly.
5. Amber Ale and Manchego
Aged sheep's milk cheeses like Manchego are salty and nutty like Marcona almonds. Give them a little something sweet, like a malty amber ales. The toasty malts combined with the cheese create a praline pecan effect.
6. Belgian Ale and Èpoisse
This pungent, soft-as-custard French cheese needs something equally as robust. The bold, sweet flavors in a Belgian ale calms the stank and stands up to the rich, custard textures. Together, they create a toasty, caramel flavor that always reminds me of crème brûlée.
7. IPA and Clothbound Cheddar
English-style Clothbound cheddar is drier and more interesting than your typical block cheddar. They tend to have a fruity, grassy flavor that always reminds me of dirty pineapple. It's perfect for mellowing bitter hops and teasing out their tropical flavors. It's a delicious, woodsy combination that's tasty enough to convert IPA haters.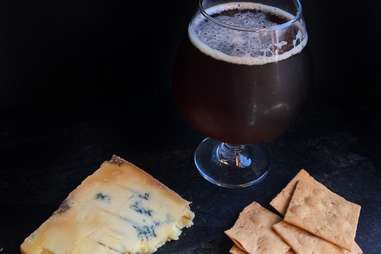 8. Stout and Stilton
Blue cheeses like stilton have extra salt added to help the blue molds flourish. It's one of the biggest, boldest cheeses out there, and can handle the heft of a chocolate-y stout. This salty-sweet combination makes a perfect dessert, like chocolate-covered pretzels or salted caramel.
Sign up here for our daily Thrillist email, get Eatmail for more food coverage, and subscribe here for our YouTube channel to get your fix of the best in food/drink/fun.
Erika Kubick is a monger-turned-cheese preacher devoted to turning on cheese lovers through her blog, Cheese Sex Death. Take yourself to #CheeseChurch and follow her at @cheesesexdeath.