The 6 Best Craft Beers to Pair With Dunkin' Donuts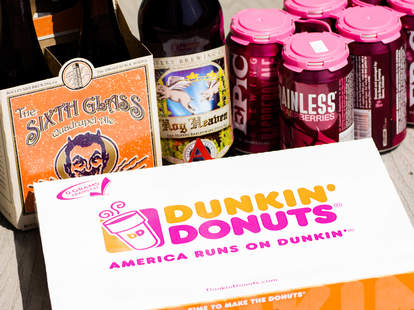 Homer Simpson once said, "Mmm... beer." And also: "Mmm... donuts." And because Homer Simpson quotations are the basis for many great ideas, we decided to take a trip to Dunkin' Donuts with beer expert Jules Bouchard, the beer coordinator at one of the best beer bars in the country, Denver's Euclid Hall, to pair a half-dozen donuts with delicious craft beers that shouldn't be too hard to hunt down. Mmm... journalism.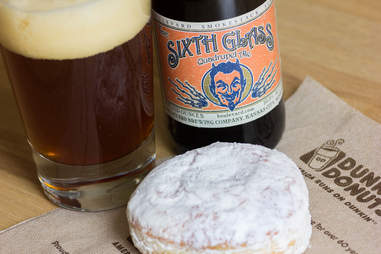 Lee Breslouer/Thrillist
Chocolate kreme filled
The beer:Boulevard Brewing Co. The Sixth Glass
Why it pairs well: "This donut is like eating cake with frosting inside. I think a big Belgian quad or a dubbel could work, because they've got a super-malty backbone. Boulevard doesn't make a super-dark quad, so this would work."
 
Boston kreme
The beer:Smuttynose Brewing Company Robust Porter
Why it pairs well: "This donut is like eating pie, essentially. Doing beer dinners and working with the guys in the Euclid kitchen, we try to go outside of the box with our pairings. Like, we don't stereotypically pair dessert with a dark beer. But I think a Boston kreme donut and a nice glass of porter just sounds good! You're getting not-too-much sweet with not-too-much sweet. A drier porter works here."
Lee Breslouer/Thrillist
Chocolate-frosted cake
The beer:Epic Brewing Lil' Brainless Raspberries
Why it pairs well: "Chocolate and fruit is a no-brainer (Editor's Note: look at the name of the beer!!) -- especially with [flavors like] raspberry and cherry. And the cake is mouthwatering, I just want to slam a glass of juice! Epic just did a Lil' Brainless Raspberries. The Brainless on Cherries or Peaches would be good with it too."
 
Powdered cake
The beer:Mission Brewery Hefeweizen
Why it pairs well: "Let's go with a traditional Bavarian hefeweizen here -- the super-classic style (estery, with clove and banana) pairs well with the cake flavor. The cake has a very vanilla bean thing going on. There's also a nutmeg or allspice flavor in the cake, and I think an easy-drinking beer like Mission pairs well with it."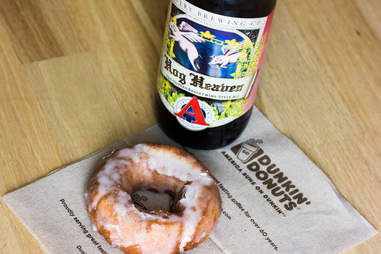 Lee Breslouer/Thrillist
Sour cream
The beer:Avery Brewing Company Hog Heaven
Why it pairs well: Why the hell did we choose this bizarre donut? It was a favorite of the DD employees, and something I thought might be interesting to pair with beer (Editor's Note: plus sour cream donuts are kind of a big thing in New England). Jules likes this beer because the sour cream donut is "wicked sweet, and Hog Heaven is a real big beer that balances it out." It packs in 104 IBUs, so we'd have to agree.
 
Jelly
The beer:SweetWater Brewing Company Georgia Brown
Why it pairs well: "It's not as sweet as the sour cream one. I think any sort of run-of-the-mill brown ale would be good. The drier the brown the better. You want a brown that leaves your mouth salivating -- something that excites your palate. It's perfect for when you're eating a reasonably sweet donut."
Lee Bresloueris a senior editor at Thrillist and did not mind having to eat six Dunkin' Donuts one morning for this story. Follow him to kreme-filled tweets: @LeeBreslouer.