I've always lived strictly by the belief that you can never have too much of a good thing. Which in this case, applies both to the subject of this taste test, and its execution.
Ben & Jerry's is an ice cream company defined by excess. The Vermont-based brand styles itself with cheeky names, hippy-dippy packaging, and a willingness to shove just about anything that is even semi-delicious into a pint cup and hope that people dig it. On my end, I was tasked with tasting all 46 available pint flavors (excluding dairy-free, and low-calorie options), and then ranking every single one. It was like ranking my own very children… if I had 46, delicious, non-sentient children that sometimes gave me a brain freeze. At any rate, the process was grueling, my freezer was consistently occupied, and I learned myriad valuable life lessons along the way. Namely, that I am definitely not lactose intolerant, and toffee bars and ice cream don't mix well.
But to paraphrase the great Andre 3000, "Y'all don't want to hear me, you just want to dance… and by dance, I mean read about every single Ben & Jerry's flavor."
Let's get into it. Starting with the worst, which admittedly, is still kind of the best.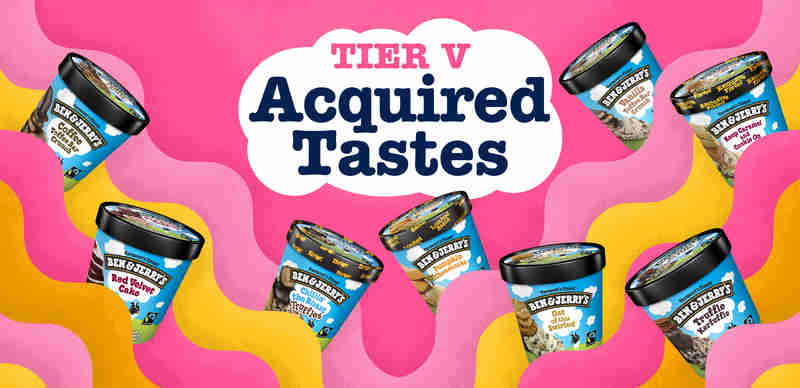 46. Vanilla Toffee Bar Crunch
One of the 45 current flavors had to hold the dubious honor of being dead last. And this entry -- even though it's not bad per se, but simply the least good -- tastes like your grandma's old-timey candy dish, in ice cream form. Good for granny, uninspiring for everyone else. This is your "Mr. Irrelevant" of ice cream.
45. Coffee Toffee Bar Crunch
While B+J's excellent coffee flavor puts this one over its plain vanilla sibling, the toffee bits still end up tasting a little stale, chewy, and dated. Like dates, actually. And I'm pretty sure they only put these two flavor components together because of the rhyme. Classic example of style over substance.
44. Chillin the Roast
This entry probably has the worst name out of anything Ben & Jerry's is currently throwing out there (which is really saying something…), and the "cold brew" ice cream tastes like a watered down version of their classic coffee flavor. Inside, you've got little liquor-filled truffles that remind me of senior citizen Gushers. Again, it's like they went for "candy dish at older relative's house," paired with coffee. It's a bold flavor. But it just doesn't work out that well.
43. Pumpkin Cheesecake
The "cheesecake" entries in Ben & Jerry's roster are definitely divisive -- and none more so than this way-to-close-to-pumpkin-spice pint, Pumpkin Cheesecake. It's too seasonal. Too strong. And overall, just too much. Skip it. Even if it fits your autumn aesthetic.
42. Truffle Kerfuffle
Kerfuffle is defined as "a commotion or fuss, especially one caused by conflicting views," and I have to think No. 42 on our list is as divisive as its name implies. With fudge, pecans, a decidedly bougie ganache chocolate swirl, and a kind of disarming salty-sweet flavor added to the swirled chocolate and vanilla ice cream, this is a prime example of the ice cream brand doing a little too much in the name of striving for 21st-century taste bud alchemy.
41. Keep Caramel and Cookie On
Remember when I said, "Chillin the Roast" was the worst name in the Ben & Jerry's roster? This one captures a close silver. Semantics aside, the shortbread inside the caramel-based pint is overpowering, a little too saccharine, and tastes artificial and frozen. Which of course, it is. But you don't want to be able to tell, obviously.
40. Oat of this Swirled
Going into this ice cream gorging ordeal, I definitely assumed this would be one of my least favorite flavors. While I was right (duh), I was also surprised at how much I enjoyed the buttery brown sugar ice cream base. If only they would have paired it with a more worthy pint partner, it would have garnered a much higher spot. This is another classic case of oatmeal ruining an otherwise good thing.  
39. Red Velvet Cake
Simply put: one bite of this, and you will have the taste of a super-sweet, oddly saccharine red velvet cake in your mouth for the rest of the day. There is no shaking it. Your tongue will be busted till further notice. Still, not as bad as eating toffee.
38. Salted Caramel Core
To briefly put this entire section -- and by extension, No. 38 --  into context, Ben & Jerry's "Core" flavors are pints with fudge-y, goopy middle sections (that run straight down the middle of the pint, about the width of a quarter) designed to recreate the hedonistic thrill and overwhelming ecstasy of covering your ice cream with a sauce-based topping... like in this case, salted caramel. And while certainly delicious, and a novel addition to the B+J's cannon, as a whole they tended to be a little overpowering, overwhelming, and therefore intrinsically underwhelming compared to everything else I tried. Ben & Jerry's has made their name coupling excess with excellent branding. Here, especially, with a salted caramel core that makes you feel like you just ate the entire State Fair in one sitting, they push the iced creamed envelope just a little too far.
37 Boom Chocolatta Cookie Core
The mocha-based entry in the Core series isn't as palate-smashing as the salty caramel, but it is damn close, and naturally suffers from the same problems all the cookie Core flavors do: too much flavor, with too little enjoyment. It's forgettable.
36. Karamel Sutra Core
Retired flavor Karamel Sutra is back... in Core form! Maybe they should have let the ol' flavor revel in retirement. This is like when Brett Favre tried to come back... the third time. Another innocuous entry.
35. Cookies and Cream Cheesecake Core
Overly sweet, ridiculously savory, and with kind of a sandy texture, this pint features chocolate cheesecake ice cream with a chocolate cookie and cheesecake core. They really double down here... to mixed results. If you want the "cookie core" taste, better to opt for our next entry.
34. Peanut Buttah Cookie Core
The core inside here really tastes like a cookie butter from Trader Joe's. Unfortunately, with peanut butter ice cream, peanut butter cookie bits, and even bits of sugary peanuts, I have discovered there is indeed a limit to my love of peanut butter. And this is it. Two bites, and I felt like I had OD'd on America's favorite legume. Or that I had just French kissed Jimmy Carter.
33. Brownie Batter Core
This one rose to the top of the divisive Core-tier because... well, I really, really, liked the brownie batter. It really was that simple. If I could put it inside a mug, melt it down a little, and drink it for every meal, I probably wouldn't be here right now, typing this article. I'd also probably weigh 400 pounds. But I'd be happy.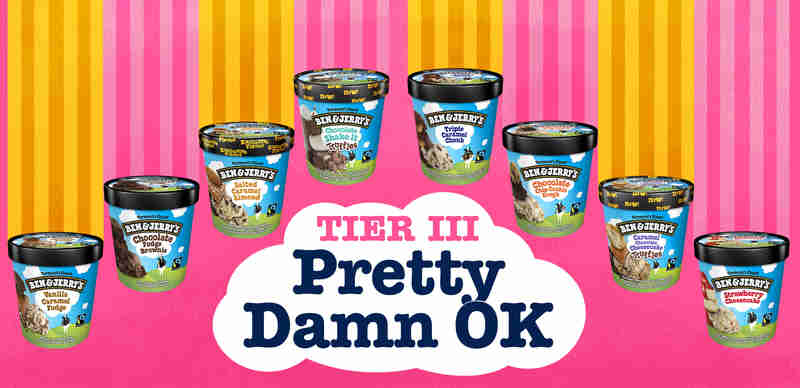 32. Strawberry Cheesecake
Strawberry Cheesecake, like all of the flavors in Tier III, is definitely a solid option in the overall flavor roster that Ben & Jerry's is currently throwing out there. Unfortunately, just as the "Core" flavors were a little too much, this tier skews toward the other side of Venn diagram, and tends to be a little bit underwhelming and bland (or, as bland as loaded ice cream can be). Still, I had to give this tier the advantage over the cores. Take strawberry cheesecake. This isn't necessarily something you choose over, let's say, 25 other pint options in your grocer's freezer. But when it's right in front of you, it's not that bad. These are the RC Colas of Ben & Jerry's flavors. Which really, is a major compliment to RC Cola. Each one of these leaves you thinking: they could have done so much more. But hey, I'll definitely eat this.
31. Vanilla Caramel Fudge
Good, but detrimentally boring. Think San Antonio Spurs with a caramel swirl.
30. Caramel Chocolate Cheesecake
This is the highest-ranking member of the Ben & Jerry's cheesecake family, and it has a decidedly smooth, light, and pleasant flavor. But like all the cheesecake-centric ice creams from the Vermont-based company, they taste a little... off. It's as if they turned a real cheesecake into a little bite-sized, cheesecake flavored pill, back into a cheesecake again, then into cheesecake ice cream. I really hope that makes sense. You might just have to try it yourself (but try these other No. 29 flavors first, obviously).
29. Chocolate Fudge Brownie
These next four flavors...
28. Chocolate Chip Cookie Dough
... are pretty much the same, in that….
27. Salted Caramel Almond
… they are like scaled down, more boring versions of other, higher ranking entries in this list….
26. Triple Chunk
... and hey, while that's still very good in the grand scheme of ice creams, it forces me to put them right in the soft, gooey middle of this ranking. Mediocrity has never been this delicious.
25. Chocolate Shake It
This really, really, really tastes like a chocolate milkshake. But the marshmallow swirl here just makes everything a sticky, muddled mess, and doesn't let the base itself shine like it should. Again though, it really does taste like a chocolate milkshake. It's kind of miraculous. Top 25 material… but just barely.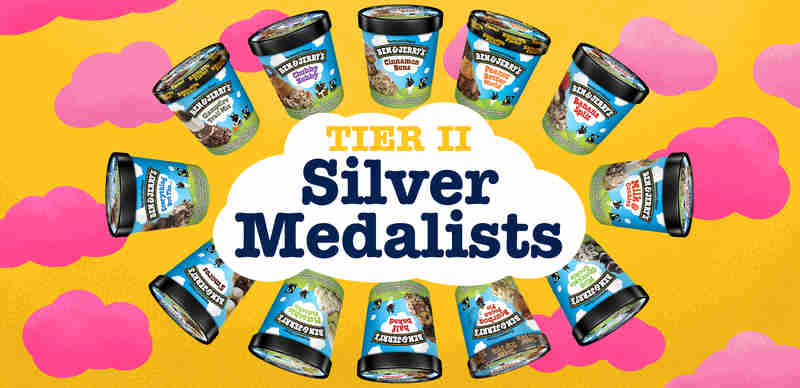 24. Cinnamon Buns
This classic flavor -- and the first entry in our tier of "second-bests," --  is probably more of an acquired taste than most in this section. With caramel ice cream, a cinnamon swirl, and chunks of cinnamon dough, it's like a Cinnabon melted into a cup that was then promptly stuck in a freezer. It's a cinnamon bun rush to the dome. I dig it. Most people dig it. But be wary if you aren't into the pastry flavor. It's could be a very sticky situation.
23. Peanut Butter World
Ben & Jerry's tends to do peanut butter right. Peanut Butter World is yet another (welcomed) take on the iconic duo of chocolate and PB, this time with a base of chocolate ice cream and a peanut butter swirl. Is it good? Obviously. But, it's hard to rank this one a higher when there are other, better peanut butter and chocolate combos waiting in the freezer. Chalk this placement up to fierce competition and a bloated playing field. About as bloated as you'll feel after eating a pint of this, actually.
22. Banana Split
I have long been a major fan of what Ben & Jerry's has done with banana-flavored ice cream (more on that later, obviously). And here, they combine their banana recipe with strawberry to create their approximation of a banana split. It's a lot to handle, and probably another example of the boundary-pushing ice cream makers doing too much to nail an abstract flavor. Still, it is Ben & Jerry's riff on a banana split. Which is obviously something you should be interested in.
21. Milk and Cookies
For everyone who has ever dipped a chocolate chip cookie into a big glass of gleaming, white, creamy milk --  and then wished that wholesome, life-affirming experience could be translated into a self-contained, frozen form, today is the first day of the rest of your life.
20. Mint Chocolate Cookie
Take everything I said about No. 21, and add "but instead, Thin Mints."
19. Bourbon Pecan Pie
This Texas-only flavor is one of the most surprising, most elusive of all B+J's flavors. The buttery bourbon ice cream and whiskey swirl give it a surprisingly sophisticated, developed taste that honestly sets it apart from every other single flavor on this list. It might feel the most like a true small-batch ice cream you'd get at a local scoop shop. But alas, it's availability in only one state (that state being Texas, no less) ensures it can rank no higher on this list, despite its weighty qualifications. Everything is bigger in Texas, including the let-downs.
18. Half-Baked
Critics might assert that Half-Baked -- long a Ben & Jerry's staple -- should certainly rank higher on this list. I say there's a handful of flavors (some new!) that do what Half-Baked does, but marginally better. That being said, we still have to pay our respects to the pint and more importantly the name, as it's the first instance of B+J's directly tipping their hat to one of their core audience segments: the stoney-bologna snacker.
17. Pistachio Pistachio
I would have never, ever, under any circumstances, thought a pistachio-flavored ice cream would crack my top 20, let alone escape the confines of Tier V. I was wrong. And this is why we taste test, people.
16. S'mores
S'mores are the culinary equivalent of Monopoly. While they are undeniably enjoyable, the set-up, clean up, and overall struggle and strife of making it all happen limits it to special occasions or extreme bouts of boredom. Ben & Jerry's s'mores ice cream takes away the hassle, freezes it, and hands you a spoon. Now, if they could only figure out how to consolidate a game of Monopoly into a pint... without my sister cheating like a rat, of course.
15. Everything But The…
This "kitchen sink" of Ben & Jerry's flavors and accoutrements is less a gimmicky novelty, and more a hedonistic tour into a veritable B+J's Hall of Fame, all inside a cardboard pint. It has everything. Which is almost too much. This is for the most hardcore fans.
14. Glampfire Trail Mix
One of the better-named options on the list, this new(ish) flavor is like S'mores-light, with an added dose of roasted almonds and a crunchy pretzel swirl. If you are the kind of person who exclusively attends outdoor fire pit sessions for the snacks and the snacks alone, walk -- don't run -- to your nearest ice cream provider. Really, "roughing it" is overrated. Especially when you need a freezer nearby.
13. Chubby Hubby
You may ask yourself, "Why did Chubby Hubby, a perennial Ben & Jerry's favorite, fail to crack the upper echelon of flavors?" There is a simple answer: vanilla malt ice cream. It adds an unnecessary wrinkle to an otherwise banner flavor. Why couldn't they just go with the classic vanilla? Some conundrums are destined to remain frustratingly unanswered. Put this up there with the JFK assassination.
12. Chocolate Therapy
I think the name "chocolate overdose" might have been a little too raw for supermarket shelves, but that's what we have going on here.
11. Urban Bourbon
One of two alcohol-accented flavors in the Ben & Jerry's canon (don't worry, you won't get carded), Urban Bourbon pairs a delicious burnt caramel ice cream base (which is so much superior to their standard caramel that it almost makes me wish I worked at the Ben & Jerry's factory because SURELY THEY MUST NOT KNOW) with swirls of bourbon caramel, almonds, and fudge flakes to create an idiosyncratic, wildly potent, and overall underrated flavor. It's like all the pleasures of big city livin', in the comfort of your own mouth.
10. Vanilla
For all the flavor-mashing zaniness of Ben & Jerry's product line, sometimes we can lose sight of the fact that there is always some damn delicious ice cream at the core (not to be confused with the Core) of what this company does. One pint of plain vanilla will do the trick. It's simplistic, and decidedly unlike anything else Ben & Jerry's puts out there. But it's a soft reminder that the company does not rely on gimmicks and overstuffed concoctions alone. They make some truly great ice cream, too.
9. Peanut Butter Fudge Core
I know. I'm breaking my own self-imposed rule here by putting a Core flavor outside the Tier IV Core Zone. But, this entry -- flush with a splendidly goo-tastic (really, that's the only way to describe it) core of peanut butter fudge is essentially a big pint of validation for the entire Core series. When you taste it, you understand why the whole project was greenlit in the first place. So, in the name of being honest, and truly ranking these suckers by taste and taste alone, I had to make this Core an outlier. And hey who are you, anyway? The flavor cops?
8. Coffee Coffee BuzzBuzzBuzz
B+J's coffee flavor is a solid weapon in their arsenal, and they utilize it quite frequently. But never does their joe-flavored ice cream shine as brightly or appeal as sharply as it does here, in the aptly named Coffee Coffee BuzzBuzzBuzz. It's a fairly simple mashup of coffee ice cream and espresso bean fudge chunks. And while I faulted some flavors on this list for being a little boring, this streamlined package lets the rich flavor of the coffee ice cream dominate the pint. As an overcaffeinated Martha Stewart might say, "It's a good thing, BuzzBuzzBuzz."
7. Cherry Garcia
Perhaps the most iconic and well-known flavor of Ben Jerry's, this cherry flavored ice cream named after the late founder and frontman of the Grateful Dead has become something of a flagship pint for the company, and a benchmark for the brand's success and popularity. The cherry ice cream immediately sticks inside the deep recesses of your brain labeled "hey remember this, it's fucking delicious," and the thick chocolate chunks really set the template for the levels of excess-via-snacking that would be included in almost every other future pint. It's influential. It's original. And most importantly, it's good. But. I just can't eat those big cherry chunks. Sorry. Why can't they just take them out of the flavor? Can we start a petition or something?
6. Phish Food
For literally the first time ever, something Phish-related has bested something Dead-related in my mind. But the chocolate ice cream with a caramel and marshmallow swirl -- alongside delightful fish-shaped chunks of fudge -- remains one of the prime flavor mainstays of Ben & Jerry's. For good reason: It's just plain good. It will leave you reeling harder than after a 20 minute Trey solo at Merriweather Post Pavilion after misguidedly drinking whatever was inside that red solo cup you found in the parking lot. And luckily, without the flashbacks.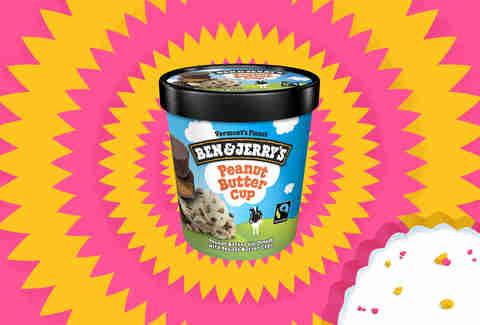 5. Peanut Butter Cup
As we cruise into our top five, there will be some surprises, and some obvious layups. Keeping that in mind, you could call this one "Shaqtastic," (though you might get sued…) because there was absolutely no chance this wasn't a slam dunk pick for a top-five placement. Peanut butter riffs are a running theme for B+J's, but it's never better than in this classic iteration of peanut butter ice cream, and massive chunks of peanut butter "don't-call-them-Reese's" cups. The only reason this isn't higher on the list, is because it is a little one-dimensional. It's peanut butter on peanut butter inside peanut butter. So if you aren't into the George Washington Carver sauce... you aren't going to dig this. This is a one-trick pony that actually does the trick. (The trick is eating an entire pint in one sitting, by the way).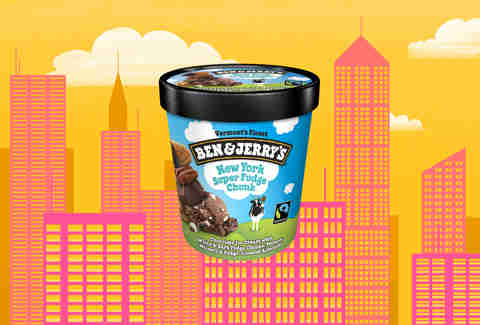 4. New York Super Chunk
Start spreading the news, urban East Coast elites have one more reason to lord over the rest of the country as their flavor has cracked the top five, almost making a Sinatra-esque climb to top of the heap. You probably know this chocolate-based ice cream is filled to the rim with nuts (not unlike the L train at 3am, for example), fudge chunks, and a slight but palpable air of superiority (not unlike the 4/5/6 train at 8:30am, for example). The problem? New York Super Chunk bit off more than it could chew by adding what may quite honestly be the worst thing to add to an otherwise delectable pint of ice cream: copious chunks of white chocolate. It's the most awful thing to happen to the City since they closed down CBGB.
3. Americone Dream
By simply riding the merits of an endorsement by late-night host Stephen Colbert -- as well as making sure a portion of the profits go directly to one of Colbert's charities -- this pint could have weaseled its way into a high ranking. But we wouldn't toy with your taste buds like that. The (ice) cream itself rises to the top, by its own volition. You've got a vanilla base with a heaping amount of fudge-covered waffle cone bits, and a caramel swirl. Really, if you are looking for a vanilla-flavored Ben & Jerry's option, this officially endorsed flavor is simply the best around, as the waffle cone chunks are nothing but the ideal add-on to B+J's creamy as heck vanilla. And it's all for a good cause! And no, we aren't talking about your late-night hunger pangs. Though, that's good, too. I guess.  
2. Chunky Monkey
Taste, like all of the five senses, is inherently subjective. There's no way for one person to rank ice cream flavors objectively, as we tailor our own thoughts and opinions to how we experience life through our own personal lens. Chunky Monkey is -- and has been, for quite some time -- my favorite Ben & Jerry's flavor. The banana ice cream is one of the most distinctive snack food tastes in the world. And when peppered with those thick-cut, Cherry Garcia-style blocks of fudge and some surprisingly fresh-tasting walnuts, you come out with an ice cream experience that can really only be captured by Ben & Jerry's. Yes, I am totally biased here. But in part, that's what this ranking is all about. There's no way I could put my own taste aside, as that is the only tool I have to rate and rank these flavors. I'm only human damn it. Chunky Monkey is weird. It's memorable. And above all, it is one of the better experiences you can have with store-bought ice cream, period. Oh and also, it's pretty fun to say. Chunky Monkey. See?
1. The Tonight Dough
I didn't want this to happen. I didn't plan on having Jimmy Fallon's branded ice cream best all 45 other flavors. I didn't feel the need to be different, to choose something that wasn't a classic flavor. I wasn't trying to be contrarian. I went into this trying my best to pair my subjective biases with an objective sense of exploration. But when I tried the (gruesomely punny) Tonight Dough, I realized that the amalgamation of caramel and chocolate ice cream, with chocolate cookie swirls, chocolate chip cookie dough, and peanut butter cookie dough was simply the best of Ben & Jerry's, in one consolidated pint. This is Ben & Jerry's, encapsulated. How did the grinning mug of The Tonight Show host get lucky enough to grace this batch of frozen excellence and pure imagination? Frankly, I have no idea. Perhaps it was just dumb luck. Maybe Fallon himself had a hand in the ideation stage? At any rate, it may be the best thing Jimmy has ever done. And right now, it's also the best thing Ben & Jerry's has ever done.
Sign up here for our daily Thrillist email, and get your fix of the best in food/drink/fun.