Courtesy of Ben & Jerry's (edited)
America is two things: the land of the free and the home of Ben & Jerry's. But apparently, the Vermonters are saving some of their stash for folks abroad: the other day when I walked through Heathrow Airport in London and saw strange B&J flavors sold in a vending machine that I knew I couldn't get in America, I got salty.
America birthed Ben & Jerry's and they're saving some primo stuff for overseas ice cream lovers? I demanded B&J tell me its most popular international flavors (not available in the US!) so that true ice cream aficionados can plan their next overseas vacations around these scoops of true, creamy goodness. They obliged. Get ready for Baked Alaska... just not if you live in Alaska.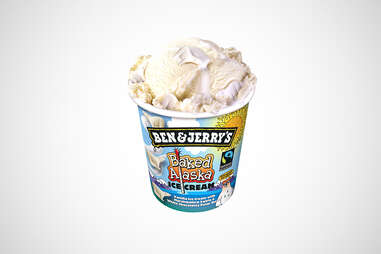 Baked Alaska
Greece
Because this has an American state in the flavor name, and it's not available here, we deserve to have an ice cream flavor called Greeced Lightning with chocolate lightning bolts chunks in it or something. Baked Alaska sounds damn good: vanilla ice cream with a marshmallow swirl and white chocolate polar bears.

Cookie Carnival
Australia
The US has had Cookie Core ice cream for about a year and a half, but there's nothing like this vanilla cookie explosion here. The Wyclef-free Carnival flavor mixes vanilla ice cream along with vanilla cookie + chocolate cookies pieces.

Raspberry Cheesecake Cookie Core
Austria, Germany
Another cookie-filled flavor US taste buds will probably never get to try, this is exactly what it sounds like. Raspberry ice cream with white cocoa and cheesecake mixed in, and a crumbled biscuit core right in the middle.

The Vermonster
Greece
By our count, this is the second ice cream flavor named after a freakin' American state that isn't available in America. Vermont is known for its maple syrup and the fact that it hogs all of the Heady Topper in the world. And for some reason we ship a bunch of it to Greece, where those lucky people are fortunate enough to eat caramelized pecans and a caramel swirl inside VT maple syrup ice cream. This is not to be confused with the Vermonster Sundae, which is 20 scoops of goodness the company serves in its Scoop Shops.
Dough-ble Impact Core
Belgium
Van Damme this sounds good (just like its namesake movie, Double Impact, featuring TWO JCVDs)! A take on its Core ice cream we desperately hope makes its way to freezers here, the chocolate fudge core is enveloped by chocolate and cookie dough ice cream, along with cookie dough chunks.

White Russian
Canada
The Dude might wanna move North, because while the US audiences had a White Russian flavor from '86-'96, it went where all unwanted Ben & Jerry's flavors go to die: The Flavor Graveyard. How is it possible that lucky Canadians get to wear robes and eat coffee ice cream with coffee liquor and we don't?

Satisfy My Bowl
Sweden, Norway, Denmark, Finland, Ireland, England, Scotland
Back in 2014, to honor the 30th anniversary of Bob Marley's Legend album, we can all guess what many Ben & Jerry's employees did. And then once it was 4:21pm, the company came up with caramel and cookie swirl-filled banana ice cream with chocolate peace signs. For a full breakdown of this tremendous ice cream, we found a guy to taste it for us.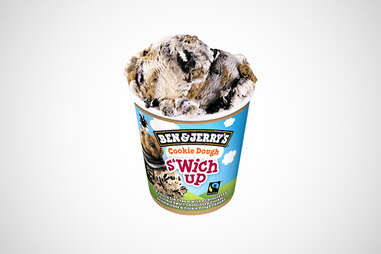 Cookie Dough S'wich Up
Ireland
There are so many chocolate chip cookies in this thing, I'm skeptical as to whether there's room for the vanilla ice cream. Here's the rundown: chocolatey cookie sandwiches, chocolatey cookie swirl, and cookie dough chunks. This makes our Cookie Core ice creams seem to be seriously lacking in cookie.

Vanilla Pecan Blondie
Austria
Walmart recently debuted an exclusive, nut-heavy Pecan Sticky Buns flavor that featured pecans and sticky bun dough, but Austria's version with cake in it sounds a little tastier. Because cake is tasty, you see! Germany's neighbor to the south took vanilla ice cream, and added caramelized pecan, salted caramel, and pieces of fondant cake.

Fairly Nuts
Austria, Belgium, Denmark, Finland, Germany
With the proliferation of sea salt caramel ice creams on the market, you'd think the US had room for another flavor loaded with caramel. But apparently caramel ice cream with caramel swirl and almonds isn't good enough for us. Maybe if we refuse dessert a few nights, we'll get our message across that we're not happy with this.

Murasaki Imotion
Japan
The words "Murasaki Imotion" likely don't make you hungry in any way, but enough people who've visited B&J's first scoop shop in Japan have been eating up this concoction made specifically for that one store. Next time you're in Japan, consider ordering purple sweet potato ice cream with purple sweet potato chunks. Probably goes down easier after you experience some Suntory Time.

Sign up here for our daily Thrillist email, and get your fix of the best in food/drink/fun.
Lee Breslouer is a senior writer for Thrillist, and demands cookie sandwich ice cream here. Follow him to ice cream dreams: @LeeBreslouer.