For BBQ nerds and pitmasters, a dark, sweet sauce added after cooking can be a sign of barbecue gone horribly, horribly wrong. But most of us aren't BBQ nerds or pitmasters, and think that store-bought BBQ sauce can be a great fit for more than just brushing on meat on the grill -- it's a worthy condiment for myriad meals, and as such, we set out to find the best possible all-around sauce for that purpose, and pretty much anything else you can put your mind to.
So which one took the top spot?
Recommended Video
Chick-fil-A Is Giving Away Free Food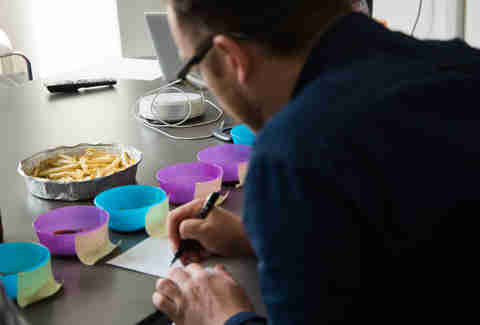 To find out, we assembled a crack team of sauce-heads and had them perform a blind taste-test of nine different store-bought brands of BBQ sauce (we only used more traditional, tomato-and-molasses-based ones to level the playing field). Then, they rated the sauces on a scale of 1-10, with 1 being the lowest and 10 being something even a pitmaster could love. Then, scores were averaged, and we ranked the results.
The taste-testers' comments were recorded for the sake of posterity, and because it was fun to see them guess which one they were tasting (because they were pretty much always wrong).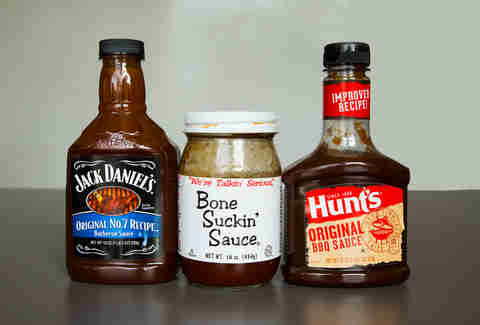 9. Jack Daniel's Original No. 7 Recipe
You probably know Jack Daniel's from its, uh, other type of sauce (we're talking about their whiskey), but they also make a "sweet and smoky" BBQ one that was heavier on the smoke.
What the tasters say:
"It tastes like a bit more of a generic brand."
"Ooooh, yeah. This is the smokiest by far."
"Yeah, there's smoke and a bit of sweetness, but not too much else."

8. Hunt's Original BBQ Sauce
Hunt's, which some folks might know as the other ketchup brand aside from Heinz (those guys have that market on lock), also releases this "rich and tangy" signature sauce.
What the tasters say:
"Pretty tomato-y, but then it's gone."
"Doesn't stay around to hang out. It's like your friend who got his $20 and peaced."
"It tastes like someone took the sauce from the McRib and then watered it down."
"It doesn't taste like it has any fake smoke, which is nice. It's more molasses-y."
"Bottled smoke is the Disneyland of flavors. If you don't wanna figure out how to have your own fun, go somewhere they have bottled fun."

7. Bone Suckin' Sauce
Bone Suckin' Sauce was the biggest outlier in this taste-test -- still tomato-and-molasses-based, but less thick, it was originally created in North Carolina and was awarded the "Best in Barbecue" award by Health magazine. But our taste-testers would probably rather it hadn't.
What the tasters say:
"It's weird that it's not as thick, but it tastes syrupy."
"It hits the back of your throat with the spiciness."
"The first taste is very tomato-y, like when you get ketchup on your hand and you lick it off."
"You would probably baste with this sauce. But while you're cooking, it's gone by midway through. You'd have to reapply."
"It's got a cinnamon-y flavor, and maybe some berry flavor?"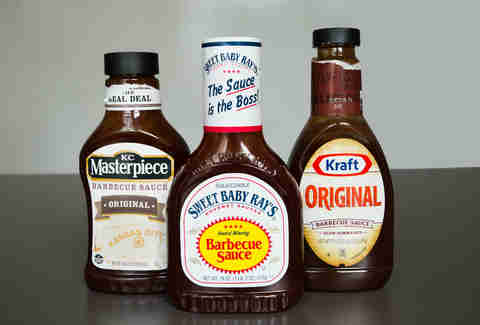 6. Kraft Original
Kraft's lineup also contains a few BBQ sauces with cane sugar instead of high-fructose corn syrup, which is what this particular variant (their standard-bearer) contains.
What the tasters say:
"Not my favorite."
"It's lighter... not as goopy."
"It's got a nice smoky finish to it."
"Each passing BBQ sauce that I try, the more I realize that this is just sugar goo."
"This has the fake smoke thing going on."
"It's like if generic BBQ sauce started going to liberal arts school. You don't really need the layers of flavors, but they're there nonetheless."

5. Sweet Baby Ray's
Sweet Baby Ray's started with just this sauce (and has since expanded to a full lineup of products that includes mustard and Hawaiian BBQ sauces), which is named after the brother of its creator, Larry (wha?). And FYI, the brother's name is... David (double wha?). But his nickname is Sweet Baby Ray.
What the tasters say:
"Oh yeah, this is that Kraft goodness. Thick and sweet."
"Reminds me of the Burger King BBQ sauce."
"It's like the Lennie Small of sauces: thick and sweet."
"I'm familiar with it. It's a BBQ in a backyard where people don't care that much. I've been there, it hasn't steered me wrong."
"Yeah, this is something you put on bland chicken."

4. KC Masterpiece Original
"Thick, rich and bold," reads KC Masterpiece's official description of their Original sauce. The "KC" here stands for Kansas City, and the "Masterpiece" stands for, well, the fact that their sauce is good.
What the tasters say:
"Maybe THIS is Kraft?"
"No, this one's Sweet Baby Ray's!"
"There's a little more spice, a little more zing. Some cayenne or some black pepper?"
"It's like a boomerang. You throw it, and you admire it, and it comes back and smacks you in the face."
"It's like a chucklebutt stole the recipe for a generic brand and added more salt, and was like, 'This is my recipe now.'"
3. Stubb's Original
Stubb's is a Texas original, named after barbecue master C.B. Stubblefield. He made his sauces from scratch (stubble is scratchy), and while they're now manufactured, they contain no high-fructose corn syrup.
What the tasters say:
"This is tomato-y -- it's just pepper and tomato sauce."
"This is almost like marinara."
"This would be a great dip for, like, a Tex-Mex mozzarella stick."
"I wouldn't even call it a BBQ sauce, but I still think it tastes good."
"It's almost like a beef jerky; like, it's got that original jerky taste."

2. ShopRite Original Barbecue Sauce
ShopRite, a generic store brand, was placed in as a ringer, and damn near took the whole shebang! Seriously, leave some shebang, why don't you?
What the tasters say:
"This one's waaaaay smokier."
"This one sort of brings its presence a little more."
"It's like a refined sweet, not a cheap sweet."
"It tastes a little more vinegar-y and tart than the others, which is nice."
"Sharper, more to-the-point. It lets you know what it is right away."

1. Bull's-Eye Original
Bull's-Eye also produces sauces that are modeled after different regional styles, but their Original is what attracted our eye. They call it a "rugged blend of hickory, smoke, molasses and herbs & spices."
What the tasters say:
"It's like nice little Baby Bear: not too hot, not too sweet, not too smoky."
"You want a BBQ sauce to be at the party and not cause a ruckus. And that's what this one does."
"It's a noninvasive BBQ sauce."
"It tastes great, and it's not too thick, either."
"I'd probably buy this one if I had very bad choice paralysis. It wouldn't cause me any problems. Maybe I'd add a little spice to it."
Conclusion
In the end, Bull's-Eye took the top spot. The qualities that made it stand out were, ironically, the ones that made it blend in; it was universally agreed upon as being the least obtrusive with its flavor, and nicely balanced -- not too smoky or sweet or spicy. Its primary ingredient, high-fructose corn syrup, was counteracted nicely by tomato puree, vinegar, molasses, apple cider vinegar, and mustard flour.
But about that HFCS -- it was present in every single sauce here, with the notable exceptions of Bone Suckin' Sauce (whose low performance can be attributed to its watery texture and berry-esque natural sweetness) and Stubb's (which consists of less than 0.5% of the stuff, and instead opts for cane sugar and molasses). If you're looking for a more natural alternative to Bull's-Eye, Stubb's is the way to go.
Happy basting/dipping/marinating/topping, everyone.
Sign up here for our daily Thrillist email, and get your fix of the best in food/drink/fun.
Adam Lapetina is the partnerships editor at Thrillist, and has got a pile of chicken fingers that he finally knows what to pair with. Read his musings at @adamlapetina.