There is nothing quite like the flakes of a buttery baked pastry. It's the ideal way to start the day, paired with a cup of coffee or tea. The experience of biting into fresh pastries is so universally beloved that countries all over the world have developed their own interpretations of the flour, butter or shortening, and water combination in both sweet and savory varieties. And while not all pastries stick to a strict recipe—some use custard, others include raisins, some are filled with meat—all undoubtedly capture the flavors of their surroundings and make breakfast something to look forward to. Here are 14 breakfast pastries from around the world to get your day going.
Pan Dulce
Mexico
The term pan dulce refers to a variety of sweet breads served up at panaderias and consumed for breakfast or as a snack in Mexico. Some popular variants of pan dulce include the concha, a roll with a crunchy shell-shaped sugar crust on top, besos—meaning kisses—which are dense breads that sandwich jams and marmalades, and orejas: flaky "elephant ears" that are very similar to France's palmier. That being said, there are dozens of different types of pan dulce that can kick off your day, and all of them are delicious.
Pain au Chocolat
France
Pain au chocolat is a French pastry that is very similar to a croissant in that the dough is laminated, which creates flaky, buttery layers. The center of pain au chocolat contains, unsurprisingly, chocolate; traditionally, a piece or two of dark chocolate is placed in the center, where it emerges melty from time spent in the oven. Some laminated croissant doughs—like the ones used to make pain au chocolat—can contain up to 80 layers and are a painstakingly difficult process to maneuver and perfect, but the effort is well worth it for the ultra flaky, buttery end result.
Pastelitos
Cuba
Pastelitos are Cuban puff pastries that are stuffed with both savory and sweet fillings. The most common variations include a guava and cream cheese pastelito, a sweet dulce de leche filled one, and a picadillo—or minced meat—flaky pie. Meat filled pastelitos are often compared to empanadas, as they're both dough-based pastries that encase fillings, but the main differences include the size (pastelitos tend to be smaller) and the fat content in the wrapper dough. Sweeter variants typically have a rectangular shape, with exposed cuts that reveal the filling.
Boh Loh Bao
Hong Kong
Boh loh bao, or pineapple buns, are a Hong Kong specialty. This sweet bread doesn't actually contain any pineapple in it, but is named after the sugar-crusted topping that somewhat resembles a pineapple's criss-cross pattern. Boh loh baos can be eaten plain, or sliced open and served with a flat pat of butter. They also often make an appearance during yum cha, or dim sum brunches, as a sweet counter to all the heavier, protein-rich dishes like shu mai and stewed pork spare ribs. Eat these alongside strongly brewed Hong Kong milk tea for a true Hong Kong experience.
Ensaymada
Philippines
Ensaymadas are buttery and sweet cheese-topped pastries that originated in Mallorca but were popularized in the Philippines partially due to Spanish colonial rule. The brioche-based pastry is often rolled in sugar and served during Christmas alongside hot chocolate and strawberries. For an added layer of savoriness, some bakeries in the Philippines top their ensaymadas with salted egg.
Deblah
Tunisia
Deblahs are beautiful pastries not only due to their delicate, syrupy flavor, but also thanks to their flower-like shapes. Deblah dough is made from egg whites, flour, yeast, and water and rolled thin—often using a pasta roller—to create ribbons that emerge as fried, fragrant dough flowers. They are typically topped with sesame seeds and glazed with a citrus syrup before being served alongside tea.
Koeksister
South Africa
Known for their delicate plaits, koeksisters are braided and fried South African sweets drenched in a sticky syrup. The dough is similar to that of American donuts but the glaze is entirely different. After being fried, the confectionary is submerged a ginger and lemon-flavored syrup that is refrigerated until ice cold, resulting in a crunchy, sugary coating and a syrup-soaked interior.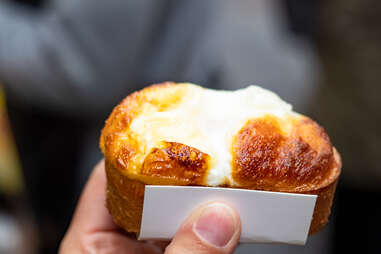 Gyeran-ppang
Korea
The sweet and savory nature of Korea's gyeran-ppang, or egg bread, makes it the perfect handheld breakfast snack. Often sold as a street food, gyeran-ppang is made from a fluffy pancake-like bread base with a whole egg baked either on top or into the middle. The oblong-shaped bread varies in toppings, which can include cheese, ham, bacon, and chopped parsley.
Pâté chaud
Vietnam
Pâté chaud, sometimes referred to as bánh patê sô, is a Vietnamese meat-filled pie with French influences. The meat pie has a light, puff pastry exterior and is typically filled with pork, though beef and chicken are sometimes swapped in. Depending on the vendor, the little hot pies can either be round, hexagonal, triangular, or even rolled into little puff pastry-filled balls.
Macheteadas
Honduras
Macheteadas are shallow fried, flattened disks made in Honduras using leftover baleadas—or flour tortilla—dough. In terms of flavor, the dough isn't inherently sweet; to enhance the taste of macheteadas, it is commonly spread with butter and drizzled with honey or maple syrup. Macheteadas are served alongside coffee or milk and have a crisp exterior and slightly dense center.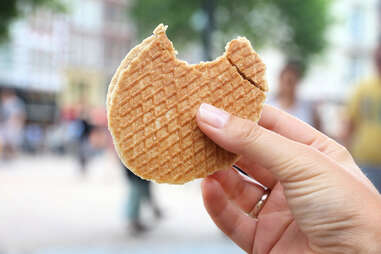 Stroopwafel
Netherlands
The dutch stroopwafel—which aptly translates to syrup waffle—is a marvel of pressed dough and caramel. What might be the most impressive thing about the stroopwafel is the fact that the cookie isn't made up of two waffles, but only one, impressively halved despite being so thin. Typically, these flat discs of sugar, butter, and everything good are served over a piping hot cup of coffee or tea, where as the steam rises, the cookie-waffle hybrid softens—resulting in a gooey and pleasant pastry.
Scones
UK
Some pronounce it scone, rhymed with tone. Others declare it as a scone, like gone. Whatever the divisive pronunciation, scones are a baked British treat often served for breakfast or during high tea. Scones are most commonly lightly sweetened, and are often studded with dried fruits, chocolate chips, or citrus zest, but occasionally they are prepared with savory elements, such as cheese, rosemary, and chives. To get the full scone experience, its best to top the crumbly pastry with clotted cream and jam, and eat them a proper pot of tea.
Cornetto
Italy
Though it looks very similar to the French croissant, the Italian cornetto has less butter, less lamination, and a more cake-like texture. The dough is enriched with eggs and has more sugar than a common croissant; it's also often flavored lightly with citrus. It's a common breakfast pastry that's eaten alongside coffee and can be sold plain or served stuffed with jam, custards, and Italy's favorite hazelnut spread, Nutella.
Gugelhupf
Austria
Austria's National Tourist Office writes that, "a piece of marbled Gugelhupf, generously dusted with icing sugar, and served with a dollop of whipped cream is Viennese coffee-house culture at its finest." Though there are arguments about where the gugelhupf originated, the yeast-based cake, baked in a bundt pan, is one of Austria's most beloved treats. Gugelhupf are often filled with dried fruit, nuts, or brandy, and dusted with either confectioners sugar or cocoa. It may also arrive marbled with cocoa-infused batter, or glazed with syrup. It can be eaten as an afternoon sweet with tea, or served for brunch on weekends; whatever the timing, when it comes to the gugelhupf, you definitely don't need an excuse to eat cake for breakfast.
Kat Thompson is a staff food writer at Thrillist. Find her on Twitter @katthompsonn.