Restaurants like Smashburger or an In-N-Out are great, but they are not the only cult-loved burger joints out there. There's a beefy army of burger chains across the country with the potential to win over your heart -- and stomach. We scoured the country for only the choicest, Angus-iest burger chains out there that you may or may not be deprived of, depending on where you live. If there's a chain near you that deserves shouting out, tell us in the comments. But first, fire up the grill (in your mind) and get to know these phenomenal burger chains you definitely want in your life.
Recommended Video
This Burrito is Loaded With Taquitos
Where they are: Arizona, California, Florida, Idaho, Maryland, Nevada, New Jersey, Pennsylvania Utah, Virginia, Washington
While many of the burger shops in this article are newer, fast-casual restaurant concepts, Habit started in Santa Barbara, California in 1969, back in a time when people spoke to one another without thinking about looking at their phone. And while Habit Burger might be a chain from a different era, it's still a fast-casual concept. Every burger is made-to-order, which means it'll take a tad longer to prepare than a fast-food burger, but it's worth the wait. For a brand that's been around the block a couple of times, it has a modern look -- open kitchen, spacious booths -- and a few of the food offerings follow suit: sides like tempura green beans and sweet potato fries, salads topped with sushi grade ahi tuna, and fried chicken sandwiches. But the major draw here is the Charburger. Consumer Reports readers famously called it the best burger in America (sorry, In-N-Out). Fresh ground beef is grilled on an open flame and sandwiched between two toasted buns and caramelized onions, pickles, tomatoes, lettuce, and mayo. And unlike In-N-Out's static menu, Habit dresses up its burgers in new clothes. As in a teriyaki option with grilled pineapple and teriyaki sauce, or a Char with portabella mushrooms and white American cheese.
Where they are: Connecticut, Florida, Maryland, New Jersey, Nevada, New York, Ohio, Pennsylvania, Virginia, Washington DC
Bobby Flay has the resume of a celeb chef, what with a billion TV shows, cookbooks, and the requisite Vegas eateries. But the Burger Palace isn't a one-off bistro catering to Midwest tourists; it's a chain that's since expanded to nine states (and DC) from its launch in 2008. No matter what flavor profile you're craving, chances are Flay's made a burger that'll satisfy. First, you select a beef, turkey, or chicken patty. Then, you can order a simple Bacon Crunchburger (bacon, American, potato chips) or a multitude of burgers named after American cities, like the Philly (provolone, griddled onions, peppers), the Dallas (spice-crusted patty, Monterey Jack, pickles, BBQ sauce), or the Miami (ham, Swiss, pickles, mustard, mayo). Don't skip on fries, especially those covered in liquid cheese and bacon crumbles. Ten different shakes (cookies & cream, pistachio) complement the burger and fries, and to keep things fresh, a new, rotating burger and shake are introduced each month. A recent standout was the Louisiana burger with pepper jack, griddled tasso ham, spicy remoulade, and hot sauce.
Where they are: Arizona, California, Colorado, Oklahoma, Tennessee, Texas
Some burger shops brag that they get their beef and buns delivered fresh every morning. The Austin-born Hopdoddy skips the middleman by just grinding antibiotic/hormone-free beef (and lamb, bison, chicken, and turkey) and baking those buns in-house themselves. Oh, and the fries are hand-cut as well. You can tell. The obsessive commitment to freshness shines in every burger, whether it's a Greek lamb number with feta, pickled red onions, and tzatziki sauce or the Magic Shroom with Angus, goat cheese, field mushrooms, and basil pesto. Because queso is kind of a big deal in Austin and they wouldn't dare put it on their menu unless it was legit, you'd do well to pair that burger with fries and a side of creamy green chile queso. The burgers are filling, but it's also worth it to weigh down your silver tray with a local draft beer (selection is dependent on the location), cocktail, or absolutely decadent shake like the Nutella chocolate pretzel or red velvet cake. This isn't a shake flavored like cake: it's made of blended red velvet cake.
Where they are: California, Illinois, Nevada, New York
Pop quiz: What the heck is umami? If you answered "the Spanish word for sexy that's been misspelled," you're wrong! It's actually the fifth taste -- something that's not salty, sweet, sour, or bitter. It's just... something else. The burgers served up here are meant to maximize the amount of umami flavor you get in every bite, which is why you'll see umami-rich ingredients like Parmesan, shiitake mushrooms, and roasted tomatoes. It's no wonder that when it debuted in Los Angeles in the late '00s, it took the city by storm. Since then, Umami Burger has slowly spread its reach across the US. The unique burger lineup includes outrageously creative options like the K-BBQ, which has a Gochujang glaze, caramelized kimchi, and Korean-spiced ketchup (something Heinz should definitely get on). But the secret sauce of Umami Burgers burgers is the literal secret sauce. The chain calls it the Umami Master Sauce, and it's a combination of a sweet/spicy Chinese hoisin sauce, the nutrient-rich kombu (aka kelp), and soy sauce. OK, guess it's not so secret anymore. But it helps Umami Burger stand out from the crowd.
Where they are: Alaska, Alabama, Arizona, California, Colorado, Connecticut, Florida, Georgia, Illinois, Kansas, Kentucky, Maryland, Michigan, North Carolina, Nebraska, New Jersey, New York, Ohio, Pennsylvania, South Carolina, Tennessee, Texas, Virginia
You better go to BurgerFi hungry, because most of the burgers on the menu come with two Angus patties. You'll barely have room to also eat its beef dogs, custards, and sides. But you still probably will, because items like the decadent red velvet custard Concrete (thick vanilla custard + red velvet cake) and the crispy Cry+Fry (half onion ring + half fries) are worth saving real estate for in your stomach. And while the menu is relatively tiny, like In-N-Out, there's a slew of secret menu items to order that aren't so secret. Among them is the gigantic 4x4, which is basically a Big Mac on steroids with four Angus patties, four slices of cheese, and plenty of mayo-based BurgerFi sauce. Luckily it's not actually on steroids, since the beef is all-natural. On the opposite end of the health spectrum, there's also a Hippie Veggie, which is decidedly not boring and includes two of its beloved, crunchy quinoa burgers (which are packed with lentils, fontina, Parmesan, and panko), and comes on a potato bun.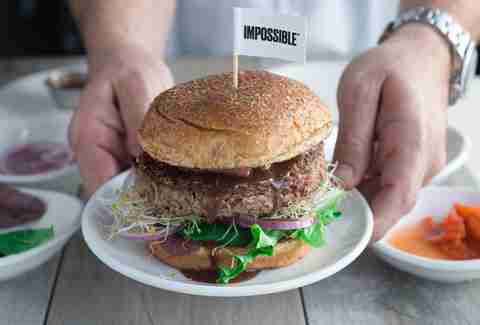 Where they are: Arizona, California, Florida, Georgia, Hawaii, Idaho, New York, Texas, Virginia, and abroad
The Counter is the perfect chain for people who like options. There are 60+ toppings on the menu at this Los Angeles-born burger joint. And with that, you can create one of 312,000+ different burgers. How about an organic bison burger with herbed goat cheese, steak sauce, kale, and avocado? Or a classic cheeseburger with but with guacamole and grilled pineapples? The answer is always yes. No matter the combination, it's gonna be a damn good burger. But don't take our word for it. Oprah loves it too. Yeah, that Oprah! And don't forget to pair your favorite burger with a pile of the chain's shoestring Parmesan fries. Seriously. You'll regret it if you do.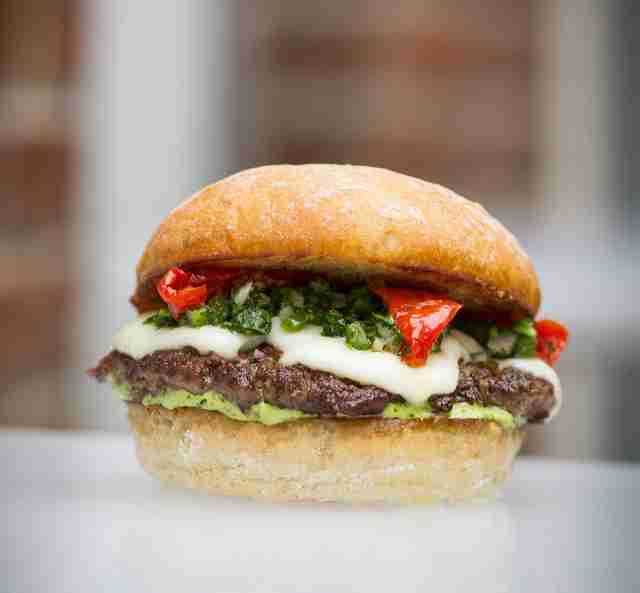 Locations: California, Nevada
Burger Lounge was founded in La Jolla, California, and has 22 locations all over the Golden State, but this chain might be familiar to you if you've ever been to Las Vegas. Yep, a city associated with excess and sin has embraced a brand with sustainably-sourced food, which has a bustling location on the casino floor of the Aria Resort & Casino. Despite the multiple locations in two states, every single grass-fed, grass-finished burger is from Miller Ranch Beef or Grass Run Farms. Organic cheese is from Rumiano Bros. Even the turkey burgers are from Shelton's Farms. But perhaps way, way, way more importantly is that the burgers are delicious. Unlike most burger shops that grill their patties until they're well done (and chewy), all burgers here are cooked medium unless you tell them otherwise; that includes The Husky, a filling bad boy with double beef, double cheese, LTO, pickles, and Thousand Island dressing. You won't find unusual toppings here -- just basics like avocado and (nitrate-free) bacon. The sides are similarly simple and well-made, from the necessary Half and Half (fries + onion rings that serves two) to root beer floats and chocolate Big Lounge Shakes. While you could order Alaskan cod and crispy chicken sandwiches, or organic kale Caesar salads and turkey burgers, you might want to rethink that idea. It's called Burger Lounge and that burger is why you walked into the casino. And to gamble, probably.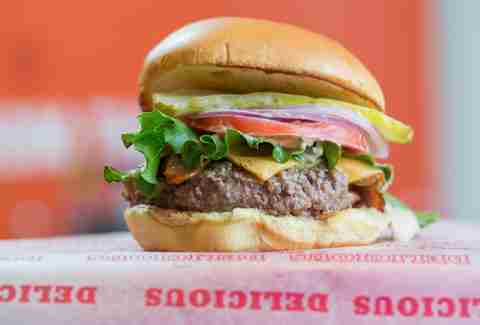 Where they are: Washington, DC, Illinois, Virginia, and abroad
For a guy who finished in fifth place on Top Chef, Spike Mendelsohn sure does have the career of a winner. Only a month after the season of his show stopped airing, he and others in the Mendelsohn clan (including his parents, who are restaurant industry vets) opened Good Stuff to serious acclaim -- and not just from Yelp reviewers or any schmo off the street, from a president. Former President Obama was a famous visitor to the DC-founded restaurant, which explains why there's a menu item called Prez Obama Burger with bacon, onion marmalade, Roquefort cheese, and a horseradish mayo. Mostly, Good Stuff keeps the menu simple. There's a variety of signature farm-raised beef burgers; order that Colletti's Smokehouse with bacon, Cheddar-fried onion rings, and a smoky chipotle BBQ sauce. There are also unique beef-free options, like the extremely cheesy Muenster & Cheddar-stuffed portobello tops and Nashville hot chicken, all of which pairs well with Spike's village fries, an addictive mix of thyme, rosemary, and sea salt. And don't you dare forget to finish your meal with the crowd-pleasing toasted marshmallow shake -- a frothy mix of vanilla custard and marshmallows blended together and topped with even more marshmallows.
Where they are: Colorado, Kansas, and Missouri
Vail, Colorado is typically associated with the gnar, and the shredding of said gnar. It is not a place you'd associate with up and coming burger chains. But Larkburger is changing all that. The restaurant got its start when people kept ordering the ⅓-pounder all-natural Larkburger at Vail's fantastic fine dining spot Larkspur, and eventually the chef made the decision to spin it off into a burger-only restaurant in nearby Edwards. It's since opened up locations all over the state (as well as in Kansas and Missouri) on the back of its signature black Angus beef burger on a brioche bun. You'd do well to order the truffle burger; the truffle aioli gives the juicy patty an added kick. The menu is focused, with non-beef options including a chicken + jalapeño burger, a grilled ahi tuna steak burger, and a roasted portabella mushroom. While you could go the healthy route and a chopped kale salad or a rocket power salad with greens and quinoa on the side, it's impossible to resist the hand-cut truffle & Parmesan fries, which are covered in black truffle sea salt and grated Parmesan, and are best enjoyed by the fistful. Vanilla, chocolate, and strawberry shakes made with all-natural Boulder Ice Cream are a solid dessert option, though good luck having room after those fries.
Locations: California, Connecticut, Georgia, Illinois, New Jersey, Ohio, Pennsylvania, Washington, DC
At Bareburger, the meat and veggies are mostly organic and always fresh. But even more important: The burgers are damn good. And even if you're not in the mood for a beef burger (if you are, the Buckaroo with aged Cheddar, smoked brisket, and wild mushrooms is a solid choice), they've still got you covered with bison, turkey, and fried chicken sandwiches. And because Bareburger has always been about more than just hamburgers, they're moving into the future with a ton of non-meat options that still taste great. You could go with a black bean or sweet potato and wild rice-based patty, or with the some of the best-tasting fake meat you'll ever eat. The chain is the first to feature both Beyond Burger and Impossible Burger, two companies on the cutting edge of plant-based burgers that look and taste real. Regardless of the type of burger you're digging into, you'll want fries. The healthy burger chain takes 'em to the next level with seven dipping sauces, including mayos with habanero or Sriracha, a seven-spice Thai ketchup, and buttermilk ranch. Wash it all down with milkshakes like the vanilla ice cream-filled banana foster or the vegan mint chocolate cookies & cream.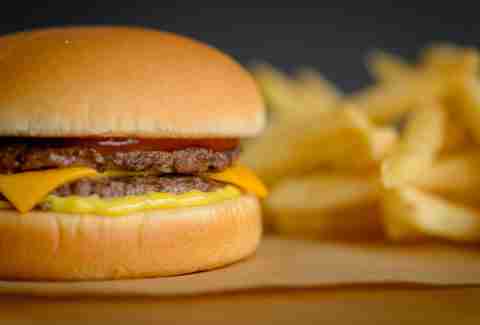 Where they are: Oregon, Washington
Unlike many modern, over-the-top chains, Burgerville is something of a throwback. It's not a newfangled chain like Five Guys or Freddy's that only looks like it's from another era -- the first Burgerville opened in 1961. Despite its old-school roots -- and old-school design touches like red chairs and neon accents that make it look like a sock hop can break out at any minute -- the commitment to local producers like Tillamook cheese and hormone/antibiotic-free meat is decidedly now. And right about now, you could probably go for a pepper bacon cheeseburger, with the aforementioned Tillamook Cheddar and pepper bacon, of course. Wild Alaskan halibut and free-range turkey burgers will fill your growling stomach when you've had your fill of burgers. Sides like the seasonal rosemary shoestring fries and Walla Walla onion rings are a must. If you're reading this before lunch, Burgerville has you covered as well, as it's one of the only chains in this article that serves breakfast. You can't resist the breakfast burger, with a small beef patty, fried egg, Cheddar, and bacon on a bun. Shakes, cookies, and sundaes round out the menu, though our pick is the triple berry milkshake -- where else are you going to find a marionberry, raspberry, and blueberry selection other than the PNW?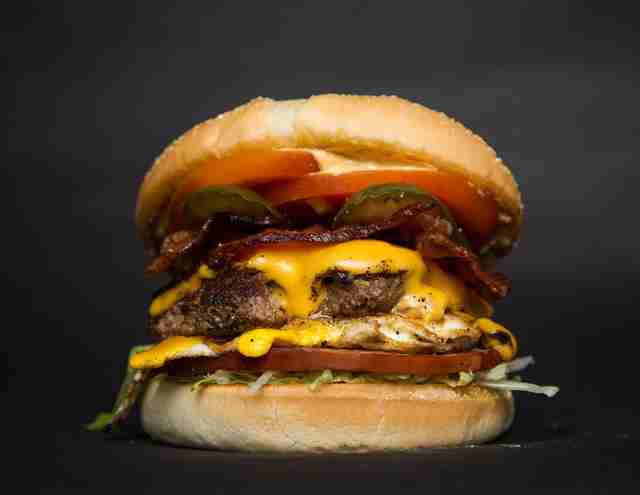 Where they are: Oregon, Washington
Jerry Seinfeld's wife Jessica had a moment of notoriety for a cookbook that helped parents prepare healthy food for kids. She'd hide kale into spaghetti and meatballs and black beans into brownies. Killer Burger is a restaurant concept that seems like it was created by an evil Jessica Seinfeld: there's bacon blended into every burger. The bacon-free Purist burger notwithstanding, the other eight standard burger options are ⅓-pound local, grass-fed beef, and bacon. Oh, and if you like fries, this is the spot for you. Not only do they come with every burger, but they're bottomless, similar to many of the dancers at Portland's fine adult establishments. The burgers are not bottomless, but we'd like to see you try to eat more than one. Whether it's the PBPB! with bacon, peanut butter sauce, and smoky house sauce, or the Jose Mendoza overflowing with roasted green chiles, bacon, and Monterey Jack, this is not your grandpa's burger spot. And though milkshakes are a delicious pairing with a burger, there's something about eating one with a beer. Being a Portland-based chain, you know they take their beer seriously, so you can always order the two beers they've created with Culmination Brewery (Bloodshed red ale, Contract Killer IPA), as well as selections from other Oregon faves like Ninkasi, Fort George, and Backside. Pro tip: There's seriously cheap burgers and booze from 2-5pm during the week if you're in the mood for a bargain.
Locations: Alabama, Arkansas, Arizona, California, Colorado, Florida, Georgia, Iowa, Idaho, Illinois, Indiana, Kansas, Kentucky, Louisiana, Michigan, Minnesota, Missouri, Mississippi, Montana, North Carolina, Nebraska, New Mexico, Nevada, Ohio, Oklahoma, Pennsylvania, South Carolina, Tennessee, Texas, Utah, Virginia
Based on the multitude of states listed here, it seems like Freddy's would be a huge chain with the reach of Burger King. Or at least Whataburger. But that's not the case. In fact, while it's in more states than In-N-Out, Freddy's has many fewer locations; it recently opened its 300th, while INO has over 300, with plans to open hundreds more. But it has a lot in common with the California cult chain: a nostalgic bent to its interior design (checkerboard floors, bright red booths out of an old-school diner), fantastic burgers, and superior customer service. But let's talk about those burgers! They're called steakburgers, but they don't have the thickness of a T-bone. They're thin as can be -- order a double, for sure -- and the edges are a crispy delight. And they're also hot! When you bite into one, steam can sometimes hit you square in the face, which is something of a Freddy's signature. The chain started in 2002 in Wichita, Kansas as a throwback to the place the namesake loved to go as a kid. Yep, Freddy's a real dude. You'll also find custard (no weak soft-serve here), hot dogs, and even patty melts. Shoestring fries and fried pickles are also a hit, and will ensure you don't leave hungry.
Sign up here for our daily Thrillist email and subscribe here for our YouTube channel to get your fix of the best in food/drink/fun.