The 47 American Burger Spots You Need to Try Right Now
From smashed patties to towering toppings, here are our picks for the top burgers in the country.
These days, it's difficult not to find yourself in the general vicinity of an outstanding burger. Americans' love of all forms of beef between buns has grown so passionate that it seems like every restaurant that opens feels compelled to put a burger on its menu. That's fantastic and all, and we want to recognize some new additions to the scene (including some that were born out of the pandemic) but also pay proper credit to longtime joints that have lived and breathed ground meat for generations. From smashed patties to towering toppings, here are our picks for the best burgers in America.
San Diego, California
A collective cheer went up from burger lovers across San Diego when The Balboa Bar and Grill reopened in April, after owner Tom Logsdon had announced its permanent shuttering in July 2020. Thanks to an unexpected proposal from his landlord, it's back, bigger and better than ever. The namesake Balboa burger is always a solid choice, seared on a flat top and piled with fresh lettuce, tomato, onion, a garlic aioli smear and gooey melted American cheese, all tucked into a freshly baked bolillo bun that's robust enough to capture all the succulent juices without dissolving halfway through. Add a finely crafted cocktail, sit back, and enjoy one of life's perfect moments.
See the top burger spots in all of San Diego.
Los Angeles, California
This little burger shack offers one of those old-school, no-nonsense California burgers served up by its namesake grillmaster, who has spent half a decade flipping deliciously thing and juicy burgers and serving them up with a side of endearingly crotchety attitude. The perfectly seasoned flat-top adds an extra something-something to griddled double cheeseburgers that simultaneously taste like childhood and the best thing you've had since then. Bill, who is 93 years old, has threatened to retire soon—there were rumors during the pandemic that a sale was imminent—so now maybe is the time to go before he actually hangs his spatula up.
See our top burger spots in all of Los Angeles.
New Orleans, Louisiana
Bub's only started slinging its perfectly cooked, almost-crispy-around-the-edges smashburgers in June 2020, with a pop-up at Mid City Pizza. Despite the ongoing pandemic forcing continued closures, it didn't take long before the appearance of the Bub's Burgers food truck at NOLA breweries was drawing enough of a crowd to justify opening a brick-and-mortar location just a few steps away from that very first pop-up. Head to the new digs on Banks Street for the namesake Bub Burger with its two patties, American cheese, griddled onions, homemade bread and butter pickles, and a smear of Bub Sauce on a butter toasted brioche bun. In this soon-to-be neighborhood destination, it really doesn't get better.
Portland, Oregon
This year has ushered in the era of the Portland smash burger. From food carts to taverns, these crispy, American cheese-draped, fast food delights have overtaken the burger conversation. But there's still room for the classic, and Sesame Collective's most casual operation, Bless Your Heart Burger, serves an exemplar of that style. These loose-ground burgers with fat-and-char-pocked patties come crispy and messy on a potato roll with Duke's mayo, mustard, ketchup, sweet onions, shredded lettuce, pickles, and American cheese. It's somewhere between fast food and backyard grill, and it's just the right size that ordering it as a double borders on utter indulgence without stepping over the line. Start with the classic but don't shy away from the chili and coleslaw-covered variety or the LL Cool J Burger with guacamole and bacon.
Boston, Massachusetts
When we talk about a mean burger, Boston Burger Company is home to the meanest–in the best way, of course. With options like the WTF Burger, featuring layers of pulled pork, mac & cheese, crispy onion ring, pickles and topped with BBQ sauce or the famous Mac Attack, loaded with a homemade four cheese mac and cheese and bacon, it's hard to pass up one of these patties when you're visiting the city. There are also locations in Cambridge, Somerville, and Salem in case you plan to hop around and/or go back for another bite.
See the top burger spots in all of Boston.
Charlotte, North Carolina
Don't let the moniker fool you—Brooks' is very much a burger joint, and has been since twin brothers David and Scott (Brooks, obviously) opened it in 1973. The little red shack draws Carolinians of all stripes looking to experience arguably the finest burger in either Carolina, with a craggy char that immediately gives way to juicy perfection. If you want to go "all the way," your burger will come topped with mustard, raw onion, and a helping of another specialty, a wonderfully smoky chili that intermingles magically with that aforementioned patty. Be warned: This old-school joint is cash only.
Sedalia, Colorado
Things that Bud's Bar does not have: French fries, furnishings and décor that have been updated this century, lettuce, and credit card machines. Things that the 73-year-old burger joint has in spades: potato chips, stories, surliness, and arguably the best cheeseburger in the West. The menu here is simple—single or double burger; with or without cheese—but you're not here for options. You're here for the greasy mess of meat, cheese, and bun served with a side of Lay's. And, at least while you're sitting in those ancient wooden booths, it is everything in the world you need.
San Francisco, California
Even if you're one of those San Franciscans who look down their noses at the Marina, a trip to Causwells for the Americana burger is well-worth putting those feelings aside for a couple of hours. The smash-style burger tastes like a sophisticated take on In-N-Out's Double Double, but with way better ingredients and way more deliciousness. The double patties are mixed with dry-aged fat and covered in American cheese and then topped with lettuce, onion, lacto-fermented pickles, and a secret sauce (a combination of house-made Worcestershire, house-made Thousand Island dressing, and other proprietary stuff), all on a Petit Pain bun. You can add accouterments like avocado, bacon, and a fried egg, but you really don't need any of it; this burger is perfection just the way it comes.
See the top burger spots in all of San Francisco.
Denver, Colorado
One-hundred-seventy-five steps from Cherry Cricket (we counted), a restaurant serves kombucha and quinoa bowls. Cherry Cricket is not that. It's a gathering spot for all of Denver. And even after it closed due to a fire and reopened in April 2017 and through the COVID-19 pandemic, it retains that divey, old-school vibe. And, of course, a burger that's become a Denver institution. A juicy, half-pound Cricket Burger is the move, customized with peanut butter (a popular choice) or more standard fixins like bacon or avocado (33 in total, we counted). There's a monthly rotating signature burger, but the best burger here is the one you order. Just like it's always been.
See the best burger spots in all of Denver.
San Antonio, Texas
Chris Madrid opened his eponymous restaurant in 1977 and grew it into one of Texas' most beloved burger institutions before passing away in 2012. But his legacy lives on in the form of the ever-present crowds lining up to get their hands on a macho-sized burger (that's Chris Madrid's speak for "large"). Get the tostada burger (you know what size to get) and marvel at the cascading layer of melted Cheddar masking the refried beans and onions topping a burger that refuses to be contained by its bun. Top it with some of their pico de gallo. Take a bite. Repeat. Nap.
New Orleans, Louisiana
The Company Burger has become every bit as a must-do New Orleans pit stop for visitors as the obligatory Cafe Du Monde beignets. The core components are nothing flashy—thin patties expertly griddled to medium, house bread-and-butter pickles, cooked red onion, and American cheese. You can embellish it as you choose at their condiment bar that has assorted mayos and other fixins, so don't screw it up. Just kidding, it's pretty much impossible to screw this up.
Washington, DC
This East London-style pub is known for its sandwiches, or sarnies, but it's the burger that catapulted this spot to local fame in DC. The Proper Burger, Duke's signature, comes with Gouda, dill pickles, charred red onions, sweet chile sauce, and garlic aioli on a brioche bun. Add-on options include a runny egg, avocado, bacon, and more, but don't stop there—pay a little extra for a fried duck egg and chicken liver pâté.
See the top burger spots in all of Washington, DC
Memphis, Tennessee
There's no earthly explanation for the Soul Burger's greatness, so it must be due to the spirits of the haunted grounds of Earnestine & Hazel's, a former brothel now known for its jukebox—and beer-loving crowd and for mind-blowing late-night burgers. The Soul Burger is deceptively simple, made from thin, seasoned beef patties cooked on a well-worn griddle, doused with the secret, tangy Soul Sauce, swathed in American cheese, and topped with pickles and onions on a plain bun. Nothing will ever taste as good as a Soul burger washed down with the Champagne of Beers at 2 am.
Chicago, Illinois
Westside night owls know all too well the joys of a 3 am Fatso's run. There's nothing quite like perching on a rickety picnic table along Chicago Avenue while devouring a Super Ooey Gooey (two smash patties bursting with bacon, cheddar, and spicy giardiniera) and wiping Fatso sauce from your chin. Just don't be a noob and forget the cheesy tots.
See all the best burger spots in all of Chicago.
Houston, Texas
Now with two locations, this local patty flipper sports Filipino fare alongside Akaushi burgers that sit plump and pretty atop its signature, soft and squishy siopao buns. You can get 'em any which way, satisfying your burger cravings with the Puet, which adds pecan smoked pork butt, provolone, and house tang sauce to its hand-crafted patty; or the Jeepney, hit with longganisa (Filipino sausage), fried egg, and banana ketchup aioli. The gravy fries are plenty good, too.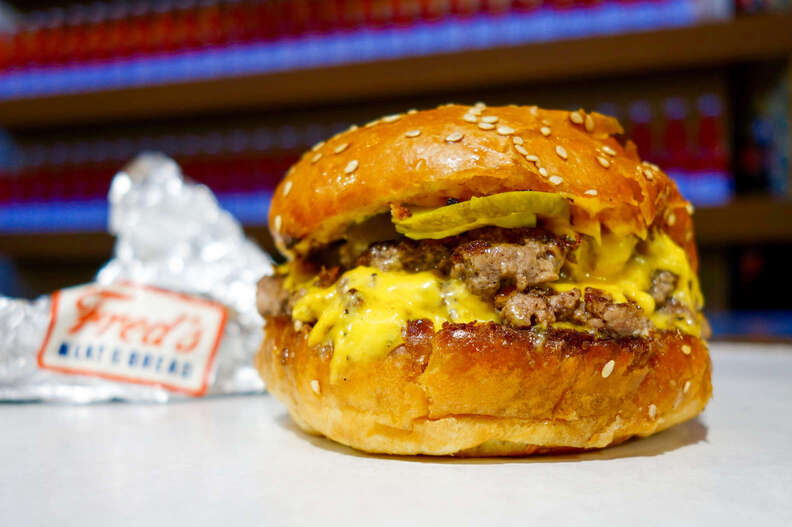 Atlanta, Georgia
To be fair, Fred's offers up a lot of "meat and bread" options beyond its burger, but the Burger Stack here is the undeniable star and the best reason to visit Atlanta's popular Krog Street Market. One of Atlanta's best burgers is topped with bread-and-butter pickles punctuating the richness and a sesame seed bun doing an admirable job attempting to contain all the cheesy, greasy protein. Once you've had it, you may find yourself wanting to return to try the cheesesteak or the chicken Parm, but odds are strong to quite strong you'll buckle in the heat of the moment and have another go round with the Burger Stack.
See the top burger spots in all of Atlanta.
San Diego, California
Ever since The Friendly opened three years ago it's been an industry favorite for its Dirty Flat Top burger. Order a slice or two (this is primarily a pizza joint) along with your burgers—it'll be up and piping hot for you to munch on while you watch the flat top magic happen. Two smashed patties, all crispy edges and juicy pink middles, get layered with melted American cheese, softly caramelized onions, and a swipe of garlic aioli in a buttered, griddled squishy white bun. It's not pretty, but it's one of the best damn burgers you'll ever eat. By the way, don't bother asking for fries, ketchup, pickles, or other accoutrements. Oou can find those, sans the pizza, at its second location in North Park.
Nashville, Tennessee
Gertie's is already acknowledged as the premier whiskey bar in a town that is awash in brown liquor, but this amiable watering hole on the ground floor of the popular The 404 Kitchen also boasts Nashville's most outrageous burger. It's not cheap at more than $20 (including fries), but you're paying for quality beef. Specifically, beef from Bear Creek Farms, the same grass-fed cattle that provide some of the finest steaks in restaurants across the city. That beef is dry-aged for a month before being coarsely ground into two toothsome patties of delightfully funky flavor. Served on a potato bun that has been griddled on the flattop before the crowning graces of grilled onions, smoky Benton's bacon, cheese and truffle aioli, it's the perfect accompaniment to one of Gertie's signature brown butter and pecan syrup Old Fashioneds.
See the top burger spots in all of Nashville.
Ft. Lauderdale, Florida
This spot tucked in a Ft. Lauderdale strip mall is a family-run Florida gem, where mom greets you at the register with something witty, while her son works the grill in the back. That grill is filled with magically seasoned, half-pound patties of Certified Angus Beef. The basic LTO is all you need to experience Gilbert's best, as the quality meat and expert grilling speak for themselves. But if you wanna get fancy, the burger stuffed with bleu cheese or the Cajun-spiced burger are both spectacular. Gilbert's is so good, they can even please vegetarians without using pretend meat, as one vegetarian told me, it has, "the only portobello mushroom burger I've had that actually tastes good."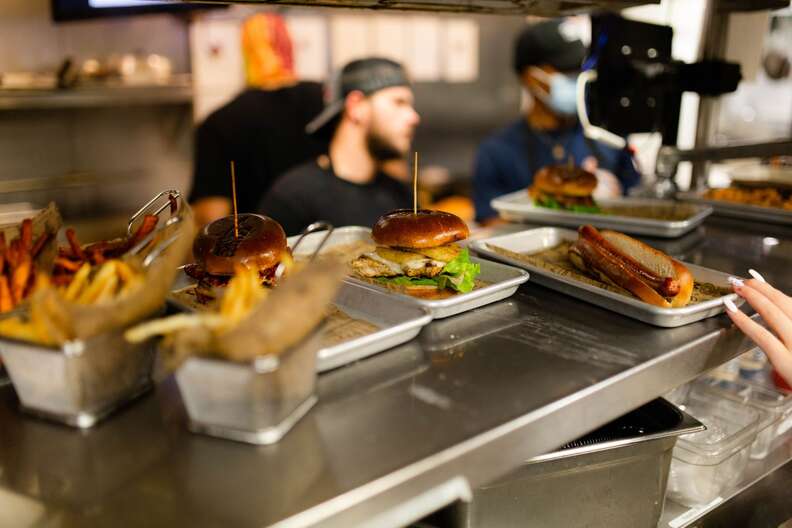 Greenville, South Carolina
Grill Marks's burgers are all chopped certified Angus beef, not ground, so the texture of the patty is fuller, richer, meatier. And they start at $6.79 (for a measly 4 bucks, you can upgrade to a DeBragga New York Butcher dry-aged patty, rendering toppings needless). The creations are pretty spectacular, ranging from the French Connection with caramelized onions, roasted garlic, Brie, and cabernet ketchup, to the Hot Mess, which adds a hot dog to two patties. But even better is the Café Au Poivre, a coffee-and-peppercorn-crusted patty topped with cremini mushrooms and au poivre sauce. It's as close to putting a perfect steak dinner on a bun.
Louisville, Kentucky
Liz and Jesse Huot are among the many restaurant owners across the country who translated a food truck with a rabid following into a brick-and-mortar establishment with a still-rabid following and far less likelihood of suffering a flat tire. If you like to play chef, you can go your own route here in adorning the one-third-pound patties, grass-fed, and ground daily in-house, but you might want to just trust them and try the B&B. It has thick slabs of gooey Brie enveloping crisp bacon, with bright, spicy habanero jam cutting through what would otherwise be excessive richness. It's not your classic cheese and pickles, but it all works beautifully.
Houston, Texas
Hubcap Grill has grown into a mini-Houston burger empire over the years, with a handful of locations and even an airport outpost. That kind of expansion puts them teetering on the edge of having grown into too much of a powerhouse, but the taste hasn't suffered in the slightest, and who doesn't want to be able to enjoy a transcendent burger at the airport in place of a combo meal of Kind bars and crippling loneliness? Hubcap's patties are big, hand-formed, and gloriously griddled, meaning they need to be paired with substantial toppings like substantially thick caramelized onions and a structurally sound yet pleasing bun that will haunt your dreams.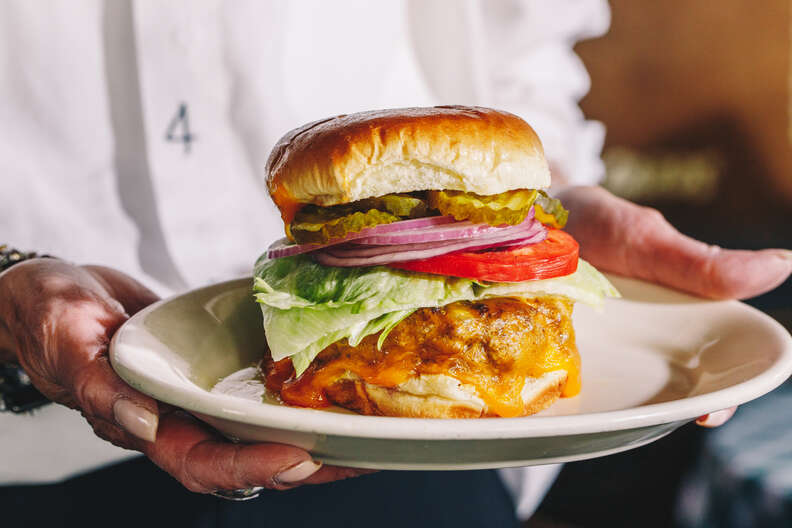 New York, New York
The bare-bones cheeseburger made famous at the J.G. Melon on the Upper East Side is a NYC classic that's been praised by some of the city's toughest burger critics—high school students and middle-aged men in business suits—since the early '70s. The components here are simple: a griddled, hearty beef blend with American inside a slightly-toasted, soft, potato bun. It's the perfect bar burger—best enjoyed with a side of cottage fries.
See the top burger spots in all of New York City.
Dallas, Texas
There are fancier burgers in Dallas than Keller's. There are most certainly more expensive burgers in Dallas, where they invariably check in at less than 3 bucks. But, as our intrepid burger critic discovered, there are few experiences more rewarding than discovering the half-century old charms of the diner-style burgers at this classic drive-in, jukebox and all.
Milwaukee, Wisconsin
Kopp's is very much a burger joint, although the burgers and the custard are by no means mutually exclusive experiences. The burger at first glance looks like nothing more than your classic diner double adorned with the requisite vegetation, but upon further review has that magical alchemy of melty cheese, glutenous bun and perfectly seasoned patties that only the greats possess. Yeah, I still had some custard, but the burger was satisfying enough that I could have done without it. But, c'mon, custard!
Seattle, Washington
Served up in a tiny little dive bar in Seattle's South Park neighborhood across the Duwamish, Emerald City's finest burger is a thing of charred, simplistic beauty, a humble little number that at first looks, in size and construction, like a standard fast-food burger. But with the first bite, you'll notice the magical alchemy achieved between the slightly crispy edges, the raw onions, special sauce, buttery bun, and bright-yellow American cheese. On the second bite, the juiciness of the center kicks it into overdrive. The next three-to-four bites might be a blur. And suddenly, you find yourself in a dark, busy bar with an empty beer, a greasy plate, and anticipation for when the next one will arrive. And then the next.
See the top burger spots in all of Seattle.

Chicago, Illinois
Named Chicago's best burger pretty much everywhere that matters, this upscale West Loop spot's once-mythical Dirty Burg can now be yours whenever you please. The thick and juicy OG comes loaded with pickles, two slices of American cheese, and saucy onion-infused mayonnaise on a sesame seed while the Dirty Diane Burg steps it up a notch with maitake mushrooms, capers, black pepper, and a douse of Cognac for good measure.
Minneapolis, Minnesota
The OG of the Jucy Lucy scene, the place that started it all, the master of the craft. The burgers take a long time to cook, and then when you get them, you're told to wait, lest you burn your tongue off your face. But when you do wait just the right amount, the burger, with its roughly griddled exterior, soft roll that gets steamed by the heat, lightly griddled diced onions, and one dill pickle somewhere in the middle offers up three of the most satisfying Jucy Lucy burger bites in Minneapolis—so, really, the entire country. The move is to order one Lucy and a regular cheeseburger on the side.

Dallas, Texas
A traditional, even-handed approach has secured Maple & Motor a spot on every local burger fan's go-to list since opening back in 2009. You get two choices here: a burger or a cheeseburger. Sure, you can add chili, bacon, fried eggs, and griddled onions along with your choice of fromage, but it all starts with a half pound of ground all-American beef, flat-grilled in its own juices, then dressed up with mustard, pickles, lettuce, and red onion, plopped atop a toasted bun hot off the griddle.
Washington, DC
The DC Area is known for having a swath of Ethiopian restaurants, so it's only natural that a burger joint with Ethiopian influences is quickly becoming one of the city's favorite burgers. At Melange, chef Elias Taddesse takes his Ethiopian heritage and French culinary training and mixes the influences together for a killer set of burgers and fried chicken sandwiches. The classic burger comes on a buttery bun with a triple-blend patty, pickled red onions, and a hefty spread of brown butter aioli, while the fried chicken sandwiches are doused in berbere spices and dressed up like the spicy Doro Wat dish, both favorites at Ethiopian restaurants around the city.
Dearborn, Michigan
In the years since 1947, a lot has changed in the Detroit area, but through thick and thin, one thing has remained a constant: the burger at Miller's Bar. Get a perfectly cooked medium burger with a slab of Velveeta and white onions stacked on a steamed bun that barely holds its own against the cascade of magnificent juice and cheese product that erupts with each bite. It's served "commando style" on wax paper at a joint where you order at the bar and nobody keeps track of what you had. They still have the honor system. And Miller's doesn't take kindly to stupid questions. Nor does it have to. When you've spent the better part of a century adhering unflinchingly to what you've been doing right all along, you do things as you please.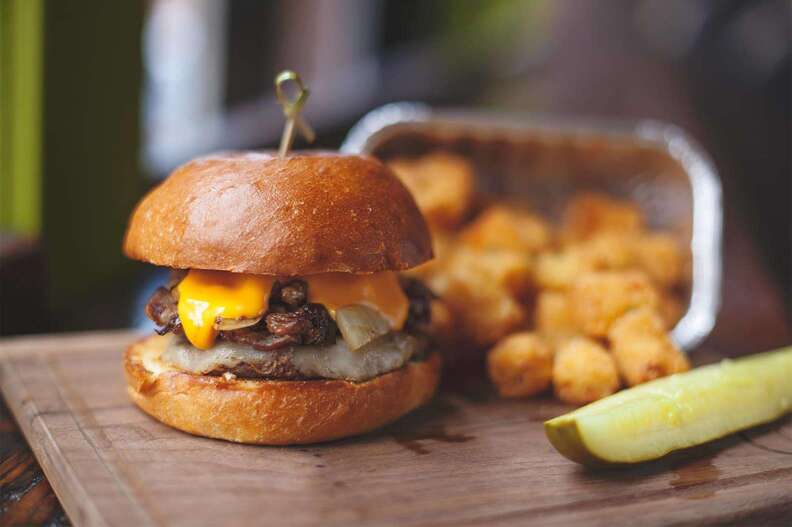 Cincinnati, Ohio
Nation derives its name from fervent temperance movement advocate Carrie Nation, whose hatchet-wielding expeditions destroyed more than a few American taverns in her heyday. And sure, there's more than a hint of irony in invoking her name in an establishment that sells plenty of beer, but there's nothing funny about the burgers. The signature Nation burger takes a just right-sized 6-ounce brisket-enhanced patty with smoked Cheddar, crispy onion strings, horseradish aioli on a buttery challah bun. Oh, there's also whiskey BBQ sauce on it. So fine, it's a little funny.
Dunwoody, Georgia
We can all agree that the best food is hiding in gas stations, right? At least, that's the case with NFA Burger. Yes, that's right, one of Atlanta's best burgers is located in a gas station in the suburbs. Once you sink your teeth into one of Billy Kramer's creations, though, you'll realize it was all worth the effort. Kramer and his team prepare burgers so expertly you'll wonder why you even bother going anywhere else. Let's start with the fact that the burger menu is very limited: do you want a classic (double patty) or a kid's burger (one patty)? The thin patties have a nicely caramelized exterior and are topped with American cheese, mustard, pickles, "sassy sauce" and served on a potato bun. Although you can opt to have your burger served on a Liège waffle. Plus, we'd be remiss to not mention the tater tots.
Oklahoma City, Oklahoma
If you have a deep and abiding love for history, you should definitely make your way out to El Reno, Oklahoma and get a taste of the Sooner State's much-loved onion burger in the town where it all started. However, if you're simply looking for the absolute most jaw-droppingly good burger in the state (and one that's still amply loaded with onions per local custom), head to Nic's, (probably) wait in line, and wait for the man himself to make you one of his burger masterpieces.
Biddeford, Maine
Inside this tiny, century-old railway car, you'll hear '90s rap music blaring through the speakers and be surrounded by both lifelong Mainers and foodies from across the country who waited in line for hours. That is, if you're lucky enough to snag one of the 15 seats at the counter. The upgraded Greasy Spoon classics and prime location just outside the food destination of Portland have made this spot a staple—and although it may be known for breakfast fare, top-notch tuna melts, and a giant fried chicken sandwich that's frankly hard to handle, you can't miss the burger. The Palais Royale features two smash patties griddled to crispy perfection with cheddar cheese, pickles, iceberg lettuce, and the diner's version of a special sauce all piled onto a bun covered (and we mean, covered) in sesame seeds. With all the grease you'd expect from a roadside stop and thoughtful touches like compact slices of iceberg and housemade buns—it's the ultimate high-low burger.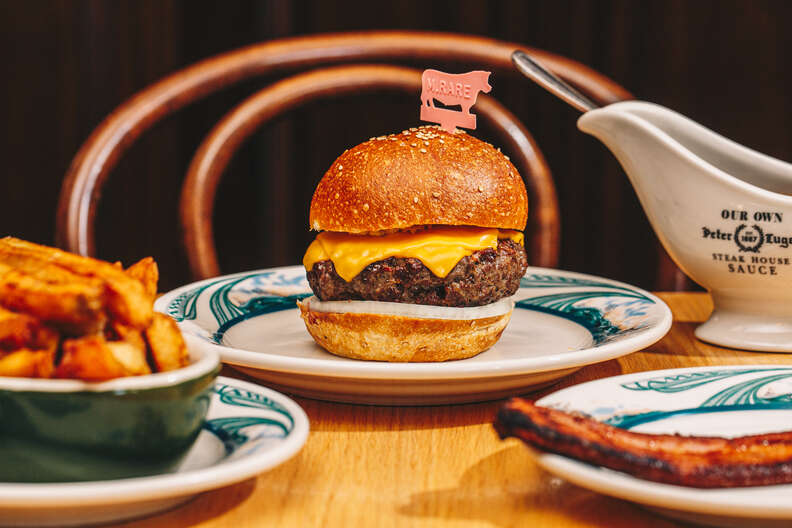 Brooklyn, New York
Peter Luger might be one of NYC's top destinations for a great steak, but their Luger-Burger is worthy of a visit on its own. Coming in at over half a pound of medium-rare USDA Prime dry-aged beef on a fluffy sesame bun with raw onion, add cheese and also go for the famous thick-cut bacon (which comes on the side since it's too large to balance on the patty). Purists will insist you skip the cheese, but it really doesn't obscure the flavor of the meat, which is perfectly tender and just the right color of pink on the inside.
Pasadena, California
A Pasadena institution since 1963, Pie 'n Burger is the picture of a perfect California burger. You won't find a lot of surprises here: It's an asymmetrically squished, thin patty on a buttery bun loaded with a thick pile of iceberg, a couple of pickles, tomato, and a blanket of Thousand Island, with melted American acting as the glue holding the meat together after it gets its ass kicked on the grill. But here's the thing: You don't need surprises when you have one of America's perfect diner burgers, paired up with the kind of pie that Norman Rockwell probably envisioned while painting on an empty stomach.
Austin, Texas
Austin's carnivores adore Salt & Time, a butcher shop, salumeria and restaurant on 7th Street, with a burger so popular that two dedicated eateries are about to be opened in its honor. The signature Butcher's Burger is quality you can really taste, and though it may appear unassuming at first glance, don't underestimate the powerful flavors it can punch. This thick rich patty is made up of 1⁄2 lb of daily steak trimmings, sourced from sustainable Texas ranches and cut fresh by the on-site butcher. It's topped with mayo, sour pickles, optional cheese, egg or bacon, all on a sweet brioche bun and rounded off with crispy beef fat French fries. Expect juices oozing out at the sides, which you won't want to waste (so get lickin') and a wonderfully satisfying feeling of overindulgence.
Philadelphia, Pennsylvania
You may find yourself distracted by the colorful drawings from patrons adorning pretty much every square inch of wall space in this Fishtown mainstay. That distraction will last only until your burger arrives, a hulking half-pounder that just manages to keep it together beneath whatever cheese or toppings you deem worthy of coming in between said patty and its locally baked country white bun from Le Bus. Maybe you're a harissa aioli type. Maybe salsa verde and a fried egg is more your jam. Maybe spice frightens you and you just want some American cheese and pickles. However you play it, the best will shine, both metaphorically and on your greasy fingertips.
See all the top burger spots in all of Philadelphia.
Philadelphia, Pennsylvania
Spot is perfect for fine-tuning the burger of your dreams. Does Cheez Whiz on a burger sound good to you for some reason? You got it. How about goat cheese with sun-dried tomatoes and a fried egg? Step right up. Start off choosing from sirloin, veggie patty, or organic ground chicken before diving into any of Spot's 10 gourmet burger varieties, or start building your own masterpiece. You might also be curious to try the signature Spot Sauce, which is a smokey, tangy addition to any option, but you can pick anything from Mexican hot sauce to truffle balsamic to Korean ssamjang, among many others.
Phoenix, Arizona
Beloved by Phoenix residents and (probably?) Stephen King, The Stand became an instant hit when it opened in 2013, spawning an offshoot in Scottsdale that dabbles in both burgers and tacos, but the original is all about the burger, ground daily-in house and topped with lettuce and tomato, kosher dills, and Stand Sauce—similar to your typical catch-all burger sauce, but a fine rendition of it. The burger comes with thinly sliced raw onion, but upgrading to caramelized is a wise move, as is pairing said burger with a salted dulce de leche shake and a mound of hand-cut fries.
Seabrook, Texas
The "& More" part of Tookie's refers to its robust assortment of items ranging from hand-battered mozz sticks to a killer Buffalo chicken sandwich and a formidable chicken-fried steak on a bun. But you'll very likely never make it that far, and it doesn't matter: The smashed, crispy, and charred burgers at this Houston-adjacent destination are worth the price of omission. You can get them in all shapes and sizes, with standouts including the Squealer with bacon ground up with the beef, or a monstrous number loaded up with the joint's incredible chili. Still, even without the bells and whistles, the basic Tookie's cheeseburger is enough to make you forget the rest of the menu.
Kansas City, Missouri
Yes, the prices on the burgers have increased slightly since Claude Sparks began slinging them for a nickel in 1937. But the taste hasn't. Or, it probably hasn't—we weren't there in 1937. But, the bottom line is you can still get one of the finest renditions of a diner burger in America 24/7 in downtown Kansas City for less than four bucks, and we hope that never changes.
West Lafayette, Indiana
Triple XXX is as much of a Purdue tradition as the breakfast club at Harry's Chocolate Shop and/or making fun of Tom Crean. Indiana's oldest drive-in, surprisingly family-friendly Triple XXX has a robust lineup of burgers made from house-ground sirloin (they call them chop steak for a reason), many of them named for Boilermaker greats. The peanut butter-laden Duane Purvis All-American is definitely a favorite, while the Bernie Flowers employs the tangy zip of Miracle Whip. But the undeniable griddled beefiness of the patty is the common denominator they all share. Wash it down with some of their house-recipe root beer and Boiler Up.
Springfield, Massachusetts
The Hut burger is thin and griddled in that classic diner style. The cheese is white American, and the onions take on a sort of peppery, buttery form when cooked (also, maybe from butter and pepper). The bun is thin, seedless, and doesn't interfere. They offer up all sorts of classic fixings, but you need not ruin your White Hut burger with lettuce, tomato, or anything else. Some burgers are made to be sandwich stackers, to look like some sort of circular food Jenga when you're done. The White Hut burger is not one of those. You barely need to put ketchup on it. Just get two cheeseburgers with fried onions and (maybe) ketchup, sit at the counter, read the Springfield Republican, and ask directions to Elk Lodge #61. Some things in life need not be made more complicated.
Hackensack, New Jersey
Not to be confused with Jerseys City's remarkably similar, but separately owned and operated White Mana (one "n"), this old-timey burger joint on the banks on the Hackensack River has been a legendary greasy spoon since 1946, specializing in what can best be described as ooey-gooey, absurdly juicy, retro burger heaven. There's never much space to spare on the grill, as it's constantly packed with a pastiche of sizzling onions, balls of meat, and perfectly sized potato buns. You'll feel like you stepped back in time and you will have one of the best burgers of your lifetime.
Editors: James Chrisman, Kelly Dobkin, Danielle Dorsey, Meredith Heil, Jess Mayhugh, Liz Provencher, and Tae Yoon
Writers: Mary Beth Abate, Kevin Alexander, Daisy Baringer, Lee Breslouer, Chelsea Brasted, Chris Chamberlain, Alexander Frane, Wil Fulton, Jay Gentile, Jillian Hammell, Aparna Krishnamoorthy, Andy Kryza, Steven Lindsey, Matt Lynch, Marielle Mondon, Matt Meltzer, Allyson Reedy, Brooke Viggiano, and James Wong