First off, deep breaths, friends. This is by no means the definitive list, just a midway update during my journey to find the greatest burger in America. But along that journey there have been some particularly exceptional burgers worth shouting out, and so I've decided to keep a live list of the 10 best burgers (listed in alphabetical order) so far.
(IMPORTANT: This only consists of burgers from cities I've traveled to for Burger Quest. So no fantastic burgers from memory, or childhood, or even the year before until I've revisited those places. But I'll be updating this monthly as I go to new cities. If you want to see where I'm going next, check this out.)
In the meantime, you can see more on what the trip's about and read reviews here, follow along on Instagram and Twitter and be sure to tag pictures of amazing burgers you've eaten (using #ThrillistBurgerQuest), and keep telling me other places to go. May the burgers be ever yours to savor.
The Single
The Company Burger
Address and Info
New Orleans, Louisiana
A longtime favorite of mine, Company Burger continues to shine thanks to the fact that each element of the burger -- from the house-made bread-and-butter pickles, to the American, to the grilled red onions, to the bun -- is exquisite.

Read more about all the best burgers in New Orleans here.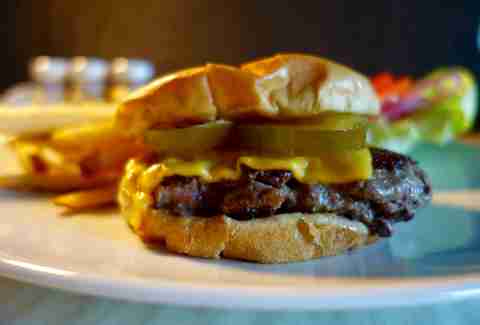 The Ozersky Burger
Knife Dallas
Address and Info
Dallas, Texas
Named for one of the great burger-loving writers of our time, the Ozersky from chef John Tesar is a study in pure, unadulterated perfection, with unbelievable char, and meat that tastes so pure you feel like you're eating right out of a butcher's hand. But not in a weird way. It's a burger that honors the man behind the name, and the man behind the grill.

Read all about every single great burger in Dallas right here.
Double cheeseburger with the works 
Kopp's Frozen Custard 
Address and Info
Milwaukee, Wisconsin
One of the OG's of the Wisconsin butter-burger scene (read more about that here!), Kopp's burger is thin with exceptionally griddled patties, a fantastic acidic relish, and thick Wisconsin-style slices of American cheese. It tastes like someone who owns a fast-food franchise made a Faustian bargain to ensure all elements of the burger were perfect. Kopp's just might be the best fast-food burger joint in the country. And I didn't even try the custard.

Find out all about the best butter and regular burgers in Milwaukee right here.
The Tavern Burger
Loretta's Northwesterner
Address and Info
Seattle, Washington
Tucked away on a nondescript street just south of the Duwamish Waterway, Loretta's is a classic Seattle bar, the type of dark place that feels like the right hang during a perpetually rainy winter. It also happens to have the best burger in Seattle, with a "literally perfect" bun, a few white onions, a pale special sauce, and pickles. No tricks, just perfect execution. Bring your flannel.

Peruse all the best burgers in Seattle here.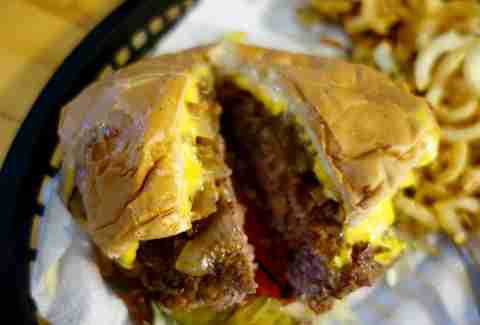 The burger with "cheese and everything" 
Nic's Grill
Address and Info
Oklahoma City, OK
One of those once-in-a-lifetime-experience type of places, Nic's is tiny, always has a line, and doesn't exactly come out fast. But once you get a seat, and you hear Nic ask you, "Cheese and everything?" you are a changed person.

Read more about all the best burgers in OKC right here.
Classic burger with sharp American 
Redcoat Tavern 
Address and Info
Royal Oak, Michigan
Just north of Detroit, in a British pub in a town that sounds like a fancy kind of tree, is a burger worth traveling for. With perfectly seasoned, loosely ground meat and a special sauce so simple and effective it makes me question everything, it is the ideal pub burger.

Check out all the best burgers in Detroit here.
The cheeseburger 
Saint Dinette
Address and Info
St. Paul, Minnesota
Right across from the Saint Paul Saints minor-league baseball stadium sits this fantastic restaurant serving what is essentially an upscale Double-Double, except this one features patties that look like they were "stolen from a 'perfect char' Google Image search," sharp cheddar that somehow melts like American, and house-made pickles that give just the right amount of acid kick to balance everything else out.

For all the best burgers in Minneapolis/St. Paul, read the story here.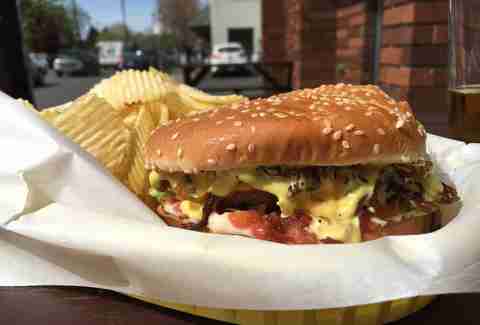 "Nick's" cheeseburger with grilled onions 
Stanich's
Address and Info
Portland, Oregon
An old-school, family-owned sports bar in NE Portland since 1949, Stanich's puts all the new-school burgers in the PDX to shame with a perfectly griddled burger and lots of attention to detail on condiments and pretty much everything else.

Read more about all the best burgers in Portland right here.
Sign up here for our daily Thrillist email, and get your fix of the best in food/drink/fun.
Other Stuff You'll Like In Burger Quest