The 9 Best Burgers in Oklahoma City, Ranked by Our National Burger Critic
Editor's Note: This story is the sixth entry in Thrillist's Burger Quest, Kevin Alexander's slightly insane yearlong mission to find America's best cheeseburger. Follow along @ThrillistBurgerQuest, and use #ThrillistBurgerQuest to let Kevin know places he needs to hit.
For many people, my trip to Oklahoma for Burger Quest was perplexing. "Oklahoma City isn't even that big!" one of my friends complained when I told him. "How are you going there over Phoenix?"
Well, I explained, Phoenix didn't invent a style of burger. My trip to Oklahoma City (and the town of El Reno, close by) was essential because it is ground zero of the onion burger, a griddled burger style invented in El Reno during the Depression (for more on the history of the burger and the town read my story here) and more or less exclusive to Oklahoma. For this particular part of the quest, I tried to eat onion burgers wherever I went and have included the three iconic El Reno onion burger spots in the OKC ranking.
Accompanying me during the trip was local OKC photographer Chris "Quit" Nguyen, who, aside from being a photographer and doing social media for new ramen joint Goro Ramen, basically knew everyone in town.
Because of time constraints (and my side trip to El Reno) I wasn't able to eat burgers everywhere, but I tried to narrow down the list in consultation with local writers and chefs. If you think I've missed a place, go to Goro Ramen and yell at Quit, or just leave a message in the comments. But until that time, revel in the glory that is my Oklahoma City burger ranking:
9. Onion Burger with "No Name Ranch" beef
How can you not trust the burgers at a place named Irma's? Aside from having a great name, Irma's is a burger legend in OKC and was name checked by basically everyone I talked to. In order to really do it up, I had them make the traditional onion burger using the "No Name Ranch" beef, which is highly touted and Oklahoma-raised. The bun was soft and it had a good griddle, and the beef had a fine texture (I wanted to say mouthfeel but dammit this isn't wine!) but the grilled onions were not totally caramelized, and it was slightly overcooked for a medium, meaning you needed extra condiments to combat the dryness. A solid burger, but not a game-changer.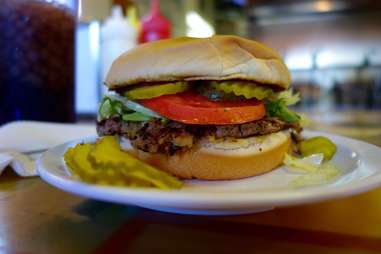 8. Onion Burger with cheese
Of the three old-school onion burger joints in El Reno, Sid's -- with its bright red awning and sign out front imploring you to watch them on Man v. Food and the Food Network -- is the one that has moved most quickly into the 21st century, solidifying its place as the tourist burger destination in El Reno. They've got "Freedom Toast" on the menu, and you can get a "meat omelet" for breakfast if you want it.

I got the onion burger with cheese, and watched as the onions sat on top of the meat as the bottom of the burger cooked, before the cook flipped it over and those onions gloriously flavored the burger. The steamed bun was hot and buttered with good toasting around the side. The thin patty had a great griddle but was maybe a bit salty for my taste. And -- in a tactical error -- actually putting that lettuce and tomato on the onion burger somehow took away from the purity of the taste. An all-around good burger though.
7. Onion Burger with cheese
Johnnie's had a new banner. The sign flapped in the strong Oklahoma wind as a walked in and sat at the counter, which has advertisements for discount remodelers and Dr. John J. Ditmars' El Reno Foot Clinic.

But let's talk about the burger. First of all, look at that picture. The burger spiders out with the onions, and was by far the widest in diameter, almost like the onions were fishing line holding onto little meat lures. Some of the onions got a little burnt during the process, but the ones inside the bun were soft and buttery and delightful. The steam on the bun and the cheese created a great melty sensation, and I enjoyed it. It was honestly just impossible to not have to pick up random stray meat and onion and jam it in your mouth.
6. Classen Burger
It's not an onion burger, OK? But the Classen, with pickles, mayo, cheddar, lettuce, and a porter-hickory sauce, was the closest choice on the menu to a classic cheeseburger. And it was tasty -- the chopped pickle is a great idea to get some evenly spread acid in there to combat the really juicy burger and the other fatty elements, and the porter-hickory gives it a bit of BBQ tang, but ultimately the pretzel bun's hard exterior texture caused some of the elements of the burger to slide off as you bit in, almost like trying to squeeze a greased football, and the meat -- while juicy -- lacked any overtly memorable trait.
5. The Signature Burger
Comfortably back in the onion burger saddle, S&B's signature has a lot of things going for it: a good crust on the meat giving it a peppery flavor, perfectly melted American cheese that had a creamy element to it like an American queso, flavorful cooked onions, etc. If not for the slightly dry bun and slightly dry meat, this could've been in the top three. Also worth mentioning: our waiter was an aspiring rapper and he was lovely (as a waiter... I'm not actually sure of his rapper merits).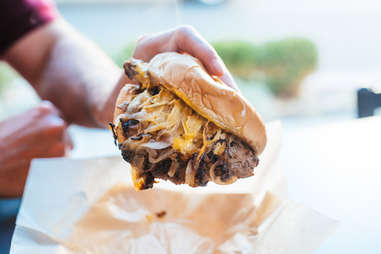 4. The Fried Onion Burger
I wasn't clued into this place until my photographer told me I should probably be clued into this place. It's a small chain around Oklahoma in the mode of many new fast-casual spots, with counter service and booze (including a list of hilariously named shots). The onion burger was done correctly, with a crap ton of them piled high, well-steamed, and the sneaky correct addition of pickle and mustard, which cut through the fat and gave it a nice burst of acid. It was one of the most flavorful burgers of the trip, though all of that action fell apart rather quickly, Cinderella-at-the-ball style.

3. Single Onion Burger with Cheese
This was the frontrunner coming in. Already on my list of best burgers in the country, I've long been enamored of Tucker's, but hadn't had it in many years. But good lord do they know how to make a burger. The salty, peppery griddled Creekstone Farms Black Angus burger had the most perfectly toasted buttery grilled bun, an engineering feat that kept all the steam and heat and fat inside without breaking down. The cheese and the onions kept a clean, tangy flavor. It was everything I wanted and remembered. And yet...
2. Onion burger with cheese
[Editor's Note: This excerpt is taken from Kevin's story on the town of El Reno, which you can read in full here.]

I walked into Robert's Grill around 1:30pm. If Robert's was a book being judged by its cover, it would've been in that rack at the convenience store with its front ripped off, being peddled illegally. It was dingy from the outside and well-worn on the inside, just a counter with a few seats, and a TV playing The Price Is Right. The man behind the counter eyed me in the way you do when you own a place that doesn't get many tourists. His son, no more than 12, poured ice into a cooler and answered the phone. I asked for an onion burger and he nodded and got to work on the griddle, throwing a Mrs. Baird's extra-thin bun on top of the sizzling meat and onions.

The actual burger was a marvel, the steam from the onions and the bun pouring out around the sides, the onions broken down and coagulating with the cheese, the meat griddled perfectly. The onions -- so many onions -- crisscrossed through the meat like an intricate grid, snaking out the ends. Though I knew I shouldn't, I ate the entire thing happily.

"How was it?" the cook asked, as he cleared the plate, but he didn't seem to wait for a reply before turning back around. He already knew.
1. A burger with "cheese and everything."
There are admittedly times when this burger quest gets a little dark. Times when I get cynical about seeing the same types of things repeated city to city. Poor burgers that I've been lead to believe are not poor. Meat sweats and meat hangovers (they are real!). But then you get to a place like Nic's and you believe again.

I arrived at Nic's Grill at noon on a Thursday. It sits in a random part of town, on a busy, windy road across from a cocktail bar that sounds like a strip club called Alibi's. And at noon on this random sunny Thursday, 25 people already stood in line in front of me, entertained only by the radio blaring '80s hits out of a speaker, and the thought that soon they might get a chance to eat one of Nic's burgers. After 40 minutes or so, I finally managed to sneak in and get one of the 12 prized counter seats in front of the grill. Nic sits behind the grill, a giant, genial, patient but determined man, and cooks everything up in waves. Another younger man is the waiter and bar back and everything else. No one ever really asks what you want to eat. They know you're getting a burger (though I suppose if you want something different, you'd just holler it out at some point). But after a short wait, Nic turned to me "mustard and mayonnaise, brother?" he asked. And then "Cheese and everything?"

I did it all: mustard and mayonnaise (brother), and cheese and everything. And the burger that came to me was a giant, an impossibly large and overwhelmingly delicious mess, featuring a guest spot by some delicious fries. I'd watched the onions scooped on top of the burger in regular Oklahoma style, and then I watched Nic put the cheese on, and then top with the bun and let it steam. I have thought of a variety of ways to describe it, but the best I could do is relate the fact that -- when I turned to my left and my right -- the other 11 people sat in perfect eery silence, essentially in prayer to one of the most perfect burgers in the country.
Sign up here for our daily Dallas email and be the first to get all the food/drink/fun DFW has to offer.
Kevin Alexander is Thrillist's national writer-at-large, and is considering moving into an apartment in the back of Alibi's just because of its proximity to Nic's. Become his roommate @KAlexander03.