The Big Ten schools don't half-ass anything. Not teams, not tailgates, and definitely not signature burgers. So while their football players are battling for NCAA glory, we're crowning the best burgers in all 14 Big Ten towns.
We drew on our own expertise for some of the picks, but also roped in a few beat reporters to serve as a panel of judges. Our pros include Zach Osterman of The Indianapolis Star, Daniel Gallan of The Baltimore Sun, Joe Rexrode of The Detroit Free Press, Sam McKewon of The Omaha World-Herald, and Teddy Greenstein of The Chicago Tribune. They spend most of their work days physically reporting near/eating these burgers, so you can trust them.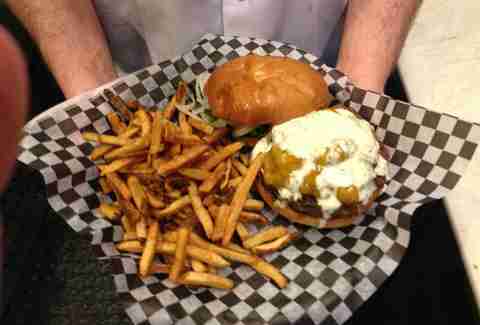 University of Illinois
Farren's Pub & Eatery (address and info)
We say: Farren's can be difficult to spot, but if you follow the "Burgers & Beer" arrow down an alley next to a parking garage, and underground, you'll wind up in Carolyn Farren's Champaign staple. Start with the famous Russell, a Kobe beef burger topped with sautéed mushrooms, bacon, blue cheese sauce, and pepper jack cheese, then ask for a side of house fries with malt vinegar. After you've scarfed down both, plan return trips so you can power through the Motherlode, Spicoli, and every other burger on this blessed menu.
Indiana University
Yogi's Grill & Bar (address and info)
Zach says: "[The Big Ten Burger] is a half-pound of Black Angus beef topped with cheddar cheese, BBQ sauce, bacon, and onion straws. Get a side of buffalo chips to go with it, and an extra glass of whatever you're drinking. It'll be spicy."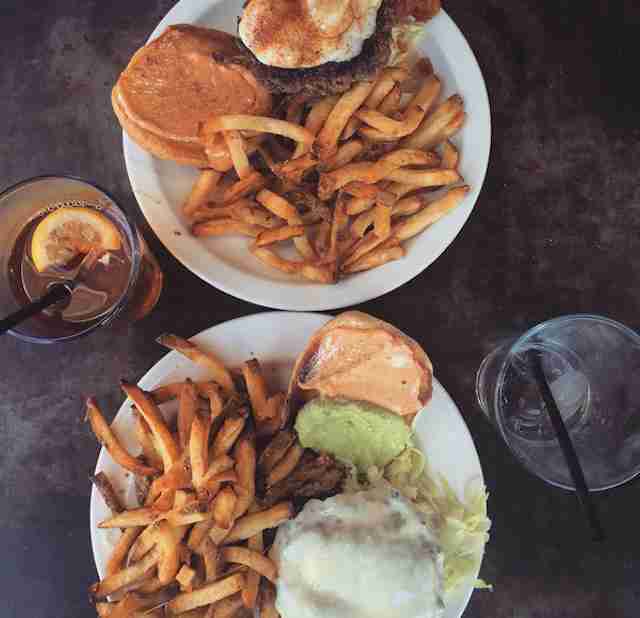 University of Iowa
Short's Burgers & Shine (address and info)
We say: Short's has made our best college burgers rankings two years running thanks to a few key folks: Ed Smith, the local farmer who supplies the fresh Angus beef; Chris Priebe, who brews Millstream's superb John's White Ale, which is on tap; and of course, Nate Kaeding, Kevin Perez, and Dan Ouverson, who founded the damn place. Go for the Colo -- grilled onions, American, Swiss cheese on grilled marble rye bread.
University of Maryland
Bobby's Burger Palace (address and info)
Daniel says: "The one thing about College Park is it's not a big burger town. You usually go to Chipotle for a burrito bowl and then the bars for something on draft. But when it comes to burgers, I think Bobby's is probably the best. Gotta go with the Crunchburger. They also have alcoholic milkshakes."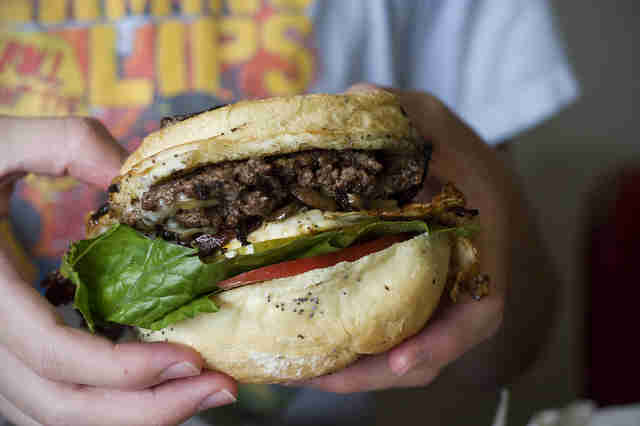 University of Michigan
​Krazy Jim's Blimpy Burger (address and info)
We say: Krazy Jim's Blimpy Burger might sound like a weird off-brand children's show, but it's actually the name of a long-running Wolverine lunch hub. If you've ever ordered a cheesesteak in Philly, you know what to expect from the line -- speak fast and clear, then move on before you get yelled at. And although we think you should go for the triple on a plain roll with grilled onions and peppers and American, you've got many options here. Over 2 billion, in fact, by Krazy Jim's own estimation.
Michigan State University
The Peanut Barrel (address and info)
Joe says: "The Peanut Barrel is where The State News staff would always wind up on Thursday night after wrapping up the final edition of the week. Most love the Rodeo Burger there, a half pound of ground beef topped with cheddar and bacon. But I still haven't found olive loaf that comes close to the Barrel's recipe. Best olive burger I've ever had, hands down, and you have to get it on rye."
University of Minnesota
Annie's Parlour (address and info)
We say: Annie's hasn't changed much since it opened in the '60s, but that's part of its charm. The place is all about the classics -- namely, burgers, fries, and malt milkshakes. Order a bacon cheeseburger and Oreo shake (duh) to inhale on the upstairs patio, where you can get in some quality Dinkytown people-watching.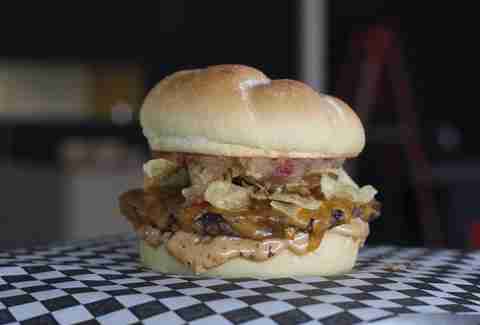 University of Nebraska
Honest Abe's Burgers & Freedom (address and info)
Sam says: "The best burger in Lincoln is about 10 minutes away from campus, but it's generally considered worth the drive: Honest Abe's. It fits the town's name, obviously, and has a lot of special burgers you can order. I prefer the appropriately named "Greatest Burger Ever." But the cheeseburger all by itself -- on the menu it's called the United States of America -- is legit. Why is it so good? Because burgers and fries is what the place does -- and all it does. The fries might be the best in town, too."
Northwestern University
Edzo's Burger Shop (address and info)
Teddy says: "Edzo's is a complete dining experience. It's got cool toppings -- I love giardiniera -- and the option of a wheat bun is nice. The burgers are excellent but the fries are even better because of all the novel toppings, including lobster sauce. The wait can be terrible, but the staff is friendly. I get the Char Burger and add a bunch of toppings."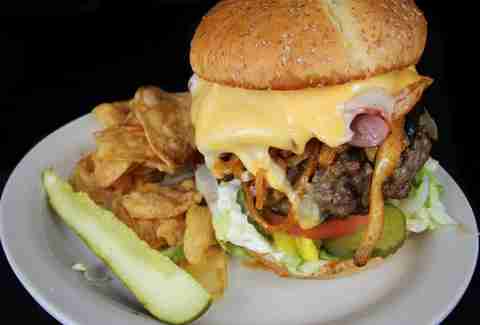 Ohio State University
The Thurman Cafe (address and info)
We say: If you name something after android Arnold, you better bring the big guns, like this Columbus cafe does with the Thurmanator, a double cheeseburger bursting with bacon, banana peppers, sautéed mushrooms and onions, ham, tomato, lettuce, pickles, and mayo. You'll need one of Schwarzenegger's (or Linda Hamilton's) jacked arms to even pick it up.
Penn State University
Otto's Pub & Brewery (address and info)
We say: You've already come for the beer, but don't sleep on Otto's superior burgers. Every single one comes on a house-made brioche bun with a side of beer-battered fries. Plus, the ingredients are locally sourced, so support the State College community with The Cowboy. It comes with onion straws, bacon, and a healthy smear of BBQ sauce, though no 10-gallon hat, but you're welcome to BYO.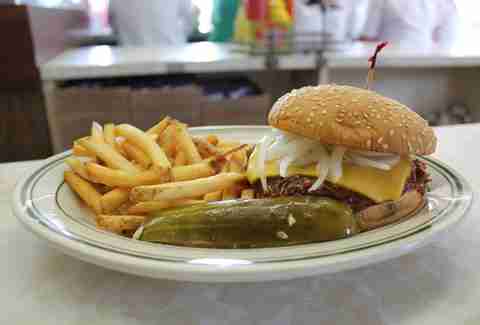 Purdue University
Triple XXX (address and info)
Joe says: "The one that sticks out is the Duane Purvis. Never thought of putting peanut butter on a burger? You have to try it at least once. I've gone back for more."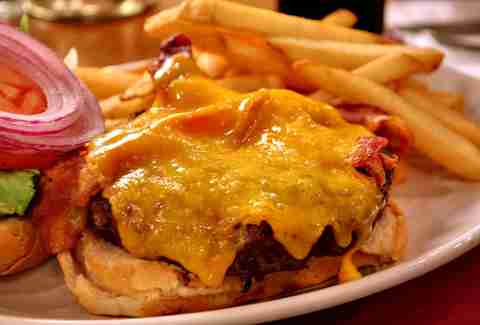 Rutgers University
Tumulty's Pub (address and info)
We say: After you've lined your gut with many $5 Tuesday night pub burgers at this New Brunswick spot, it's time to graduate to the regular-price Black Angus burger. Trust us: once you've had the horseradish mustard sauce, you won't mind ditching the discount.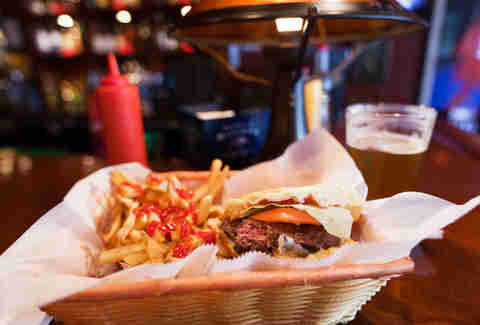 University of Wisconsin
Dotty Dumpling's Dowry (address and info)
We say: If all dowries were burger-based, Victorian novels would be way more interesting. This UW favorite has 14 specialty burgers (and three specialty sauces) on deck, but the best-seller is The Melting Pot. It's named that for its gooey trio of cheese (cheddar, Swiss, provolone), although we'd be remiss not to mention the smoked bacon and English garlic sauce.

Sign up here for our daily Thrillist email, and get your fix of the best in food/drink/fun.

Kristin Hunt is a staff writer for Thrillist, and attended a college with neither potato chip nor peanut butter burgers. Follow her to emptiness at @kristin_hunt.