The 15 Best Burgers in the World (Outside the US)
Americans take pride in many things, but they're especially passionate about their grilled meats. And while the US has got enough great burgers to last (or, rather, shorten) many lifetimes, the rest of the world has been churning out some pretty impressive creations of its own. You don't wanna miss out on Japan's buzzy Black Wagyu spot or Salma Hayek's favorite South African restaurant, so hurry up and book a stay near each and every one of these beautiful burgers:
The Wagyu
Royale Eatery (address and info)
Cape Town, South Africa
Royale Eatery boldly promises to "make your soul tingle and your dreams come true." Those are boastful words, but local publications heap praise on the place, as does Salma Hayek during Conan appearances. And while we can't promise that your soul will tingle, it's worth testing it with The Wagyu. It's got its own section on the menu, thanks to its Citizen Beer-soaked pickled onions, gherkins, pretzel roll, and (you guessed it) Wagyu beef.

The Big Blacows
Blacows (address and info)
Tokyo, Japan
If you had any doubts about this Japanese eatery's commitment to beef, just look at the name. It's meant to be a riff on "black cows" because the place deals exclusively in Japanese Black Wagyu. It's even got an in-house butcher who preps the patties behind glass in full view of the house. Time Out Tokyo has named it one of the best burger joints in the city, while the food blog Eataku maintains it's the best in the world. And since the meat is clearly spectacular, you're going to double-down with the Big Blacows, a two-patty burger featuring colby Jack cheese, lettuce, tomato, avocado, fried egg, bacon, and grilled onion.
Cheeseburger
Beeftro (address and info)
Moscow, Russia
This burger joint is about as international as it gets. It's a French bistro, located in Moscow, that uses organic Black Angus from the US on all its burgers. The melting pot strategy definitely works, and while you can go HAM on your burger with the build-your-own option (truffle butter for everyone!), we recommend keeping things classic with a cheeseburger dressed in the "scrumptious" house sauce.

The Deux Chevaux
Motor Burger (address and info)
Windsor, Canada
Even your grandma likely knows about Motor Burger, since Reader's Digest wrote the place up in 2012. But some younger, sexier sites have also endorsed the Ontario spot, so don't skip out on it. Instead, order up this beef burger with Dijon mustard, smoked bacon, balsamic-caramelized onions, and Gruyere cheese. It's just as pretty as the vintage car it's named for.
Drei-Käse-Hoch
Berlinburger International (address and info)
Berlin, Germany
Normally we don't like liars, but for Berlinburger International, we can make an exception. Although "Drei-Käse-Hoch" translates to "three cheeses high," this beautiful burger actually has four cheeses: Irish cheddar, grilled halloumi, mozzarella, and cream cheese.

The Holyrood
Holyrood 9A (address and info)
Edinburgh, Scotland
The Scots (like any nationality) appreciate a good burger and beer pairing, and at Holyrood 9A, they don't skimp on either. The pub has 20 rotating taps along with 30+ bottles, and the heavy supply of beer even bleeds over into the burgers. The titular Holyrood, a signature item, smears beer mustard mayo over a 6oz beef patty bearing Hereford Hop cheese, red onion, rocket, and caramelized onion mayo.
The Flippin'
Flippin' Burgers (address and info)
Stockholm, Sweden
You know a place is solid when it makes the official city tourism site. You can assume it's even better when it pops up on worldwide rankings from The Burger Guide, The Daily Meal, and Departures. But you know it's great when one of the most famous menu items is a simple, classic double cheeseburger with mayo, mustard, ketchup, and white onion. If you're working with grass-fed beef and baked-fresh-daily buns, you don't need much else.

The Little Lamby
Fergburger (address and info)
Queenstown, New Zealand
Customers have gone to tattoo shops with the logo in hand. International franchisers come begging for deals on the daily. And some sites have audaciously proclaimed Fergburger the "best burger joint on the planet." Despite opening as a hole-in-the-wall spot with no marketing team in 2001, Fergburger has amassed a sterling reputation worldwide. Converts praise it for its commitment to quality -- all the buns are baked in the next-door bakery, all the sauces are made fresh daily, and all the patties are hand-sculpted by the Ferg crew. Each burger has its fans, but the real move is the Little Lamby, a prime New Zealand lamb patty topped with mint jelly, red onion, lettuce, tomato, aioli, and tomato relish.
The Fat Sigurjón
Hamborgarafabrikkan (address and info)
Reykjavik, Iceland
Don't let the insane number of letters scare you off: this Icelandic restaurant is worth the mangled pronunciations. It maintains buzz with its locally sourced fresh ingredients. You can even find the burgers (in mini form) on Icelandair, but go to one of the three land-bound locations and get in the local spirit with the Fat Sigurjón, a beef, bacon, Brie, and brown pepper sauce creation that's named for the popular Icelandic movie Með allt á hreinu.

Pepper Crust Burger
St. Louis Burgers (address and info)
São Paulo, Brazil
This American-inspired Brazilian burger joint has moved fans to write love letters into Serious Eats and while that screed focused on the heirloom tomato slices and jalapeño, Time Out São Paulo insists you'll "genuflect" at the chef after eating the pepper-charred Pepper Crust burger.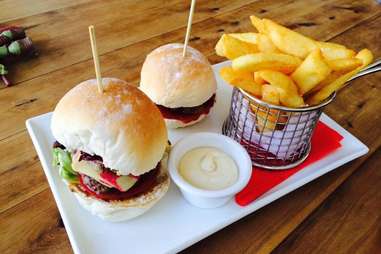 Lounge Signature Burger
Burger Lounge (address and info)
Coolangatta, Australia
The high standards of this "lounge" earn it our nod: the buns are baked fresh each day by La Madre Bakery and the hormone- and chemical-free meats come daily from Gippsland Fresh. Even the dessert (petoula, an Albanian donut) is made fresh-to-order from a family recipe. But before you get to sweets, order the signature burger, which features a beef patty stuffed with havarti and basted with balsamic glaze.

The Ari Gold
Patty & Bun (address and info)
London, England
Patty & Bun took the top prize at London Burger Bash in 2013 and placed the next year -- which is all the more impressive, since it didn't open a permanent location until 2012. The insane lines outside that flagship shop have already spurred two more locations, and people clamor just as hard around the food truck (named Shirley). The burger to beat is the Ari Gold, which piles cheese, lettuce, pickled onions, tomato, ketchup, and an addictive house mayo atop a patty that's a blend of ground chuck and 35-day-aged, grass-fed Aberdeen Angus beef. Best of all? It won't start yelling at you about Vinny's Aquaman salary on the first (or any) bite.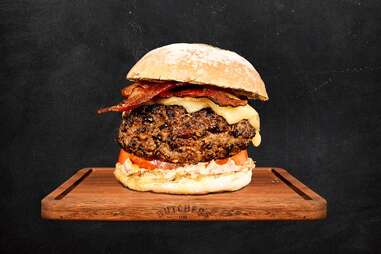 The Burger
The Butchers Club Burger (address and info)
Hong Kong, China
"The Burger" is the only entree offered on The Butchers Club Burger menu (at least the not-secret one) and it has just five toppings: bacon, cheese, tomato, special sauce, and pickle. But the imported Australian beef is enough to make locals line up any time of the year, and it fits in perfectly with the rest of the esteemed Butchers Club brand.

Le Bartholomé
Big Fernand (address and info)
Paris, France
Blogs ranging from Le Fooding to Burgers and Bruce (the Internet's preeminent beef and Springsteen fan site) have pledged their allegiance to Big Fernand, and people get a little crazy about the Bartholomé, a beef burger boasting caramelized onions, chives, two house sauces, raclette cheese, and bacon. Oui s'il vous plaît.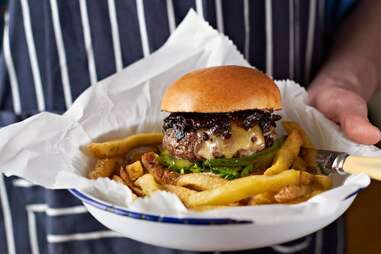 The Honest Burger
Honest Burgers (address and info)
London, England
It's a city standout according to Esquire, Time Out London, and yours truly, but perhaps most notably, Honest Burger made a Daily Telegraphwriter exclaim, "Holy cow, that's a good burger." Since that's a pretty embarrassing phrase to scream in public, you know this place is legit. It's made things easy for you by narrowing the dry-aged beef options to just three, and you'll be going with the eponymous one, 'cause it's got bacon.
Kristin Hunt is a staff writer for Thrillist. Eating cheeseburgers is one of her favorite pastimes. Follow her at @kristin_hunt.