The Soft, Frosting-Laden Cakes Our World Needs Right Now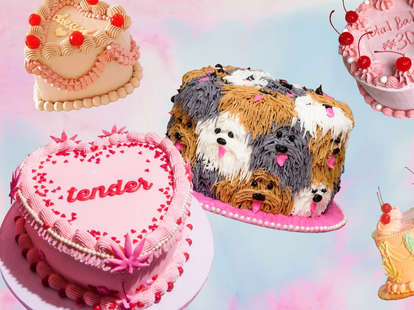 Emily Carpenter/Thrillist
Emily Carpenter/Thrillist
Pillowy with buttercream and resplendent with pastel-colored glory, there's a new breed of cake standing proud, overflowing with its own gentle garishness.
The creations come draped with plump, pristine piping, bedecked with candied cherries and adorned with fat, glistening edible pearls. Found in New York, Florida, London, and Seoul, watch out for a smile-inducing slice at a bakery near you soon.
A natural progression of the soft, nostalgic-for-the-80s-and-90s styles that Millennial women who grew up seeing flower crown-topped photo edits on the internet are very familiar with (think pastel pinks and blues, hand-drawn doodles, dark imagery made cutesy in a collage setting), these cakes' existence is evidence that Tumblr girls have grown up and gotten into baking.
The creators view these cakes as more art than confectionery. Coven Bakery, based in London, was founded in 2018 by Harriet Gibson, 27, and Erin Luker, 29. "We didn't set out to be part of anyone's moodboard, but that's what our cakes have become, as if they were sculptures," Gibson says. "The designs started out simple and became more elaborate because that's what people were reacting to."
With a background in fashion, the pair draws inspiration from influences as diverse as the Molly Goddard dress featured in the BBC series Killing Eve, penny candy and crystalised fruit displays, and last year's Manolo Blahnik exhibition at the Wallace Collection in London.
"We have a strong basis in traditional [cake decorating] techniques," said Luker, the trained baker of the duo. "Just as you can't make a dress without pattern cutting, you can't make these cakes without knowing how to pipe. We're starting from a very classical perspective."
The founder of Brooklyn custom pastry maker The Gemini Bake was inspired by decades-old Wilton Cake Decorating magazines that belonged to her mother. "I have vivid memories of flipping through them as a kid," said Samantha Raye, 29. "I can't put my finger on what it was about them that I was so drawn to, but I was mesmerized. I've started collecting old copies up to the mid 90s, which is when fondant started replacing buttercream. That's where I draw the line."
"People like silly, fun, visual things"
Neither Coven nor Gemini are inspired by other currently popular cake decorating styles. They were thrilled when they discovered each other creating comparable cakes, and both see their creations as a return to older forms of expression. "Fondant or 'naked' cakes have become the norm, and I find them uninspiring." says Raye. "They don't look like cakes to me. More is always more."
Gibson and Luker agree. "Cakes piped like this are nothing new, but they've resurfaced. People like silly, fun, visual things. You don't want to be on Instagram gazing at plain sponge cakes."
While the cakes weren't created for Instagram in the same way that a certain breed of rainbow, unicorn-themed goods were, the platform has connected the bakers with a ready-made audience hungry for the next shiny thing. Sarah Bahbah, 28, an artist and photographer with 995k followers who employs a similar visual style, ascribes her viral success to exposing the teeth of this trend by combining a raw, often biting narrative with strongly feminine imagery, showing what's underneath the frills.
"Social media helped me carve out my own way and become my own boss," she says. "It has given me access to audiences and pathways that would never have been open to me."
Bahbah explains that Tumblr was the first online space that gave her the confidence and space to express herself. "People dismiss the now-popular kitschy aesthetic, which grew there as being feminine in a negative way," she says. "In fact, it's a reaction to the harshness of reality, and grounds itself by being raw and vulnerable."
At first glance, Bahbah's art seems light and dreamy, using motifs such as fruit, flowers, sunlight and bodies of water. But, she says, "it's mostly a direct response to the nastier parts of society and my processing of trauma. The romance of this aesthetic trend and of my work is coming from a place of strength and power instead of from behind rose-tinted glasses."
"When times are hard, the buttercream gets fluffier"
While these kitsch, soft cakes self-consciously embrace their whimsical nature, there is a deliberate strength and consideredness in choosing softness while living in an often harsh world. Both The Gemini Bake and Coven Bakery's Instagram feeds are interspersed with squashy things -- pastel pink packing peanuts, piles of pistachio-colored tulle and cream velvet-covered tufted pouffes. At times, scrolling through the reams of luscious buttercream, you feel as though you could sink through the screen into a welcoming sponge cake embrace.

"Every time I look at my phone, there's a terrifying news alert," said Gibson. "Cake can be an escape. It used to be that times got hard, hemlines got longer. Now when times are hard, the buttercream gets fluffier."

"We think it's hugely important to stay positive in the current political climate." said Luker. "Our cakes aren't a conscious reaction to that, but it's undeniable that it's escapist to bake a cake after a gloomy day."

Gibson and Luker are adamant that it's not just about appearances, however. "It goes deeper than that. We want our cakes to look fun and silly because we want them to bring joy. Every time someone places an order, they're allowing us into a celebratory moment in their lives."
Raye concurs. "I think we need the soft and wildly fanciful to combat the harsh realities of being a human being. My style wasn't born as a response to the current state of the world, but I do think that it can serve as a cure with some momentary escapism."
Because what's more distracting than a slice of cake with a cherry on top?
Sign up here for our daily Thrillist email, get Eatmail for more food coverage, and subscribe here for our YouTube channel to get your fix of the best in food/drink/fun.