Winter Is Coming: These Store-Bought Soups Will See You Through
As chilled winds swirl pools of gold and russet leaves about our bootie-clad feet, our thoughts turn to... you thought I was going to say PSL, but no. I'm here to talk about soup. Yes, my friends, soup season is upon us. With the first crisp days of the season, I want nothing more than to come home to a steaming bowl of wholesome goodness. But who is going to cook it for me?
A large food manufacturer, that's who. We're looking at the kind of shelf-stable, heat-and-serve meals you can stock your pantry with -- soups that will love you back (ish) when you come home after a long, hard day in the cold, harsh world. We at Thrillist have taken upon ourselves the task of finding the yummiest broths out there.
But then the topic of sodium came up. As in, Blessed Little Lord Baby Jesus and His Youthful Cardiovascular System does packaged soup have a whole lot of sodium. Some ready-to-eat versions pack in up to 800mg per one-cup serving. And are you really going to limit yourself to just one cup? We doubt it! That's not how we do soup in this country.
Maybe you don't care about sodium. Maybe you do. It just so happens, one in three American adults has hypertension, according to the CDC. Clinical nutritionist Ariane Hundt told us, "the average person needs only 500mg of sodium per day, and the vast majority of sodium intake comes from processed foods, such as pizza, soups, cold cuts, and meals in restaurants." So that's how much you need. But how much can you get away with?
If you have hypertension, Hundt says you should limit your sodium intake to under 1500mg per day "so as not to increase the strain on the heart." That comes out to about 300-500mg per meal.
That's why we decided to throw some low-sodium soups into our taste test. And since a lot of us should be eating the low-salt alternatives, we want to know how much we'll suffer for making a more health-conscious choice. So we gathered about 25 Thrillist staffers to sample four different brands each of butternut squash, tomato, minestrone, and chicken noodle to find out which we liked the best overall, and to find out if anyone could detect the low-sodium versions.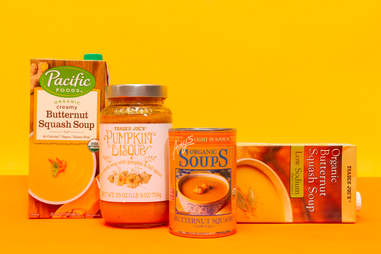 Rachel Kuzma / Thrillist
OK, we cheated just a smidge with this one. No, pumpkin is not exactly the same thing as butternut squash. But this bisque looks pretty darn tasty, and it lived up to our expectations. Some compared it to the soup version of pumpkin pie (but savory). Well, it better be, considering it's made with cream and tahini.
Sodium: A whopping 790mg per one-cup serving, zoiks. As for the low-sodium versions, tasters could definitely tell the difference, and they were not impressed.
Alternative: Pacific low-sodium butternut squash; doctor it with cream, tahini, and salt to taste.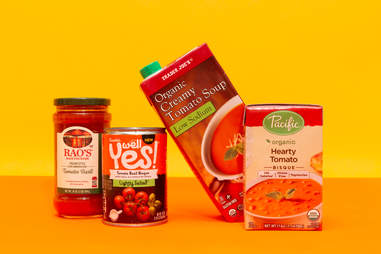 Rachel Kuzma / Thrillist
I was surprised that Rao's Tomato Basil wasn't the winner, considering it tastes just like marinara sauce. But apparently other people aren't into drinking pata sauce straight from the jar. Whatever! The people spoke, and Pacific's hearty tomato won the day.
Sodium: 690mg, not the worst, but still high
Alternative: A few people preferred Trader Joe's Low Sodium Organic Creamy Tomato Soup, with just 140mg of sodium.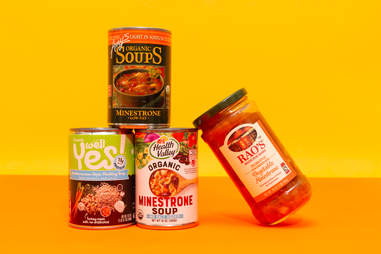 Rachel Kuzma / Thrillist
Our tasters could tell Rao's was loaded with salt, but they loved it anyway. It's packed with toothsome veggies, pasta, kidney beans, and chickpeas, and the slow-cooked broth is a flavorful win. On the other hand, the "no salt added" option was super obvious.
Sodium: 1030mg in a one-jar serving
Alternative: Add a can of unsalted crushed tomatoes to the Rao's to cut the salt without losing too much flavor.
Rachel Kuzma / Thrillist
Rao's wins it again, a surprise since I had high hopes for the bone broth in Pacific's version. Tasters thought the Trader's Joe's soup (which came in second in the taste test) was low sodium, but nope! It clocks in with 600mg. Shout out to Safe Harvest's "chicken oodle" made with hearts of palm pasta, as another tasty, paleo-friendly option.
Sodium: 820mg for the one-jar serving
Alternative: You could always add salt to Pacific's soup. Or, you could dilute the Rao's with unsalted chicken bone broth.
Sign up here for our daily Thrillist email, get Eatmail for more food coverage, and subscribe here for our YouTube channel to get your fix of the best in food/drink/fun.