The Best Chain Restaurants to Visit on Valentine's Day
Let's just all admit it -- right now, right now, on this very web page: Unless you're a child in grades K-4 (free lollipops!), Valentine's Day kind of sucks. If you are in a relationship, you feel the crushing, elephantine pressure of making the night special. If you aren't in a relationship, you feel the crushing, elephantine pressure of missing out on the crushing, elephantine pressure of making the night special. It's a lose-lose. A raw deal.
But every holiday founded on the backs of the greeting card industry (with some mild, forgotten Catholicism, of course) has a silver lining. And in this case, said lining comes in the form of special deals, discounted items, and the occasional freebie at your favorite national restaurant chain. Here, we've tracked down the best deals available on V-Day 2018, separated into five distinct tiers, so you can have the chain restaurant-centric Valentine's Day extravaganza you never knew you needed... until right now.
A "nice" sit-down dinner with your SO
Don Pablo's
Since national Mexican chain Don Pablo's does not have a nationally known commercial jingle, I decided to make one myself: "Don Pablo's, Mexican place / Don Pablo's messes up your face / Don Pablo's you can win the race / at Don Pablo's today!" Anyway, on Valentine's Day, DP's is offering up a special fajita dinner for two priced at $24.99. And that comes with an appetizer, because no special date is complete sans queso. Not bad, Don. (The deal runs from 2/14 to 2/18.)
Fogo de Chao
America's favorite "let's cut some meat off this big stick!" chain is using Valentine's Day as a platform to get repeat customers: everyone that spends their V-Day date dining at Fogo will receive a complimentary gift card for free churrasco on your next visit. Sly. But also, kind of nice. (The deal runs from 2/10 to 2/17.)
Houlihan's
Casual American dining chain Houlihan's is setting its romance meter to the heart-busting "Marvin Gaye" setting with its "How Sweet It Is to Be Loved by You" Valentine's Day menu. It features four courses (small app, soup/salad, entree, dessert) for $50, and the restaurant will be serving $5 themed cocktails all night. Houlihan's is more than competent at setting you up for success. The rest of the night is up to you. (The deal runs from 2/13 to 2/15.)
Joe's Crab Shack
Nothing screams romance like crabs. Wait. You know what I mean. Like, edible crabs. From the ocean. And Joe's Crab Shack is offering a three-course prix fixe dinner for $35, with the option to add on a $20 bottle of wine with your meal. (The deal runs from 2/10 to 2/15.)
Max and Erma's
Max and Erma's is neither a rural female comedy duo nor a mid-'00s platform game for the Playstation 2; it's a casual dining chain specializing in homestyle American food. And for your Valentine's Day date, they are offering a three-course menu (featuring two starters, two entrees, and one dessert) for $29. Thanks, Max. Oh, and also Erma. (The deal runs from 2/9 to 2/14.)
Romano's Macaroni Grill
For a mere $45, the Macaroni Grill will land you two entrees, with a shared app and dessert -- though it's still unclear if grilled macaroni will be an option. Dad-jokes aside, you can also get 25% off any e-gift cards you purchase on the Macaroni Grill website in honor of this special day; the promo code is, naturally, Valentine. (The deal runs through 2/14.)
Ruth's Chris Steakhouse
Perhaps the classiest option on this list, Ruth's Chris Steakhouse is offering its legendary Surf and Turf dinner for a discounted price of $49.95. You'd be a straight fool to let this deal slip by; in fact, maybe you don't even deserve love. (The deal runs from 2/9 to 2/18.)
Spaghetti Warehouse
While the "word" warehouse might not conjure up super romantic visions, Spaghetti Warehouse actually does a pretty good job of making their restaurant a little more cozy on Valentine's Day. They offer up a $30 Ultimate Feast featuring one of their trademark entrees, an appetizer of pork sausage or their famous meatballs (the restaurant is the owner of the coveted meatballs.com web address, by the way), and a special dessert via the Cheesecake Factory's kitchen. It's the best party you've been in, in a warehouse, since that rave in '97. (The deal runs on 2/14.)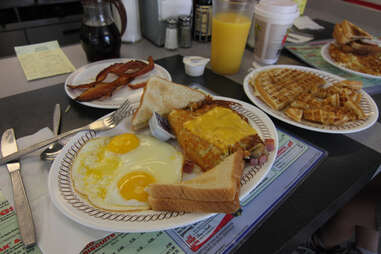 A "nice" low-key dinner with your SO
Firehouse Subs
On Valentine's Day -- and Valentine's Day only -- you'll get a free cookie with the purchase of any sub with this coupon. Hey, it's not much. But it is a cookie. (The deal runs on 2/14.)
Golden Corral
Golden Corral's is pushing out a special Valentine's Day buffet menu featuring steak and shrimp (meaning, it's of a slightly higher quality than their normal fare). But be warned: weekend prices apply here. You pay for what you get! And, you can eat literally as much as you want. So it all shakes out in the end. (The deal runs on 2/14.)
Olive Garden
For couples who want that charming Olive Garden experience in the comfort of their own home, OG is offering a special to go, four-step, customizable special featuring salad and breadsticks, a dipping sauce, shared entree (meaning, it's big) and a dessert for $34.99. It's all the magic of dining in the Olive Garden, without the hindrance of their draconian "no shirt, no pants, no service" mandate. (The deal runs on 2/14.)
Waffle House
I know what you are thinking: "I don't need any extra incentive to get me and my significant other to Waffle House on Valentine's Day. It's honestly the most romantic, endearing restaurant -- nay, general location -- in the entire world." But the House went and outdid itself this year. In these select locations, Waffle House will be featuring a special Valentine's Day dinner, complete with reservations and white tablecloths. It's a pretty big deal. (The deal runs on 2/14.)
White Castle
If Waffle House is a little too bougie for your tastes, White Castle is featuring a similar service -- reservations, tableside ordering, non-paper napkins -- on Valentine's Day from 4pm till 9pm. The sliders might be small, but the love looms large. Especially on Valentine's day. (The deal runs on 2/14.)

A "let's just get some ice cream and go home" dinner with your SO
Halo Top
There will always be the contingent of couples who say "nah" to all of Valentine's Day pomp and circumstance, and opt to simply snag some ice cream and stay at home. And guess what: they are probably the ones who will make it. Postmates Fresh makes this lazy/cozy dream a reality with their Valentine's Day special. They'll deliver a pint of Halo Top, for free -- as long as you live in New York, LA, or San Francisco. Look: You can still move today. It's not too late. (The deal runs on 2/14.)

A "going to Hooters because I am alone" dinner with yourself
Hooters
For the lonely and scorned among us, Hooters is offering 10 free boneless wings to any of the heartless horde who brings in a picture of their ex, and destroys it in front of the servers and the possibly dozens of middle school sports teams that will be there. Yes, seriously. (The deal runs on 2/14.)
A "f*ck it, let's just get married at Denny's" dinner
Denny's
And finally, for those who want to say "screw the world, let's get married at Denny's," well... you can get married at Denny's wedding chapel in Las Vegas for the perfectly reasonable price of $99. You'll get a silk presentation bouquet & boutonniere, a Champagne toast, and the knowledge that you committed to your soulmate in a spot best known for late-night pancakes. And only one of those things is truly priceless. I'll let you figure that one out for yourself. (The deal runs on 2/14.)
Sign up here for our daily Thrillist email and subscribe here for our YouTube channel to get your fix of the best in food/drink/fun.

Wil Fulton is a staff writer for Thrillist. If you told him he could only eat one food for the rest of his life, he'd be frightened and confused. Follow him: @wilfulton.