Classic Cheesecake Factory Cheesecakes, Ranked
See which flavors made it to the top.
Of all the major chain restaurants, The Cheesecake Factory might be the hardest to pin to a specific cuisine. After all, its sprawling menu famously includes everything from fish tacos to chicken teriyaki. But thanks to the chain's name, at least everyone knows one of the options for dessert: the titular cheesecake.
The problem: The Cheesecake Factory currently has a wide-range of flavors to choose from. I rolled into (and out of) a Los Angeles location of America's favorite chain and ordered up a slice each of their most classic flavors. Here's how they stacked up.
27. Low-Liscious Cheesecake
What it is: Creamy cheesecake with a graham-walnut crust and sweetened with Splenda
The verdict: Look, nobody should be surprised here. Carbs taste great and make people happy. Why would you take them out? You already ordered cheesecake. The opportunity for sound nutritional decisions has waved goodbye. This number is flavored with Splenda, which you might know from such hits as "The Awful Diet Cola Aftertaste" or "Goddammit I Bought The Sugar Free Popsicles Again."
26. Low-Liscious Cheesecake With Strawberries
What it is: The Low Carb Cheesecake with strawberries and whipped cream, sweetened with Splenda
The verdict: Moderately better, but that's because of the strawberries and a more traditional crust. Otherwise it's pretty much the same Splenda-y taste as the regular Low Carb Cheesecake. Weird thing about this one: The strawberries are served sliced-up in a little cup next to the cheesecake. What's that about? Portion control? Again, you've already decided to chase the cheesecake dragon. Embrace it.
25. Caramel Pecan Turtle Cheesecake
What it is: Pecan brownie and caramel swirl cheesecake topped with caramel turtle pecans and chocolate
The verdict: I am not what you might call "a pecan guy." I'm more like an "all the other types of nuts are better than pecans" guy. Thus, turtle isn't really my fave flave. The caramel fudge swirl cheesecake itself isn't bad, but it's bogged down by those pesky pecans.
24. Fresh Banana Cream Cheesecake
What it is: Banana cream cheesecake topped with Bavarian cream and sliced banana
The verdict: Regardless of how you feel about bananas ("Something to chew on" would be my review), banana eaters can generally agree that when they're extra mushy, it's unpleasant. That's what this whole cheesecake is like. Extra mushy. It's like if somebody made a purée of bananas and baby food and assembled it in cheesecake form. You will like this if you like banana cream pie or if you are an infant with no teeth. I don't, and I'm not. Not anymore, at least.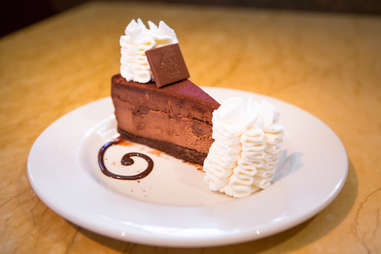 23. Godiva Chocolate Cheesecake
What it is: Flourless Godiva chocolate cake layered with Godiva chocolate cheesecake and chocolate mousse
The verdict: Couple things working against the GCC here. First, there's chocolate cake mixed into the cheesecake, and it isn't working. Second, said chocolate cake is flourless. Flourless cakes are just cakes that forgot something. The other problem here is that it's just so rich. Maximum decadent. If there was something like a strawberry or raspberry to help cut through that richness, that might help matters. But alas, there isn't.
22. Hershey's Chocolate Bar Cheesecake
What it is: Hershey's cheesecake between chocolate cake with chocolate frosting and chocolate chips
The verdict: Similar to the Godiva, but slightly less rich. And again with the real cake-cheesecake combo! This is a big fat chocolate punch to the face.
21. Celebration Cheesecake
What it is: Vanilla cake layered with cheesecake, strawberry, chocolate, vanilla mousse, and cream cheese frosting
The verdict: The beast that is the Celebration Cheesecake seems to be their take on a birthday cake, yet it definitely feels like they're celebrating themselves as a place that doesn't care at all about what a cheesecake is supposed to be. It's almost got that Funfetti feel, with all the bright birthday-ish colors. It's tasty as hell, but the real problem is that you get tricked into thinking you're about to take a bite of an ice cream cake, but alas, no ice cream. Just a comically tall slice of cheesecake.
20. Oreo Dream Extreme Cheesecake
What it is: Oreo cookies baked into creamy cheesecake with layers of fudge cake, Oreo cookie mousse, and topped with milk chocolate icing
The verdict: "20 for OREO???" you are probably shouting at your computer. Stop shouting, let's have a calm discussion. I love Oreos. They are the best cookie. Unfortunately the true power of Oreo doesn't come through here because it's all about the cookie part. There's a severe lack of the cream filling so good Weird Al wrote an entire song about it. I can see that the cream cheesecake itself is trying to fill that position, but it just isn't enough. This is more like a traditional cheesecake with a bit of Oreo cookie crumble in the mix.
19. Chocolate Mousse Cheesecake
What it is: Chocolate cheesecake topped with a layer of Belgian chocolate mousse
The verdict: This guy right here truly rides the line between extreme chocolate and a richness that isn't overpowering. It's silky and smooth and mousse-y and classic. A go-to for anybody who loves chocolate but appreciates moderation, insofar as chocolate mousse cheesecake can be considered an example of moderation.
18. Chocolate Tuxedo Cream Cheesecake
What it is: Layers of fudge cake, chocolate cheesecake, vanilla mascarpone mousse, and chocolate
The verdict: Contrary to my previous statements, the layer of actual cake works a little better in this one. The cake-to-cheesecake ratio is much more under control here. This is a middle of the road decadent dessert for somebody who gets really excited about Black and White cookies.
17. 30th Anniversary Chocolate Cake Cheesecake
What it is: Original Cheesecake layered with fudge cake and chocolate truffle cream
The verdict: There's not enough cheesecake here to even call this cheesecake, but this somehow counterbalances my whole "too much cake" argument and flips it on its ear. Now it's almost like the cheesecake is the part that's been added, and it somehow works better. Also, the truffle cream is glorious.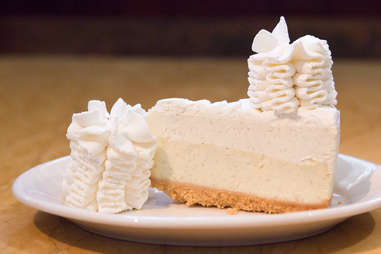 16. Vanilla Bean Cheesecake
What it is: Vanilla bean cheesecake layered with vanilla mousse and whipped cream
The verdict: This was another cheesecake that exceeded my expectations. I'm not really a vanilla person—I'll almost always avoid plain vanilla in search of bolder flavors. But this guy is light and airy, and the vanilla beans themselves shine through wonderfully in every bite. Simplicity can be beautiful.
15. Dulce de Leche Caramel Cheesecake
What it is: Caramel cheesecake topped with caramel mousse and almond brickle on a vanilla crust
The verdict: The Cheesecake Factory had the courage to not stick a bunch of cake in the middle of this thing and ruin it. I'm a butterscotch man, and this is the closest thing they have to butterscotch. Bonus points for the vanilla crust, too.
14. Reese's Peanut Butter Chocolate Cake Cheesecake
What it is: Chunks of Reese's Peanut Butter Cups in the Original Cheesecake with layers of fudge cake and caramel
The verdict: This could have been even higher, but I don't think the extra cake layer was necessary here. But it's damn close to being a powerhouse. And where are the Butterfingers that they used in Adam's Peanut Butter Cup Fudge Ripple Cheesecake (see below)? That would have blown both mine and Bart Simpson's minds. There's nothing wrong with inviting some Butterfinger to a Reese's party.
13. Toasted Marshmallow S'mores Galore
What it is: Hershey's cheesecake topped with chocolate ganache and toasted house-made marshmallow, and Honey Maid graham crackers
The verdict: As I mentioned, the Hershey's cheesecake is far too chocolatey. However, a good way to neutralize all that chocolate is to add a bunch of nostalgia-inducing, chocolate-cutting accoutrements, specifically sticky-toasted marshmallow and graham crackers. This could have gone even higher with the simple addition of a campfire and any of the cast members from Wet Hot American Summer.
12. Key Lime Cheesecake
What it is: Key lime pie in cheesecake form, on a vanilla crumb crust
The verdict: Call me Margo Martindale from Season 3 of Dexter, because I LOVE key lime pie. I really do. If you have to alter key lime pie by turning it into cheesecake, this is probably the best way to do it. It maintains all the tartness and acidity of a lime, shining through the creamy cheesecake. It was very hard for me not to eat this entire piece, despite the fact that I was already in the middle of tasting 34 different types of cheesecake.
11. Salted Caramel Cheesecake
What it is: Caramel cheesecake and caramel mousse on a blonde brownie topped with salted caramel
The verdict: Look. I'm basic. The salted caramel thing still hasn't gotten old to for me, no matter how much it's been overused. It's simply a rock-solid combo. We're dealing with that same delicious blonde brownie crust again as well. The finish is nice and salty and really heightens the sweetness of the caramel, which I think is the mark of a successful salted-caramel dessert.
10. Tiramisu Cheesecake
What it is: Layers of tiramisu and cheesecake
The verdict: Truly a great idea all the way from the start. Tiramisu is fire. Cheesecake is fire. Pop 'em together and, yep, Tiramisu Cheesecake is fire.
9. Ultimate Red Velvet Cheesecake
What it is: Layers of red velvet cake and the Original Cheesecake with cream cheese frosting
The verdict: I'm a sucker for red velvet. It eats me alive that I love something this trendy, but red velvet has totally lived up to the hype. This is by far the best example of a regular cake working in tandem with cheesecake. I mean, come on: it's red velvet we're talking about.
8. Chocolate Caramelicious Cheesecake Made with Snickers
What it is: Creamy cheesecake topped with Snickers, fudge, and caramel
The verdict: You put Snickers on top of a cheesecake, and it's gonna be good. Nothing to overthink about this one. And if you disagree, you might need to grab a Snickers, because you're not you when you're hungry.
7. Lemon Raspberry Cream Cheesecake
What it is: Raspberry vanilla cake, creamy lemon cheesecake, raspberry ladyfingers, and lemon mousse
The verdict: I was never going to not like this. I love raspberry. I love lemon. The lighter, more tart cheesecakes really did a number on me. The jam dripping off the top looks awful in pictures but felt just right in my dark, cavernous heart.
6. White Chocolate Raspberry Truffle
What it is: Creamy cheesecake swirled with white chocolate and raspberry
The verdict: I don't even like white chocolate, and I am still all about this one. It's tart and bright from the raspberries but still sweet and decadent from the white chocolate. The perfect amount of each ingredient.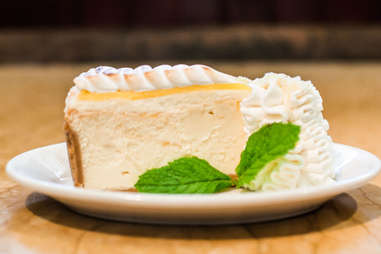 5. Lemon Meringue Cheesecake
What it is: Lemon cream cheesecake topped with layers of lemon mousse and meringue
The verdict: Do you love lemon bars? Do you love not feeling like you weigh 2 billion pounds after eating dessert? Do you like reading three questions in a row like an infomercial? If so, the Lemon Meringue Cheesecake is for you!
4. Original Cheesecake
What it is: Creamy cheesecake with a graham cracker crust and sour cream topping
The verdict: Before I tasted this, I figured I didn't really care for plain cheesecake. My first bite of the Original changed my mind. I was very into the sour cream topping. It wasn't too heavy or too rich. I truly have nothing to change. A+ cheesecake.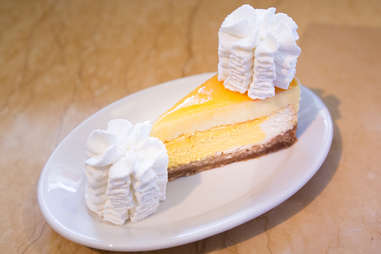 3. Mango Key Lime Cheesecake
What it is: Key lime cheesecake topped with mango mousse on a vanilla macaroon coconut crust
The verdict: Brightness! Tartness! Acidity! All those things I keep talking about! I don't love coconut, and I don't even care because this one is so good. The silky smooth filling and the mango mousse yield harmoniously tasty results. That sour finish on your tongue at the end of each bite really makes you come back for more.
2. Adam's Peanut Butter Cup Fudge Ripple Cheesecake
What it is: Creamy cheesecake swirled with caramel, peanut butter, Butterfingers, and Reese's Peanut Butter Cups
The verdict: Adam seems to have done everything right where the other peanut butter cup cheesecake failed. The Butterfinger bits are crucial as hell. The peanut butter ganache on the top is a killer. It's all cheesecake stuffed with Reese's Cups, and not an ounce of boring fudge cake anywhere to mess it up. If any of you out there is Adam, please identify yourself. I'd like to give you a hug.
1. Fresh Strawberry Cheesecake
What it is: The Original topped with glazed strawberries (no sour cream topping)
The verdict: It's a classic. The Original has already mastered that perfect simplicity, and nobody ever got hurt by adding strawberries. The brightness from those strawberries really packs a special punch. Another thing that skyrocketed this bad boy to the top was that, in the end, a lot of these flavors and styles are very similar. So much heavy chocolate. Lots of silky smooth richness. But this Fresh Strawberry Cheesecake right here stands out among the super-heavy chocolate cheesecakes that the menu is packed with. It's light, and fluffy, and honestly, just perfect.
Wilder Shaw needed to be airlifted out of The Cheesecake Factory after this and is a ghost now. Track his detox on Twitter and Instagram.