7 Cheeses You Need to Try on a Burger
Erika Kubick/Thrillist
Erika Kubick/Thrillist
For me, a burger without cheese is simply incomplete. There's something so glorious about the way those beef juices marry with a tangy slice of melting cheese. I love me a simple Wisconsin Cheddar, and most days I welcome that orange slice on my burger, but sometimes I get a hankering for a little more funk. Honestly, there are just too many cheeses in this world for cheddar monogamy.
Of course, not all cheeses are meant for burgers. Some won't melt, and others are simply too precious for anything other than a solo savoring session. But when you want to get a little weird with your cheeseburger, treat yourself to one of these bad boys.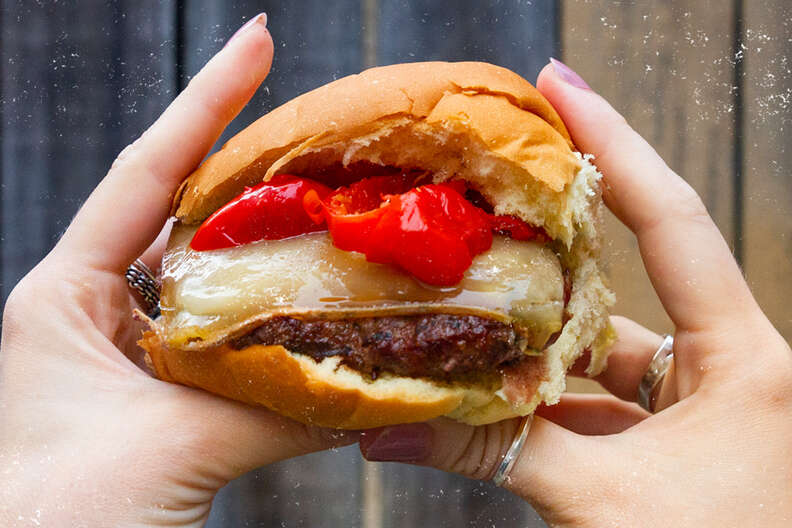 Fontina Val d'Aosta
This raw milk rockstar is basically an Italian Gruyère. It has a robust, meaty flavor with hints of toasted nuts and a texture so silky it's often used in fondue recipes. To make it extra melty, bring it to room temperature, slice it thin, and layer generously. Finish it off with some pickled sweet peppers, which really tie that thick flavor together. I also recommend pouring a glass of red vino for this Italian Stallion.
Burrata
Shreds of cream-soaked mozzarella stuffed inside a sturdy mozzarella shell, burrata makes for some explicit burger porn. The mozzarella melts into the meat while the center oozes all over the patty. There's a lot of juice happening here, so the build is really important. Start by layering the bottom bun with a handful of arugula to avoid a soggy bottom. Slice the burrata in half, then place it cut-side-down on the patty, so the beef juices meld with the cheese's cream center. Finish it off with a drizzle of balsamic and some chopped roasted tomatoes.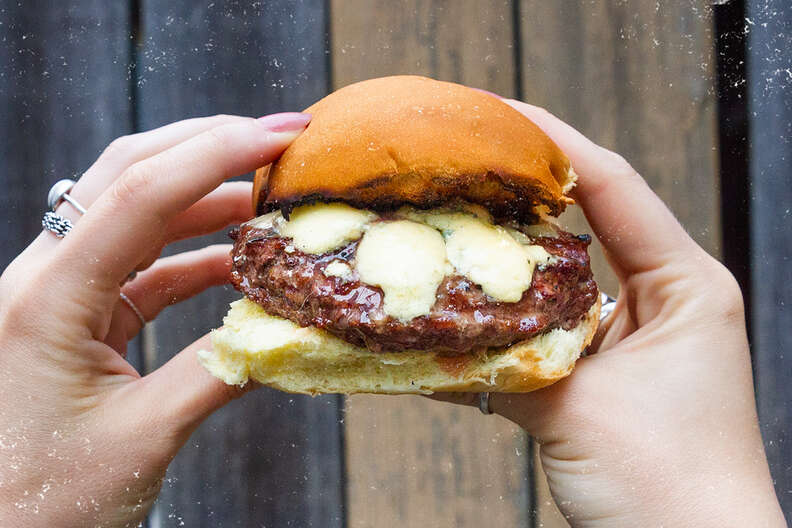 Smoked Blue
Blue cheese is a classic choice, but a smoked one really takes that bomb flavor combination to the next level. It's pungent, fudge-y, and full of bacon-y flavors that complement the grilled patty's natural smokiness. Slices are way easier to handle than crumbles, so bring the wedge to room temperature and use a sharp knife to get the cleanest cut. A little bacon onion jam is really the only way to complete this masterpiece.
Double Cream Brie
These bries have extra cream added, which makes them softer and nearly as spreadable as butter. When heated, they melt into a saucy puddle that covers the burger like a satin sheet. I recommend leaving the rind on for a faint hint of mushroomy flavor. Go heavy on the pickles and swipe the bun with lots of whole grain mustard to cut through all that fatty richness.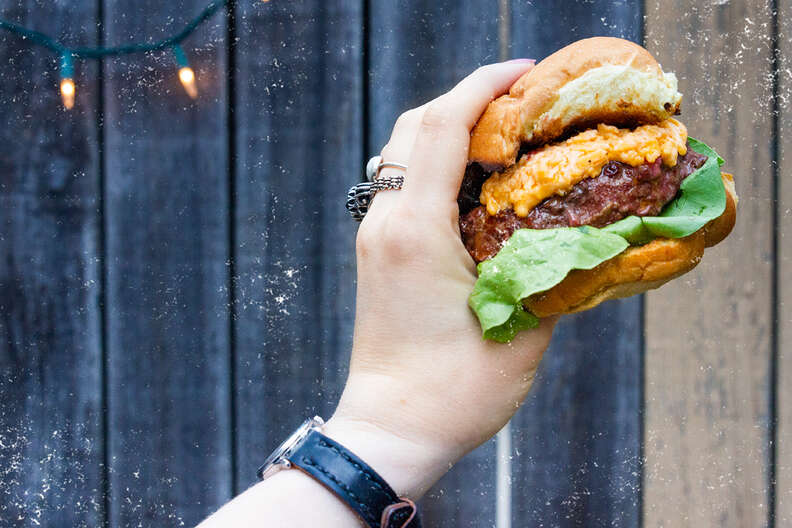 Pimento
The pepper-studded Southern cheese spread is a summer picnic icon, and it serves up all the burger toppings you need in one dollop. I love how the hot burger melts into a cheesy sauce, it's the taste bud equivalent to sex on ecstasy. If you're feeling extra hungry, get yourself a hearty bun like a pretzel roll or even Texas toast. I also recommend having a bag of chips on hand for a perfect grill-side snack.
Coffee-Rubbed Cheese
Think of this one as the burger version of a coffee-rubbed steak, except the cheese gets to have the smoky-sweet crust. Look for Barely Buzzed from Beehive Cheese or Espresso BellaVitano from Sartori. They're similar cheeses, somewhat between a Cheddar and a Parmesan, with a crunchy sweetness that absorbs the deep dark coffee flavor like a latte. Top with garlic aioli, mustard, avocado slices, and maybe even an egg if you're feeling naughty.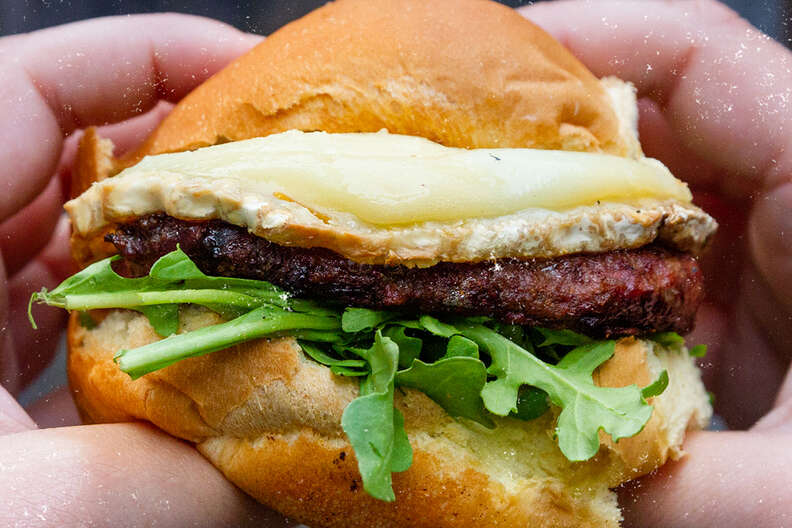 Bucheron
This grassy French log brings a trio of seductive textures: the dense center is surrounded by a soft, gooey layer and a firmer, snow white rind. It doesn't really melt as much as it relaxes into the burger. Classic fresh goat cheese is also great on a burger, but it's not quite as exciting as Bucheron's punchier grassy flavor. It's a rich, flavorful combination, so break it up with some sweet fig jam and peppery arugula.
Sign up here for our daily Thrillist email and subscribe here for our YouTube channel to get your fix of the best in food/drink/fun.
Erika Kubick is a monger-turned-cheese preacher devoted to turning on cheese lovers through her blog, Cheese Sex Death. Take yourself to #CheeseChurch and follow her @cheesesexdeath.