The contemporary hot dog may have been invented in New York, but it was indisputably perfected in Chicago, where all-beef Vienna franks are topped with sweet green relish, yellow mustard, tomato wedges, chopped onion, sport peppers, a dill pickle spear, and a healthy (?) sprinkling of celery salt for good measure. Inside the city limits, places that hawk these delicacies are a dime a dozen, but outside? You'd be hard-pressed to produce hot dogs of the same caliber, frankly.
Enter these 11 spots, which have committed themselves to making some of the best Windy City dogs in places where Rahm Emanuel can't eat them all.
Recommended Video
Timothy DeLaGhetto & David So Take Over LA's Premier Foodie Event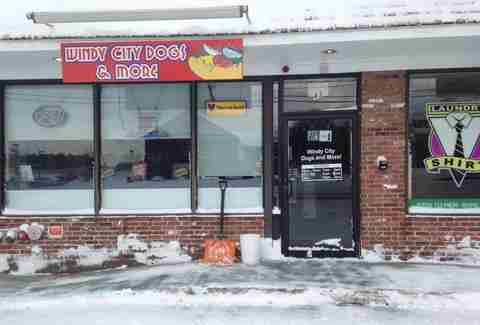 Norwell, MA
Massachusetts isn't normally known for its hot dog scene, and when the Chicago-bred owner of Windy City Dogs & More noticed the disturbing lack of Vienna beef franks, he decided to open his own joint... and the neighborhood loves it. All the dogs and fixins are imported directly from Chicago to the suburban strip mall, where you can get your classic dog Chi-style... or deep-fried with Buffalo sauce.
Petaluma, CA
Pretty appropriately located at a historic livestock auction yard, Roy's Chicago Dogs is serving the real-deal Vienna beef experience (and on poppy seed buns, no less) with its eponymous hot dogs. It's a family-run joint with six tables and Chicago artifacts lining the walls, and it's got Italian beef sandwiches that are probably pretty offensive to the bovine neighbors. Or weirdly tempting.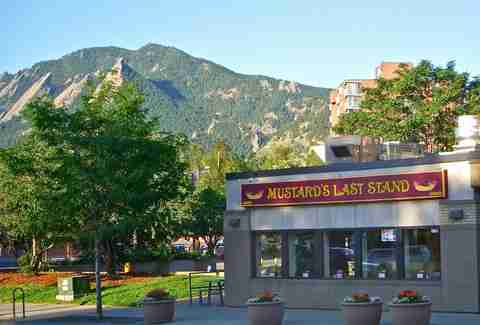 Boulder, CO
An unapologetic meat emporium located in the heart (or arteries?) of the surprisingly hot-dog friendly Boulder, Mustard's Last Stand has the city's requisite gluten-free options, but a true Chicago lover knows gluten is as key as celery salt. There're locations in Boulder and Denver, but the Boulder one is the real move here -- because you can wash your Vienna frank down with a cold beer on their patio. But get there soon, because the city's tearing down their building in the coming years (ostensibly to make room for an artisanal tempeh farm).
 
Portland, OR
This inconspicuous cart in North Portland's Mississippi neighborhood -- parked near an oh-so-Portlandy vegan BBQ cart -- might put its Chicago- and Detroit-style pizza in its name, but it also makes one of the most authentic Chicago dogs outside the Windy City. Hell, dude ships Red Hots and poppy seed buns straight from Chicago, then drags them through the garden, hitting them with that signature neon relish and celery salt. The only thing that could make them more real-deal would be pairing them with Old Style... luckily, the goal is to go brick-and-mortar soon, so that might be a more realistic prospect than a Cubs championship.
Honolulu, HI
It's pretty rare to find anything in Hawaii that's not made out of Spam, but Hank's Haute Dogs flourishes there nonetheless, mainly due to its extensive menu of weird and intriguing hot dogs, and the fact that they're all so damn good. Their Chicago dog is no exception, and you can make it a more authentic island-meets-mainland experience by siding it with their panko-covered sweet onion rings... or just downing a tropical cocktail.
Dallas, TX
Some of the best hot dogs in America are peddled from street carts, and Luscher's takes that idea to the next level with a winning pedigree: it was started by much-lauded Dallas-area (Chicago-born) chef Brian Luscher, who decided to go on a quest to make the perfect hot dog. And many believe he's succeeded with his handmade, oak-smoked hot dogs crafted in the Chicago tradition. While he's operating out of a cart now (every fourth Saturday of the year), he's getting a brick-and-mortar location soon.
Seattle, WA
Their approach to the Chicago template might be a bit unorthodox, but the crew behind Po Dog makes it work -- no poppy seed bun (some might cry blasphemy just for this), but instead a top-split soft brioche that totally jives with their authentic Chicago toppings. They've got a few locations scattered across Seattle, and are open until 2:30am on weekends.
 
Worcester, MA
The Chicago dogs hawked out of this tiny food cart (that sets up shop outside a local bar every Friday night) are some of the rarer ones on this list, but for a town that's as Chicago dog-starved as Worcester, Massachusetts, they're the perfect cure for the drunchies. Stumbling out of the bar's front door and into the warm glow coming from its window, you'll usually find yourself queueing up behind a few other people, but for the crispy snap of a dill pickle on top of an all-beef frank, it's a small price to pay.
New York, NY
New York is probably the last place most Chicagoans would expect to find a good Chicago-style hot dog, since most Chicagoans are still smarting from being dubbed the "Second City" by The New Yorker's A.J. Liebling. But find it you will, and at Shake Shack, no less! Their "Shack-cago Dog" is as authentic as it gets, with the notable (but totally not egregious) inclusion of locally made Rick's Picks pickles.
 
Orlando, FL
Not all hot dogs go to Hot Dog Heaven, but the ones that come out of it are some of the best -- and Floridians (both expat Chicagoans and the uninitiated) have been flocking here since 1987. There's always a line, but the wait is well worth it for their beef franks, ripe toppings, and freshly fried French fries (try saying that 10 times fast).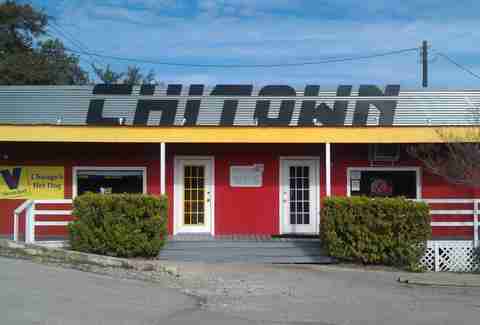 Austin, TX
For a slice of Chicago that's not an actual slice of deep-dish (since they don't serve that here), Texans swear by this suburban Austin eatery that's stuffing poppy seed buns with all-beef wieners and the requisite garden veggies. Going for an all-out Chi-Town assault on the senses, they also serve Italian beef sandwiches, Polish sausages, and have an entire "bacon-wrapped menu". Now, that doesn't explain the presence of Frito pie, but who needs an excuse for that, anyway?
Adam Lapetina is a Food/Drink staff writer for Thrillist, and these suckers are probably the only reason he owns celery salt. Read his musings on Twitter at @adamlapetina.