The fried chicken sandwich is a fast-food staple, a go-to order for the burger-averse and people who enjoy referencing deep-cut Insane Clown Posse lyrics. And though I'm sadly not a Juggalo, I have already knocked off burgers, so I figured it was time I taste-tested the birds. But this go-round, I was (kind of) smart(er): I broke down the tastings over two days so I wouldn't unfairly judge against sandwiches I was tasting later in the campaign, and also so I wouldn't die from eating 6,300 calories' worth of fried meat in one sitting.
How I did it: Unlike burgers, I opted to try all of the chains' premium fried chicken offerings, rather than the lowest-price chicken sandwich. As most consisted of some combination of breaded chicken fillet, lettuce, tomato, and mayo, I tried to stay as close as possible to that order (though, as you'll see, sometimes it was challenging). The test was conducted in both San Francisco and San Diego over two days, ending on August 4th, 2014. My mouth still tastes salty.
Recommended Video
The Best Vietnamese Spring Rolls in NYC
10. Burger King's Tendercrisp chicken sandwich
Price: $5.19
The build: Fried chicken fillet, lettuce, tomato, mayo, on an "artisan-style" bun
Wait time: 2 min 48 sec
Tasting notes: In high school we used to go to the 24-hour Burger King off the Mass Pike by using a service road off a random side street in Natick to enter it without actually getting on the Pike. And we went there a lot -- because of that, I would posit that I've easily been to Burger King five times more than any other fast-food restaurant -- and I'd always get the original chicken sandwich, and I have fond memories of high school, so my hopes were high with this one. But it just didn't deliver. While the bun was pliable, squishy, and actually decent-tasting, my taste buds were overwhelmed by a fried taste due to too-heavy breading that wasn't crunchy in that satisfying way... or flavorful. It was also overdressed with mayo, which took away from some decent lettuce-and-tomato action. Apparently there is a reason BK is not called Chicken King, despite that being a very catchy name.
9. Jack in the Box's spicy chicken sandwich
Price: $4.79
The build: Spicy crispy chicken fillet, lettuce, tomato, "Mayo-Onion" sauce, on a sesame bun
Wait time: 1 min 58 sec
Tasting notes: Jack in the Box left me in a quandary. Last time, with the burger taste-test, I felt badly because it seemed like the non-basic options would test so much better than the lowest level, so I was excited to get to try something premium. But the only non-spicy upper-middle-level sandwich it offered was the Homestyle Ranch Chicken Club, and that was too different and too bacon-y to compare. So I was left with a dilemma, and decided the spicy option was the most similar to all the others. And though it did have some moves -- the lettuce and tomato were actually pretty crispy and juicy, which I definitely didn't expect from Jack -- the rest left much to be desired. Although the chicken coating was sufficiently crunchy, it was over-breaded, the bun was really soggy on the bottom, and there was too much Mayo-Onion sauce. Like, way too much. Like, it made some sort of mayo imprint all along the top of the chicken, which is not something I enjoyed typing.
8. McDonald's crispy buttermilk chicken sandwich
Price: $4.99
The build: A buttermilk filet topped with leaf lettuce, a tomato slice, and mayo (ours was missing the white stuff), all between an "artisan bun"
Wait time: 1 min, 22 sec
Tasting notes: Ah, Mickey D's. Like BK, I have fond memories of the McChicken sandwich from high school, usually eating one off the dollar menu, along with two cheeseburgers, as I thought about what I really wanted to order as my entree. And McDonald's usually knows what it's doing on the upscale chicken sandwich front, but this felt like a miss.
That's not just because the teenager who built this particular one forgot the mayo. But that absence kind of allowed the chicken's flaws to stick out. One, it's crazy dry and waaay too salty. Second, the breading-to-chicken ratio was off, with crunchy all-breading bites throwing it off in a way that the chewy, slightly sweet artisan bun couldn't cushion. The lettuce and tomato felt fresh(ish), but there was no distinctive fried chicken flavor, despite the recent move to "buttermilk" that tastes alarmingly similar to the "whatevermilk" version it used to rely on. More importantly, I could get five much better McChickens on a crappy old bun -- minus the tomato and with extra mayo -- for the same price. And for the price of a combo, add a couple cheeseburgers, too.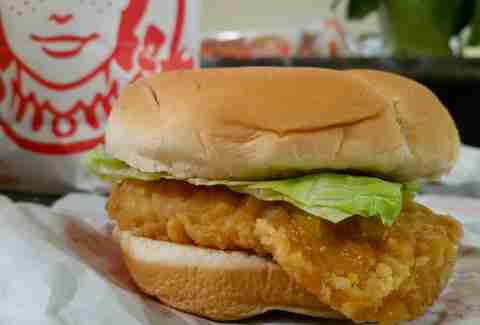 7. Wendy's Homestyle chicken sandwich
Price: $4.59
The build: "Specially seasoned" fried chicken fillet, lettuce, tomato, mayo, on a nondescript, seedless bun
Wait time: 4 min 23 sec (but I also got a Frosty)
Tasting notes: I like Wendy's chicken sandwich game. If you asked me beforehand which chicken sandwich I'd like the best of the Big Fast-Food Three, I'd have said Wendy's so quickly that you would get weirdly suspicious. I always get the spicy chicken sandwich when I go there. Always. I never deviate, except once to get something on a pretzel bun, and that was a mistake I'm copping to now, because I feel like I can trust you.
Anyway, this was a perfectly fine experience. Although the lettuce was excessively limp, and the tomato was one of those tomatoes where the middle is basically all core, the chicken was moist, there was a good ratio of mayo, and the breading was peppery but not overwhelming, albeit a bit soggy. The bun -- which Wendy's doesn't even talk about on its site in the description, a rarity amongst fast-food chains nowadays -- was mostly pliable and a little sweet and soft. This is basically the utility infielder, the 1991 Steve Lyons of chicken sandwiches -- it may not be your first choice, but it can step in and perform serviceably when needed (also, I feel like Steve Lyons is definitely the type of dude to Google himself, so, hi Steve Lyons!).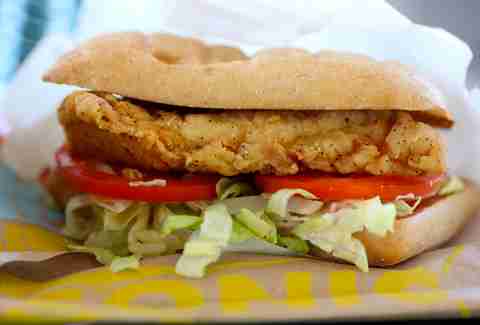 6. Sonic's crispy chicken sandwich
Price: $4.75
The build: "Lightly seasoned and breaded" chicken breast fillet, lettuce, tomato, light mayo, on a "warm, whole grain Ciabatta bun" made with 10g of whole grain
Wait time: 5 min 27 sec
Tasting notes: Why you would ever go through Sonic's drive-thru is beyond me. You have the option to park, hit a big ole red button, place your order, and a dude in f**ing roller skates will bring your meal to you. ROLLER SKATES! Anyway, outside of getting food from people on roller skates, the spice blend in the breading is the real champion of this very solid sandwich, with warm black pepper notes on the back end of each bite. The amount of mayo added was perfect, and the lettuce and tomato were crisp. The only issue was the ciabatta, which isn't as light or really as ciabatta-esque as most breads that would dare use that Italian white-bread moniker. All in all, extremely solid.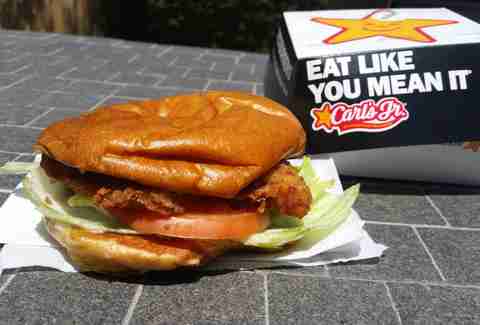 5. Carl's Jr.'s Big Chicken Fillet
Price: $4.53
The build: Crispy chicken fillet "dusted with Southern spices," plus lettuce, tomato, and mayo, on a "fresh baked bun"
Wait time: 2 min 37 sec
Tasting notes: This is the new kid on the block, and probably the biggest surprise of the group. I didn't know what to think of Carl's Jr.'s new entry into the chicken sandwich wars, mostly because I'm so used to it strictly introducing stunt products that 21-year-olds really, really want to eat when they're enjoying safe amounts of legal alcoholic beverages. But this sandwich was subtle and great.
The winner here was the fresh-baked bun, which kind of looked a little strange (as you can see in the pic), but was squishy, lightly grilled and buttered, and stood up to the moisture really well. The actual fillet was huge, definitely the biggest of any of the restaurants, and the breading was peppery in a way I really liked, adding a little more spice than most of the standard builds. The only reason it didn't move even higher was because the chicken got pretty soggy where it was posted up against the tomatoes, and so my middle bites weren't quite as glorious. Still, even if you're not 21 or named Connor, you should probably eat this.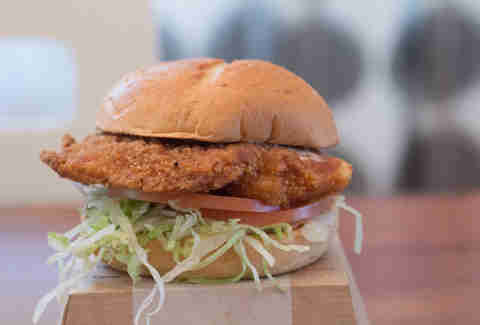 4. Arby's buttermilk crispy chicken sandwich
Price: $4.59
The build: Shredded lettuce, mayo, and tomato on the bottom; chicken fillet in the middle; more mayo up top, all crammed between a star-cut bun that looks like a paler version of a pretzel bun.
Wait time: 2 min 23 sec
Tasting notes: Arby's chicken game has long been overlooked, drowned out by mounds of roast beef and the dulcet tones of Ving Rhames' sloganeering. The chicken fingers are some of the best in the drive-thru game, and they've always been matched by the fried chicken fillets, which weirdly didn't show up on the Meat Mountain sandwich monstrosity that recently made waves. But the chain also recently rebranded the sandwiches with a crispy buttermilk breading that somehow bumped the whole package up with a little sweetness, a salty bite, and little pepper kisses.
If we were talking about the non-basics here, Arby's would be right at the top of the game: the Cordon Bleu is one of the best fried chicken sandwiches in fast food (ham makes everything better). But we're not. So the basic chicken-nugget-on-a-bun sandwich, while perfectly fine, is also a little dull. It also loses points for having thick-ish tomatoes on the bottom, which kind of turns the fillet into a mayo-soaked projectile when you bite at the wrong angle. Still, it begs the question: why hasn't anyone made mega-chicken nuggets? Arby's! Ving! We have another new meat!
3. Popeyes' chicken po-boy
Price: $4.29
The build: Two handcrafted fried chicken tenders with lettuce, pickles, and mayo, on a French baguette-style roll
Wait time: 5 min 28 sec
Tasting notes: Now we're getting into the chicken shops, the specialists. I've always been a rather large fan of Popeyes' fried chicken, the spicy bona fide style with a biscuit and Cajun fries. And if you'd asked me to give pre-taste-test odds, I would've guessed that Popeyes would be competing for the No. 1 slot. So that's why this sandwich coming in at No. 3 feels like it underperformed.
Rather than the more substantial crust of a real baguette, the bun was more like a sub roll, and the limitations of a sub roll when eating are well-known: its thin surface area forces the food to spread out, which means you have to bite twice to get all the elements of the composition -- one for the chicken, and another for the condiments. Other than that, though, it's in the top three for a reason. The chicken is great, crispy, and not super heavy, and the acidic tones from the pickles mesh well with the lettuce and mayo. Also, it didn't include tomato, which I always appreciate, but it truly did feel like what it is: a second-tier opening act to Popeyes' fried chicken main event.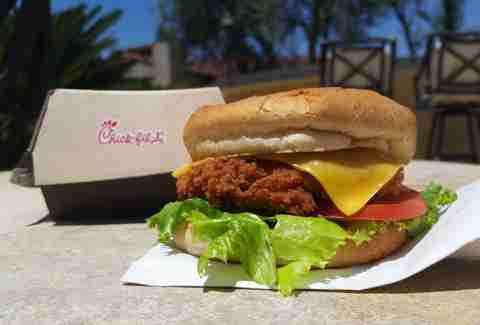 2. Chick-fil-A's Deluxe chicken sandwich with American
Price: $3.99
The build: Fried chicken fillet, lettuce, tomato, pickle, Chick-fil-A sauce, American cheese, on a toasted & buttered bun
Wait time: 2 min 32 sec
Tasting notes: I must admit something: I thought Chick-fil-A would win this. I didn't think it would be close. I love Chick-fil-A. At a USC-Stanford football game, I discovered the Coliseum had a Chick-fil-A and missed a full quarter just to purchase four sandwiches, all of which I ate myself. And this didn't happen 10 years ago; this happened LAST YEAR. But alas, Chick-fil-A does not win the title, and this is why: American cheese.
Allow me to explain: To keep up with the spirit of the taste-test, instead of the regular chicken sandwich, I had to get the more premium version, the Deluxe, which includes lettuce, tomato, and American on top of the pickles that normally adorn this thing. Now, as you may know from my 33 best burger picks, I love American cheese. But added to what was otherwise a pretty flawless melding of lightly breaded crispy chicken, fresh veggies, crispy pickles, and a sort of Dijonnaise sauce, the cheese almost seemed to render the chicken less flavorful. It's entirely perplexing, and I think it cost the heavy favorite the crown.
1. KFC's Doublicious
Price: $4.29
The build: Fried chicken fillet breaded in Colonel's Original recipe, plus Monterey Jack cheese, bacon, and "delicious sauce," on a Hawaiian bun
Wait time: 6 min 23 sec
Tasting notes: No one orders the Doublicious at KFC. I know this because, when I went through the drive-thru and asked for it, the guy paused, asked me if I really just said "Doublicious," then paused again to talk to someone, and told me it would be a five-minute wait. "Do you still want it?" he asked, feeling quite confident I'd opt for something they'd actually sold before. But I had a job to do, so I said, "I do," and finally just went inside so I wouldn't hold up the drive-thru line, because I am a gentleman.
When it arrived, I was underwhelmed. It was about 75% of the size of most of the other sandwiches I'd had. And on top of all of that, I forced myself to take the bacon off the sandwich, because, I reasoned, it wasn't fair to the others to have that bonus-meat advantage. And yet, it didn't matter. That Original recipe spicing worked magically with the sauce (mayo?), and the Monterey Jack had just the right amount of tang to be able to pair with the chicken, rather than throw a wet, cheesy blanket over it. The Hawaiian-style bun was delicious, and something I'd maybe eat on its own, and it gave the whole thing this savory-sweet element that none of the other sandwiches had. I implore you to get it, friends, even if you have to wait five minutes.
Sign up here for our daily Thrillist email, and get your fix of the best in food/drink/fun.