Photo by Cole Saladino for Thrillist
Photo by Cole Saladino for Thrillist
Ever since Teressa Bellissimo created the Buffalo chicken wing at Anchor Bar in 1964, one great question has kept the tight-knit community of wing lovers divided: Which piece is better, the drumstick or the flat? It's basically the fried bar food equivalent of the Rumble in the Jungle.
In one corner, you have drums, which look like little chicken legs and have way more meat. In the other, flats, packing less meat but more of the crispy skin and sauce. Both are delicious. But there can only be one declared winner. So which is it gonna be?
To stoke the fires of debate, we reached out to wing lovers from across the food sphere of Buffalo and beyond—restaurant owners, contest winners, obsessives, and more—to once and for all end the debate between wing components. Don't worry. No boneless wings are even mentioned. Those are just chicken nuggets going through identity crises.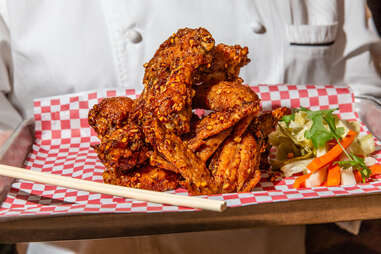 The case for flats
"I prefer two-bone wings. They have less cartilage and I can get the meat off easier." — Joey Chestnut, competitive eater and 2017 winner of the US Chicken Wing Eating Championship (Buffalo, New York)
"For me, it's the flat. Skilled wing nuts (or Boneheads as we prefer to call them) can easily pop out the two bones and you are left with a cartilage-free, delicious bite. For me, there is too much going on with the drums. I'll never understand people who can suck that bone clean in one bite without flinching at the rubbery cartilage." — Matt Corona, co-owner of Boneheads Wing Bar (West Warwick, Rhode Island and Fall River, Massachusetts)
"I personally am a flats-only kinda girl. The reason for my flat obsession? More surface area for a nice long piece of crispy skin. Dip it meaty side down in some blue cheese that's been poured on to your plate (everyone knows you can't dip a flat into the blue cheese cup), and you have yourself the perfect ratio of skin to meat to sauce to blue cheese." — Emily Kluckhohn Morrow, co-owner & director of storytelling at city guide Step Out Buffalo, (Buffalo, New York)
"At Bar-Bill owe don't play favorites, which is why our standard serving consists of five of each. However, since we have been offering all flats or all drums as an option, all-flats has outsold all drums by 3 to 1. Why? Combination of things—some find them easier to dip, some find the meat can be a bit on the tender side compared to a drum." — Clark Crook, owner of Bar-Bill (Buffalo, New York)
"I prefer the flats; they have more meat and lots of crispy skin." — Joey LaNova, owner at La Nova Pizzeria (Buffalo, New York)
"Flats are superior to drums. They were far easier to pull out of the vats of blue cheese that my head was dipped in. The flats helped me becomes the 2017 champion!" — Katie Huffman, winner No. 1 of the Bobbing for Wings competition (during which contestants fish wings out of a kiddie pool of blue cheese) at the National Buffalo Wing Festival (Buffalo, New York)
"I believe that in equal opportunity for all chicken parts. However, I lean a little toward the flats. They do hold the sauce better in my opinion. I have different techniques to eat both chicken parts, however, my favorite eating move is 'The Slam,' where I use my thumb and index finger on my right hand to slam the wing on my plate as I strip all the meat in one swoop. The simple things in life make me happy, and The Slam is one of them." — Drew "Wing King" Cerza, founder of the National Buffalo Wing Festival (Buffalo, New York)
"I go for the flat every time because it has a better ration of meat-to-fat-to-bone where the meat stays protected by skin during the cooking process. I like pulling the bones apart to get all of the perfect little fatty meat parts. Some argue the drum has a handle. I say the middle chicken wing IS a handle (that I can eat!!)." — Nate Tilden, owner of Bar Casa Vale (Portland, Oregon)
"The flat is by far the more enjoyable wing for a few reasons. One, the meat in the middle tends to be more tender. Two, it's actually easier for some to eat in one bite. Three, it can be deceiving but the flat has more meat on it." — Jonathan George, winner No. 2 of the Bobbing for Wings competition at the National Buffalo Wing Festival (Buffalo, New York)
"Drums have more meat, but the nucleus of the chicken wing is the flat. Buffalo wings aren't meant to be a full piece of chicken. If you wanted an entire piece of chicken with a substantial amount of meat, you'd get just a whole breast or thigh. Also with the chicken wing, having a lot of meat just isn't as important as the taste and crunchiness of the skin. That being said, more meat is not what makes or breaks a chicken wing. For that reason, the flats are where it's at. The drums might have more meat, but the flats are what makes a Buffalo wing a Buffalo wing." — Brian Peace, owner and the creator of the 100 sauces at Wing King (Las Vegas, Nevada)
The case for drums
"Drums are best, obviously, because they fit better in the blue cheese cup and you can eat them with one hand while holding your beer." — Chuck Kluckhohn, co-owner of Step Out Buffalo
"For me, it's definitely the drum, I think, because it's more of a Southern thing with the fried, dark meat chicken legs. Plus they're not a pain in the ass to pick apart like the flats." — Brent Dobey, general manager of The Tavern (Austin, Texas)
"When people eat wings, they're a vehicle for skin and flavor. For me, it's the drums all the way. Every single bite is flavorful and the drums deliver a better ratio of fat, crispy skin, and tender meat in each mouthful." — Mat Anderson, bar manager at TanakaSan (Seattle, Washington)
"I'm a huge fan of the drum. I am 6-foot-6 and 280 pounds, and I like the meatiness and taste of the drum. The flat is harder to work with." — James Szczur, general manager of the original Anchor Bar (Buffalo, New York)
"Personally I am a drum guy all day. It's easier to eat, I think there is way more meat on the bone. You get a real good big bite of crispy skin and juicy meat usually, and sometimes there's those really crunchy bits that are my favorite part. My wife is the opposite: She only eats the flats and it's perfect for trips to Bar Bill or Nine Eleven." — Donnie Burtless, founder of Buffalo Eats food blog
"Drums are the best, especially if you're in a contest. They're just the easiest to put down. Flats are great for char-grilling. Nothing like a charred BBQ wing." — Jacob Gauda, amateur chicken wing eating champion at the National Buffalo Wing Festival (Buffalo, New York)
"I like the drums better than the flats. I feel like I get a bigger bite and more flavor from the sauce." — Kelly Hall, manager at Gabriel's Gate (Buffalo, New York)
"I don't think there is a right or wrong piece to choose. My personal favorite is the drum, because you get more meat. Also, I think the drums typically tend to be crispier than the flats. " — Joe Duff, co-owner at Duff's Famous Wings (Buffalo, New York)
"My opinion is a bit weird. My preference depends on the sauce. At my restaurant, I love the Cajun on flats (or 'skateboards' as we call them here) and the raspberry BBQ sauce on drums. If I had to choose a side, I'd have to go with the drums because they're the meatier option." — Greg Stenis, owner at Dwyer's Irish Pub (Buffalo, New York)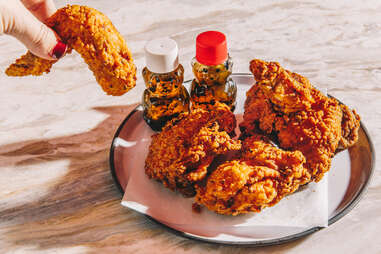 Flats for the win!
At the end of this highly scientific, definitely conclusive study, flats win by the skin of their, um, wings. Drums are great and all, but by a narrow margin flats edged out their fatter cousin thanks largely in part to their exemplary crispy skin and ability to hold more sauce. Of course, the debate will go on. But unlike typical tabletop arguments about conflicting ideologies, there are no actual losers in the debate over Buffalo wing preference. Except maybe the wet naps.
Jessica Kelly is a freelance food and travel writer who thinks anyone who dips their wings in ranch needs to stop immediately. Follow her for directions on how to properly dip your wings @Adventures.Are.Waiting