Nostalgic for that four-year vacation called 'college'? Us too, which is why we're bringing back College Week. Double-sink all of this week's college goodness, all week, right here.
Gone are the days of mystery meat, "red sauce," and stale oatmeal raisin cookies in our nation's college dining halls. A new epicurean era has dawned on campuses across America, temporarily making college kids forget about the lifelong debt they're accruing.
We spoke to lucky students at schools consistently on top college food lists, and found out they're probably eating better than everyone on the outside. Your attempts to stifle bitterness will be futile.
Bowdoin College
Brunswick, ME
Constantly scoring the coveted number one or two spot on finest foods lists, it's a little too easy to mistake this college for a giant clambake full of really smart people. "The seafood around here is all fresh so when we have fish, mussels, clams, it's all tasty. And we had a lobster bake during orientation, and I think there are a couple more planned throughout the year." For reference, my orientation had a subpar barbecue.
If you're weird and don't want to eat seafood whenever it's available to you, you can occasionally go for Asian tacos cooked by "Korean chefs who come in and make authentic beef and chicken, and there are a bunch of side dishes and condiments so that we can put together our own taco-type things." We don't know what taco-type things are, but we want some.
Northwestern University
Evanston, IL
Every college serves cookies. Northwestern does 'em better with a weekly hot cookie bar. Warm, still-gooey, and fresh out of the oven, "you have to scoop them up from the tray with a giant spoon, and they melt right in your mouth. Combined with a little bit of ice cream and chocolate sauce, they taste like what I imagine everything is going to taste like in heaven."
Now throw in homemade fries that are "so good that I can almost forgive myself for the disgusting amount of them I always take" and fresh bread sticks "which are basically what I picture the lovechild of a passionate affair between Pizza Hut and Olive Garden would be like -- warm, doughy, and cheesy in the middle."
Wash it all down with chocolate milk that any cow would be proud to create. "It's the best chocolate milk I've ever had in my life. My family used to have a fu**ing milkman that would bring us bottles of fresh chocolate milk straight from the farm and that wasn't even close to as good as this."
Muhlenberg College
Allentown, PA
While you might experience some tasty licks at a Battle of the Bands, this Battle of the Chefs will actually fill your belly. Culinary pros from neighboring colleges duke it out by preparing "small portions of really good food," with students voting on a winner. Past themes include music, movies, tailgating, and the Seven Wonders of the World. One college kid raved, "It's the one time of year I would get in line and wait to eat dinner at 4:30 for cafeteria food. The amount of students waiting was amazing. I think Muhlenberg won every year."
Roger Williams University
Bristol, RI
Consider pickpocketing a clueless freshman for their ID just so you can eat here. There's a lobster and steak dinner (collegiate surf & turf, if you will), where "you can get a whole lobster or steak, baked potato, etc., those lobster cracker things and bibs and bowls for the table." And ambiance is key: "they cover the tables in paper like you were at a lobster or crab shack."
They also put on a Thanksgiving feast that is "amazing, like balls to the wall so good" featuring a carving station, classic Turkey Day favorites, bread cornucopias, and dishes served in freaking pumpkins. The holiday fun continues on Valentine's Day, when they break out "chocolate fountains with white, milk, dark, Rice Krispies, pretzels, and strawberries." And studying in the Ocean State has its perks when it comes to the Eat Local Challenge, which includes oyster shucking. Oh, and local wine and beer tastings.
Johns Hopkins University
Baltimore, MD
Once a month, JHU students get to brunch in style, complete with a live jazz band, at their Sterling Brunch. During this event, they "serve the fanciest sh*t, like baked Brie, shrimp cocktail, and bananas Foster." This caf is so indulgent that former favorites just don't taste like they used to. "Every day there's a machine that makes fresh-squeezed orange juice. It's so good that now we're spoiled -- I can never have Tropicana again." Think about that while you buy your $5 cup of OJ from the deli. And let's not forget the time they had "HUGE 14oz steaks for every person." Is this a college or a Ruth's Chris?
Tufts University
Medford, MA
From fondue Wednesdays to stir-fry Tuesdays to near excessive amounts of local produce every damn day, Tufts has their food game on lock. You'll find "locally sourced cherry tomatoes in the salad bar" and apples and pears also from close-by. With harvest-themed days boasting the likes of apple cider, butternut squash soup, and "corn at the entrance, literally just piles of cobs still in their husk," this school is great for those with a craze for maize. And for anyone who likes stupidly good food.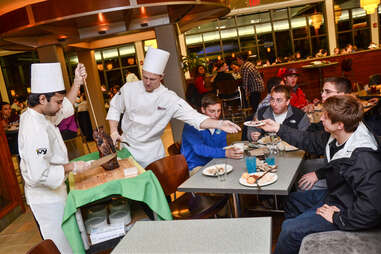 University of Massachusetts Amherst
Amherst, MA
Sure, they have a pho station (better described as "awesome noodle and sprouts soup with beef and sh*t"), but that's just the beginning. Sometimes they hold "special days where they bring in a DJ and have some crazy exotic foods." It gets better: there was "some Brazil day type sh*t, wherethey had all these special meats, and waiters were coming to tables and cutting meat off this stick and putting it right on students plates." Chew on that for a second, since you're probably not currently chewing on Churrasco-style pieces of heaven.
In case you needed to further forget that we're talking about a college dining hall, they have lobster. But not just lobster. Too much lobster. "They had enough lobster for anyone who wanted some, and even enough left over to make a special sushi roll with it." The food is so "straight orgasmic" that there's no need for outside sustenance. "I haven't needed to spend any money on other food sources this semester. Which is dope for buying alcohol." College.
Cornell University
Ithaca, NY
Much like every 20-something in yoga pants and/or sunglasses, Cornell coeds go crazy for brunch, which is "legendary." "Every bleary-eyed person on campus (and even upperclassman who live off-campus) go to RPCC brunch. This meal is literally the highlight of every Cornell student's week." And while you may be perplexed at excitement over a brunch where there are zero Bloody Marys, it's pretty easy to understand when you find out there's a create your own pancake bar with lots of fillers (M&M's, chocolate chips, fruit, sprinkles, etc.) and batters (pumpkin, blueberry). And a create your own omelet bar. Don't forget the homefries, sausage, and fresh-made pastries like chocolate croissants, bagels, and egg sandwiches.
Occasionally they have themed nights too, like harvest night in the fall, which fills students with cheeses, meats, vegetables, and fruits, all from local farms in NY State. We're talking goat cheese & fig pizza, fresh burgers with NY State aged cheddar, and fresh apple crisp with vanilla ice cream. All this stuff is "mad good" mainly because Cornell uses its own products. The ice cream/fro-yo and yogurt are all from the Cornell Dairy, and much of the veggies and fruits are grown on the Cornell Plantations.
Virginia Tech
Blacksburg, VA
There's a reason students at this school joke about enrolling just for the food. But like Rakim, this ain't no joke. Lobster, steak, and salmon are served daily. It's no surprise they've claimed the #1 spot on The Princeton Review's best campus food ranking (out of 379 colleges!). Dining and diversity go hand in hand here, with a bunch of spots to choose from that serve everything from chicken-fried steak, roasted leg of lamb, scallop & bacon chowder, fish tacos, and vegetable tempura.
James Madison University
Harrisonburg, VA
With 15 dining locations, JMU students are always only a few steps away from filling their stomachs with the Princeton Review's sixth best-ranked campus food. And they can pretty much fill them with anything they freaking want. In the mood for Indian? They've got the goods made in an authentic tandoori oven. Maybe Chinese? You can easily get classics like beef & broccoli, sesame chicken, and dumplings. But if you want more domestic fare, there's a damn made-to-order grilled cheese station AND a build-your-own burger section with tons of patty, topping, cheese, and sauce options to boot. After downing all that, make sure you have room for dessert, French style: fresh crepes.
Washington University in St. Louis
St. Louis, MO
Late night is a great time to be a WashU coed, namely because you can get CHICKEN AND WAFFLES every night after 10pm. And half-and-half chicken fingers & fries until 2am. But even if you're not a night owl, you're not gonna be lacking in delectable options, like Holmes Lounge carvery wraps, which are "amazing rotisserie meat sandwiches with lots of things you can put in them, plus lots of sauces and a house sauce too." This place has an absurd number of spots to chow down, which may be troublesome in the best possible way, because even the most decisive person can't really be expected to choose between things like burritos filled with green chile roasted pork, chicken banh mi, sandwiches, cedar-plank salmon, and green goat cheese pizza.
It doesn't stop there, though, there's a real life restaurant nestled in their student center. A place where actual people (sorry, college students) actually want to eat! Ibby's serves both wine & beer, and everything on the menu sounds like something you want to promptly ingest, like ahi tuna rolls with spicy mustard sauce, potato gnocchi with Parmesan cream, a 10oz steak, and braised pork cheeks with cinnamon candied apples.
St. Olaf College
Northfield, MN
Constantly sitting near the top of college food rankings (and recently hitting #5 from The Princeton Review), St. Olaf makes way, way better eats than that a-hole Count Olaf and his weird eye tattoo. Students get all the nourishment they need from just three campus eateries, scoring dishes like sweet chili chicken wings, local turkey with cranberry-jalapeño jam, guajillo pork tortas, and veggie chili. But in case you're way too lazy to get your ass off your futon and into a dining hall, you can always order a pizza to ANYWHERE on campus from the student event space, which also busts out milkshakes. We wonder how any learning gets done when students must be constantly ordering pizza to the class they're in.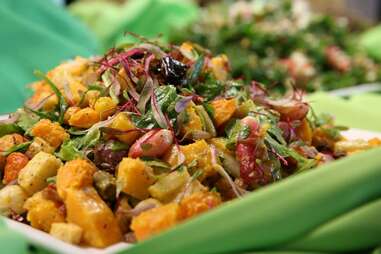 Stanford University
Stanford, CA
A few years back, Stanford basically built a Food Network TV show set inside a dining hall. We're talking a two-story, state-of-the-art building centered around a cooking suite where students can gain kitchen prowess through classes held by the school's culinary crew. Celeb chefs are known to show up and give demos, and video cameras are positioned in all the right places to give hungry Peeping Toms a full view.
It's also home to the Performance Dining program, which was established in conjunction with Stanford Athletics, School of Medicine, and the Culinary Institute of America to provide "synergistic food combinations" and "promotion of antioxidants and other nutrients" so that students/athletes can be at their best, both mentally and physically. Hell, they've even got a full-time wellness and performance dining nutritionist. But it'd be tough for any student to listen to a nutritionist when their dining halls feature a South American salsa bar, Thai and Vietnamese cuisine, and rotisserie & grilled eats.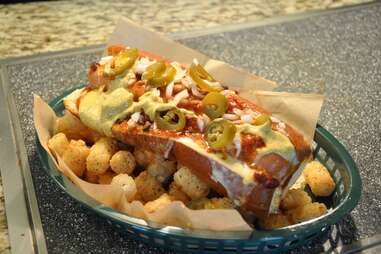 Kennesaw State University
Kennesaw, GA
KSU's 54,000sqft dining facility is far from your typical college dining hall, offering nine different sections that each serve a different kind of cuisine and boast a daily changing menu, which means a whopping 150 new dishes every day. Despite the variety, all dishes are somehow cooked in small batches and use both locally sourced and KSU farm-grown produce. Show-offs.
You want housemade goodness? They've got their own herb & mushrooom gardens, make fresh grits with their own mill, cure, dry-age & smoke their own meats, sausages, and cheeses, and even brine their own pastrami and pickles. On top of all that, they host events that feature dishes with king crab, rattlesnake, kangaroo, and emu.
Sign up here for our daily Thrillist email, and get your fix of the best in food/drink/fun.
Rachel Freeman is a copy editor at Thrillist, and wishes she'd had access to a dining hall full of lobster when she was in school. Follow her to extreme dining hall envy at @rachelifreeman.