iStock / Jennifer Bui/Thrillist
iStock / Jennifer Bui/Thrillist
Nostalgic for that four-year vacation called 'college'? Us too, which is why we're bringing back College Week. Double-sink all of this week's college goodness, all week, right here.
Everyone remembers college: that time in your life when you thought the best outcome of any day was eating four bowls of Easy Mac and taking a nap in your roommate's Barcalounger. And it was. It truly was.
But for those of us who've moved on to greater culinary needs, we've taken a look back at those college towns that actually are culinary destinations in and of themselves. We've thrown out any big cities not completely focused around their universities (so New York, Boston, and even places like Austin, with its other big industries, are out), and tried to gauge them on their restaurants and bars that stand up as being delicious and relevant no matter what age you are. So sit back, throw on that old scratchy varsity letterman's sweater you never purchased from the bookstore, and enjoy our subjective rankings. And please direct all angry comments to Matt Lynch.
13. Amherst, MA
University of Massachusetts-Amherst, Amherst College, Hampshire College
The entire reason much of Eastern Massachusetts has actually been to Western Mass (aside from the Basketball Hall of Fame of course), Amherst is awash in colleges both in, and surrounding the town, thanks to the Five College Consortium. And yet, aside from the many Greek-style Houses of Pizza that make Mass suburbs famous, Amherst can hold its own in drink and eats.
Drink here: The Moan & Dove is one of the best beer bars in Mass, so that's a great place to kick things off. But don't get tired of drinking local beer, because you need to then go to High Horse Brewing and drink their beers (oh, and eat their version of tater tots called "Spud Nuggets"). And though the cocktail game in Amherst is somewhat lacking, no one will tell if you cross over the town line to hit The Green Room in Northampton.
Eat here: Well, you're in luck, because Amherst just happens to have the second iteration of my favorite burger joint of all time (White Hut), so that alone should take up at least four meals. But if you must go to other places, may we recommend Johnny's Tavern (start with the beer mac & cheese), or grabbing popovers with apple butter over at Judie's. OR if you happen to find yourself in fancy clothes, hit up 30Boltwood in the Lord Jeffery Inn (Fun fact: Amherst College's nickname is the Lord Jeffs, which was hilarious when playing against them in college) and then dance with the house short rib pastrami to start, and mess up all those fancy clothes.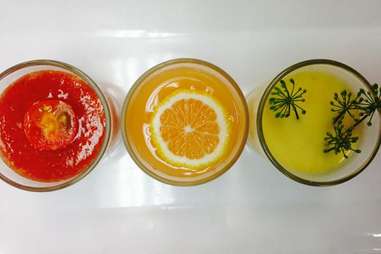 12. Missoula
University of Montana
Montana tends to fly under the radar a bit as far as its food and drink reputation goes. Maybe it's the product of being so close to the Dakotas? That said, Missoula has quite a bit to offer.
Drink here: There's a bustling brewing scene here, led by Big Sky (be warned, their taproom closes up early so it's more of a day-drinking enterprise). Don't worry! Just head to the Missoula outpost of Bigfork-based Flathead Lake and start getting down on some Painted Rock Porter, or some Clothing Optional Pale Ale at newer outfit Draught Works (please don't take the name literally). In more of a spirits mood? Montgomery Distillery does everything from gin to whiskeys to aquavit and also employs them in elevated cocktails with numerous house-made mixers.
Eat here: Elevated establishments like Pearl Cafe, Red Bird, and Scotty's Table take full advantage of all the readily available locally raised meats (mmm, bison tenderloin). Doc's Sandwich Shop has been a university go-to for massive subs for decades now. Big Dipper Ice Cream dishes out homemade flavors like white mint Oreo and cardamom. The Shack has been slinging stick-to-your-ribs food since 1949 and it's worth fighting the crowds for breakfast.
11. Athens
University of Georgia
Athens made its name with good football and an atmosphere that fostered phenomenal music -- Widespread Panic, R.E.M., Drive-By Truckers, and The B-52s are all from here. But, thanks to a resurgence over the last decade, the food & drink finally matches the music.
Drink here: Athens has the country's highest bar-per-capita ratio, which means you'll find SOMETHING to drink that you like. But maybe start at the Caledonia Lounge, one of the best music venues in town that also happens to pour pints of Bell's Two Hearted or beers from local breweries like Terrapin and Creature Comforts. The Globe, a 26-year-old institution, is also worth a stop for anyone with a bent towards English ales.
Eat here: Since 2000, Hugh Acheson has spun out his own food revolution in Athens: Five & Ten plates his signature spins on Deep South plates (think black-eyed pea hummus spiked with Korean chili) and Mediterranean-inflected The National. Don't ignore the habanero bratwurst or pork belly confit at The Branded Butcher's main shop and, for a true Athens experience, head to the roof of the Georgia Theatre, one of the original music venues in town, for an outdoor lunch from the same guys. For two institutions in the Athens scene, Weaver D's is the OG soul-food slinger in town (it lent its "Automatic for the People" slogan to R.E.M.'s '92 album) and The Grit serves up a vegetarian menu that's both surprising and a good break from meat-heavy Georgia food.
10. New Haven
Yale University, University of New Haven
Sitting midway between Boston and Manhattan, New Haven has long been underrated as a college town, mostly because no one really stops midway between Boston and Manhattan. But what's hiding in Connecticut is perhaps the best pizza town in the whole damn country, and a fine place to have a pint as well.
Drink Here: Did you think we'd say Toad's? YOU DID, DIDN'T YOU? Well, I'm sorry, but you'll have to go to Toad's on your own accord, because New Haven has a variety of legit options (and would have even more if Delaney's didn't tragically burn down), from beer bars like The Cask Republic (order up a Sixpoint Hi Res or the New Holland Black Tulip) to tequila bars like Geronimo (most tequila on the East Coast), to craft cocktail havens like 116 Crown. Also, if you need to watch a soccer game and have a pint in the morning, you could do much worse than heading to Anna Liffey's. Just get the Hangover Helper.
Eat Here: You know that New Haven is arguably the greatest pizza town in the country, right? Everyone knows about Frank Pepe's (get the white clam pie) and Sally's Apizza (get the white fresh tomato), but Modern Apizza and BAR are also no joke in the pizza realm. If you want fancier Italian that isn't actually pizza, hit L'Orcio; for Spanish & Mediterranean, Manuel Romero's Olea. Or if you just want a sandwich, get the chicken cutlet at Vito's. He doesn't mess around.
9. Eugene
University of Oregon
Despite sounding like it was named for a frequently picked-on fourth-grader, Eugene's a pretty cool place to eat and drink, no surprise really given Oregon's collective dual obsession with local beer and produce.
Drink here: See that building over there? Is it a brewery yet? Keep staring, it will be soon if it isn't. Ninkasi, Hop Valley, Oakshire... you know what, this could take a while, just be ready to drink. Hit the Bier Stein if you want to taste a bunch of breweries in a single location. Oh, and did we mention you're also in wine country? Get yourself a tasting at local winery Sweet Cheeks. The Vintage makes mean cocktails with its house-infused spirits (and also makes a fine fondue if you're more into drinking cheese).
Eat here: Marché is a farm-driven standout that has your needs covered for any meal of the day. Papa's Soul does BBQ and Southern comfort food better than any North of the Mason Dixon establishment has any right to. Cornucopia has a... cornucopia of impressive burgers, assuming you didn't wreck your appetite earlier in the day inhaling baked goods at Sweet Life Patisserie.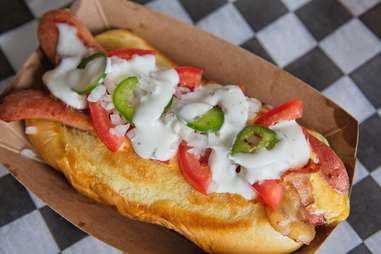 8. Chapel Hill
University of North Carolina
If you're looking for a town straight out of central casting for a Nicholas Sparks book about a woman who moves to a charming Southern town but hides A GREAT SECRET, you couldn't do much better than Chapel Hill. And, as it turns out, while everyone is being charming and looking pretty, they're also eating and drinking better than most everywhere else.
Drink Here: While The Crunkleton may sound like a particularly classy screen name for Lil' Jon, it's actually one of the best bars in the town (well, it's technically a members-only club, but the lifetime membership is $5) and the last name of owner Gary Crunkleton, who makes the best damn Sazerac in the city. If you want to feel well-heeled (GET IT?!), hit up Crossroads Bar in the Carolina Inn and sit in one of those incredibly comfortable club chairs, or hook up a gin tasting at local Top of the Hill Distillery. Or if you just want to get in on nearly 50 years of history, hit up The Cave, for music and cheap beers and glory.
Eat Here: Before you do anything else, please go directly to Allen & Son to get a mix of both Eastern NC and Lexington-style BBQ, and eat the best hushpuppies in North Carolina. Then go to Al's Burger Shack, and opt for the Junior Classic or, if you get there early, the Red's Eye with pimento cheese, pepper jelly, and a fried egg. Or get the Outrageous BLT with roasted jalapeño and homemade garlic mayo at Sandwhich. And finally, hit up Crook's Corner and grab some Farmer's Daughter jalapeño & ginger jam as a gift for yourself, and some of those spicy watermelon rind pickles to eat in the car on the way back out.
7. Charlottesville
University of Virginia
Smack in the foothills of the Blue Ridge Mountains is a town where the beer flows like wine, which also flows like wine, because there are a staggering number of wineries in the foothills of the Blue Ridge Mountains. Charlottesville balances out all that local booze with an award-winning restaurant scene befitting a city twice its size. Or thrice!
Drink here: Nestled in the hills above town, Blue Mountain Brewery is one of the most flat-out gorgeous taprooms you'll ever set foot in (the beer is damn fine, too). Star Hill, South Street, Devil's Backbone, Three Notch'd, and Champion all have roots in C-ville, and you should drink their liquid wares on the patio at Beer Run, the town's best bottle shop. The cocktail scene is strong on the Downtown Mall, the broad, leafy, car-free pedestrian avenue sprawling a dozen blocks East of the corner. Tipple at C&O, Blue Light, Commonwealth, Public, Bang!, Hamilton's... pretty much any place within sight of the red-brick promenade is going to mix you something tasty. Then, there's wine. Oh lord, is there wine. Charlottesville is surrounded on all sides by picture-perfect wineries. Yes, you should drink at them. Barboursville, Keswick, Jefferson, Pippin Hill... the list is long, and distinguished. Book a Wahooptie and tour them all in the same day, like the college kid you wish you still were.
Eat here:C&O if you're fancy, Belmont BBQ if you want a Slop Bucket of vinegary pulled pork, carbs of all flavors, and happiness. Riverside Lunch is a burger counter from another era; eat there. The Corner gets crowded, but brave the shit show for pizza & beer at Mellow, or a people-watching Sunday brunch bonanza in The Virginian's front booth (so, so choice). Bellair is the sandwich shop you will occasionally dream about after departure from this culinary paradise.
6. Oxford
University of Mississippi
Towering football stadium. Iconic town square. Population that doubles when class is in session and swells much higher on fall Saturdays. Oxford checks off all the boxes of a stereotypical Southern college town. But with John Currence's James Beard restaurants and its wealth of old-school Southern cooking, it brings far more to the table than kegs and legions of Saturday pop-up grills.
Drink here: While a tailgate could be a cop-out first answer in lesser college towns, tailgating in the Grove is a cocktail party -- just find a tent, be polite, and you'll have a bourbon-laden Solo cup in your hand in a surprising amount of time. But for professionally made cocktails, head to the upstairs balcony of Currence's City Grocery or Bouré, two must-eat restaurants on the square, or the bar at Snackbar.
Eat here:Ajax Diner on the Square serves one of the best damn meat-and-three lunches in the South. For a pulled pork sandwich or classic, simple burger, go to Handy Andy. On the other end of the spectrum, head back to Currence's Bouré or Snackbar or City Grocery for fine dining, Southern-style. And because Taylor, MS is practically Oxford, there's Taylor Grocery and its deservedly famous catfish.
5. Berkeley
University of California, Berkeley
You don't get recognition as the best public school in the country without also having one of the country's top-notch-iest food and drink scenes. Wait, you do? So, it's all academics-related? Huh. Well, EITHER WAY, the bars and restaurants in Berkeley are fucking great.
Drink here: If only there were some sort of in-depth Berkeley drinking guide we could trot out to really, seriously lay out the amazingness that is drinking in Golden Bear-land. Oh wait, THERE IS??? CliffsNotes version: get a mezcal flight at Comal, get a beer at Triple Rock (especially on their rooftop), and seriously get your drinking garden on at Jupiter and fantastic newcomer Moxy.
Eat here: Where to even start. Oh right, Chez Panisse, the Don Corleone of California cuisine. Thing is though, there's so much more to Berkeley than just Alice Waters' former Gourmet Mag Best Restaurant in America. La Note might be the most underrated brunch spot in the entire Bay (the line is crazy, but it should be wayyyyy crazier), Cheese Board and Sliver both have the we-only-make-one-type-of-pizza-per-day-deal-with-it thing on lock, and there's tons of great college classics from still-insanely cheap Top Dog to one of the best college sandwich shops in the country, Cheese n' Stuff. Some of the new kids on the Berkeley block, though, have really next-leveled this whole thing, from Gather, to Comal, to Iyasare, to a bunch of other ones we can't remember because, see above drinking guide. Oh, and food meccas SF and Oakland are both, like, right there.
4. Ann Arbor
University of Michigan
If you've ever met anyone from University of Michigan, you are undoubtedly aware of Ann Arbor's charms already, because they wouldn't stop talking about them (we kid, Wolverines... mostly). That said, they do have quite a bit to be happy about in the food and drink department.
Drink here: Not too many college towns can tout a beer bar on the level of Ashley's, whose 70-plus taps bring the quality AND quantity that make it one of America's finest. Of course, if you're more the kind of person who prefers to devote your attention to one excellent brewery, you could always hang out at Jolly Pumpkin (pro tip: don't skip the pizza) or Grizzly Peak. Or you could settle into a booth at The Alley for a proper Sazerac. And then a pickleback. And then another pickleback.
Eat here: So, you could spend your days alternating between perfecting your own burger masterpiece at Blimpy Burger and working methodically through the sandwich menu at Zingerman's and you'd likely have a long, happy life. Well, a happy life. But there's more out there for you! Like the Mario Batali-approved Neapolitan pizzas (and pretty much everything else) at Mani Osteria. And the Cuban street food (and equally drool-inducing burgers) at Frita Batidos. Oh, and there's ramen from a Michelin-starred chef at Slurping Turtle (insert joke about students and Top Ramen here).
3. Boulder
University of Colorado
When your college town was one of the early epicenters of craft beer, you're already ahead of the game to a certain extent. That said, there's a whole lot more to eating and drinking in Boulder than just beer.
Drink here: Okay, while there's more than just beer, there's also... a whole lot of amazing beer. Fate, Upslope, Boulder Beer Co., J Wells, Crystal Springs. It's truly an embarrassment of sudsy riches. And that's before even considering the stunning new mega-facility Avery just opened here. But yes, you were promised more than just beer. License No. 1 delivers masterfully executed classic cocktails, and The Bitter Bar takes those cocktails places they (and you) haven't been before -- including on tap.
Eat here: Where to start? Frasca is a farm-driven temple to Northern Italian cuisine (and their Pizzeria Locale makes a fine pie as well). Black Cat Bistro is the rare "farm-to-table restaurant" that actually, oh yeah, HAS ITS OWN 130-ACRE FARM! Or maybe you'd rather chase down a bone-in ribeye for two with a cocktail featuring house-made soda at Oak at fourteenth. If this is all sounding too fancy, fear not, Half Fast Subs has a 14in Buff chicken waiting for you.
2. Burlington
University of Vermont
Once merely a place on the banks of Lake Champlain where smart New England hippies could attend a strong state school in decent proximity to Lemonwheel, Burlington has remade itself as the hep food and drink destination for pretty much everyone. And that's BEFORE you even eat the Ben & Jerry's.
Drink Here: The superlative winner for "best college beer town," Burlington is full of amazing beer bars and breweries, though first pick has to be Farmhouse Tap and Grill, with 24 draft lines featuring locals like Hill Farmstead and Lost Nation plus 150 bottles and a grand beer garden. If you'd prefer to hit up Vermont's oldest craft brewery, Vermont Pub and Brewery is downtown as well (plus you can always head to Magic Hat or Switchback for tastings). If you want cocktails, the best are made at Guild Tavern, though all of these nights should end at The Other Place, the dive of dives in the People's Republic.
Eat Here: The best part about most of the restaurants here is that the beer is so, so good too, as evidenced by places like American Flatbread for pizzas and the aforementioned Farmhouse Tap and Grill (get the pork burger with egg and house kimchi). You can get more farm-to-table action at Juniper in the Hotel Vermont (the Citizen cider-steamed mussels with chorizo, please) or Hen of the Wood from a damn James Beard winner; and by eating camote tacos at El Cortijo Taqueria, or even hanging out in killer coffee shop Maglianero Cafe. Point is, you're going to get really happily fat here.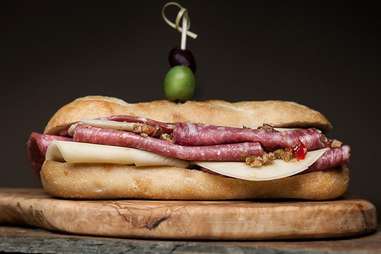 1. Madison
University of Wisconsin
Wisconsin alums are so apt to boast about all the beers they consumed on the picturesque Memorial Union Terrace that you wonder if they ever went anywhere else (to be fair, it's pretty sweet). But there's also plenty of non-university affiliated eating and drinking that's not to be missed.
Drink here: Beer fests are a dime a dozen these days, but Madison's Great Taste of the Midwest is one of the handful that continues to rise above the pack, so it's no surprise that Madison makes for a fantastic beer town year-round. Ale Asylum is a fast-rising brewery with an inviting, pizza-slinging taproom. One Barrel is a creative nanobrewery churning out beers in denominations you just might be able to guess. Karben4 focuses on malty, English-style brews and Vintage Brewing turns out massive flavor from its modest storefront. But cocktail culture is catching up here, thanks to establishments like Merchant that have popped up in recent years, and you'd be remiss to leave town and not down a brandy Old Fashioned (a Wisconsin staple) at... The Old Fashioned.
Eat here: If you're feeling fancy, nearly 40-year-old fine-dining institution L'Etoile is helmed by Chef Tory Miller (a James Beard Midwest winner in 2012), whose more casual establishment Graze is also not to be missed. Heritage Taven is another elevated farm-focused destination (another fine cocktailing choice as well). "But this is Wisconsin," you exclaim, "where is my cheese-crazed spot with a kitschy name?!" Calm down and head to Fromagination to eat all the cheese in fondue or sandwich form (or just buy some for later). Need more lactose-centric names? Cure any hangover with a scrambler from Mickies Dairy Bar. Or just keep it classic and eat your weight in brats and cheese curds at State St.
Sign up here for our daily Thrillist email, and get your fix of the best in food/drink/fun.
Kevin Alexander is Thrillist's Food/Drink executive editor, and wishes he could go back to college strictly for the cereal selection. And the free binders. Follow him to polemics on the Common Application: @KAlexander03.
Matt Lynch is a senior editor at Thrillist and prefers that, in lieu of commenting below, you just call him on his home phone. Tweet him your personal cell number: @MLynchChi. He stays up really late too, so don't worry about waking him up.