11 legitimately great Chicago-style pizzas outside the Windy City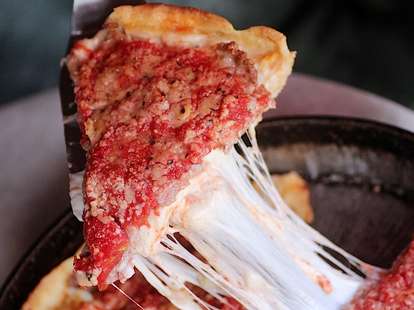 The ingredients aren't exclusive to the Windy City, so why is it so damn hard to find a decent Chicago-style pizza outside Illinois? Most places claiming to serve the sauce-on-top deep-dish goodness come up with something that's about as Chicago as Renee Zellweger. But not these... these places, manned by folks with weird accents and Cubs hats, offer the real deal without the benefit of existing in Oprah's kingdom. Open wide: these suckers are enormous (the pies, not Oprah).
Chi-nnatis (Madeira, OH)
This place is so hardcore about emulating the Chicago food scene, you half expect the servers to try to mug you in the parking lot. The menu includes Italian sausages, Italian beefs, and poppy-seeded Vienna beef hot dogs. But the pies where it's at, a bubbling mass of cheese and chunky sauce nestled in a cornmeal crust oozing with buttery goodness. The only tell that it's not the real deal is that nobody punches you in the mouth when you order it with pineapples.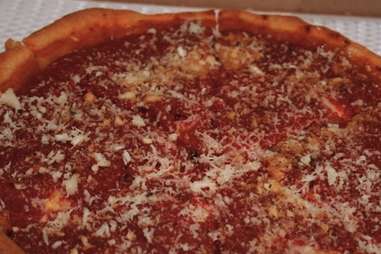 Hollywood Pies (Los Angeles, CA)
This LA joint used to do business like Jesse Pinkman's crew... you'd order a pie, then go to a sketchy building and have it clandestinely delivered to your car in the parking lot. They've since opened a proper restaurant, but they didn't really need to. With ingredients shipped from Chi-town and a crust so authentic you'd swear they had a teleporter in the kitchen, you'd probably be willing to score a pie outside a methadone clinic if you needed to.
Zachary's Chicago Pizza (Bay Area, CA)
This employee-owned Bay Area joint has, in 30yrs, expanded to four locations, with people flocking to the joint to get their jaws around the ultra-thick, multi-layered stuffed Chicago pies. Because it's Cali, you can totally get it in bastardized forms like Mediterranean and spinach, but don't worry: the traditional sausage pie's still there, and does a fine job of slapping California cuisine portions in the face with its jowels.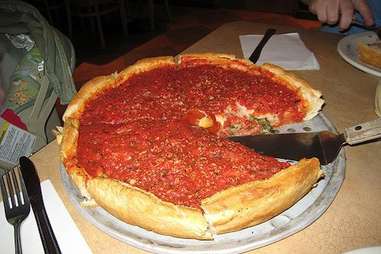 Delfino's Pizza (Seattle, WA)
This University Village favorite serves up pies that might as well be manhole covers, forgoing a set menu for an all build-your-own selection of fillings piled into either a regular deep dish or a traditional stuffed pie. If you're not Chicagoed out yet, grab a Peter Cetera record... oh wait, you're in Seattle. You'll lose cred. Get an Italian beef sandwich on the side instead. Phew.
Di Nokos Pizzeria (Minneapolis, MN)
This Twin Cities favorite'll lose points from purists for putting the sausage on top rather than planing a frisbee of meat underneath the cheese, but these massive pies are the real deal for the non-nitpickers -- saucy behemoths that they'll only cut on request, meaning you can feel perfectly content to just sit down and shove a whole pie in your face without fearing you'll poke your eye out on the end of a slice.
Garces Trading Co. (Philadelphia, PA)
Chef Jose Garces is a baller of a Chicago expat who took his love of deep-dish and infused it with non-traditional toppings like duck confit and chorizo. Before you fling your Cubbies hat off and gather a pitchfork-wielding mob, remember that you can always order up a traditional sausage pie, then spend the 40min baking time figuring out what the hell Gruyere and boquerones are.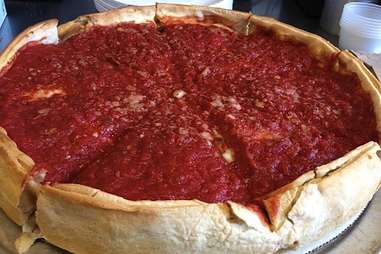 Lefty's Chicago Pizzeria (San Diego, CA)
With slices so thick, hoisting them'll turn your arms from Hilary Swank pipes to Barney Ross trunks, Lefty's has a classic Great Sausage Pie w/ a full layer of house-made sausage on the bottom. If, like so many Chicago citizens, you can't decide between an Italian beef or a pizza, they'll load your pie w/ shaved cow as well. If you want a hot dog, too, you can order one on the side and dip it in the sauce. Weirdo.
Little Star Pizza (San Francisco, CA)
Folks in Chicago get pretty ornery when you mess with their perfection, so it's unlikely many from the Windy City are gonna look beyond the "classic" on the menu, which's loaded w/ sausage, peppers, and shrooms. But, for the adventurous who don't want to go all in, this SF hot spot serves up 8in personal pies that offer the skeptical a chance to find out what things like veggies taste like in a pie. Or eat two individual sausage pies. Because they're delicious.
MiChigo Pizza (Detroit, MI)
Some Detroiters see Chicago as the Motor City's a-hole, overachieving brother who Mom loves better, but dammit that doesn't mean the D can't make a hell of a Chicago pie. Forgoing the Detroit-style for a sauce-on-top, artery-clogging cornmeal masterpiece, this Ferndale joint goes traditional and beyond w/ meat-crazy pies ranging in size from hubcap to disc-golf frisbee, and has perfected a pie that's delicious regardless of what side of Lake Michigan you hail from.
Pi Pizzeria (St. Louis, MO)
St. Louis is best known for flat, yeast-less pies topped w/ processed cheese reminiscent of Velveeta. While that's all fine and dandy, skip that and go deep into Pi, where 3.14 isn't just the namesake, it's also the extra weight you'll log after devouring these traditional South Side pies.
Via Chicago (Portland, OR)
This PDX joint started out as a farmer's market stand, which is basically how everything in Portland starts (we're pretty sure Elliott Smith was grown on an urban farm). Their take -- available as slices or full pies -- adds a ton of heat in the form of hot peppers tossed liberally into the mix, ensuring that after your mouth is burned by the ridiculous amounts of cheese, your stomach'll follow suit. But you won't care, because you'll be too busy shoveling as much as possible into your mouth.