A grumbling stomach mid-drinking is a universal sign that the night is about to take a turn for the more hedonistic. The late-night dives, the funkily festooned street carts, the greasy spoons -- all places your stomach can lead you, all serving myriad dishes to ensure that it's sent to sleep with more than just beer sloshing around in there. These meals are all adequate in the moment, but a few of them continue to shine long after the haziness of the night has worn off.
This is a list of 26 of the best of them, from around the country.
Recommended Video
Feast Your Eyes on the Torpasta
Dirty Fries
Lardo (address and info)
Portland, OR
Nothing pairs with beer -- either beer you're currently drinking or beer you drank a while ago -- quite like a giant mess of fries. At Portland's best sandwich shop, those hand-cut fries are loaded with Parm, herbs, peppers, and scraps from whatever house-cured pig they have chilling around. That's right. You might be getting deep-fried ham chunks, or at the very least some impromptu cracklins.
 
Stadium Beef Tips
Stadium Sports Grill (address and info)
Belle Fourche, Spearfish, and Madison, SD
Beef country's answer to chicken nuggets is big pile of beef tips, which take a bath in a special marinade, then get breaded and deep-fried to order. That's right: breaded, medium-rare steak bites are a thing. You're welcome.
The Tsunami
Crif Dogs (address and info)
New York, NY
When you're done at the attached speakeasy (PDT) or any of the other 101 bars in the East Village, the telltale wiener sign of Crif Dogs lures you in like a moth to a place where moths are served delicious hot dogs. The best of the bunch here has got to be the Tsunami, a bacon-wrapped dog covered in pineapple, green onions, and teriyaki sauce. It's salty, sweet, and Thrillist editor-approved.
 
The Beefy Double Cheeseburger
Halo Burger (address and info)
Mid Michigan
In Michigan, you can get a great coney dog at every diner and on every freeway exit. But only in and around Flint can you get a Beefy Double, which tastes a lot like an amped-up version of Five Guys, and consists of a bottom bun, a patty, cheese, a patty, cheese, a middle bun, a patty, cheese, a patty, cheese, and a top bun. Toppings range from onions to olives. Most locations are open 24 hours. Don't deny yourself onion rings.
Pastrami & cheese
Primanti Bros. (address and info)
Pittsburgh, PA (and beyond)
Pick a meat, any meat -- we like the pastrami, but you can't go wrong with anything, whether it's kielbasa, fish, turkey, or even knockwurst -- put on a bib, and get ready. That meat will be buried in a pile of coleslaw and fries crammed between slices of bread. It's the stuff of legend, served up 24 hours a day in the original location and late-night everywhere else. Which is a good thing, since sleep is unavoidable afterward. Dream of large women.
 
Bacon-wrapped tots
High Life Lounge (address and info)
Des Moines, IA
Tater tots. Topped with jalapeños. Individually wrapped in thick-cut bacon and deep-fried. Then topped with cheese. Oh, and there's ranch. That is all.
 
Chorizo Completo
Chris Gould's Hot Dog Cart @ The Dive Bar (address and info)
Worcester, MA
Being surrounded by bars can be dizzying in a variety of ways, so it's pretty serendipitous that a supremely quick and cheap hot dog cart is located in the heart of Worcester's biggest party district. The dude running this place cooks up solid interpretations of regional hot dog specialties ranging from Chicago-style to the ridiculously hearty Completo (with avocado, diced tomato, mayo, and hot sauce), which is best piled on grilled, split local chorizo and a buttered bun.
The Parmageddon
Melt Bar & Grilled (address and info)
Lakewood, OH
Melt specializes in grilled cheeses -- really, really good grilled cheeses -- loaded with everything from bologna to meatloaf, chorizo, lasagna, and fried chicken. The Parmageddon, named for the Polish-heavy Cleveland suburb of Parma, packs in pierogies and kraut and glues them together with melted cheddar. It's like eating Cleveland in sandwich form.
 
Cheeseburger and fries
Sam's Pizza and Hamburgers (address and info)
San Francisco, CA
No tour of San Francisco's best drinking spots would be complete without a filling meal to cap off the night. Enter: Sam's Pizza and Hamburgers, which is actually run by a dude named Mike (but everyone calls him Sam for the sake of continuity), and eschews the pizza late at night to focus on serving one of the best damn cheeseburgers in America. It's diner-style, grilled right in front of you, practically oozes cheese, and costs $5.25. Paired best with an Anchor Steam, if you're interested in prolonging your debauchery.
Cold cheese slice
Little Vincent's (address and info)
Huntington, NY
An operative symptom of having the drunchies is wanting to wolf something down as fast as humanly possible, and this special at Little V's in Huntington satisfies that urge like nothing else -- it's a regular slice of their already sublime cheese pizza, but with one huge difference: there's a pile of cold, shredded mozzarella on top. You have to eat it quickly, because the intermingling of the cold and hot cheeses can only last so long before they neutralize each other. Good thing there's standing room for all the local revelers.
 
Pancakes
Du-par's (address and info)
Los Angeles, CA
Stumbling into Du-par's is a rite-of-passage for anyone who's ever stumbled into LA, but the real treat's not the octogenarian waitresses who'll barely pay attention to you or the lack of any real bathroom facilities (at least at the Farmers Market location). Nope, you're here for the pancakes, which have won all sorts of awards for their fluffiness, their giganticness, and their density, all of which will come in handy tomorrow morning when you wake up and are like, "Oh yeah. This feels much better." Especially if you also get a side of sausage.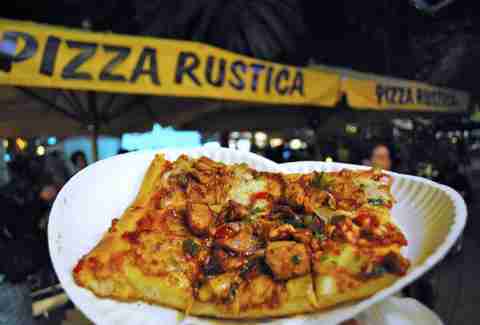 Chicken Alla Fiorentina slice
Pizza Rustica (address and info)
Miami Beach, FL
The party scene of Miami Beach is a somewhat image-conscious one, so it speaks volumes that so many of the revelers there are willing to set aside their reluctance and indulge after a night out on one of the hugest, most garlicky slices of pizza out there: the alfredo-doused Chicken Alla Fiorentina at Pizza Rustica. Your breath will be a bit combative afterward, but your appetite will surely be placated.
 
The Rise n' Shiner
Kountry Kart Deli (address and info)
Burlington, VT
As you hit Burlington's very walkable (and stumble-able) block near Church & Main St for the jams at Nectar's, townie shots at JP's, or overall bad decisions at Rasputin's, know that no night out is complete without a Rise n' Shiner. Kountry Kart's open after last call, so there will be an aggressive push to get into the deli at 2am on weekends, as it's the only spot selling cigarettes AND some of the finest breakfast sandwiches around. Pack a giant, greasy shiner with your choice of ham, bacon, or sausage on top of a heavenly bed of scrambled eggs, hash browns, and cheese, all on a toasted grinder roll. Contrary to the name, downing a shiner may be your best chance at REM sleep after you've tied one on.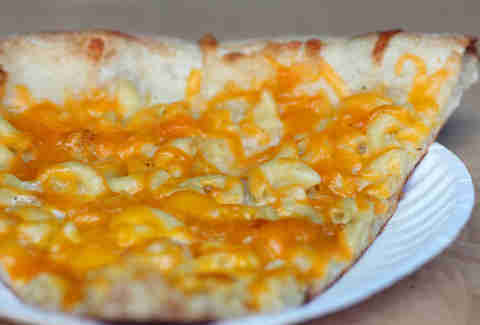 The Mac slice
Dimo's Pizza (address and info)
Chicago, IL
There are two dishes that exemplify the cheese-and-starch ideal that forever dogs the imagination of of every bargoer: mac & cheese and pizza. So open-late Wrigleyville pizzeria Dimo's put the two together to create the cheesiest, starchiest slice ever. It's called the Mac, and it's on every Cubs fan's mind at midnight after the game.
 
Alligator quesadilla
F&M (address and info)
New Orleans, LA
In a city with no last call, "late night" refers to 4am until sunrise, which means partiers are that much more desperate for food by the time the night is winding down. F&M has mastered that scene, thanks mainly to its grill that churns out alligator quesadillas. It's simple: at the grill tucked into the dark back room, spicy gator sausage and grilled, seasoned green peppers & onions are pressed together with melting cheese between two tortillas. Order it with cheese fries if you want to remember dancing on the leopard-print pool table. Otherwise, gator 'dillas are surprisingly good fare to eat on the curb while the sun rises.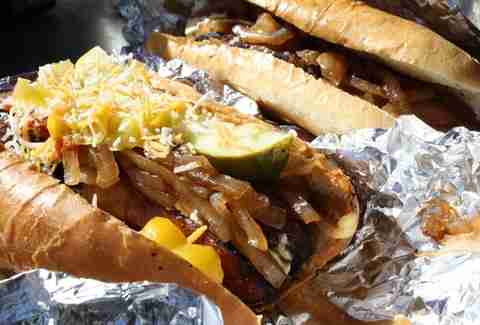 Elk jalapeño cheddar hot dog
Biker Jim's Gourmet Dogs (address and info)
Denver, CO
An elk jalapeño cheddar dog topped with cream cheese and caramelized onions sounds like a strange combination of ingredients that should not, under any circumstances, work together. But they do. Oh, they do. The seemingly millions of flavors bursting from this handheld meal are such that calling it simply a "hot dog" seems wrong. But perhaps most importantly, you can order one up until 3am on any Friday night in Denver.
 
Cajun biscuits and gravy
Short Stack Eats (address and info)
Madison, WI
It's no secret that Madison's a town with a big appetite for after-hours activities. As such, it takes a lot to get its denizens' collective attention, but Short Stack Eats has certainly started a conversation with its 24-hour brunch menu, Cajun biscuits and gravy, and incredible Bloody Marys. Meaning you can transition your late night into an early morning... and beyond.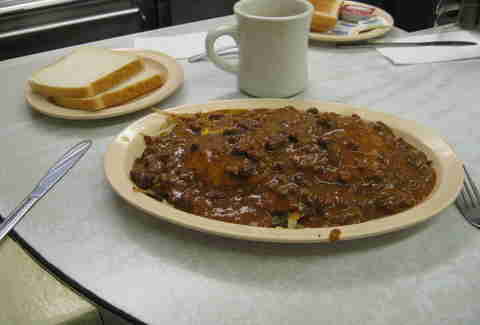 The Slinger
Diner Grill (address and info)
Chicago, IL
Built from an actual old railroad dining car, this beloved institution's signature (and aptly named) dish is basically an amalgam of all the greatest booze-soaking hits piled onto a plate. You have your burger patties and melty cheese. Then there's some runny eggs, hash browns, and griddled onions. The whole thing is then covered in chili and kicked with a side of toast to help clean the plate. If you do so, you are presented with a certificate. Some hungry heroes have managed to put away four of them.
 
Carnitas burrito
Tacos Morelos (address and info)
Brooklyn, NY
While it's true that size often matters with a post-drinking (or mid-drinking) meal, it can also be your enemy. Especially if you don't want your shirt to look like a Jackson Pollock painting made of grease and salsa. Luckily, Tacos Morelos stuffs their freshly warmed tortillas with enough crispy carnitas to get the job done, but not so much that biting into a burrito is like exploding a toothpaste tube full of meat all over yourself. The meat is super flavorful, and they use Oaxaca string cheese to balance the spice. It also, we hear, gives you a superhuman ability to absorb countless picklebacks.
 
Cheese sticks
West Coast Pizza (address and info)
Berkeley, CA
Here's what'll happen. At approximately 1:43am you will dial 841-WEST. And, assuming you can stay awake, in, like, a half-hour, whoever was on the other end of the phone when you dialed 841-WEST will show up at your doorstep, hand you a pizza box filled with the greatest cheese sticks man has ever known, all brushed with herbed garlic butter sauce and loaded with exactly the amount of cheese they deserve. You will eat them all. And no matter how your night has gone prior to that, you'll consider it a success.
Awful-Awful burger
The Nugget (address and info)
Reno, NV
Legend has it Dick Graves named the staple burger at his Nugget casinos because it's "awful big and awful good." But if you've ever been wandering around in Reno at 3 in the morning -- let's not even discuss why -- you know that it's called that because this grease-bomb with a half-pound of flat-griddled cooked chuck (for EXTRA grease!) with Tabasco-infused secret sauce, lettuce, tomato, onion, and cheese on a sauce-drenched bun feels awful as soon as you start the walk home. Then awful again when you wake up in the morning. But it tastes sooooooo good.
 
Spam KHANHwich
DaLat (address and info)
Dallas, TX
If the local cooks and chefs hang out at a place after their shifts and after they've been out drinking, you know it's gotta be good -- and DaLat doesn't disappoint with its variety of American-influenced Vietnamese drunchie-satisfiers. The owner, Khanh, will insist you order the pho -- and you can! -- but for some more substantial, starchier sustenance, get the Spam KHANHwich with Spam, veggies, and a fried egg on top.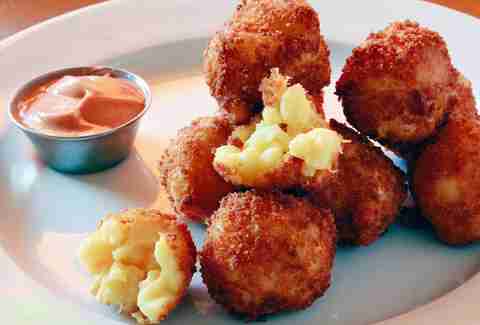 Mac n' cheese balls
Fred 62 (address and info)
Los Angeles, CA
Just about everyone in LA has ended up faced at Fred 62 after a night hanging with Marty & Elaine/at Birds/bar-hopping between Birds and Marty & Elaine. And everyone has their personal favorite dish -- maybe you go for the Thai Cobb, or get breakfast, or tempura. But everyone -- everyone -- also orders the mac n' cheese balls, perfect spheres of carb-and-fat-and-crisp-and-unctuous-and-oh-my-God-this-is-soaking-up-booze perfection. Everyone.
 
Seattle-style hot dog
Seattle Monster Dogs (address and info)
Seattle, WA
Seattle-style hot dogs are all over Seattle, as well they should be. For the uninitiated, that's a split hot dog with cream cheese AND OCCASIONALLY grilled onions or jalapeños. There are myriad shops that hawk them outside bars, but the best has gotta be Seattle Monster Dogs. When you're in immediate (read: they're fast) need of a uniquely Northwestern specialty, they're there, because they're everywhere. It's great.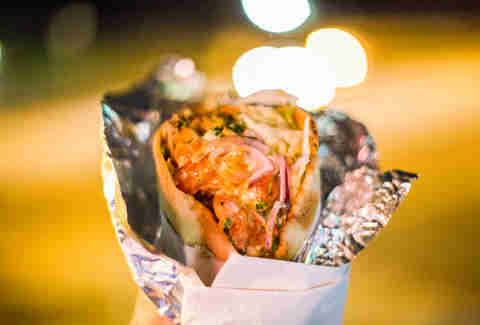 The Spoiled Brat
Kebabalicious (address and info)
Austin, TX
At 2am, when the bars close in Austin, the streets descend into chaos. Women hold their high heels in the air to hail cabs, bros unpop their collars in exhaustion, and stomachs growl for everything at once. Kebabalicious satisfies all cravings by wrapping nearly every ingredient from their trailer in a warm pita: lamb, beef, chicken, AND falafel topped with hummus, feta, and the obligatory veggies doused in tzatziki and spicy red sauce. It's like having a sloppy make-out session with the entire Middle East.
 
The Original Pizza Cookie
Oregano's Pizza Bistro (address and info)
Tempe, AZ
No list of drunk foods would be complete without dessert, and one of the best out there is the Original Pizza Cookie at Arizona chain Oregano's Pizza Bistro (specifically the one in Tempe, because ASU students go crazy for this thing). Just picture a gigantic, warm, pan-sized cookie topped with fresh, melty ice cream. That's a pretty good end to any night.
Adam Lapetina is a Food/Drink staff writer for Thrillist, and is incredibly glad he lives in a city where bars are open past 1am. Read his musings at @adamlapetina.