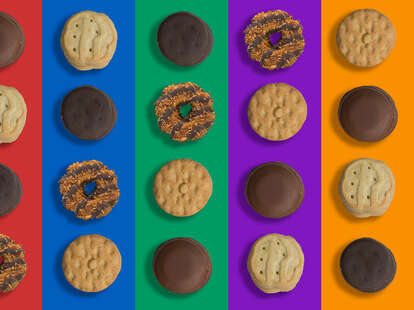 Photo by Lee Breslouer and Cole Saladino for Thrillist
Photo by Lee Breslouer and Cole Saladino for Thrillist
Although Girl Scout Cookie season is months away, we're ready for our nation's best and brightest young ladies to start selling their baked goods to any American looking to get a merit badge in shamelessly housing a whole box of Thin Mints. Especially because there's a new flavor to try: Raspberry Rally.
We got a sneak peek at what is being called "Thin Mint's sister" and decided to include it in this ranking so you can have your cookie orders prepared come early 2023. With the new vying with the old, here are all the Girl Scout Cookies, ranked.
10. Toffee-tastic
There is but a single sleeve of these when you open up the super-thin box. It's like the Girl Scouts are saying, "We know you're not going to like these, or else we would've packed two sleeves in there." They taste a little sandy, but sticky pops of toffee are nice.
9. Lemon-Ups/Lemonades
These are practically the same thing—one is shaped like a lemon wheel while the other is inscribed with motivational words. They both have a lemony glaze. Despite being strange-tasting, these citrus-spiked shortbreads are kind of impossible to stop eating.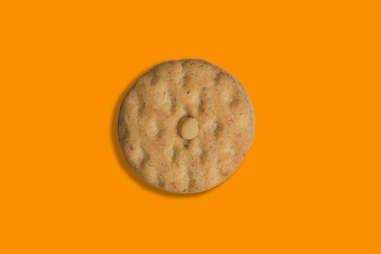 8. Do-si-dos/Peanut Butter Sandwich
Initially, Do-si-dos taste a lot like the Lance Toast Chee peanut butter sandwich crackers that were popular in my middle school. The aftertaste is a lot like those Toast Chee crackers too. They're lucky I don't mind a Toast Chee every now and then. This is a cookie that doesn't taste like a snack-based dessert.
7. Caramel Chocolate Chip
The caramel chocolate chip rendition offers up a treat that tastes a bit like a granola bar. It's gluten-free, which is a bonus, but definitely not the most superior cookie on this list.
6. Adventurefuls
These cookies are described as brownie-inspired, which is a little bit misleading based on how dry and crumbly they are. There's a dusty cocoa-flavor but not the rich fudginess you'd expect from a brownie. If the caramel creme on top was gooey, similar to stickiness that enrobes Samoas, maybe this cookie would be ranked higher and provide a contrast in texture. Instead, the creme is a bit dry as well as one note—tasting of only sugar, and not the rich depth you'd want in anything caramel-flavored.
5. Raspberry Rally
I can see why the Girl Scouts of America organization is calling this the sister cookie to Thin Mints. It's got that flaky, wafer interior and is coated in chocolate. The inside is bright pink and has a hint of artificial raspberry flavor. Those obsessed with Thin Mints might find it disappointing, but we think it's delicious. It would be even better if it had a fresh raspberry jam interior, though.
4. Trefoils/Shortbread
When else does anyone eat shortbread? When it's Girl Scout Cookie season, and no other time. Shortbread is a beloved classic, though. It goes with pretty much every hot beverage—hot chocolate, coffee, tea, matcha lattes. The buttery base is a wonderful canvas for so many drinks. Let us take a moment to exalt the mere existence of this shortbread cookie, the snack-food version of the Yeti.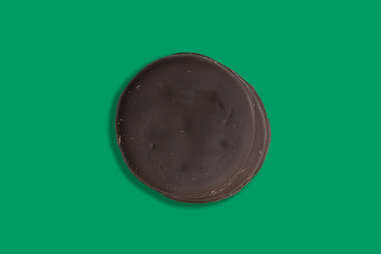 3. Thin Mints
The crispiness of this wafer—the Girl Scouts do not call it a cookie on the box, strangely—is the secret to why it's so damn good. Its thinness makes you feel like it's barely there. It takes a minimal amount of effort for the wafer to yield to your mouth, and within no time, a minty bite permeates that place where your taste buds live. It only loses points because it denies that it's a cookie. And when I buy Girl Scout Cookies, I expect to eat cookies. On the other hand, it's the best wafer you'll ever have in your life.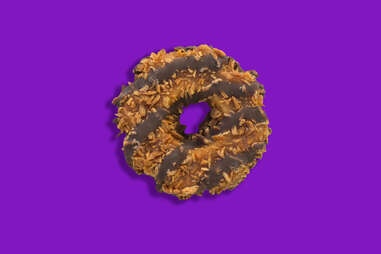 2. Samoas/Caramel deLites
I hated anything with coconut in it as a kid—it was like math homework for my taste buds. Now I eat foods prepared with coconut oil and drink coconut water like I live in Thailand and it's cheap (sadly, I do not live in Bangkok, and it is not cheap). But I always loved Samoas. They were the exception to my coconut-free childhood. In adulthood, my love of Samoas has only grown, as they combine dark chocolate, toasted coconut, and a cookie with a hole in it. For some reason, the hole adds to the magical quality of the cookie. It's no bigger than my palm, and yet the Girl Scouts stiff me on the middle of a cookie?! It makes me love the cookie even more.
1. Tagalongs/Peanut Butter Patties
The Tagalong is not just the best Girl Scout Cookie—it might be the best cookie ever made. Think about what goes into a Tagalong: you've got a crispy cookie layer, a fluffy cookie layer, a peanut butter layer, and then all of that is covered in chocolate. It's basically a Reese's with better mouthfeel—and you get 15 of them in one pack!
The Tagalong is a multitude of flavors and textures that combine to form something truly greater than the sum of its parts. You can have your Thin Mints and your Samoas and your Trefoils—I won't blame you, they're all delicious. But the Tagalong is the greatest Girl Scout Cookie of all time, and it will continue to be until chocolate and peanut butter stop being the best flavor combination of all time.
Lee Breslouer is a senior writer for Thrillist, and has a lot of Girl Scout Cookies in his pantry now. Follow him to sugar highs: @LeeBreslouer.