The Best Fast Casual Restaurant Chains of 2019
Over the past six months, I've spent lots and lots of time in strip malls and real malls and malls disguised as airports eating at national fast casual chain restaurants in an effort to better understand just what is going on in this market for my Too Fast Too Casual review column.
But this time, instead of looking at just one restaurant, I'm going to drop on you my five favorite chains from the adventure so far. In some cases, these places have the best food, and in others, they illustrate some of the really interesting places fast casual is taking us. Either way, if you go to any of them, and read my review columns, you're going to eat really damn well. But enough preamble, here are the best places so far, ranked from fifth place to first in order to build hella suspense.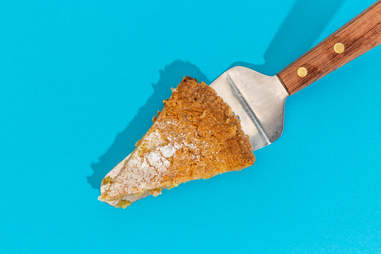 Rachel Kuzma | Thrillist
Why it's worth it:
Christina Tosi's Willy Wonka dessert spots have made some serious moves in the past few months, especially since she's recently raised funds to get her cookies and other products into grocery stores across the country in the next year or so. With the place on the verge of ubiquity, it is a fascinating time to go to a Milk Bar and stuff your face with Milk Bar Pie, Cereal Milk Soft Serve and those famous cakes with no frosting on the sides (plus if you're in LA or DC, you can try the savory items they're starting to roll out).

If you're gonna order just one thing, get:
That damn Milk Bar Pie. As I say, "In the same way that steak in restaurants is even more delicious than at home due to the absurd amounts of butter they melt over it before serving it to you, Milk Bar pie tastes like the dessert version of a decadent AF steak."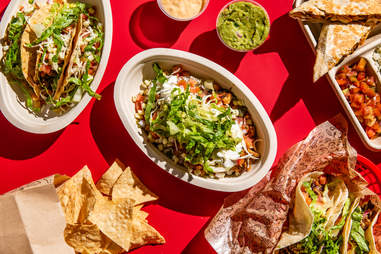 Cole Saladino | Thrillist
Why it's worth it:
I don't think I've ever spent more time thinking about a restaurant. Chipotle, the fallen but now possibly resurging Golden Child of the modern fast casual movement, is just about the most fascinating test case. And look, if nothing else, they really seem like they're trying really, really hard to get it right, instituting new food safety rules, investing in the ease and fluidity of their apps, showcasing real employees cooking real food in their commercials to demonstrate their transparency. Plus, if you order correctly, you can eat like a champion.

If you're gonna order just one thing, get:
The single barbacoa taco with pinto beans, cheese, fresh tomato salsa, tomatillo red salsas, and guacamole. Then ask for an extra soft tortilla to stuff with all the fillings that fall out of the first one.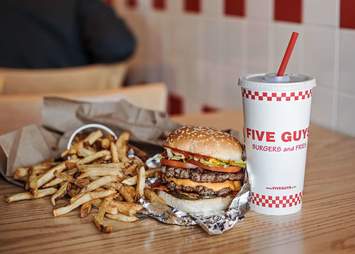 Courtesy of Five Guys
Why it's worth it:
Five Guys is fantastic. It has managed to pull off basically an impossible feat -- seem cool despite having 1,500 locations. The lack of real advertising, the simplicity of the menu, these seem like truly counterintuitive, yet smart choices in an era when many fast casual folks are taking their eyes off the ball and making their food tent as big as possible. Plus, Five Guys has legitimately delicious burgers and milkshakes. It's a modern day marvel.

If you're gonna order just one thing, get:
The off-menu Patty Melt. As I said in the review, "The patty melt benefits from the fact that they flip over a regular bun and double grill it with what would normally be the inside of the bun as the outside, and two layers of cheese encasing the burger patty. The grilled onions in the mix makes the entire thing a gooey, griddled delight. Honestly, I can't recommend it enough."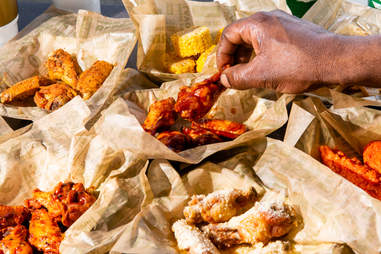 Cole Saladino | Thrillist
Why it's worth it:
Wingstop might've been the place that changed my life most dramatically. I honestly expected nothing from a little strip mall wing joint, but by the end of my time in the Wingstop experience, I was a total convert. As I say in my review: "Wingstop does not concoct its wings from pea protein or wheat gluten or asparagus sorcery. They have not recently released a chicken sandwich to much acclaim and ballyhoo… They just sit quietly, mostly in small, relatively character-less strip malls, and offer up fried chicken wings and tenders in 11 different flavors with three choices for dipping sauces, and a handful of sides, all for you to take away and eat in the privacy of your own home, mostly during sporting events. And you know what? It really f*&%ing works."

If you're gonna order just one thing, get:
The Rick Ross-approved dry Lemon Pepper wings, as they are by far the best. "The combination of the bite of the black pepper and the acid from the lemon with the fatty crunch and saltiness of the fried chicken wing created some sort of victual alchemy in my mouth."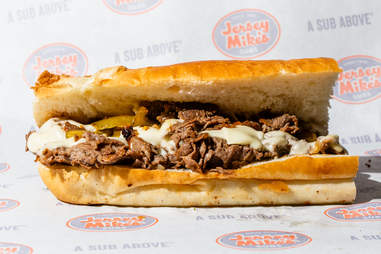 Cole Saladino | Thrillist
Why it's worth it:
Chain sandwich spots normally freak me out, especially if I'm looking to order cold cuts sandwiches. There are just too many variables that seem like they could throw the sandwich off (also, they just tend to be gross). But then there is Jersey Mike's. Sweet, sweet Jersey Mike's. In some of the same ways Five Guys works, it "seems strangely retro for a throwback sub shop from the Jersey shore to bet it can carve out a large slice of the working American lunch scene." But my god, does Jersey Mike's pull it off (especially with the #6, aka the Famous Roast Beef and Provolone, Mike's Way).

My favorite part of the Jersey Mike's review was the feedback I got from actual chefs, many of whom DM'd me on Instagram after I posted the review to confirm that this was one of the only chain spots they consistently approved of eating at. For restaurant industry folks, it has a similar (though fast casual) cache to Houston's, which has long been a not-so-secretly admired restaurant chain.

If you're gonna order just one thing, get:
The Cheesesteak. As I say: "The steak was chopped correctly and devoid of those chewy fatty gristle bits so often apparent in off-Philly cheesesteak productions. The onions and peppers tasted like real vegetables with some bite but were not over greasy and oily. The white American cheese hugged all those elements together without suffocating them, much like a good parent should, RIGHT DAD?"
Sign up here for our daily Thrillist email, get Eatmail for more food coverage, and subscribe here for our YouTube channel to get your fix of the best in food/drink/fun.