The 10 Best Fast-Food Breakfasts, Ranked
The drive-thru is truly the cornucopia of the modern age, a window of plenty where your wish is a disinterested teenager's command. Of all the fruits of this wonderful window, breakfast stands out as the most universally beloved.
Maybe it's because America is too rushed to fry its own eggs. Or that fast-food snobbiness doesn't clock in until 11am. Whatever the reason, everyone eventually succumbs to a croissant-based combo. In order to supersize your experience, we've ranked the best fast-food breakfasts based on factors including, but not limited to, hours of availability, variety, creativity, execution, and whether they can turn a biscuit into a taco. Here are the 10 best. You can thank us sometime after 10:30am.
Editor's Note: Times may vary based on location, so don't get mad if you can't get a McMuffin after 10am in Duluth.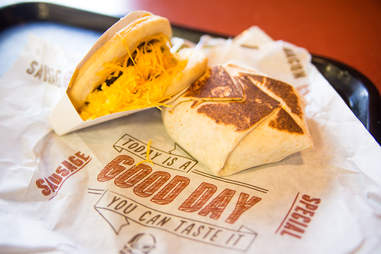 Dan Gentile/Thrillist
10. Taco Bell
Last call: 11am
Best item: Country Grilled Breakfast Burrito with sausage
You'd think Taco Bell's brazen attitude might tempt it to gamble with an all-day menu, but its breakfast offerings are just too bonkers to sustain more than an extra 30 minutes. As much as I wanted to enjoy the biscuit tacos and AM Crunchwraps, I just couldn't. They're great if you're into weird science (and probably also Weird Science), but less great if you're just looking for good eggs. The breakfast burritos, however, are totally sensible choices. Stick with the classics. And maybe get a Doritos taco on the side.
Dan Gentile/Thrillist
9. Wendy's
Last call: 10:30am
Best item: Seasoned homestyle potatoes
Only a fraction of Wendy's locations serve breakfast, which seems weird given its commitment to pretty good Redhead Roasters coffee, which pairs better with bacon & eggs than Baconators. Wendy's peddles the same burritos and biscuit sandwiches as other chains (including a not-bad honey butter chicken), but they're lacking an element of joy. The homestyle potatoes are great, but a panini has no place at breakfast, let alone the drive-in.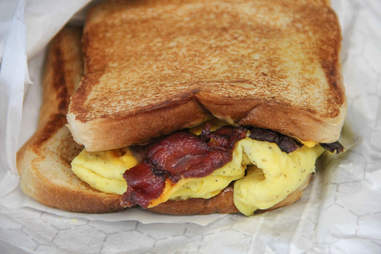 Bradley Foster/Thrillist
8. Sonic
Last call: Never
Best item: Breakfast Toaster
The all-day availability is a huge factor at Sonic, but there's a correlation to a lack of menu diversity. Shockingly few other chains use toast as a bun option, but the reality is that a biscuit or croissant (only available regionally as a CroisSONIC sandwich) offers more bun flavor for your buck. The Cinnasnack Bites and French toast sticks hit the sweet tooth, but pale in comparison to Sonic's desserts. And while the burritos are a boon for road warriors, the "flour" part of the flour tortilla is a bit of an exaggeration.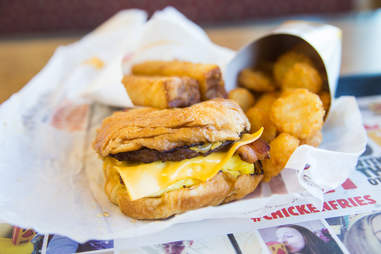 Dan Gentile/Thrillist
7. Burger King
Last call: 10:30am
Best item: French toast sticks
BK recently threw all of its eggs in one pastry-bun basket with the Croissan'wich, a delightful play on words that on first bite really packs a delicious punch -- until it soaks up all the juices and turns into a Croi'sponge. Luckily, the French toast sticks are in your corner, squirting maple syrup into your mouth and shaking you back to life. And if you're a pacifist, the chain's also got oatmeal.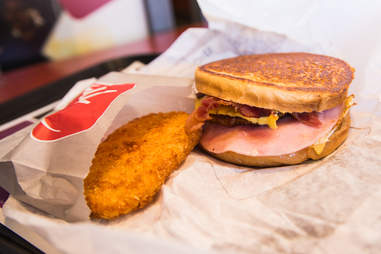 Dan Gentile/Thrillist
6. Jack in the Box
Last call: Jack never says stop!
Best item: Loaded Breakfast Sandwich
The ace up Jack's sleeve is that this isn't far from real diner fare. The eggs are "freshly cracked," which is menu jargon for "fried by a human." You could easily see the Loaded Sandwich at any greasy spoon in the country, but it brings up an important point that there's a reason the human element has been removed from fast food. The steady hand of a diner egg-flipper is not what you're getting here, but rather a hot mess of a sandwich that lacks some of the charm of its mass-produced counterparts.
Dan Gentile/Thrillist
5. McDonald's
Last call: 10:30am
Best item: Sausage, egg, and cheese McGriddle
For better or worse, few things taste more American than a McMuffin. And, no matter how you feel about Ronald's burgers, even some of the most calloused fast-food haters have a soft spot for Mickey D's morning menu. On nostalgia alone, McDonald's scores huge points, with extra credit for the best-in-show hash browns and subtly genius riffs on the classics (pancake buns!). But in the flavor department, there's just too much Grimace for this to take first place.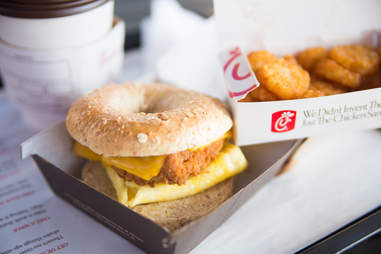 Dan Gentile/Thrillist
4. Chick-fil-A
Last call: 10:30am
Best item: Chicken, egg, and cheese on a multigrain bagel
Those Chick-fil-A cows found themselves a golden goose in their chicken patty. Anything it touches is automatically delicious, but the breakfast menu is sorely lacking a perfect representation of the fried specialty. You can't get an egg/cheese version on anything but a multigrain bagel, which is unsettlingly healthy. The place does offer the traditional fowl-free breakfast biscuits, but you're obviously there to eat more chik'n. Great coffee though.
3. Carl's Jr.
Last call: 10:30am
Best item: The Mile High Bacon, Egg & Cheese Biscuit
You have to give it to ol' Carl: regardless of how you feel about Paris Hilton soaking in burger grease atop a car, the chain doesn't mess around with the line between quality and quantity. The Mile High sandwich is a mountain of bacon, egg, and cheese stuffed into a surprisingly fresh biscuit and it packs enough flavor to be mistaken for a classic bodega breakfast. And the new Pork Chop Biscuit offers up a very welcome reprieve from predictability. You might leave a mess on your shirt, but hey, so did Paris. And she turned out normal!
Dan Gentile/Thrillist
2. Whataburger
Last call: 11am... with first call at 11pm
Best item: Honey Butter Chicken Biscuit
The Texas Titan brings it hard in the breakfast department, with multiple offerings that you're just not going to see anywhere else. The taquitos are a step above the typical breakfast burrito, and the Southern-ness comes out in biscuit innovations like jalapeño cheese and gravy-topped versions. The fact that you can get all this from 11pm-11am across all stores (some other chains offer late-night breakfast, but usually by location) endears it to the hearts of late-night eaters. But the real star is the Honey Butter Chicken Biscuit, which is one of the most delicious phrases in the English language. And one of the most delicious sandwiches in fast food.
Dan Gentile/Thrillist
1. Dunkin' Donuts
Last call: Nonexistent
Best item: Donuts. Duh.
According to the side of my coffee cup, America runs on Dunkin', and I generally don't argue with Styrofoam cups for fear of looking like a maniac. This chain has the obvious advantage of being breakfast-focused, but this is the rare "can't hate the player or the game" situation. Try as they might, the croissant slings and bacon arrows of other chains just can't touch the Double D. The sandwiches are a step above everyone else's, such that you don't even feel like immediately going back to sleep after eating them. And when it comes to fast-food breakfast, there's nothing more you could ask for. Except maybe donuts... and it has those too!

Sign up here for our daily Thrillist email, and get your fix of the best in food/drink/fun.

Dan Gentile is a staff writer at Thrillist. He gained 5lbs in the writing of this story. Follow him to the gym, maybe, at @Dannosphere.