Who Makes the Best Fast-Food Burrito?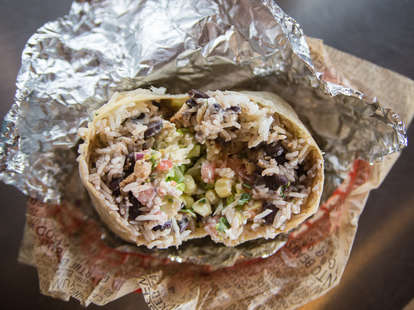 From the shrouded kitchens of fast-food joints to the transparent sneeze guards of fast-casual spots, the world of burritos is rich in both diversity and calories. But which of these holy (tortilla) rollers makes the most supreme burrito?
To find out, we visited eight major fast-food and fast-casual chains -- Chipotle, Qdoba, Taco Bell, Del Taco, Wahoo's, Freebirds, Baja Fresh, and the Green Burrito. Each chain's offerings are slightly different, so to keep a level of consistency while honoring what makes each chain special, we ordered as follows: chicken as the protein, black beans (if there was a choice), rice, medium salsa, and whatever extra ingredients are offered for free. For the fast-food spots, we opted for higher-end choices so they could roll with the fancier spots.
Translation: chicken burritos, no value menus, guac and other stuff if it's free. Let's roll.
8. Green Burrito Burrito Especial
Fillings: The chicken pieces are tiny, ultra-white cubes, the guac is barely there, and it's too cilantro-heavy, so right off the bat they're losing half their customers.
Value: This is a $2 burrito at best, selling it for $5 is ridiculous.
Structural integrity: This thing is too puny to really burst apart, but the contents are so viscous that they're likely to flow out of the top.
Not that I don't trust Carl's Jr.'s son (Carl III?) to provide a stellar product, but his Green Burrito imprint didn't quite deliver on its promise of an Especial burrito. There's some serious Disney hit animated film vibes going on here, which is to say, it tastes frozen. I would not call this a special burrito in English or Spanish.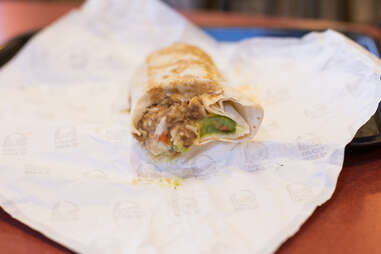 7. Taco Bell XXL Grilled Stuft Chicken Burrito
Fillings: The elongated length of this burrito spreads the ingredients such that it takes three bites to get to the chicken, which is squishy and made me think of tofu.
Value: $5 isn't a lot to spend on a burrito, but given how much it buys you at Taco Bell, this doesn't seem like a bargain.
Structural integrity: The XXL is like the stretch limo of burritos. Exceptionally long, bullet-proof, and ridden by someone who probably hasn't been very close to the actual border.
Choosing one Taco Bell burrito to focus on was tough, but since this is going up against fast-casual heavy hitters like Chipotle, we wanted to give them a fair shot and went with their most impressive-looking option. First observation: this thing is very weirdly shaped. Second observation: the grill marks on the tortilla make this much more appetizing, which maybe has something to do with pinstripes helping the Yankees win the pennant.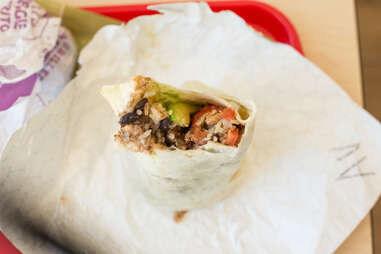 6. Del Taco Epic Grilled Chicken Avocado Burrito
Fillings: Dirty rice was a nice surprise, and combined with a cumin-heavy salsa, gave this a drastically different flavor than anything else on the list, which I'd describe as "grocery store taco seasoning." The grilled pieces of chicken are far from epic, but nobody's going to argue that those chunks of avocado are legit.
Value: $5.29 is a fair price for a burrito of this size, and it is a far superior choice than two of their smaller burritos for $5.
Structural integrity: Sturdy enough to impress even the most anal contractor.
On first bite, all I could taste was saltiness. After another couple bites, the other flavors began to emerge -- but I wasn't very happy that they did.
5. Wahoo's Banzai Burrito
Fillings: The chicken was bland as meh, the roasted veggies included broccoli -- which is just weird -- and the whole thing sweated a weird black beaniness.
Value: $7.57 would be a fair price for a seafood burrito, and their one price for all proteins system is definitely generous, even if it didn't favor this particular burrito.
Structural integrity: The tortilla was heartier than most, and actually managed to hold together despite all that black bean ooze.
I realize that buying a chicken burrito from a joint known for fish tacos is like judging a gun shop on the quality of its hunting knives. That said, the principle of apples-to-apples required me to ignore Wahoo's signature seafood in favor of a fowl-based burrito. I'm a fan of Wahoo's, but am sad to report that this burrito is no catch, and I would advise you to stick to the chicken of the sea. The garlicky green sauce that came with it was a nice touch, though.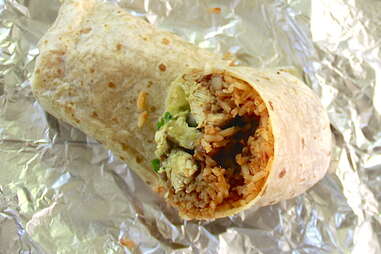 4. Baja Fresh Burrito Mexicano
Filling: The chicken had a nice, almost shredded tenderness despite being grilled. The beans were perfectly mushy. But the rice, which constitutes so much of the body of this thing, kind of seems like an afterthought, void of much salt or tang.
Value: At $6.69, it's on the higher end of the spectrum, but this thing's as dense as a Kardashian.
Structural integrity: This thing's packed tight for minimal leakage.
The freshness of Baja isn't really being called into question (though watching the workers scoop green stuff out of little sealed tubs in the back didn't instill much confidence in the guac). The build is nice, but this sucker relies too heavily on you raiding the in-house salsa bar to really stand tall on its own.
3. Freebirds chicken burrito
Filling: The chicken tasted high quality, but the roasted vegetables were haphazardly chopped and the lack of uniformity made me weirdly uncomfortable. The tortilla got stuck on the back of my front teeth (ew!), and the lettuce was so iceberg-y it made me think of Billy Zane.
Value: There will be no flying away from Freebirds. You will be waddling. Like a penguin. $6.90 is a fair price to pay for such intense satiation.
Structural integrity: The contents of this burrito will not be caged.
Hometown hero alert! Freebirds is based in my city of Austin, and I've always had a soft spot for their Monstrous (TM) burritos. But after actually thinking about what I was eating, it became clear this wasn't all it was wrapped up to be. I came to realize that Freebirds' burritos are a much greater whole than the sum of their parts -- but once you analyze them closely, you'll never be able to look past the trees for the forest ever again.
2. Chipotle chicken burrito
Filling: The chicken tastes like you're licking a grill, in a good way. The grains of rice are like Kevin Love's arms: very long and very white and generally overshadowed. But unlike Love's arms, the rice packs a surprising amount of flavor. A friend of mine swears that they put sugar in it, which they deny, but is worth noting.
Value: $6.50 is a steal for a burrito of this magnitude.
Structural integrity: Rolling a Chipotle burrito will change you, but as our humble correspondent learned, not all workers are equally skilled. The lower half of this burrito fell apart and required an extra trip to the napkin station.
The easy favorite in this ranking, Chipotle comes out of the gate strong. Where Chipotle lost points is that the parts are actually greater than the whole. Case in point, I just spent three sentences on the rice. Each of these ingredients is very high quality on its own, but once you combine them it's just too overwhelming. They're onto something with those bowls.
1. Qdoba grilled chicken burrito
Filling: The vegetables aren't afterthoughts here, and it makes a world of difference when the lettuce doesn't taste like a creamy pile of grass. The chicken lacked the char of its primary rival Chipotle, and the overall flavors of each ingredient weren't as pronounced, but everything just tasted much fresher and, when it was all wrapped up, led to a more satisfying eating experience.
Value: At $7.80, this is the highest price option on our list, but you're easily getting an extra dollar's worth of quality.
Structural integrity: Unlike most marriages, this stayed intact until the very end. And also like most marriages, you're way fatter at the end than you were at the start.
Generally I don't trust anything that starts with a "Q" and isn't followed by a "U," but Qdoba has proved my logic seriously flawed. It'd be easy to sum this up in two words (free guac!), but the guacamole wasn't the deciding factor. It's rather an indicator of where Qdoba is aiming with their flavor profile.
Dan Gentile is a food/drink staff writer at Thrillist. During research for this story, he experienced varying levels of bodily pleasure and punishment, among them frequent battles with burrito sweats. Follow him to literally any other kind of food for at least a month @Dannosphere.