17 Regional Fast-Food Chains We Wish Were Everywhere
Whether you're suiting up for a late-night burger run or making a groggy early-morning bacon, egg & cheese stop, fast food has always, always had your back. And outside of the major players -- your McDonald's, your Burger King, etc -- those beacons of fluorescent light and delicious grease can be just as much a piece of hometown pride as they are a crucial hangover helper.
National chains have their place, for sure, but there's nothing like traveling off the beaten path and stumbling upon a more obscure regional fast-food joint. They're so full of personality, surprise, and an endless array of damn good (mostly fried) food. So slip into some sweatpants and get ready to drool over these 17 homespun fast-food restaurants. You'll fall in love all over again.
Where you can get it: Arizona, Colorado, Florida, Georgia, Idaho, Illinois, Indiana, Iowa, Kansas, Michigan, Minnesota, Missouri, Nebraska, North Carolina, North Dakota, Ohio, South Carolina, South Dakota, Tennessee, Texas, Utah, Wyoming
Why it's amazing: This Wisconsin-born chain fittingly made its name with impossibly creamy frozen custard, golden-fried cheese curds, and butter-enhanced burgers. Culver's has expanded exponentially in recent years, like a missionary preaching the virtues of Midwestern comfort. The counter-service spot's signature ButterBurger -- a patty griddled in butter until it's crisp on the edges and tender in the middle -- is one of the wonders of that fast-food world, made all the better by crisp crinkle fries. But lest you forget this place has Midwestern roots, it also serves dinner plates like pot roast and fish & chips, transporting the traditional, belly-warming VFW fare to a drive-thru window. Should you spring for a cup of Culver's velvety-smooth custard? You betcha…. Especially if you're in a state that has no idea what the hell frozen custard is otherwise.
Where you can get it: California, Arizona, Colorado, Guam, Illinois, Louisiana, New Mexico, Nevada, Texas, Utah, Washington
Why it's amazing: Think a hot dog is just a hot dog? Think again. The SoCal-based chain has been putting its spin on America's favorite oblong snack since 1961, and now claims to the be the world's largest hot dog chain. And since the iconic A-framed franchises apparently serve up more than 120 million a year, we're going to take its word for it. The star of the Wienerschnitzel show is, without a doubt, the chili-cheese dog, a grilled dog (original, all-beef, or Polish sausage), swaddled in slice of gooey American cheese, smothered in the restaurant's super-secret, world-famous chili sauce, and served atop either a pillowy-soft steamed bun or a chewy, salty pretzel version. Chili not your bag? Eight other styles await, including a sweet, crispy corn dog and the Bacon Strip Street Dog, a tantalizing mix of bacon, mayo, ketchup, mustard, and grilled onions. Burgers, sandwiches, and Tastee Freez ice cream products are also up for grabs, but with a name like Wienerschnitzel, the dogs inevitably come out on top.
Where you can get it: Mid-Michigan
Why it's amazing: At the risk of angering the entirety of Philadelphia, one of the best variations of the cheesesteak can be had at this mid-Michigan counter and drive-thru chain. What's the secret? It starts with fresh-sliced rib-eye, which is grilled with onions and -- if you're smart -- banana peppers. The tangy signature red steak sauce is a must (buy a bottle, it's great on BBQ). And while there's a fantastic Italian sub on the menu as well, when you're facing down 16in of one of America's truly great steak sandwiches -- and sometimes ordering it through bulletproof glass in Flint -- there's really no room for cold cuts.
Where you can get it: Alabama, Florida, Georgia, Kentucky, Maryland, North Carolina, Pennsylvania, South Carolina, Tennessee, Virginia, Washington, DC, and West Virginia
Why it's amazing: Despite the admittedly wonky name, there's nothing funny about Bojangles' Famous Chicken 'n Biscuits. The chain's chicken is delivered fresh as can be, drowned in a tangy, peppery marinade for 12 hours, breaded, and fried to perfection before being plopped onto a 100% homemade, fresh-from-the-oven, buttery biscuit. Seriously, the hard-working folks behind the register replace these babies with a new batch every 20 minutes (sometimes even less). Breakfast is the most important meal of the day over at Bo's, where the fiery, richly seasoned Cajun Filet Biscuit and hearty chicken-fried steak biscuit sandwich top the list. Later, you'll probably want to swing by for a smoky, tender BBQ pork and coleslaw sandwich. And then there's always a family-sized fried chicken box come dinnertime... Oy, this rapidly expanding biscuit enterprise just can't grow quick enough for us.
Where you can get it: Georgia, North Carolina, South Carolina, Tennessee, Kentucky, and Virginia
Why it's amazing: At Cook-Out, it's all about the BBQ. But if massive hunks of meat ain't your bag, there's chicken strips, burgers, hushpuppies, quesadillas, cheesecake, and much, much more just for you, pal. Cook-Out obviously has something to satisfy every palate and the whole shebang is made to order, which is exactly why it rules. Can't decide? You'll want "The Tray," an epic mix-and-match meal deal that includes a massive entree (get the BBQ sandwich), two sides (i.e., onion rings and a corn dog), and a drink (a Cheerwine float, duh) for a whopping five bucks. There's no holding back now.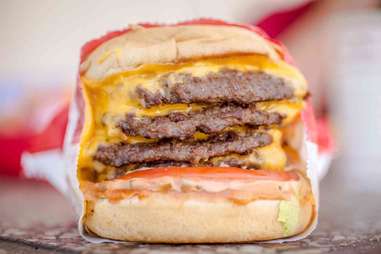 Where you can get it: California, Oregon, Nevada, Arizona, Texas, and Utah
Why it's amazing: Despite our recent hot take, we'd be remiss not to include this cult-favorite burger giant. No visit to the West Coast is complete without an obligatory Instagram selfie featuring In-N-Out's palm tree-lined cup and a ridiculously enticing Double-Double Animal Style (covered in tangy Thousand Island, mustard, and extra pickles). While In-N-Out owes a big part of its appeal to its exclusivity (the burger haven's famously stingy when it comes to spreading the franchise love), and mysterious not-so-secret "secret" menu, there's just no denying how downright tasty its food is. The fries might be universally disappointing, but what it lacks in sides it makes up for in its incredibly simple, no-nonsense makeup: creamy milkshakes, adorably retro staff uniforms, and the best semi-fancy, high-quality hamburger west of the Mississippi. It just goes to show, if it ain't broke, no need to fix.
Where you can get it: North Carolina and Virginia
Why it's amazing: This crazy-small chain specializes in, you guessed it, piping-hot buttermilk biscuits -- but not just any old biscuits. These little hand-held pockets of joy are made from scratch and served up fresh from the oven every 15 minutes. Depending on your proclivities, your biscuit arrives doused in Dixieland specialties including a hefty spoonful of creamy pimento cheese, crispy fried pork chops, a blanket of sausage gravy, or flaky fried catfish, amongst many, many others. If you can take the heat, we recommend testing out the spicy cayenne-dipped Nashville hot chicken. And, as if that's not enough, get even comfier with countrified sides like fried okra, Carolina-style coleslaw, sweet potato casserole, cheesy grits, sticky honey buns, and yes, more biscuits.
Where you can get it: Mississippi, Arkansas, Alabama, Kentucky, Georgia, South Carolina, Tennessee, Virginia, Louisiana, Florida, and North Carolina
Why it's amazing: If you thought square patties were just a Wendy's or White Castle thing, think again. Enter Krystal, a Chattanooga, Tennessee original touting the region's best four-cornered burgs and world-class fried chicken sandwiches -- all served on square buns, of course. The rest of the surprisingly brief menu gets straight down to brass tacks with heaping piles of chili-cheese fries, deep-fried hash brown sticks, deliciously greasy egg-and-cheese biscuits, and hot dogs it adorably calls "pups." Options might be limited, but that only adds to Krystal's Main Street, USA charm. And, speaking of that darling throwback aesthetic, it's not just for looks -- founded way back in 1932, Krystal counts itself as the South's oldest hamburger joint.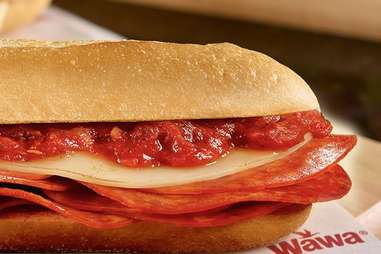 Where you can get it: Pennsylvania, New Jersey, Delaware, Maryland, Virginia, and Florida
Why it's amazing: Mention "Wawa" to anyone who grew up on the Eastern Seaboard and you're all but guaranteed an earful of heartfelt nostalgia. The Pennsylvania-based gas station-style convenience store is known not for smokes and unleaded but for iced tea, chips, sandwiches -- delicious, customizable, and limitless hoagies you could order off a super-cool touchscreen way before that was ever a thing. If you're skeptical about gas station food, we don't blame you, but hear us out: Each Wawa location bakes its own bread on the daily and store-made snacks like carrot sticks and dip, dill pickle chips, and Buffalo chicken bites satisfy every roadside craving. People have been know to drive well out of their way, fuel tanks already filled to the brim, just to stop in for a quart of Arnold Palmer and a turkey club. And by people, we mean us.
Where you can get it: Colorado, Iowa, Kansas, and Nebraska
Why it's amazing: We know the majority of you are thinking, "what the eff is a runza?" Well, the answer is "watch your mouth, buddy, because this is a family place." And also… kind of a Hot Pocket, or a stuffed baguette/burrito hybrid. To put it super simply, it's a pillowy bread tube stuffed with classic Midwestern loose meat (like a dry Sloppy Joe), plus cheese, bacon, mushrooms, and other fillings that double as burger toppings. If the prospect of a burger baked into bread is too complicated, the normal burgers are good -- if not as fun to order -- as are the fried chicken sandwiches. But come on. The place isn't called "Pretty Good Chicken Sandwichza." Just go ahead and order a runza -- even the bite-sized version of these cute little hand pies is guaranteed to sway the taste buds.
Where you can get it: Arizona, Texas, Louisiana, Mississippi, Alabama, Florida, Georgia, New Mexico, Oklahoma, and Arkansas
Why it's amazing: What can you even say about Whataburger? With its zesty jalapeño cheeseburgers and peppery patty melts, the longstanding Texas chain basically the smirking, temptation-ridden devil to In-N-Out's clean-cut, cherubic angel. There are menu highlights aplenty, ranging from thick, juicy burgers to spicy, poblano pepper-spiked chicken tacos. Despite all that tastiness, the famed honey butter chicken biscuit goes down in history as Whataburger's -- hell, the country's -- all-time best fast-food breakfast. If you can limit yourself to just one of these salty-sweet beauts, you deserve a damn medal. Texas forever.
Where you can get it: California, Utah, Michigan, New Mexico, Oklahoma, and Nevada
Why it's amazing: To know a late-night Del Taco run is to love a late-night Del Taco run. And, unfortunately for most of us poor East Coast, Southern, and Midwestern schlubs, achieving the dream of 3am Del Taco remains just a few thousand miles out of reach. We're forced to daydream about the Cali-Mex chain's border-straddling menu, drooling over avocado-lined taco salads, carne asada and fresh cilantro tacos, half-pound chorizo breakfast burritos, and sweet, sweet, cinnamon churros. It's a rough life, but someone has to live it... until we all come to our senses, move to LA, and rent an apartment across the street from a Del Taco, of course.
Where you can get it: Illinois, Arizona, California, Florida, Indiana, and Wisconsin
Why it's amazing: If we have to explain why overloaded Chicago-style hot dogs and sport pepper-laden Italian beef sandwiches are great, then you have no business reading this list. Or this website, really. But if you are, in fact, amazing (or just amazingly hungry), you'd be a sucker not to check out this Midwestern favorite. Chicagoan Dick Portillo started the business back in 1963, growing his namesake restaurant from a single 6x12 trailer to a six-state empire. Lucky locals have been obsessed with the chain's char-grilled dogs, meaty subs, and one-of-a-kind chocolate cake shakes since the get, and if you manage to get your paws on a Portillo's original, you'll immediately understand why.
Where you can get it: Ohio and Kentucky
Why it's amazing: Chili-topped spaghetti might sound like a weird combo, but President Obama isn't the only American with a penchant for this peculiar Midwestern cuisine. Skyline is famous country-wide for its savory take on Cincinnati-style chili sauce, packed with rich cloves and allspice and piled high with shredded cheese, onions, and beans. Meaty noodles not your thing? Lose the 'sketti and opt for a hot dog overflowing with the same hot chili and melty cheddar cheese or a chili-stuffed "chillito" (that's Cincy for a burrito, if you haven't guessed). Either way, you're crazy not to want one of these late-night guilty-pleasure purveyors in your backyard.
Where you can get it: California, Hawaii, Illinois, Nevada, New Jersey, New York, Texas, Washington, Virginia, Florida
Why it's amazing: Jollibee is one of the Philippine's greatest exports, an extra-quirky fast-food wonderland known for SPAM sandwiches, shrimp-and-pork-topped spaghetti, and, most importantly, Jollibee himself. The mascot, a tuxedoed, anthropomorphic, red bee, merely hints to the wacky menu, where Filipino comfort staples rub elbows with crunchy, fall-off-the-bone fried chicken. Best of all is the halo-halo, a slushie-type blend of shaved ice and evaporated milk flavored with sweet beans, coconut flakes, fruit jellies, and other curious treats native to the Pacific Islands. Jollibee's lineup may be unorthodox for the average American's burger-and-fries palate, but that's what makes it great. Well, that and the giant bee.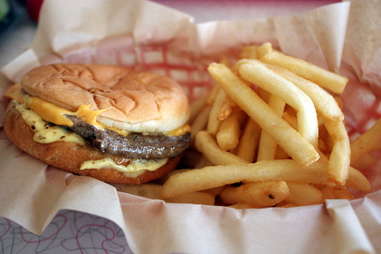 Where you can get it: Oregon and Washington
Why it's amazing: Eco-minded Pacific Northwesterners have a penchant for eating local, and this old-school fast-food joint really hammers that concept home. The chain's signature Tillamook cheeseburger -- which looks and tastes like a McDonald's Quarter Pounder gone organic – is made from farm-fresh meat and seasonal offerings like thick Walla Walla onion rings and marionberry milkshakes represent just a few of the tasty, hippie-friendly picks. Hell, marionberries, known for their deep-purple hue and refreshingly tart flavor, were invented in Oregon -- how's that for keeping it local? Some of the locations even have bands on the weekend. Bands you've probably never heard of… probably because they gig at fast-food joints. But no matter the music, the burgers are great, and the milkshakes are better -- especially when hazelnuts are in season.
Where you can get it: Utah, Texas, Oklahoma, Kansas, Missouri, Arkansas, Louisiana, Mississippi, Alabama, Florida, Georgia, Indiana, Kentucky, Tennessee, North Carolina, South Carolina, and Virginia
Why it's amazing: Fried chicken is nothing new, especially in the fast-food world. But add a little creamy, zippy Zax sauce to the mix and you'll soon be swearing off every other chicken joint along the interstate. Zaxby's might have begun as a humble Georgia outpost, but these days the chicken finger powerhouse is quietly cornering the ever-contentious Southern fast-food market. The menu is sizable to say the least -- wings and "Fingerz," sandwiches, "Zalads," and the almighty "Zax Pak" (the chain's version of the classic family-sized combo bucket). Throw in a lineup of 100% deep-fried, 100% gut-busting "Zappetizers" like spicy mushrooms, crispy onion rings, and gooey cheddar cheese bites, and domination appears imminent. Oh yeah, there's also something called a birthday cake milkshake, which, with cake batter ice cream, rainbow sprinkles, and chocolate whipped cream, is basically Funfetti in a glass. No biggie.
Sign up here for our daily Thrillist email, and get your fix of the best in food/drink/fun.
Meredith Heil is a staff writer for Thrillist. Her work, it do magic like Criss Angel. She's sellin' more biscuits than Bojangles'. Follow her @mereditto.