There are three ways to approach fast-food desserts -- and, inherently fast food in general. You can dismiss it all as trash, and thumb your nose. You can pick your spots, and enjoy some select items in a pretension soaked, holier-than-thou-but-still-cool, food critic manner (which is almost just as annoying).
Or, you can accept all of the wonders of fast foodom for what they are, enjoy it, and then dutifully rank the things you enjoyed for other people to read, comment, like, share, and subscribe. You don't have to be embarrassed to suck down a McFlurry, after all.
In that vein, presented here are the greatest fast food desserts our fair nation, in the year of our lord 2018, ranked according to overall quality and aptitude. It's full of unabashed, unashamed, unconcerned love. Please take it as such.
And remember: your summer beach bod probably isn't coming in this year, anyway.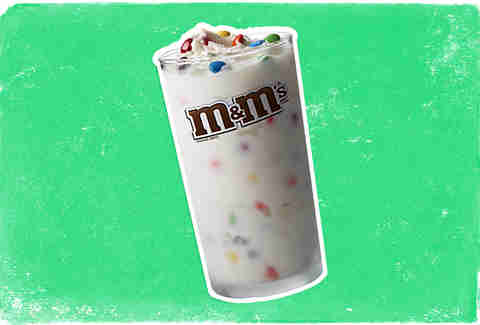 17. M&M McFlurry
McDonald's
Am I committing fast food blasphemy by A) not only including the much-maligned McFlurry in a "best of" list but also B) Not choosing the (probably) normally favored Oreo version?
No.
The McFlurry isn't perfect. It may be a quick-serve medley of gelatinous, innocuous ice cream that some reviewers might consider closer to caulk than dairy. In this specific instance, you might even decry the frozen M&Ms robotically scattered throughout the mixture -- they might not melt in your hand, but (for some reason?) they do melt in the McFlurry. What you're left with is a cup of vanilla pseudo-ice cream with tendrils of M&M chemtrails and shell-less chunks of frozen M&M chocolate. It should be bad, given what we know. But the point of the McFlurry revolves and depends upon you not thinking. It relies on you forgetting what you think you care about in a dessert, and start relying on what tastes the best after inhaling a fast food burger. The McFlurry is the antithesis of pretension, and the epitome of low stakes, drive-thru fun. In other words, just relax, nerds. This isn't Per Se, per se.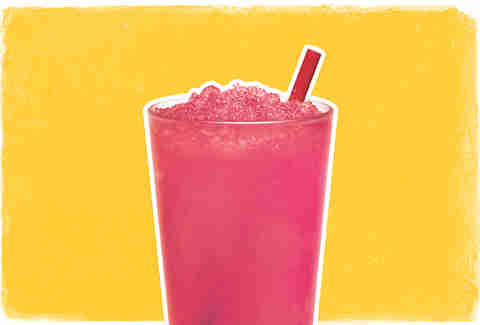 16. Watermelon Slush
Sonic
This entry forced me to ponder the fast-food equivalent of an existential examination: is the Slush a dessert, exactly? Is it a drink? Can a drink be a dessert? Am I allowed to just order Sonic's ice and take it home with me?
Ice-envy aside, the inclusion of the Slush was based on merit, instead of semantics. The watermelon flavor has less of an outright punch of sweetness, and more or a smooth, watermelondric (OK, I made that word up) wave of flavor that's as refreshing as it is delicious. You can pair it with a meal, or just slurp it down, solo. It's sweet, satisfying, and flat-out delicious. If that alone doesn't make it a dessert. I don't know what would.
15. Mini Churros
Jack in the Box
Seemingly, Jack in the Box caters to one specific, target demo: people who are kind of stoned, and want something good, but a little weird.
These mini churros are exactly what they claim to be. For one single dollar, you will receive a grease-laden container of five, crunchy-on-the-outside, soft-on-the-inside, bite-sized churros. The big difference here from a simple sliced up churro you'd buy on the street, is the inclusion of a gooey sauce pumped through the middle of each stick, best described as churro-flavored corn syrup. You might not want these mini churros to follow every meal. But when you want something over-the-top, hedonistic, and cheap-as-hell, you'd be hard-pressed to find a better deal. At Jack in the Box, or anywhere.
14. Fried Twinkie
Long John Silver's
Whatever marketing and/or R&D genius that decided to turn LJS's prolific deep fryers away from fish and hushpuppies deserves the artery-clogging equivalent of the Nobel Peace Prize.
It's a Twinkie. It's deep-fried. It's hard to mess this State Fair staple up. And Long John Silver's did not. Thankfully.
13. Cinnamon Bread Twists
Domino's
Nothing lasts forever, and we all know fast food menus can change. If you grew up in the '90s/'00s, chances are that Domino's and their Cinna Sticks (basically, the dessert analogue of their breadsticks) were a sleepover staple fit for the Middle School Gods. In 2018, the sticks are no more.
But in their place lay the Cinnamon Bread Twists: a shorter, knottier, bite-sized pizza companion that manage to keep all that diabetes-propelling sweetness, in a (slightly) more convenient package. Part of the appeal here has to be chalked up to sweet nostalgia. Put even more of the appeal has to be chalked up to the even sweeter, fluorescent-white icing that accompanies the twists. These are twists that deserve to be dipped. So, go forth and dip, people.
12. Sweet Potato Pie
Bojangles'
The sweet potato pie is a major outlier on this list for the simple fact that it (!) actually is primarily vegetable based. Which is the bad news. The good news, is that the veggie in question is none other than everyone's favorite tubular wonder-root: the sweet potato. It's basically nature's candy.
And what this handheld pie lacks in ostensible glamour, it makes up for in distinct taste. Bojangles' trademark take on the Southern classic is not just an assimilation of American cooking tradition, it's the successful transfusion of "something a grandma would make" into a true fast-food icon. Does it taste like it would at home? Absolutely heckin' not. Does it remind you enough of the "real deal" to make it a worthy throw-in to your next chicken and biscuit combo? I'd bet my own sweet potato, that it is.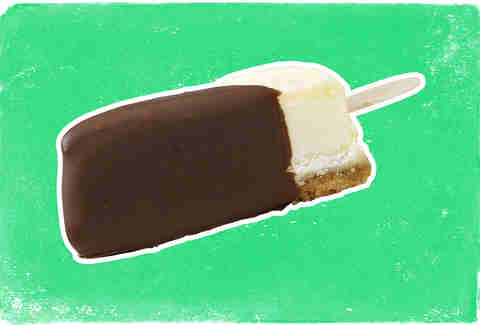 11. Cheesecake on a Stick
White Castle
White Castle is a food best enjoyed in the throes of a desperate drunchies craving. It's an "act now, think later" type of establishment. It's the fast-food equivalent of a one-night stand... that happens much more than once, of course.
The cheesecake on a stick might not be something you brag to your friends about. But at midnight on a Tuesday, fresh out of the bar, the perfectly competent, expertly snack-sized, slice of ultra-savory cheesecake (on a stick) is the after-dinner mint White Castle sliders deserve. They are one (or maybe three) bites of pure bliss.
10. Strawberry Funnel Cake
Dairy Queen
While DQ might be dairy royalty, one of their best dessert options is a fried State Fair staple: the funnel cake. To be fair to the Queen, it does come with a scoop of vanilla soft serve, but that's really just the cherry (or in this case, strawberry) on top.
The funnel cake itself is served warm, doused in strawberry sauce and powdered sugar. It tastes almost exactly as good as the "real thing," which is basically the greatest compliment any so-called "fast-food" outlet can muster. And the toasty warm funnel cake, combined with the cool soft serve, makes this one of the more distinct -- and memorable -- desserts you can snag via a drive-thru.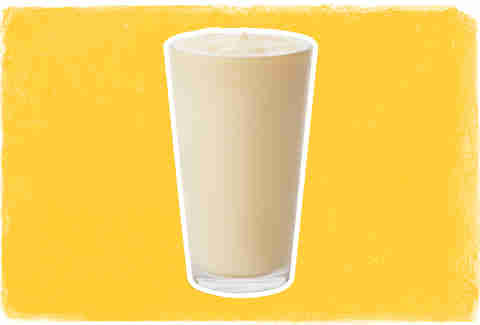 9. Frosted Sunrise
Chick-Fil-A
The Frosted Sunrise isn't Jimmy Buffet's latest chart-topping tropical-tinged hit; it's Chick-fil-A's decidedly awesome answer to the Orange Julius. Featuring the snacking power couple of soft serve ice cream and orange juice, the frozen beverage is a cool, creamsicle reminiscent dose of refreshment that might freeze your brain, but will certainly fill you with happiness.
Also, it gets extra points for being one of the only items on this list that is perfectly acceptable to chug down before noon. Pair with a chicken biscuit to achieve true snacking nirvana. At any time.
8. Purple Cow Float
Shake Shack
Shake Shack not only straddles the line between "fast-casual" and straight-up fast food, it also has the word "shake" in its name (and not as a reference to your knees as you wait in the occasionally joint-buckling lines). But, I simply had to include them on this list -- and eschew their shakes -- to properly call out the true dessert hero of Danny Meyer's beloved burger chain: the Purple Cow Float.
A good float is hard to find, and Shake's semi-familiar twist on the old-school classic might just be the most interesting thing on the entire menu. They drop their trademark vanilla custard into a cup of ice-cold Boylan's grape ice cream -- the results are spectacular, and best enjoyed after a solid five-minute wait when the custard semi-dissolves into soda, creating the type of creamy grape flavor that's incredibly difficult to replicate. If only "Purple Cow Float Shack" didn't sound so awkward...
7. Mocha Frappé
McDonald's
The lone coffee-centric dish on our list, the mocha Frappé has the caffeine kick and totally competent flavor of Micky D's java, while adding the crushed ice crunch and almost-too-much sweetness of their dessert fare.
Basically, it's a chocolate coffee smoothie. The McCafé has been slightly underrated for years. And this is its shining, whipped cream-topped, chocolate sauce-drizzled shining star. Buy it for your morning commute, or for a caffeine-enhanced after-work snack. Either way, you are getting your money's worth.
6. Twix Blizzard
Dairy Queen
Though it might seem silly now, as the Blizzard is basically the ubiquitous frozen fast-food dessert in America, it was something of a surprise hit back in the mid-'80s when it was released. It basically pioneered the idea of a mass-produced "everything in one cup" frozen snack, and some purists didn't know how to drink that hedonistic truth up.
The Blizzard certainly turned the fast food world upside down, and the so-thick-we'll-actually-turn-it-upside down product still holds up. With apologies to the generally beloved Oreo edition, the Twix Blizzard, specifically, has the caramel, chocolate, and crunch components to perfectly complement the swirly, delicious chaos of the Blizzard format. It's a mash-up made in ice cream snacking heaven.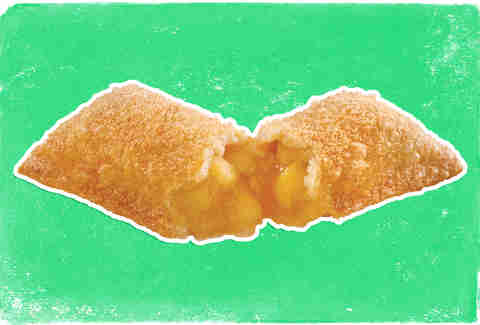 5. Cinnamon Apple Pie
Popeyes
On a quick scan of this list, the casual reader might think two things, immediately: "Wow! This guy must weigh 2,000 pounds!," and "Where the hell is McDonald's apple pie, goddammit?!"
First off, I take sensible bites. Secondly, it's at Popeyes... and it's better than ever. While the Golden Arches certainly have the more popular fast-food self-contained slice of Americana, Popeyes simply sticks the landing more proficiently. The crust has more crisp. The apples taste more... apple-y. The cinnamon dusting adds that just-right hit of flavor to make the whole ordeal a little more interesting. It just tastes more like an apple pie. I challenge any would-be fast-food dessert connoisseurs to throw nostalgia and tradition out the drive-thru window, and try this superior version of the standby classic.
4. Fresh Banana Classic Shake
Sonic
As the lone, true "shake" on this list, you have to expect Sonic to be packing a bona fide banger in their Styrofoam cups. Outside of Mr.'s Ben & Jerry, it does seem fairly difficult to get pleasant tasting banana ice cream. When it comes to banana snacks, so many purveyors go overboard on pumping as much banana-esque flavor into their fare that the end result tastes more like liquified Runts than actual bananas.
This shake, surprisingly, doesn't have a nip of that artificial, saccharine taste of pseudo-fruit. It actually tastes like Sonic took ice cream and Donkey Kong-esque pile of fresh bananas, and blended them. And that's because they actually did. Who knew the secret to a good fruit-based dessert was using actual fruit?
3. Vanilla Custard
Culver's
Custard occupies a special spot in the pantheon of American snacking. Sure, it's not as widely known or beloved as ice cream -- its attention-seeking older brother -- but for many people who are in on the secret, custard is the only frozen snack worth the caloric intake. It's a more savory, thicker, almost-buttery take your classic scoop.
And perhaps no one does mass-produced custard more masterfully than Culver's, a semi-regional burger chain with a rabid following and a consummate reputation for delivering quality in a fast-food setting. The vanilla custard here will make you swear you were sitting by a roadside stand on a Midwestern highway, with cows in the distance and paint chipping the corners of custard stand. And if you've ever experienced that (incredibly specific) slice of American heaven, you'll know this is a compliment of the highest order.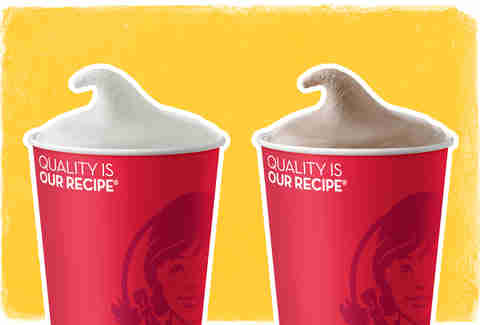 2. Black and White Frosty
Wendy's
The Frosty isn't really a milkshake. It isn't really ice cream. The Frosty is its own entity: a fast-food icon made for spooning, (eventually) sipping, and for some experienced users, sweet/savory fry dipping. It's as much part of Wendy's lore as Dave Thomas, baked potatoes, and square burgers.
Chocolate is, naturally, the Frosty flavor mainstay -- with the vanilla version slightly lacking in the full-bodied character of its counterpart (despite the fact that the chocolate still uses vanilla as its base). But, it is this reviewer's opinion that the choco Frosty can be even further improved with another concentrated blast of smooth vanilla. Neither flavor truly realizes its full potential, till they are combined in fast food unity. They're like the Lennon and McCartney of national burger chain frozen desserts. You'll have to specifically ask for this black and white variety -- a mixture of vanilla and chocolate, for the dense -- but it is the Platonic ideal of what a Frosty should be. Spoon it. Watch it melt. Drink it. Love it. It is the frozen fast-food dessert of our time.
1. Cinnamon Sticks
Taco Bell
When looking at what truly constitutes the "best" on a list of overall highly favorable items, one has to consider a few base factors. It has to be universally beloved, but intimately enjoyed. It has to stand the test of time, but be relevant enough to continue to top off drive-thru orders. It has to have character, without overwhelming the rest of the meal. It has to be a compliment, while also being a standout. But ultimately, in the end, one has to go with their (now considerable) gut, too.
Perhaps the most "basic" entry on this entire list, Taco Bell's iconic dessert does more with a few basic ingredients than most fast-food purveyors do with an entire fridge full of corn syrup, food coloring, and crossover gimmicks.
The simplistic twists have a light dusting of cinnamon, an instantly identifiable crunch, and a ping-pong ball-level lightness --  which makes consuming them alarmingly easy, and infinitely enjoyable. And most importantly, they give Taco Bell denizens a dessert experience consummate with the rest of the menu: it's simultaneously a friendly callback to something you could vaguely identify as "Mexican" food, while being something entirely distinct. I'd call that a nuanced Taco Bell-ian flourish (as a compliment). It's top-five material on their entire menu. And No. 1 material in the dense, confusing, and more-often-than-not delicious world of fast-food desserts.
Sign up here for our daily Thrillist email and subscribe here for our YouTube channel to get your fix of the best in food/drink/fun.