Image by Maitane Romagosa and Chineme Elobuike for Thrillist
Image by Maitane Romagosa and Chineme Elobuike for Thrillist
Welcome to The Fasties, Thrillist's third-annual fast food awards! The awards feature more than a dozen categories celebrating all the best foods that came out of drive-thru windows over the past year—from the Best Coffee Nuggets to the Best Spicy Chicken Sandwich, and many more. Check out the full list of categories and winners.
Few questions in American society are met with a resounding "yes" more often than "Would you like fries with that?" Partly because we have serious self-control issues, but also because fries—in all their shapes and sizes—are amazing. While they're perceived as the cheeseburger's sidekick, they're often the chief substance a lonely soul idling through a fast food drive-thru is craving.
At first, reviewing and ranking more than a dozen fast food chains' fries—from Arby's Curly Fries to Chick-fil-A's beloved Waffle Fries—seemed like a daunting, if not impossible, task. Then we remembered we'd get to eat said fries from more than a dozen fast food chains. This was the challenge we were born for, and thanks to more salt and oil than we're comfortably attempting to quantify, we did it.
But before we get into our scientific conclusions, a few ground rules. This is a discussion of potatoes, not condiments. A place might do some amazing chili-cheese fries but that's for another day that involves more Tums. Also, to be considered, a chain had to land within our definition of fast food (sorry, fast casual folks!) and have either a national reach or a cult-like regional following to make the list.
20. In-N-Out Burger: Fries
If you live anywhere outside of West Coast states, it'll take you a while to catch on to the travesty that is In-N-Out Burger's fries. If you're wondering what the gold standard for cardboard-like fries is, look no further.
Also, if you order the fries well-done or Animal Style, as newbies who've heard about this "secret menu" are wont to do, it can kind of mask their flaws. Which are many. We've written about them at length.
19. Dairy Queen Grill & Chill: Fries
When you're getting DQ's fries as part of its "2 for $5" deal, then you can't really complain much. You're trading any expectation for top-of-the-line French fries for a low price. On the bright side, these fries have a rich and buttery potato flavor. On the not-so-bright side, they lack any semblance of a consistent texture. Some are crispy, while others are hard enough to use as a spoon for your Blizzard. Speaking of Blizzards, order one of those instead of these fries.
18. Sonic Drive-In: Fries
If you spent 10 years watching Sonic commercials before they finally opened a location in your area, then you're probably familiar with the jacked up excitement of trying it for the first time. Turns out the food at Sonic is great, though not exceptional. The mix-and-match drinks menu is really where it shines. The fries are serviceable, but entirely unremarkable... gold-ish, salty-ish, good enough with some ketchup. But there's no reason anyone should know this, because it has tater tots, and its tots are some of its best work. But alas, a tater tot is no French fry, so for the purpose of this exercise, they're doing no good.
17. Hardee's & Carl's Jr.: Natural-Cut French Fries
These fries have the similar "I see some real potato skin but something doesn't seem quite right" quality that used to plague Wendy's before it recently upgraded its spuds. They're fine on their own, but better when they're merely one of many parts of your cheeseburger meal.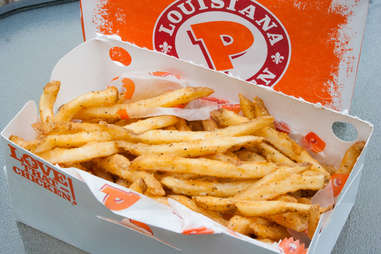 16. Popeyes: Cajun Fries
The only option at your new destination for chicken sandwiches is Cajun Fries, which come with a quasi-spicy, pepper-flecked orange sheen. They could be a tad spicier, with a stronger kick of flavor. You can dip them in your mashed potatoes to throw yourself off before you can think about it any further. Also, any extra carb-related eating at Popeyes should be reserved for more biscuits. Always biscuits.
15. Burger King: Classic Fries
You may recall a time in your younger days when Burger King made a big fuss about its fries beating those of a certain golden-arched rival in a nationwide taste test. If you're anything like us, you didn't agree then. Of course, we don't concur now. But you do you, BK French fry taste test aficionados. They're solid enough, but just not nearly as exciting as some onion rings.
14. KFC: Secret Recipe Fries
Gone are KFC's reliably good Potato Wedges. We're now living in the era of KFC's super-seasoned Secret Recipe Fries, which are sprinkled with the colonel's 11 herbs and spices to taste disturbingly similar to the chain's fried chicken. However, we found them lacking the crispiness that fries and fried chicken share and the addictive saltiness that all fries should include. They more than do the job when you pair 'em with a bucket of chicken, but they struggle to compete with many other fries on this list on their own.
13. White Castle: French Fries
When crinkle-cut fries are good, they can be transcendent. But it's also hard to shake the specter of frozen Ore-Ida mishaps when consuming them, and when crinkle-cut fries are bad (read: underdone), they're really bad—bland potato mush. Rarely do you encounter the latter at a fast food establishment with deep fryer access, and generally, White Castle's fries tend to be on the positive end of the crinkle spectrum more often than not. But there's been the occasional underdone misstep. Which leaves us here.
12. Culver's: Crinkle-Cut Fries
Is it possible to distinguish Culver's crinkle-cuts from White Castle's in a blind taste test? We're not so sure. But Culver's also serves cheese curds and frozen custard, so it gets the tiebreaker.
11. Raising Cane's: Crinkle-Cut Fries
Obviously, if you're going to have a restaurant chain dedicated to chicken fingers, you had better have some solid French fries in the mix as well. And that's precisely what we have here, a solid (again, crinkle-cut) French fry that isn't going to steal the show, but also does a fine job of dispatching any remaining Cane's Sauce your chicken fingers left behind.
10. Church's Chicken: Fries
These fries tend to skew just slightly more towards well-done than the two counterparts above, which may or may not say something about fry preference. They are worth your time, although if you decide to forego them in favor of more chicken, it's an understandable move.
9. A&W: Fries
A&W: first in root beer, ninth in fries. New marketing slogan, perhaps? The fries here are reliably good, skinny but not too skinny, always with good color and seasoning. We're not sure what exactly the secret is, but we swear there's almost a roasted flavor to them. Don't dunk them in a root beer float a la Wendy's. It really kills the vibe.
8. Whataburger: French Fries
When you go to Texas, your main objective is to test how much brisket the human body can feasibly consume. And to eat at Whataburger. You're going there for the big, beefy burgers, but the fries are deserve a sizable share of the heat lamp limelight. They're nothing too fancy; a textbook salty, golden fast food fry done right. And we fully acknowledge that we aren't addressing condiments here, but that Spicy Ketchup is the truth.
7. Taco Bell: Nacho Fries
Taco Bell's Nacho Fries almost didn't make the list because, like so many other menu items from the Crunchwrap purveyor, they come and go on the menu seemingly at the whims of the Doritos Locos overlords. But considering how frequently and consistently they return to the menu, we're confident about including them for evaluation, despite their temporary status. Oh, and they're delicious.
Nacho Fries are the best version of the spiced fast food fry out there, cheese sauce or no. We'll even give Taco Bell a pass for acting like "Nacho Fries" are some kind of innovation when Midwesterners have been plowing through cups of cheese with fries for generations.
6. Arby's: Crinkle Fries
Yes, Arby's serves crinkle-cut fries in addition to its iconic Curly Fries. Really. They hit the menu back in March of 2021. At the time, Arby's said that its research found that there's tons of demand for this type of fry, so it made sense to offer it, too. Interestingly, the chain claims that it made the ridges on its crinkle fries sharper and the valleys between them deeper to provide more crisp than traditional crinkle-cut fries. And, well, it looks like all of this research and development paid off. Arby's Crinkle Fries aren't nearly as tasty as its Curly Fries (they lack the same seasonings), but they may very well be the pinnacle of crinkle-cut fries. We recommend ordering both.
5. Wendy's: Hot & Crispy Fries
Wendy's made a bold move to "natural-cut" fries with "sea salt" many years back, possibly in an effort to convince patrons they were at a farmers market rather than a chain restaurant with thousands of locations. Our experience with those fries was the opposite—they weren't all that good; you were better off dipping them in your Frosty than anything else. Then—as if Wendy's read what we said in the previous version of this very ranking—the pigtailed chain changed its fries... again.
The company rolled out its new fries towards the end of 2021, marking the first time in 10 years (wow, we can't believe it had been that long) since it tweaked its signature spud recipe. Wendy's heralded the new fries as "a cut above the competition," saying they were completely reengineered to retain heat and crispiness, which made a lot of sense considering how people were increasingly turning to delivery options during the pandemic. Of course, we got our hands on them right away and found that they're indeed hotter and crispier than before, thanks to an exterior designed to both act as a heat shield for the tasty tater interior and provide lasting crunch.
4. Checkers/Rally's: Famous Seasoned Fries
Checkers and Rally's are the less-heralded version of the Carl's Jr./Hardee's two-names-in-one-chain phenomenon. There's a spice phenomenon going on here that's similar to that of Popeyes' fries, but the flavor has a bit more punch and the fries have just a touch more heft, which works well because you're left with fewer crispy, potato-less bits at the bottom and more actual fries. And you'll definitely reach the bottom of your order. They're sneaky addictive.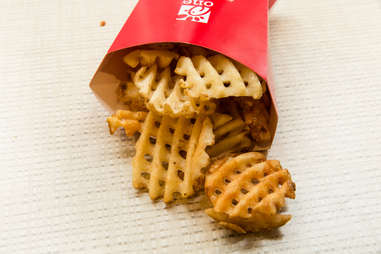 3. Chick-fil-A: Waffle Fries
We've seen a number of other sites name Chick-fil-A's Waffle Fries the best in fast food. And don't get us wrong, despite the company's less-than-appetizing track record on LGBTQ equality, Chick-fil-A's food is objectively delicious. The chain makes spectacular waffle fries that are orders of magnitude better than many other fries out there, but face it, it's not even the best thing on the southern chain's menu (the chicken sandwich). Yeah, giving Chick-fil-A's fries the bronze will come with some backlash, but it's undeserved. These fires were never meant to be anything other than tasty waffle fries that pair nicely with a good chicken sandwich.
2. McDonald's: World Famous Fries
It could just be years of conditioning telling us that this is what a French fry is supposed to taste like, but years later, after many cycles of the McRib appearing and vanishing and even recipe changes, when they're right, they're still righter than just about any fry out there. There's a reason these are the fries other places taste-test against when they want to say, "I'm telling you, our fries are really good!" And they probably are. But they aren't McDonald's. These fries are in a class of their own.
1. Arby's: Curly Fries
Maybe it's a matter of taste. Maybe it's a matter of defensiveness after so much character assassination at the hands of Jon Stewart years ago (no, we're not over it). At Thrillist, we've consumed many a Beef 'n Cheddar with not a single unfortunate digestive incident to speak of. But we're not talking about beef sandwiches, we're talking about fries. Specifically, Curly Fries. More specifically, gloriously coiled potato fragments bathed in some nuclear-orange spice concoction that boldly states "it's time for your taste buds to party." No other fries manage to so consistently steal the show from the rest of the menu. Top them with a combo of Arby's Sauce and Horsey Sauce and you may see the face of God. If you somehow instead see the face of Jon Stewart, offer him a curly fry and then demand an apology.
Fast Food Fries FAQ
Are Nacho Fries back at Taco Bell?
They sure are! Nacho Fries returned to menu in March 2022, but only for a little while. Not that it could possibly keep us from the chain's beloved starchy side.
What's in In-N-Out's Animal Fries?
The California-based fast food joint's Animal-Style Fries are a cult-fave secret menu item with layers of fries smothered in melted cheese, In-N-Out's secret spread, and grilled onions.
Did Wendy's change its fries?
Wendy's revamped its fry recipe and method for the first time in a decade last year, swapping out its Natural-Cut Fries for its new and improved Hot & Crispy Fries.
When is National French Fries Day in 2022?
National French Fries Day arrives on Wednesday, July 13, 2022.
Which fast casual chain has the best fries?
Almost every fast food chain offers fries, meaning you have a ton of great options to choose from. But when it comes to the higher-end, fast casual chains, the fries selection is a bit more limited and almost entirely exclusive to the fast casual restaurants that serve burgers. But we found—and ate—them all so that we could name the best ones in our ranking of the best fast casual fries.
Sign up here for our daily Thrillist email and subscribe here for our YouTube channel to get your fix of the best in food/drink/fun.