The Best Hack to Score Cheap Food at Chain Restaurants
The best and easiest way get cheap food at your favorite chain restaurant is to be a kid again -- or at least order like one. Kids meals, the best perk of childhood after nap times and adults paying your bills, are super-cheap (and they usually come with a toy!). While you have to give up most fun things when you grow up, ordering from the kids menu doesn't have to be one of them.
Kids meals tend to come with a main, a drink, and a side for way less than if you ordered all of the items separately from the regular menu. They also offer a ton of caloric bang for your buck. Most of the kids meals fall near the 600-calorie mark, which is plenty of food for any grown adult (and probably way too much food for a child) in one sitting. Considering that many chain meals easily sail past the 1,000-calorie mark, ordering from the kids menu is also a good way to exercise portion control, leaving you room to binge on the latest Girl Scout Cookie flavor later.
Sure, when you go to order, some restaurants might tell you that you have to be a child to order the meal, but there is a way around that: Get your meal to go. That way if they do question you, you can say it's for the (totally not real) kid you're "babysitting." So pick up one of these killer kids meals below, and put the money you save towards those bills you now have to pay yourself.
Chipotle
The move: The carnitas meal
Price: $4.75
Calories: 595
If you're the type of person who eats half a burrito at Chipotle before being so full your friends have to carry you out of the restaurant, opt for a kids meal instead. Clocking in at under $5, the carnitas meal includes two soft tacos made with standard filling burrito ingredients: carnitas (duh), rice, black beans, and salsa. You could get a chicken, steak, barbacoa, or chorizo meal too, but the carnitas is the best-tasting cheap meal, since most burritos are $7 and up. And that's not all: It comes with a bonus side of chips and a box of apple juice to wash it all down. Mmm, tastes like nostalgia!
Cheesecake Factory
The move: Bowtie pasta with marinara sauce
Price: $6.95
Calories: 510
While the food at Cheesecake Factory is undeniably tasty, it's also pretty pricey (hello, $17 Crusted Chicken Romano!). Ordering off the kids menu should save you enough money to offset that giant slice of cheesecake ($7.95) you know you are going to order for dessert. And while the menu, which also offers quesadillas and grilled chicken, says it's designed for people 10 or under, you don't have to be a youngin' to enjoy a plate of pasta with marinara sauce with a refreshing soda. After all, Cheesecake Factory's pastas are delicious, and this is no exception. It's also significantly less expensive than any of the other pasta dishes, which are typically $14 and up.
Applebee's
The move: Two mini-cheeseburgers meal
Price: $5.99
Calories: 1,150
While this is technically only served to people "12 and under," if you ask nicely enough your server might just hook you up. The menu is cleverly split up into two sections: "Really Hungry" or "Really Really Hungry." As you might expect, the "Really Really Hungry" menu has food options with bigger portions. Choices include mains like two mini-cheeseburgers along with sides you actually want like mozzarella sticks. Best of all, just like in middle school, each meal comes with chocolate milk. And you get it all for under $6, which is much less than the cost of a regular burger ($8.50).
Chick-fil-A
The move: Six-count original nugget meal
Price: $4.49
Calories: 390
With arguably the best damn nuggets in the fast-food game, it'd be a mistake to get anything other than the six-count original nugget kids meal. That's six opportunities to try the chain's notoriously delicious dipping sauces (we are partial to the honey mustard BBQ sauce). Chick-fil-A is also the only chain where you can get waffle fries and a sweet iced tea with your meal, so take advantage! The closest menu item to this is an eight-count nugget combo for $5.95, which is about the same price per nugget -- but if you're going to be filled up on six nuggets, fries, and a drink already, who needs it?
Chili's
The move: Pepperoni pie
Price: $5.99
Calories: 950
You definitely want to get the pepperoni pie when ordering from Chili's. Oh, you didn't know Chili's had pizza? That's because it doesn't, except for kids. The pie is about the same size as Pizza Hut's personal pan pizza and it comes with a side and a drink. Get the corn on the cob and a cup of cranberry juice so you can tell yourself that you're being sort of healthy. And seeing as how the cheapest meals on the menu start at around $8, you're saving a little bit of cash.
IHOP
The move: Funny Face Pancake
Price: $4.99
Calories: 500
Whoever said "you shouldn't play with your food" sucks and has clearly never played with their food. It's fun, and no chain embraces this idea more than IHOP. The kids menu is home to a Funny Face Pancake, which is a single chocolate chip pancake with a smiley face crafted from whipped cream and cherries. The only flaw? It doesn't come with hash brown hair. On the plus side, it's a buck cheaper than a stack of five pancakes, which doesn't come served with a smile. Literally.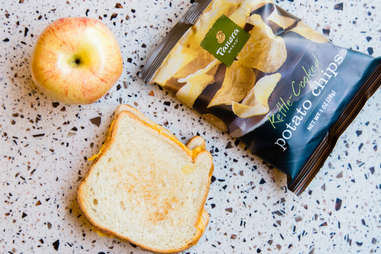 Panera
The move: Grilled cheese
Price: $5.73
Calories: 680
Panera has a slew of healthy kids meals options like salads, soups, organic yogurt, and sprouted grain rolls. And while those are good options when you are trying to get more vegetables into your meals, the real move is the kids grilled cheese, which features gooey American cheese on the chain's classic white bread. Besides, you're not completely unhealthy when you order an apple as a side. When you add in a drink (your choice of milk or juice), the combo gives you a full meal for about as much as a single serving of the chain's BBQ flatbread ($5.39).
Buffalo Wild Wings
The move: Four boneless wings meal
Price: $4.69
Calories: 850
Boneless wings are a perfect menu item. You get all the best parts of the chicken wing (the sauce and meat) and none of the annoying parts (the bones). The move here? Four boneless wings with whatever signature sauce your heart desires (but seriously, get the honey BBQ), a side of fries, and a kids-size drink. Because it's over three bucks less than the "snack-size" wings which have a little more chicken, but no fries or drink, this should leave you plenty of money leftover to buy a beer -- a definite plus side to being an adult.
McDonald's
The move: McNuggets Happy Meal
Price: $3.19
Calories: 350
Embrace your inner child and order the iconic McDonald's Happy Meal. Adulthood is a cruel slog, and you need to have a little fun. Sure, you could get a Big Mac for $4, but there's something about dipping four McNuggets into Sweet 'N Sour sauce that gives us the warm and fuzzies inside. In addition to a toy (!), the meal also comes with a drink and not one, but two sides: fries and a tube of strawberry Go-Gurt.
KFC
The move: Popcorn Nuggets meal
Price: $4.35
Calories: 550
If you've never gotten the kids meal at KFC, the time to start is now. Not only does it include your favorite lunchbox drink, a Capri Sun, it also features a healthy amount of KFC's Popcorn Nuggets, plus a serious portion of mac & cheese. You could choose a side like green beans instead, but let's face it, cheese is always better than beans. To round things out, the meal also comes with some confusingly capitalized GoGo squeeZ applesauce. No toy comes with this meal, but the Capri Sun alone should put a smile on your face. Best of all, it's a buck less than the nugget combo meal.
Burger King
The move: Hamburger kids meal
Price: $3.79
Calories: 600
While the McNuggets are the obvious choice at McDonald's, ordering nuggets at Burger King is clearly a mistake. It's not called Nugget King for a reason, people. So order up a hamburger meal with fries, a chocolate milk, and a toy. And because it's less than $4, if you really want nuggets, you can use your leftover change to get a four-piece order for another buck, because you deserve to have it all.
Sign up here for our daily Thrillist email, and get your fix of the best in food/drink/fun.
Lee Breslouer is a senior writer for Thrillist, and has been known to enjoy a Popcorn Nugget or two. Follow him to bite-sized food @LeeBreslouer.