Illustration by Maggie Rossetti for Thrillist
Illustration by Maggie Rossetti for Thrillist
Fast food chains are nothing without their accessible prices. They're what keep us coming back, what allow us to forgive small portion sizes and messed up orders. While everyday low rates are generally a given at quick-service restaurants, it's the value menus that often make our grease-induced fast food fever dreams come true.
On our journey to find fast food's most enticing value menu, we were forced to trudge through murky waters, clouded with misleading information, pricing inconsistencies, and ambiguous terms and conditions. It was difficult to find verified value menu details and even more difficult to compare them, but we persevered.
To form this ranking, we made some executive decisions. First, we excluded all combo meals and "pick two" deals. Next, we established some criteria for judgment, deciding that we'd compare each value menu's variety of options, consistency of prices, and overall bang for your buck. Some value menus are cheap but small, some are large yet lackluster, and some found a perfect balance. Here's what we discovered in the name of cheap eats.
Here's the thing about McDonald's $1 $2 $3 Dollar Menu: While it sounds wonderful, its validity is unclear. According to McDonald's website, it has a lot of variety, which is something we hold dear when looking for a rock-solid value menu. But while we see sandwiches, coffee drinks, smoothies, and sides on the roster, the website doesn't clarify which items go for which price.
Using the McDonald's app, we can see that soft drinks seem to be in the $1 range, McCafé drinks are generally in the $2 range, and sandwiches and sides fall in a variety of tiers. That said, because prices vary by location, several stores break from this mold and sell these "value menu" items at heavier costs. To make it more confusing, third-party ordering platforms don't distinguish which items are part of McDonald's value menu—and since the items don't tend to follow clear $1, $2, and $3 prices, there's no way of knowing what's supposed to be discounted.
The Golden Arches might have affordable prices, but that doesn't forgive its ill-conceived value menu.
Burger King's $1 Your Way Menu includes one of the best bargains in fast food, letting customers get a Bacon Cheeseburger—which comes with a beef patty, smoked bacon, American cheese, pickles, mustard, and ketchup—for a single buck. If you zoom out, though, you'll realize that the $1 Your Way Menu just might be the smallest value menu in history. For that, it loses points.
In addition to the Bacon Cheeseburger, the menu offers a Chicken Jr., Value fries, and a Value fountain drink for $1. For added context, Value-sized fries and fountain drinks are smaller than the chain's small fries and small fountain drinks.
Again, $1 items are a beautiful thing, but discounting only four items is not—especially when a couple of the items are only worth about $1. We appreciate you, Burger King, but if we really had it our way, your value menu would be much more extensive.
Sonic disguises its value menu by calling its especially cheap items "Everyday Deals." The list includes the Chicken Slinger, the Quarter Pound Double Cheeseburger, the Grilled Cheese Sandwich, the Vanilla Cone, the Jr. Bacon Egg & Cheese Breakfast Burrito, and the Jr. Sausage, Egg & Cheese Breakfast Burrito.
Because 95% of Sonic's drive-ins are owned and operated by local business people, the exact prices of each value menu item vary by location. That means you have to check with your nearest location to find out exactly what those everyday deals are.
We checked in with a few random Sonic locations to find out what each item goes for and learned that, while prices certainly fluctuate, the deals are consistently decent. Each item generally falls in the $1-3 range, and if you know Sonic, you know that their food is a bit more elevated and filling than some other chains, so that's not awful. Perhaps more than prices, Sonic's Everyday Deals menu shines for its variety—it has sandwiches, breakfast items, and dessert, and is friendly to both vegetarians and carnivores.
Wendy's is credited with creating the first fast food value menu back in 1989, and while the deals have evolved over time, we'd be rude not to acknowledge that this ranking only exists in the first place because of Wendy's bold move to make prices as cheap as possible for consumers.
Today, the Biggie Deals Menu at Wendy's is most comparable to Sonic's value menu, but a bit more extensive. It features a Jr. Cheeseburger, Jr. Cheeseburger Deluxe, Jr. Bacon Cheeseburger, Double Stack, Bacon Double Stack, Crispy Chicken Sandwich, Crispy Chicken BLT, and Jr. Hamburger.
Wendy's is wary of promising specific prices for its items because, as is the case with most chains, pricing may vary, but based on some sample addresses that we plugged in, the deals seem to be solid. They're not mindblowing, which makes it hard to get super hyped, but they're easy on your wallet nonetheless.
The chain has variety in the sense that it includes all sorts of burgers and sandwiches, but if we were to give Wendy some advice, it would be to add more sides to the list and include at least one vegetarian option.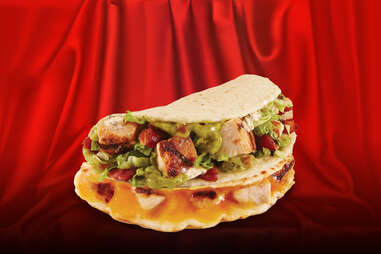 Wyoming-based Taco John's has what McDonald's wanted with a true $1 $2 $3 menu that the chain cutely titled The ValuEST Menu. The menu has six items in total, including a taco, a quesadilla, two burrito-like "grillers," loaded tater tots, and a dessert-y side. Each price tier features two items.
At the $1 mark, you can get a Chicken Snack Quesadilla and Cinnamon Sugar Tortilla Chips, which are two light but satisfying snacks. At the $2 level, you'll find the Spicy Chicken & Potato Griller and the Chicken Bacon Guac Street Taco. At the highest tier, $3, you can nab a Sirloin Steak & Potato Griller or Cheesy Bacon Ranch Loaded Potato Olés.
Taco John's value menu isn't the most shocking thing we've ever seen, but it's clearly defined and plenty easy to understand, and for that, it makes an impression.
One of the most famous value menus of all time is Taco Bell's Cravings Value Menu, not only because its name is catchy, but because it offers some of the chain's most crave-able items for close to $1 in most locations.
Currently on the dollar-ish menu are the Chicken Chicken Chipotle Melt, Beef Burrito, Cheesy Bean and Rice Burrito, Cheesy Roll Up, Chips and Nacho Cheese Sauce, Cinnamon Twists, and—thankfully—the newly recovered Spicy Potato Soft Taco. The seven distinct items are fairly small but impressively cheap and incredibly desirable. Best of all, they serve as the perfect canvas for playing around with the chain's many customization options. You can add additional meats, sauces, and other ingredients for a fee, but that ends up being less of a sting when you're starting at $1.
Based on memory alone, the Cravings Value Menu would take the crown for its variety, affordability, and friendliness to various diets, but when we compared each chain's offerings out side by side, we realized it has a fiercer competitor.
Del'$ Dollar Deal$ Menu takes Taco Bell's value menu and goes a step further. It advertises everything as "$1 each or less," which says a lot considering the menu includes 14 items, double the current total of Taco Bell's.
Anyone can find satisfaction through Del'$ Dollar Deal$ Menu, no matter what they're craving. If you want some chicken, you have plenty of taco, burrito, and roller options. If you prefer beef, might you consider a taco or mini taco salad? May you can't eat meat. Even so, half the menu fits your needs. If you have a sweet tooth, choose between a Mini Churro or Donut Bites, and for a thirst-quenching option, choose between iced coffee and a brewed iced tea.
The Dollar Deal$ Menu not only gives customers a great bang for their literal buck, it also ensures that everyone can participate in the experience. What good is a value menu that only suits certain palates? What good is a value menu that only contains a few items? What good is a value menu that still racks up a hefty total? Del'$ Dollar Deal$ Menu isn't just convincing, it's a model of how modern-day value menus should look, a gorgeous manifestation of the chain's mantra to "Go Bold or Go Home."