The Best Food Shows on Netflix Right Now
Satisfy your binge-watch appetite with these baking and cooking shows.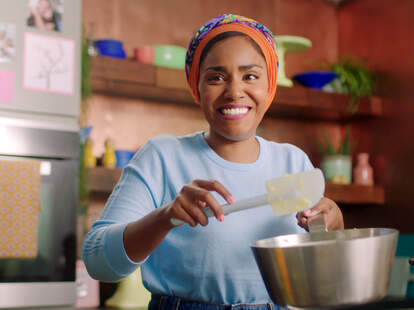 With all of Food Network's programming over on Discovery+ and Hulu, what food shows are left on Netflix? The answer to that question is a lengthy one if you were to name all of them, so we're just narrowing it down to the best of the streaming giant's originals and exclusive offerings. From the latest heady docuseries to competition shows, here's everything food-related you need to watch on Netflix right now. This curated list changes frequently as Netflix cycles through programming, so check back when you're hungry for something new.
Netflix
The Big Family Cooking Showdown (2017– )
If you're out of Great British Baking Show episodes to watch, this is the perfect show to fill the gentle British cooking competition show-sized hole in your life. You'll be especially pleased to know that eminently lovable sixth season winner of GBBS Nadiya Hussain is one in the pair of Mel and Sue-type hosts. She's there for encouragement, as sets of British families competing to show off their home cooking synergy to Michelin-rated Italian chef Giorgio Locatelli and famous British cooking instructor Rosemary Shrager.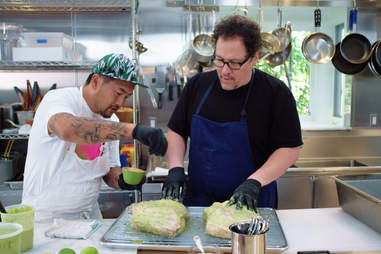 Netflix
The Chef Show (2019– )
To prepare for his 2014 film, Chef, director/actor Jon Favreau teamed up with real-life chef and and famed Kogi taco truck founder Roy Choi to learn the trade. For a Netflix docuseries, the two decided to reunite, this time with both of them in front of the camera, to document their shared travels and experiences cooking with a variety of specialty chefs in order to learn about their cuisines and culture. It's a charming travelogue, as many food series are, but with Hollywood hot shot Favreau at the forefront, the show is able to pull some exciting celebrity guests, from Marvel stars (including a truly wild appearance by Gwyneth Paltrow) to Seth Rogen, making it especially fun to watch the intimate experience of cooking with someone.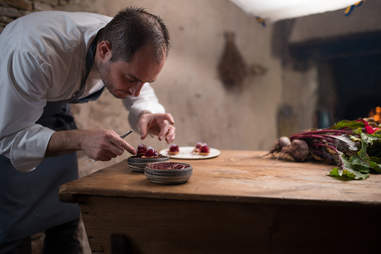 Netflix
Chef's Table (2015–2019) & Chef's Table: France (2016)
Over the years, the histrionic formula for the Chef's Table series has become such a caricature of itself that it earned its very own Documentary Now! parody. That's not to say the series isn't worth your time—it's the standard bearer for profiling fine-dining chefs and their often Michelin-starred restaurants on camera, treating the dishes that glide across the table (or sometimes that are the table) as if they were famous pieces of art. Chef's Table is the pinnacle of food porn pretension and snobbery, but who among us is above indulging in a little beautifully shot, vicarious snobbery now and then?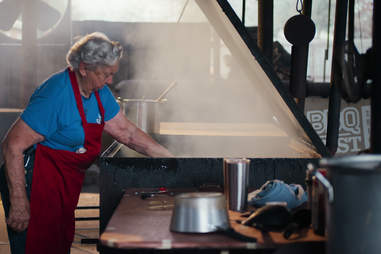 Netflix
Chef's Table: BBQ (2020– )
Like Chef's Table before it, Chef's Table: BBQ follows the same format of profiling chefs and their precious culinary creations, but this rendition focuses on—you guessed it—pitmasters and their barbecue. This one's a little less pretentious and a little more homespun than the original series, though. It, of course, gets your mouth watering by highlighting the tradition of preparing smoked and flame-grilled meats, but it also manages to get your tear ducts flowing too by telling heartfelt stories of pitmasters who put their all into their craft. The stories here aren't about the pitmasters who might first come to mind when you think about the trade, like the 85-year-old Texan chef named Tootsie, but it's all the better for it.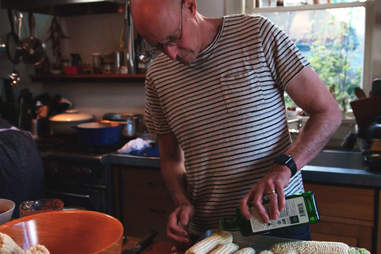 Netflix
Cooked (2016)
Michael Pollan is one the most famous food thinkers today. This four-part docuseries based on his book of the same name centers each episode around nature's elements and how they affect the way we cook around the world without ever diving so far down a science-y rabbit hole that it becomes inaccessible. Directed by famed Alex Gibney (Going Clear, Dirty Money), Cooked asks us to reexamine our connection to the things we put inside our body, like so much of Pollan's work does.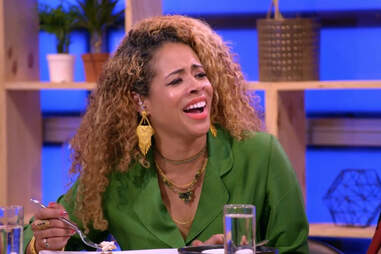 Netflix
Cooked With Cannabis (2020– )
People have been getting baked by consuming edibles for ages, but in recent years as cannabis continues to be decriminalized, chefs have gotten into the business of advanced stoner culinary creations. Inevitably, cooking shows have gotten hip to the trend too, like Netflix's Cooked With Cannabis, hosted by chef and recording artist Kelis. The show largely follows the typical competition series format—tasking professional chefs with making weed- and CBD-infused meals—but it's equal parts the hilarious high you'd expect and a legitimately impressive cooking series. You won't find your college roommate's basic weed brownies, here: These experienced professionals must make an elaborate three-course meal that actually tastes good and get deep into the science of finding the right balance between THC and CBD. It's the perfect, laid-back, hilarious reality show for when you're toking up and have the munchies.
Netflix
The Curious Creations of Christine McConnell (2018)
After a while, cooking shows can tend to feel a little too familiar—there are the food competitions, demonstrations, and travel journeys—and they're typically about the meals that make our mouths water the most. Fortunately, we live in the time of artist/actress/Instagram sensation/contemporary goth icon Christine McConnell who has a taste for the unusual. In this Netflix original, McConnell invites viewers into her house of horrors where she crafts spooky sweets and creations with the help of her otherworldly muppet-like friends. The show is very odd in the best ways possible, the delicacies will haunt you with their insanely intricate aesthetics, and McConnell is a spellbinding host.
Netflix
The Final Table (2018)
The Final Table was Netflix's first big swing at its own high-level culinary competition, and while it doesn't quite match the dramatic addictiveness of Top Chef, it's a success in its own right. Hosted by former Bon Appetit restaurant editor Andrew Knowlton, the series circles the globe in one kitchen through its localized themes, hitting major (mostly Eurocentric) food countries like Mexico, India, France, Italy, etc. (Where's China?? Thailand?? Anyway...). In teams of two, accomplished chefs work together to create gorgeous dishes, the creativity of which far surpasses any other mainstream cooking competition out there. It's worth a viewing just to watch the impressive technique and care the chefs devote to their food.
Netflix
The Great British Baking Show (2010– )
Of the culinary competition shows out there, GBBS (known as The Great British Bake Off across the pond) is the least cutthroat, most low-key one you will ever have the pleasure of watching. But for a title with such low drama, the real-world infatuation with GBBS spawned online vitriol when it was announced that hosts Mel and Sue and judge Mary Berry would be exiting the show when it moved to Channel 4. An early trailer for the new iteration—hosted by comedians Sandi Toksvig and Noel Fielding (The Mighty Boosh), with new judge Prue Leith—freaked out viewers with its anthropomorphic bakery, but the new iteration is just as delightful as you'll remember. The notoriously hard-to-impress Paul Hollywood is still around to put contestants through the ringer of three bakes that, aside from the secret technical challenge, they have plenty of time to prepare for. The bakers develop such camaraderie over the season that when one of their pals leaves, everyone else cries for that person. Imagine that!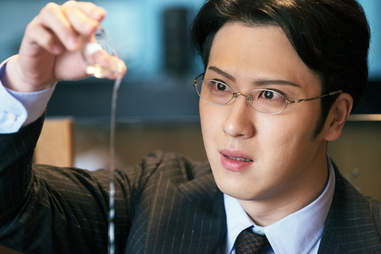 Netflix
Kantaro: The Sweet Tooth Salaryman (2017)
A computer programmer ditches his well-paying job to get into the publishing sales biz, specifically to buy himself more time during his work week so he can stop off at Toyko's best dessert shops in between meetings to fuel his true passion: food blogging. Anyone can relate to the show's celebration of life's small indulgences in the face of a shitty job. Based on the manga Saboriman Ametani Kantarou, the series brought to life is goofy as hell depicting Kantaro's over-the-top inner monologues and cut scenes where his brain on dessert is allowed to wander.
Netflix
Nadiya Bakes (2021– )
Fans of baking shows rooted for Nadiya Hussain when she was a contestant on The Great British Baking Show in 2015, and they've kept on cheering her on long after being crowned her season's victor. She's just so delightful! With Nadiya Bakes, a UK import exclusive to Netflix in the US, she gets her own baking show, which brings her vivacious personality and lovely bakes of various breads and cakes to the forefront. Like Nadiya's Time to Eat, her just-as-watchable cooking show, she makes recipes all about efficiency and very doable for even beginner bakers. But above all, you'll be soothed by the warm, joyful presence she brings to the series and kitchen; her giddy excitement about nailing a bake is yours to share in.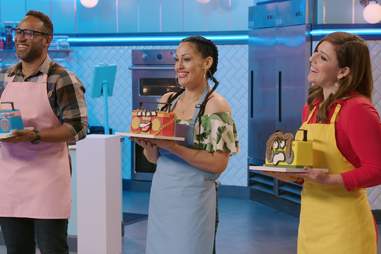 Netflix
Nailed It! (2018– )
Sure, culinary series that feature chef extraordinaires can be exciting to watch for those of us who aren't quite as talented in the kitchen, but throwing totally unqualified bakers into a dessert-decorating competition is extremely entertaining. That's what the comedic baking competition series Nailed It! does, taking individuals who are very mediocre cooks and asking them to recreate beautiful sweets to win prize money (or some kitchen equipment). Leave your cupcake molds at home because these aren't just any sweets—they're top-of-the-line novelties. Hosted by comedian Nicole Byer and pastry chef Jacques Torres, there's the right amount of hilarity and serious appreciation for the craft, so even as the helpless contestants struggle to bake gourmet creations, the saccharine attitude is infectious.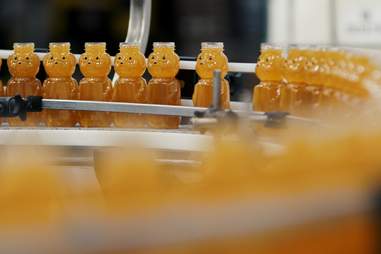 Netflix
Rotten (2018–2019)
Rotten is Netflix's alarmist series about the evils of food production, though it eschews the common pitfalls of this documentary genre by telling the stories of the people whose livelihoods are linked to Big Milk or Big Garlic (yes, it's a thing). Each hour-long episode faces its topic head-on, unafraid to show the nasty realities behind large-scale chicken or cod processing, sending a pressing reminder that there are usually larger forces at play than what we're led to believe.
Adam Rose/Netflix
Salt Fat Acid Heat (2018)
There are a few essential elements that make cooking both an incredible and universal experience, and according to author/chef Samin Nosrat, those four basics are salt, fat, acid, and heat. Nosrat built on those elements in her James Beard Award-winning cookbook, Salt, Fat, Acid, Heat, and now in the Netflix series, she travels the globe to explore how these principles fuel good food. The show comes from the creators of Cooked, and Nosrat is extremely charismatic, making her travels into the homes of families in Japan, Italy, Yucatán, and even Berkeley especially enlightening. While each episode focuses on one of the four keys to cooking, its simplicity allows it to alter the cooking show genre by breaking things down to the elementary level, infusing that with demonstrations, human conversation, and a whole lot of charm.
Netflix
Samurai Gourmet (2017)
Samurai Gourmet is a show about eating, but in no way that you might expect. Hazy around the edges, the fictional series follows the culinary adventures of the newly retired businessman Takashi Kasumi, who often falls into daydreams motivated by the premise: What Would A Great Samurai Do? Often, that boils down to drinking a beer in the middle of the day, trying the super-spicy ramen, or saying yes to another serving of rice. There's tranquil food porn aplenty in this mostly solitary journey inside the head of our guy Takashi.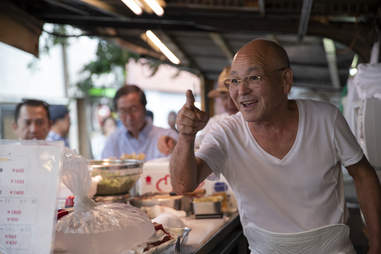 Kosuke Arakawa/Netflix
Street Food (2019– )
While learning from esteemed celebrity chefs can give a behind-the-scenes look into the rarefied levels of the food and restaurant industry, some of the most talented, interesting cooks live and work on the streets serving food for everyone. Street Food offers a glimpse into the lives and craft of street food chefs and vendors, examining their inspired dishes and the even more compelling stories behind them. The first season of the series focuses on stories around different parts of Asia, from sweets sellers in Yogyakarta, Indonesia to seafood purveyors in Cebu, Philippines, while the most recent heads to Latin America to look at everything from food markets in Bogota, Colombia to raved about tortillas in Buenos Aires, Argentina. With Street Food, you get all of that plus so much more for a joyful, genuine adventure that most people with a Netflix account could actually afford (should they ever be lucky enough to travel to these places).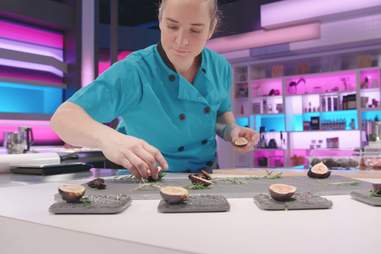 Netflix
Sugar Rush (2018– )
Fans of beautiful sweet eats and competition cooking shows get their fix in this Netflix original. In Sugar Rush, pastry chefs are ruled by the pressures of time as teams compete in constructing a series of confections in just a matter of hours; finish in less than the allotted time, and you'll have rollover minutes for other rounds. The teams are judged by professional bakers Adriano Zumbo and Candace Nelson of Sprinkles fame, so if you have a taste for insane cupcakes and beautifully fondant-ified cakes that appear as if they couldn't possibly be cakes, this is the reality show for you.
Netflix
Taco Chronicles (2019– )
There are few foods more perfect, versatile, and delicious than tacos. This series gives the global food the platform it deserves in the form of an arty culinary doc with spectacular cinematography to highlight all that tacos have to offer. Each episode focuses on a different kind, from barbacoa to pescado, in turn highlighting the local chefs or taco trunk owners across the world who make them. Just make sure to watch with a snack in hand, or you'll find your cravings sending you to the nearest taqueria after watching.
Need help finding something to watch? Sign up here for our weekly Streamail newsletter to get streaming recommendations delivered straight to your inbox.
Follow the Thrillist Entertainment editors on Twitter @ThrillistEnt.