The Best P.F. Chang's Orders, According to Employees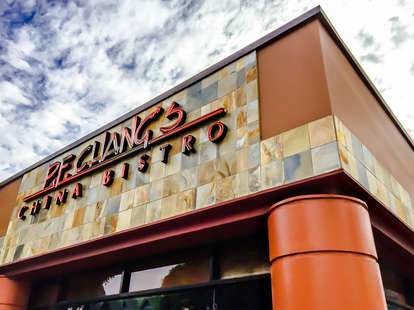 Bob Berg/Moment Mobile/Getty Images
It's 2pm on a Thursday at P.F. Chang's in the Denver suburbs, and this restaurant is bumping. Not much in the suburbs could ever be described as "bumping," but this is an exception. It's likely packed because of the restaurant's tasty pan-Asian food, featuring a wide range of noodle, seafood, and beef dishes.
If you've been to P.F. Chang's, you know that while the menu isn't Cheesecake Factory-sized, it certainly has a number of options -- 67 to be exact. Most know the Mongolian beef, honey shrimp, Chang's lettuce wraps, and sesame chicken are winners, but there are many overlooked dishes that are equally as delicious. We surveyed everyone from managers to servers to bartenders to help shine a powerful friggin' light on all the dishes you need to order right this second.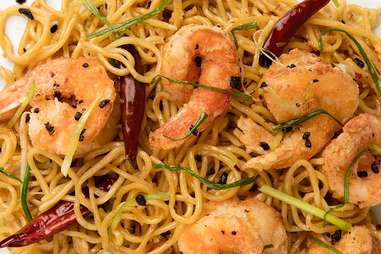 This dish is typically served during Chinese New Year or on birthdays -- long noodles equal a long life! But if you order it on neither Chinese New Year nor your birthday, we promise you won't get in trouble. David, an employee, says that the dish has a "unique flavor compared to anything else on the menu," the result of a combination of crispy prawns, roasted chili peppers, chopped black beans, and plenty of egg noodles.
That classic canned stuff Warhol loved is nowhere to be found here. Instead, enjoy an Asian-inspired version with thick rice noodles and a broth with a kick. "It's the perfect soup for a cold day," says John, a server trainer. "The spicy, tangy broth goes perfectly with the cilantro on top, and the tomatoes add a pop of color." Not as many pops of color as that OK Go video, but still cool.
Any distinguished gentleman's beard is likely to also be described as salt & pepper, but we guarantee this seafood appetizer is 99% more delicious than an old dude's facial hair. "It's light, crisp, and just a bit spicy," says Michelle, a team member. "I love the sweet chili dipping sauce." And some good news for those who enjoy heat: It comes topped with Fresno peppers.
This is more than just the couple pieces of shrimp, lobster sauce, and rice that you might get from your local Chinese takeout joint. "I love the tangy flavor of the black fermented beans and the extra protein from the egg," says Barbie, a host trainer for the chain. "I like ordering it with steamed brown rice. And even though I don't eat veggies that much, the peas and green onions give the dish a nice added crunch!" Fun fact about this dish: Lobster sauce doesn't have any lobster in it.
This dish was formerly known as Singapore Street Noodles, and even Jill, a manager for the restaurant, still calls it that. So you can too, as far as we're concerned. But no matter what you call the dish, it's still a plate of thin rice noodles mixed with chicken, shrimp, and julienned veggies. But wait, there's more! Jill says that "the spice of the dish's light curry sauce and the lime's tartness" mesh well with the chicken and veggies.
A new menu item that debuted in July 2016, the wings appetizer gains points from Savannah, a server. She says that "the sauce is zesty" and there's no need for a huge cup of ranch with 'em. In fact, P.F. Chang's offers even more heat for the spice enthusiasts out there, in the form of a side of chili jam. If your mouth needs a break, she says the "cucumber slaw on the side will cool your palate."
Despite its name, you won't find any bulgogi in this dish, as pieces of cubed sesame chicken covered in a kung pao sauce (a dark soy-based dressing with garlic, ginger, and sambal) take center stage here. "It's tangy and spicy," says John, an employee. One connection this does have to KBBQ is that it's topped with a kimchee slaw. While it's not exactly a traditional kimchee, it'll cut through the sweet chili sauce with a mix of red peppers, onions, and green beans.
Let's not beef around the bush here (that's the saying, right?) -- this is a huge plate of flank steak. And there are veggies too, sure. But it's a lot of beef, along with a mix of celery, carrots, and green onions. And this is yet another dish for those who want to spice up their life, like that group of British women who briefly entranced America in the early '90s. "I'm a big fan of the mix of savory and heat in this dish," says Marc, a server trainer.
The fact that there are five sushi rolls on the menu is often lost amidst the slew of noodle and beef dishes. Don't let this one escape your attention, as there's no imitation seafood in this sucker and it's served with a curry aioli. "The roll has amazing wild-caught lobster," says bartender Trinity. "The even better news is that P.F. Chang's doesn't skimp on the avocado here. Look at all that 'do! That's our new nickname for avocado. No, we don't think it'll catch on, either.
Here's one for all the vegetarians out there. "Countless guests have ordered this because of me," says Andres, an employee. He might be onto something, because this mix of five-spice tofu, asparagus, shiitake mushrooms, broccoli, and carrots with a savory sauce on top (mostly a mix of mushroom soy sauce and rice wine) is dang tasty. It can be tough to find really excellent vegetarian options at chain restaurants, so if you refuse to eat food that used to have a face, this is one dish to keep in mind.
Sign up here for our daily Thrillist email, and get your fix of the best in food/drink/fun.