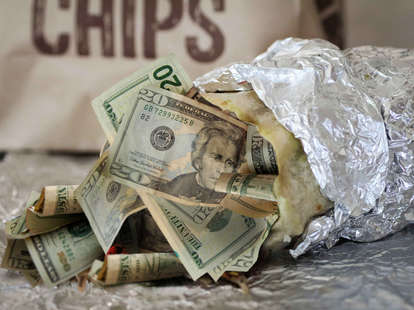 Reading through stock charts and earning reports can be intimidating enough to make the average person just want to give up and eat a burrito. Which will further line the pockets of those early Chipotle investors, who are now driving speedboats and adding guacamole to everything.
As an exercise in regret and jealousy, we've dug through thousands of feet of stock ticker tape (i.e. Yahoo and Google Finance) and picked out six food-based stocks that would've been very wise investments. Then we charted their growth over the past 10 years (Aug 26th, 2004-2014), or however long they've been publicly traded. Lastly, we used a fancy stock calculator to account for pesky variables like dividends and splits in a chart that shows just how much a $1,000 investment would've paid off. Read on to learn how rich you'd be had you bet on carnitas, caffeine, and Buffalo wings.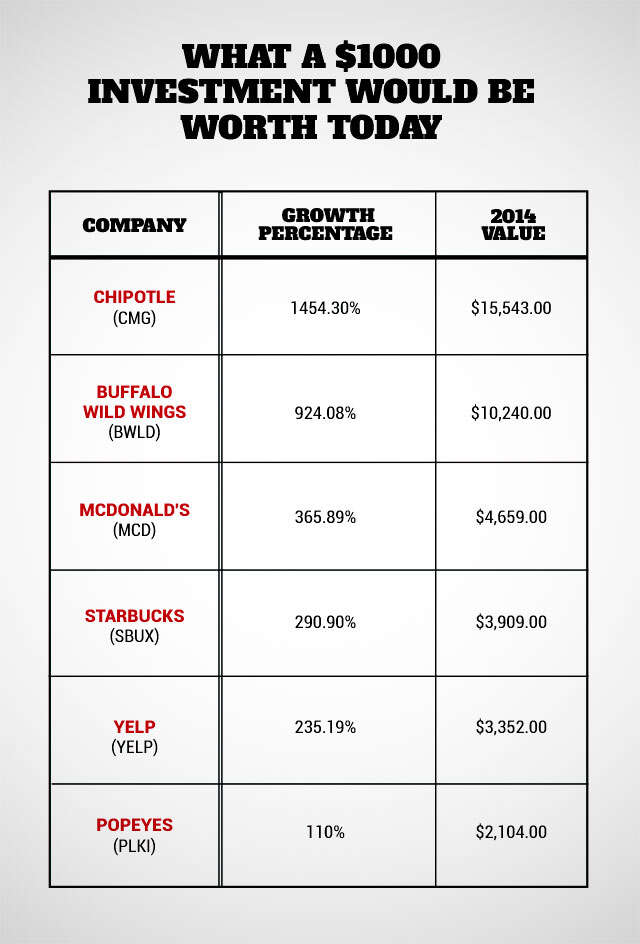 The above chart was derived by using a fancy stock calculator that accounts for dividends and splits and other floating variables that made these lucky shareholders even richer, so if the numbers don't quite add up, blame it on Nasdaq.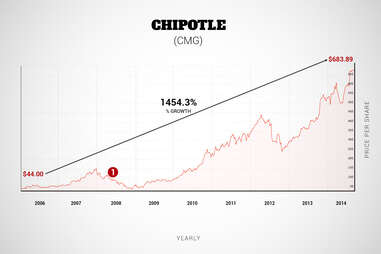 Chipotle
There are a lot of things you didn't know about Chipotle, like that you should've traded one of your kidneys for their stock back in 2006. When they went public, the company only had about 500 locations -- now they've more than tripled that. And that kidney of yours would be worth about 15 kidneys, as the stock has inflated from a measly $44 to an extremely non-measly $683.
Buffalo Wild Wings
BW3 is the sleeper hit of the group. When the two Buffalo dudes behind the concept decided to open a wing shop in the early '80s, nobody would've guessed that 30 years later Gordon Gecko would've wished he was their buddy. From 2008-2011, Forbes named B-Dubs to their fastest-growing companies list, and, although it no longer has that distinction, it's still a stock that's earning its investors plenty of (blue) cheese.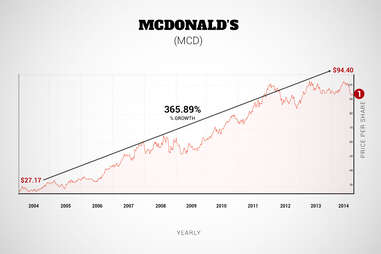 McDonald's
Ronald McD might be kicking himself over selling their stake in Chipotle before their massive growth, but, regardless, investing in the golden arches still made for many a happy meal. Even though the above graph doesn't account for dividends (the chart at the top does), it's still clear to the eye that a 2004 Quarter Pounder with Cheese now weighs over a pound.
Starbucks
When Starbucks went public in '92, they operated only 140 stores. You could get one share for the cost of four venti lattes ($17). Their IPO marked the beginning of a ubiquitous expansion to over 24,000 stores. If you were in on the ground floor, with dividends and splits, those four lattes would now be worth $400. But even if you jumped on the bandwagon around when your parents started going there (2004, obviously), you'd still have made a killing.
Yelp
The newest public company on our list, Yelp would've been quite the elite investment back in 2012 at $24. Hell, even Google wanted a piece in 2011, when their offer to buy the company for half a billion dollars was rejected. Flash forward to the present day: Yelp clocked in 61 million reviews in the last quarter, a number that investors can't argue with, even though most of the reviews are really annoying.
Popeyes
The champion of our fast-food fried chicken taste-test has had a tumultuous few years financially. They went public in 2003 at $21 a share, a number that early investors rued once the stock bottomed out at $3.50 in the winter of their discontent (2008). This was shortly after the death of the company's founder, whose lavish lifestyle reportedly included decking the walls of his house in half a million Christmas lights (while leaving coal in the stockings of his shareholders). Thankfully for those investors, a new CEO came on board and turned things around. 110% is nothing to sneeze at.

Conclusions
Despite the stock market being a whirlpool of variables that can often send your life savings to a watery grave, each of these food stocks would've been a sturdy life raft to cling to through the recession. In hindsight, it's easy to kick yourself for not predicting Chipotle would become a world-dominating burrito force, but, hey, there's always the next Chipotle.
Dan Gentile is a staff writer on Thrillist's national food and drink team. He's pretty new to this whole stock market thing but has a Google Alert set up for Huy Fong IPO, so his future is in good hands. Follow him to unbalanced checkbooks at @Dannosphere.