The 13 Best Restaurants in the Country (That Were Once Food Trucks)
Jody Horton
Jody Horton
The 13 Best Restaurants in the Country (That Were Once Food Trucks) By Lee Breslouer @LeeBreslouer Food trucks are a convenient and delicious place to get a meal from, unless it's raining or snowing or the truck gets a flat or they can't find a parking space. So it's no surprise that many food trucks leverage their popularity in order to open up brick-and-mortar locations, often to even greater acclaim. These are the 13 best restaurants in the country that started as food trucks -- or carts, we're not picky -- lost their wheels, and now let us eat their food without the necessity of tracking them down in a hot parking lot on a Thursday afternoon. By Lee Breslouer @LeeBreslouer
The 13 Best Restaurants in the Country (That Were Once Food Trucks) Food trucks are a convenient and delicious place to get a meal from, unless it's raining or snowing or the truck gets a flat or they can't find a parking space. So it's no surprise that many food trucks leverage their popularity in order to open up brick-and-mortar locations, often to even greater acclaim. These are the 13 best restaurants in the country that started as food trucks -- or carts, we're not picky -- lost their wheels, and now let us eat their food without the necessity of tracking them down in a hot parking lot on a Thursday afternoon. More Stuff You Will Like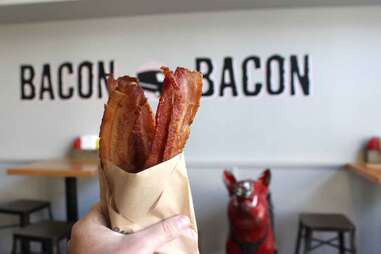 San Francisco, CA What you're getting: The Bouquet If you complain about the smell of bacon, you're not only crazy, but you also would've fit in in the Haight in 2013. That's when Bacon Bacon's brick and mortar temporarily shut down because too many neighbors complained about the delicious smells emanating from there. It's since reopened, and continues to make one of the finest bacon dishes in SF, the bacon Bouquet. It's really just a fistful of bacon, but we think it's also a great anniversary gift for your girlfriend. The truck continues to roam around the Bay Area, and the physical location kicks out goodies like a bacon fried chicken sammie with bacon, panko-crusted chicken, slaw, and bacon mayo. Continue Reading
Boston, MA What you're getting: Chickpea Fritters Clover was one of the godfathers of the food truck scene, starting from a lunch truck on the MIT campus in 2008, even before Roy Choi opened Kogi in LA, which helped launch the food truck craze. Clover's popularity was undeniable, and even though it was only meant to be open for eight weeks as a test run for a restaurant in a physical location, it ran for two years before they found a brick-and-mortar spot. Now, as Clover's owner told us, it's the "fastest-growing and highest-performing restaurant group in New England." We believe him, as there are currently six restaurants and seven trucks serving up a constantly changing vegetarian menu that -- considering its success -- seems to have plenty of carnivores on board.
San Francisco, CA What you're getting: Chicken Tikka Masala Burrito With a fourth non-movable location opening soon, Curry Up Now serves a "unique take on Indian street favorites." The best way to define that uniqueness? Its burrito is one of our favorites in the Mission, a place which, umm, is pretty good at burritos. And with deconstructed samosas (basically, a samosa served inside out) sharing space on the menu with the Aloo Parantha Quesadillix, which sounds like a regular quesadilla that is going to dominate you, it's absolutely like no other Indian restaurant you've been to before.
Los Angeles, CA What you're getting: Slut (a coddled egg on top of a smooth potato purée, poached in a glass jar and served with a demi baguette) Before two LA guys opened up Ramen Champ, one of the best noodle joints in the country, and before they opened their brick-&-mortar Eggslut location inside the food utopia known as Grand Central Market, they parked a truck with a slightly salacious name Downtown. Their permanent location allows them to serve their inventive egg dishes seven days a week until 4pm -- enabling Angelenos to enjoy the Gaucho late into the afternoon, a seared Wagyu tri-tip steak with chimichurri and red onions topped with an over-medium egg.
New York, NY
What you're getting: Any meat with white sauce on it

Granted it's a street cart -- not technically a food truck -- but The Halal Guys managed to garner a cult following in a niche category that's primarily controlled by America's hot dog purveyors (seriously, a niche category). And when Midtown office drones line up with tourists for a taste of chicken and lamb drenched in famed white sauce, it's a clear indicator that this cart was worthy of a brick and mortar. That location at 14th and 2nd opened in 2014 and looks to be the beginning of a nationwide franchising push by the guys who backed Five Guys. Our fingers are crossed for a Five Halal Guys that'll let us smear the white sauce on a Little Bacon Cheeseburger.
Los Angeles, CA
What you're getting: MP3 burrito (sirloin steak, sunny-side-up eggs, tater tots)

With two restaurants on this list and serving as home to Kogi's fleet, it's obvious that LA has fierce food truck competition, resulting in standout trucks. Komodo's a case in point, slinging burritos and tacos beginning in 2010, before settling down with brick and mortars in Venice (where they have an excellent outdoor happy hour) and Pico. Sure, Kogi's fusion-y influence here is palpable, but Komodo separates itself with a sirloin, egg, and tater tot burrito (the MP3), kimchi nachos, and truffle fries.
Portland, OR What you're getting: Porchetta and Dirty Fries When Rick Gencarelli started his Lardo cart, he didn't realize he was about to start one of the best sandwich shops in the country. He was just slinging house-made porchetta and other Italian-inspired sandwiches from a cart. Three years and just as many locations later, Lardo's already a legend as much for the porchetta as it is for innovations like a pork belly gyro, a hoisin-tinged Pho'Rench Dip, and a kimchi-kissed Korean pork shoulder. The shops also team up with Portland's most-lauded culinary names for a monthly Chef'wich series, which spawns the best damned limited-edition bites in town. But, even better, is the fact that everything is cured or roasted in-house. Hell, there are even pig scraps in the fries. Lardo indeed.
Miami, FL What you're getting: Short Rib Melt (short rib, Jack cheese, pickled onions) Proving that a trip to Vegas can potentially make you money, Ms. Cheezious began on a trip to Sin City, when the husband and wife team (and a business partner) behind the concept admit they were "under the fog of the reflecting sun and poolside 'persuasion,'" and decided to start a grilled cheese-centered food truck together. They've since opened up another food truck and a brick-&-mortar location, and impressed us with their grown-up grilled cheeses enough that we named their spot one of Miami's 16 best sandwich shops.
Portland, OR What you're getting: Khao man gai (duh!) with chopped livers and fried skin (if you're lucky) Poached chicken with rice and a little cup of broth, all wrapped up in deli paper with sauce. It sounds crazy simple. It looks crazy simple. Yet Chef Nong's take on straightforward Thai street food will invariably rank among the best things you've ever put in your mouth. It's all about balance, and Nong -- whose story of coming to the US with zero cash and a dream, opening a cart, and becoming a darling of the Portland food scene is about as Horatio Alger as you can get -- has spent years perfecting it. She can still be found in her two food carts, which shill nothing but khao man gai. But the glorious thing about her new brick and mortar -- which expanded to a whopping three items -- is that, somehow, Nong's food tastes even better with beer.
Austin, TX What you're getting: Twice-baked potato with braised goat, cheddar fondue, and green tomato As Odd Duck was one of our best new restaurants in the country in 2014, its presence as one of the best food trucks-turned-restaurants was a gimme. As in, gimme some of its Mexican street fish with red chile mayo, chiles, and pickled corn relish. Its hyper-modern building is a far cry from its "repurposed-truck-in-a-rocky-lot beginnings," and its seasonal menu ensures a continually evolving dining experience in the same place where that repurposed Fleetwood Mallard once stood.
Seattle, WA What you're getting: Ultimate Grilled Cheese Starting out of an Airstream trailer in 2007, the Skillet name is known for a few things nowadays: two diners (one of which just recently opened), a slimmed-down offshoot (in the Armory at the Seattle Center), and its bacon jam, described as a "bacon, balsamic, brown sugar mouth-watering concoction." You can even buy it online for $15, and make a burger at home taste 1000x better. If you're in Seattle, a Skillet truck is still making the rounds, but we recommend stepping out of the rain and into one of the physical locations for the Ultimate Grilled Cheese, a Brie, cheddar, and American sammie on brioche with the aforementioned bacon jam. And like a similarly named Jam (starring Bugs Bunny), it will not disappoint.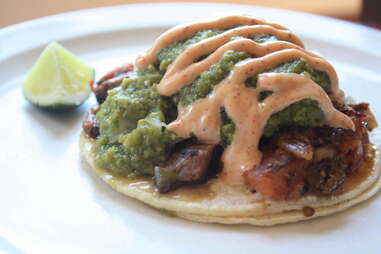 Denver, CO
What you're getting: Pork Belly "Agridulce" tacos

Back when my job was to cover the Denver food and drink scene, I went to a huge food truck rally one night in the parking lot of some construction site. These were the days when a million food trucks would set up in the same dusty parking lot and you'd get dust in your eyes and your food, and you'd still go home happy (and dusty). You were 95% dust at that point. Anyway, on one of those nights, Tacos, Tequila, Whiskey's food truck (then called Pinche Tacos) would always have one of the longest lines. I have waited in one of those lines to eat its tacos and do not regret it.

It's since traded the truck for two popular brick-&-mortar locations in Mile High. You can't go wrong with its dust-free sweet and sour braised pork belly tacos.
Minneapolis, MN What you're getting: OG Grilled Chicken Yum Yum Rice Bowl As the food truck trend kicked off, Americanized versions of international street food, like tacos or dumplings, were an obvious partner. And while the concept isn't as ubiquitous as it once was, WSK quite successfully transitioned the concept into a brick and mortar and didn't stray from what made it popular. We named its brunch one of the best in the Twin Cities, and it's still serving everything from caramelized lamb belly tacos to Korean BBQ Yum Yum Rice Bowls. Yum Yum, indeed. Sign up here for our daily Thrillist email, and get your fix of the best in food/drink/fun.Lee Bresloueris a senior writer for Thrillist and likes sitting inside brick-&-mortar locations. Follow him to sandwiches at: @LeeBreslouer.