Everything You Need to Know for National Fried Chicken Day
Chicken's the most versatile meat around (there's a reason everything tastes like it), but few poultry dishes can reach the heights of culinary perfection gained when that bird-of-all-trades is deep fried. Chicken a la King? Surely you jest.
In honor of National Fried Chicken Day -- totally a legitimate holiday -- we put together a primer of essential information regarding this crispiest of farm animals, from the best fast food fried chicken to the 11 greatest fried chicken styles.
Chona Kasinger
If you thought fried chicken was all the same, you've got another thing coming -- namely the boot of an enraged fried chicken aficionado. There are, in fact, no fewer than 11 distinct varieties of fried chicken, from buttermilk-fried chicken to Korean fried chicken. Study up, because there
will
be a quiz on this after class. Or there would be, if we were in school.
Courtesy of Michael Persico
We Americans have a long-running love affair with fried chicken, and everyone's got their own preferred place to obtain said greasy goodness. Objectively, though, there are some chicken joints serving fried bird of such undeniable quality that they must be nationally recognized. If only a national publication would come up with a list of the top 21 in the country... oh, right.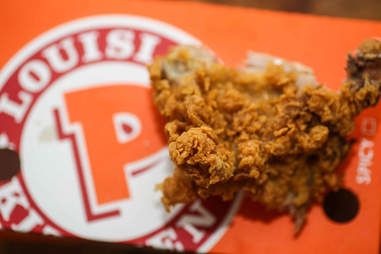 Dan Gentile
After exposing the three biggest fried chicken brands to rigorous, scientific testing (read: we ate a bunch of fried chicken from each place), we conclusively deduced that the Popeyes makes the finest fried fast food bird in the nifty fifty. Feel free to disagree with us here, this
is
America after all -- just know that you're wrong.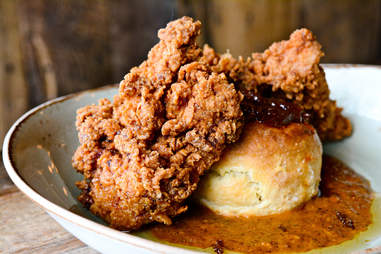 Laura Hayes
While yes, the obvious answer might be "anything and everything," we took it a step further and asked some sommeliers for their picks on the perfect pairing. Champagne was a popular favorite, but there were enough varied viticultural suggestions to please even the pickiest of palates. Which, if you're eating fried chicken, is probably not a problem.
They might sling the strongest fried bird around, but did you know that Popeyes had to buy back the recipes to their own core menu items, to the tune of $43 million? Or that the founder, Al Copeland, first wet his feet in the food business by opening a donut shop? Don't lie, you totally didn't know those things, or any of the other obscure trivia we collected on this crispy chicken brand.
Chicken and waffles, like chocolate and peanut butter, is one of those pairings whose flavors transcend time and space -- even Julius Caesar would've appreciated their majesty. Unfortunately for Caesar, though, the greatest chicken and waffle dishes known to man are only available now, at restaurants like Chicago's
Longman & Eagle
, and Miami's
Yardbird
.
Kevin Alexander
Yes, Popeyes took the fast food crown from the Colonel on straight-up, bucketfuls of fried chicken. But there's more than one way to skin a cat (or serve a piece of fried chicken), and after more scientific testing/digesting, Thrillist's own
Kevin Alexander
determined that KFC produces the greatest fast food chicken sandwich available: the Doublicious.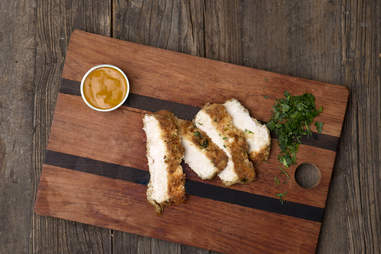 Oreo
Oreos are, objectively speaking, the perfect cookie, so it's only natural to use them as breading for your fried chicken. What's that? You're a poultry purist who thinks cookies don't belong on the same plate as chicken? Well, that's just, like, your opinion, man.
Kevin Alexander
Where would we be without the humble chicken nugget? Communist Russia, probably. Musings on the geopolitical ramifications of a nugget-less America aside, though, a balanced chicken nugget is the sign of a place that truly understands what makes this country great: boneless pieces of white meat chicken, fried and presented in a paper tub of some kind. Chick Fil A gets it.

Gianni Jaccoma is a staff writer for Thrillist, and if chicken were running for president, it'd get his vote. Follow him to the ballot box on Twitter @gjaccoma, and send your news tips to news@thrillist.com