Ever since the Colonel started fiddling around with pressure cookers, the fast-food industry has embraced the humble chicken. Mega-chains like KFC, Popeye's and Chick-fil-A have the country covered, of course, but the boundless American appetite for chicken has given rise to many quality regional outfits. If we had our way, the chains below would be represented in every state* in the union.
*One selection note: we left off a few Southern favorites, like Raising Cane's, Bojangles', and Zaxby's, because they're already quite massive. But rest assured we are thoroughly in favor of them being everywhere.
Recommended Video
Buffalo Chicken Beer Cheese Fondue Fries Are Like an Edible Sports Bar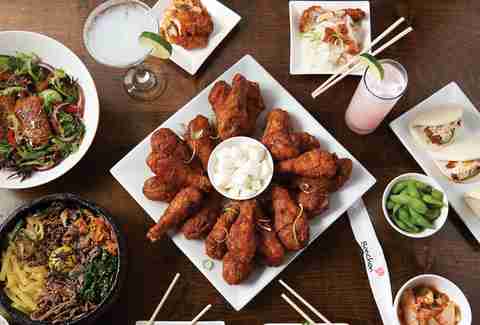 Bonchon
Where they are:  Massachusetts, Connecticut, New York, New Jersey, Virginia, Maryland, North Carolina, Georgia, Florida, Texas, Oklahoma, Illinois, Ohio, Colorado, California, Hawaii, plus hundreds of international locations in Asia and the Middle East
Why you need them: Given the way the appetite for the twice-fried Korean take on fried chicken has grown since Bonchon debuted in South Korea in 2002, it's quite possible they'll be in all 50 states by the time this publishes. Their expansion has been rapid as an ever-growing legion of fans gets addicted to their shatteringly crisp wings and drumsticks.
What to get: An eight-piece wing split half and half (so you get a taste of both the soy garlic and the gochugaru-backed spicy), plus a side of kimchi coleslaw.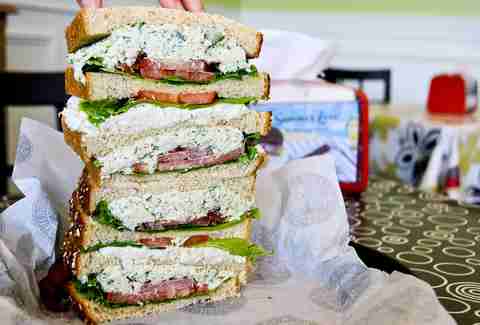 Chicken Salad Chick
Where they are: Alabama, Georgia, Florida, Louisiana, Mississippi, North Carolina, South Carolina, Tennessee, Texas
Why you need them: Hey, chicken fans can't subsist on fried chicken alone, right? Don't answer that. Stacy Brown's obsessive quest for the perfect chicken salad led her to the realization that the ideal chicken salad means a little something different to everyone, which in turn led to the creation of a wide-ranging lineup of recipes and a bustling business run from her Alabama kitchen. When the health department informed her that said business wasn't "legal," she went legit, and since 2008 the chain has grown to more than 75 locations all over the South.
What to get: While they have options for all tastes, the Fancy Nancy (scoop or sandwich) with grapes, pecans, and Fuji apples is definitely a favorite. Tack on a side of three-cheese mac, and you can almost unto whatever nutritional virtue you attained by eschewing fried chicken. In other non-chicken news: they do a killer pimento cheese BLT.
Frenchy's
Where they are: In and around Houston
Why you need them: What, does the opportunity to experience the chicken favored by none other than Beyoncé herself mean NOTHING to you? Frenchy's has been a Houston favorite since New Orleans native Percy "Frenchy" Creuzot opened his first restaurant in 1969, initially focusing on po-boys before adding fried chicken to the repertoire, which proved to be a prudent decision, though you'll still find a strong selection of other creole favorites populating the menu alongside the signature chicken. The original Third Ward location -- open until 3am -- remains a particular favorite.
What to get: Beyoncé enjoys her fried chicken with the andouille-studded red beans and rice, fries, greens, cornbread, and lemon pound cake. Do with that information what you will.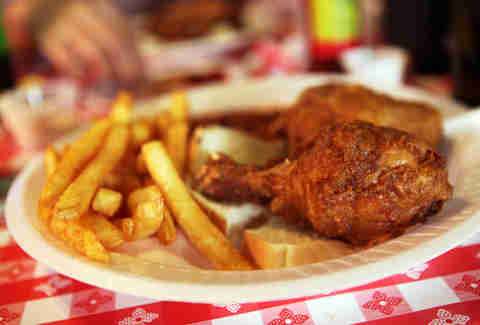 Gus's World Famous
Where they are: Multiple Tennessee locations, as well as California, Texas, Georgia, Michigan, Maryland, Missouri, Illinois, Arkansas, Kansas, and Mississippi
Why you need them: Anyone who's seen Elf knows that restaurant claims of worldwide notability ought to be taken with a dose of healthy skepticism, but Tennessee-born Gus's lives up to its boastful moniker, as their robust out-of-state in recent years would indicate. Expect that fame to continue expanding, one spicy, juicy thigh at a time.
What to get: A three-piece meal with beans and coleslaw, fried pickles, and coconut pie.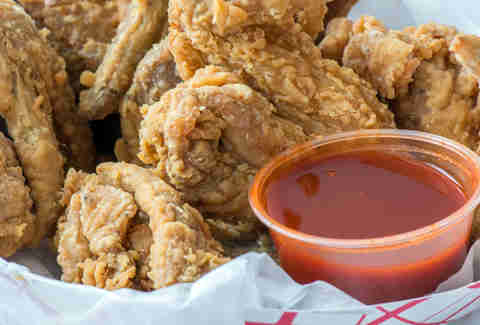 Harold's Chicken Shack
Where they are: Primarily Chicago, with a handful of locations in Indiana, Iowa, and one in Georgia
Why you need them: If you've spent any time on Chicago's South Side, you already KNOW why you need them, but for the uninitiated, Harold's has been giving Chicago its fried chicken fix since Harold Pierce opened his original shack in 1950 at 47th and Greenwood. The chicken itself, fried to order, is addictingly crisp and juicy, but the real X-factor is augmenting said chicken with a healthy helping of mild sauce -- which is a sort of ketchup-barbecue sauce-hot sauce hybrid, and yet also so much more than that.
What to get: Quarter-chicken dark dinner with lemon pepper and extra mild sauce, plus an order of gizzards if you're feeling frisky.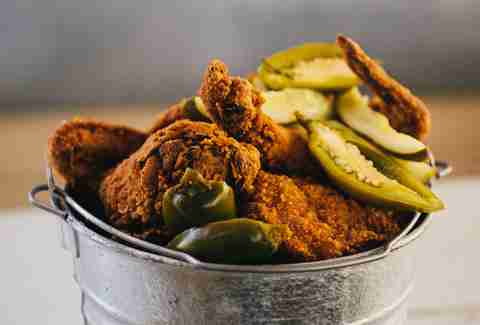 Lucy's
Where they are: Austin
Why you need them: Because more places should offer their fried chicken with a Juicy Lucy pairing (in this case, Juicy Lucy means a frozen watermelon marg, not a cheese-stuffed burger). The handful of Austin outposts of this chicken mini-chain are perpetually buzzing with patrons communing over metal buckets brimming with chicken and plenty of other caloric consumables from a menu of Southern treats -- the chicken & waffles are a particularly big draw come brunch time. And sure, it's not chicken, but it's always fun having some calf fries on offer in the offal department to hang out with the chicken livers and gizzards.
What to get: As many buckets as your party will accommodate, plenty of sides (try the Mexican coke sweet potatoes), and a slice of sweet tea chess pie.
Nando's
Where they are: Maryland, Washington, DC, Illinois, and Virginia
Why you need them: The Portuguese-style peri-peri chicken chain is about as international as it gets, having started in South Africa and expanded to 30 countries, with a strong foothold in London, England's takeout market, where it's now headquartered. The next frontier for the marinated, flame-broiled, impossibly tender chicken is the US's East Coast, where the chain has already been a favorite and an alternative to fried chicken and rotisserie options.
What to get: Score a half a bird for the full experience or opt for a sandwich to maximize the bread's ability to soak up the sauces and juice... but if it's in season, do NOT sleep on the flame-grilled corn on the cob.
PDQ
Where they are: The majority of the South, plus Illinois, Oklahoma, Nevada, and New Jersey
Why you need them: Far too often, the humble nugget and tender is relegated to the kid's menu or, worse, to the pink-slime wasteland of the dollar menu. PDQ brings them front and center, with the meaty, juicy finger foods getting the gourmet treatment alongside a roster of special sauces, among them a Robert Pattinson-slaying creamy garlic and a Buffalo blue, which manages to pack the flavor of a tray of wings without the mess or the choking hazards. They make great sandwiches too, but come on. Grown-up chicken nuggets and tenders should never be passed up, especially when they're this good.
What to get: Nuggets, obviously, but since you're here, might as well get a hand-spun Oreo shake to wash it down.
Slim Chickens
Where they are: Scattered around Arkansas, Oklahoma, Texas, Arizona Ohio, Missouri, Illinois, Kansas, Nebraska, Tennessee, South Dakota, and Louisiana
Why you need them: Usually, restaurants sadistically make you choose between tenders and wings, which is essentially the Sophie's Choice of fast food. But Slim Chickens has managed to cater to fans of both AND antiquated movie references beautifully, with hand-breaded tenders that can be ordered in the same basket as its tender, delicious wings. Oh, and chicken and waffles, the sleeper hit that somehow still eludes most chains.
What to get: The Tenders & Wings basket, obviously, but pair them with some fried pickles and okra, two other choices that are often absent on fast food menus.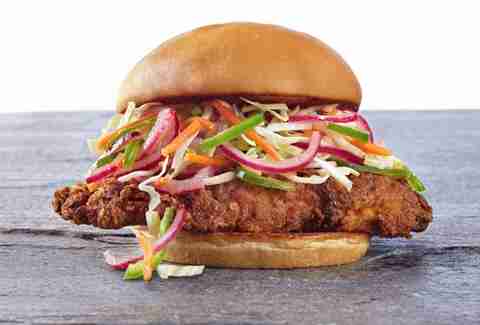 The Organic Coup
Where they are: The San Francisco Bay area
Why you need them: No GMOs! No hormones! No matter if the chicken isn't delicious. Luckily, the Bay Area's hyper-conscious, USDA organic certified answer to Chick-fil-A has the goods to back up its philosophy, with air-chilled, buttermilk-soaked chicken sandwiches and tenders that represent the first certified-organic fast-food chain. As Americans seek healthier and more environmentally conscious fast food, far too many are turning to salads and other compromises. The Coup shows that you can have your fried chicken and have your ethical satisfaction, too. San Francisco's sports franchises have taken notice: they killed it at the Giants' ballpark this season, and the 49ers have partnered with them as well.
What to get: The Coup Signature Sandwich is a tower of fried chicken and spicy slaw, which all but demands to be paired with the joint's tater tots.
Zankou Chicken
Where they are: In and around Los Angeles
Why you need them: Zankou came to Los Angeles via Beirut in the early '80s, and ever since, their beautifully rotisseried, crisp-skinned birds have been a vital part of the LA food landscape, even through a family rift that included a 2003 murder-suicide (yes, really) that led to separate branches of Zankou restaurants. While there's no easy transition from that back into the food, we'll just add that their garlic spread is also an object of local obsession that many have tried (but not succeeded) to replicate.
What to get: A half-chicken meal (don't worry it comes with garlic spread).
Sign up here for our daily Thrillist email and subscribe here for our YouTube channel to get your fix of the best in food/drink/fun.