The 10 Halal Restaurants You Need to Try Right Now
Because halal is so much more than food carts.
For many of us, this past Ramadan was the first time we could share iftar with larger groups of family and friends since the global pandemic began more than two years ago. During this time, halal restaurants took on more significant roles within our community as they subsequently battled the obstacles that the broader food industry had to deal with.
These restaurants stepped up to the challenge: Mom-and-pop shops took on frontline roles to offer us the sustenance we could only gain from great takeout and Zoom company. Ordering that perfectly spiced biryani or tart ghormeh sabzi brought on a new meaning to comfort food. When everything felt so unpredictable, we could still count on our favorite dishes offering us a sense of familiarity and hope.
In celebration of another beautiful month of Ramadan coming to an end and for the service of helping us break our fasts with memorable gatherings, we celebrate the halal food businesses that continue to serve our neighborhoods. After a full day of fasting, we are reminded of many valuable lessons, including being grateful for the last morsel on our plate and for the people who prepare our meals in the back kitchens of every corner of America.
We asked a handful of very hungry Muslims in the food space to introduce us to their favorite halal restaurants. This year, we also collaborated with website Zabihah to apply valuable customer data to showcase highly rated eateries across the country. We're excited to introduce the latest list of halal restaurants you need to try as we collectively celebrate the American- Muslim culinary experience that continues to evolve our national narrative at the dinner table.
Alhamdulillah for great food and even better company, and belated Eid Mubarak to everyone!
Following Islamic dietary laws means halal food avoids all forms of pork (including its gelatin), use of alcohol, and must follow a meat production process known by American Muslims as Zabihah.
Downey, California
"It's not until you venture out of Southern California as a born and bred local that you realize how great you have it at home whenever you're craving homemade tacos at a moment's notice. Mexican food is just not the same in places like New York or even San Francisco. By every measure, Fatimah's Grill could stay in its lane, serving amazing falafels and shawarmas that Lebanese-American Ali Elreda first became known for.
"But behind his Middle Eastern staples are his fusion dishes that bring me back to his spot two or even three times a week for my fix of the best Mexican fusion I've ever had. One bite of the Triple Threat and you'll hear Lebron James reminding you it's 'Tahccoo Tuessday!' Two bites in and I'm dodging my mom's flip-flops because it's obvious I love nothing more than the Hot Cheeto Asada Quesadilla. Sorry, mom.
"Ali's approach to fusion has caught on. He's in the process of opening up four new spots across California. Despite the massive growth, you'll still be visiting family when you grab a bite at Fatimah's. His homemade everything approach not only inspired us to become restaurateurs and showcase our Palestinian roots through food, but to offer a fusion dish of our own that combines the traditional with the modern—the perfect reflection of our identities today."
—Anwar and Amal Jibawi, creators of Anwar's Kitchen
Cleveland, Ohio
"When most people think of Northeastern Ohio, rich cuisine isn't exactly the first thought that comes to mind. Yet, its high concentration of Middle Eastern immigrants makes it a hotbed for excellent mom-and-pop restaurants. Assad's Mediterranean Cuisine is one of these culinary gems. The bakery's freshly made sandwiches had me hooked from the first bite. This has been my go-to halal spot whenever I visit the Cleveland community.
"Established in 1989 by Ismail Assad, this Palestinian family business serves its loyal customers with a modest sandwich corner that is always surrounded by the fragrant aromas of Syrian-style pizzas, falafels, and chicken and beef shawarmas. Rolled up in thin pita bread, these sandwiches are made to order with various toppings. Grab one to bite into immediately and another to take for the road—you'll be craving another just as soon as you finish your first!"
—Yvonne Maffei, cookbook author and food writer at My Halal Kitchen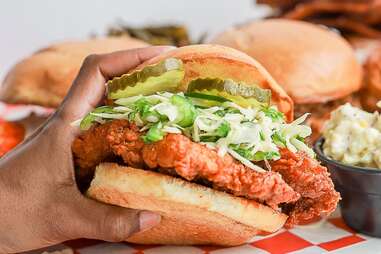 Washington, DC
"Roaming Rooster was founded by Michael Habtemariam, Iniyam Habtemariam, and Hareg Mesfin, after dreams of owning their own restaurant since they immigrated from Ethiopia years prior. Since opening up shop in 2015, Roaming Rooster has unofficially held the title as the halal hot chicken sandwich pioneer years before the world went crazy for spicy chicken sandwiches.
"With offerings like the OG Nashville, The Buffalo, and Honey Butter, DC's go-to fried chicken spot has become the go-to fried chicken spot for Muslims and non-Muslims alike, who visit the capitol from around the U.S. With an accurate barometer of mild, medium, hot, and extra hot spicy levels to accommodate any fan, you'll always find this family-owned space busy until closing.
"I'll never forget my first experience. After hearing other students rave about this mysterious food truck, I ventured from my college campus in the suburbs of Virginia to munch on my first Honey Butter. Unwrapping the checkered paper wrap to be hit with the fresh smell of butter sets you up for nothing less than pure bliss. I frequently get messages from Not Your Average Halal followers who just experienced their first trip to Roaming Rooster—it's one to remember!"
—Sarrah Abbasi, creator of Not Your Average Halal
Charleston, South Carolina
"When my son and I began our road trip from the West Coast to the East Coast at the start of the pandemic, we didn't expect to drive through more than 45 states—and eat our way across the country—twice. When you see as much as you do during a road trip, many lines blur, but we never forgot our meal at Malika's Canteen. Maryam Ghaznavi and Raheel Gauba have created something special with their menu of truly authentic Pakistani street dishes.
"First, let's talk about the decor. Sure, that shouldn't be a factor in judging the quality and taste of any dish, but it helps create a memorable experience. And Malika gets it—it's the whole experience that matters. From the colors and textures to the fragrance inside the walls of its Charleston location.
"As for the food, it's hard to choose which dish is the best. Is it shameful to go for the always popular chicken tikka? Not if it's as incredible as the one offered at Malika. And the mango lassi! Something about it took me back to the streets of Islamabad. That said, every dish we tried left us speechless. My son ordered the Cholay Biryani and we both shared another dish just to see if Malika's could go 'undefeated.' With the Lahori Cholay Plate, Malika easily went 3-0 in our book. If you come to Charleston for nothing else, make sure you stop by Malika's Canteen. It's worth driving a few thousand miles for."
—Ali and Zaaim Malik, HalalFest executive team
UR Mediterranean Restaurant
Beaverton, Oregon
"Don't be bothered by UR Mediterranean Restaurant's absence of social media—forget filters and background music and let the food do the talking. While it's the elbow-sized lamb shank that must bring you in, you'll be surprised with generously large sides of the best baba ganoush and hummus you'll ever have. Yup, I went there. The first time I dipped a chunk of their homemade bread into their hummus, I bit my cheek out of excitement. Life was never the same.
"If you somehow manage to finish the lamb shank and all of the sides it comes with (it's enough to feed two adults comfortably), try any of the chicken sandwiches, falafel sandwiches, or salads or—you get the point.
"Founded and managed by a multigenerational Iraqi family, UR Mediterranean Restaurant is the type of food business that is solely focused on, dare I say, the food. In a marketing-obsessed world, it's beautifully refreshing. I can't say much about how photogenic their space is, but do I plan my flights back to Portland to arrive just before their kitchen closes? I'd be crazy not to."
—Mohammad Modarres, food researcher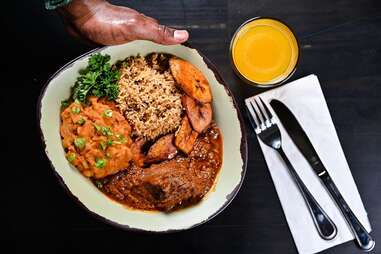 Detroit, Michigan
"Whenever I have friends visit me in Michigan, I make sure to take them to Baobab Fare not only to experience Burundi cooking at its finest, but because I selfishly want to go back.
"During your first visit make sure to grab the signature dish, which also happens to be my favorite, the nyumbani with stewed spinach and peanuts. It's tender beef that's slowly simmered in tomatoes. You get fried plantains on the side plus spiced rice pilau or coconut rice. Don't forget the passion fruit drink, better known as Ji.
"Now that you've ordered for yourself, remind your guests that we're going family-style. Add the mbuzi goat shank with stewed yellow beans and the Intore eggplant stew. Finish it off with Tamu, a sweet dessert pudding. Your guests will forever count on you for the best food recommendations!"
—Amanda Saab, baker and Master Chef alum
Orlando, Florida
"As cheesy as it sounds, few experiences are more American than a gooey cheeseburger, well-salted fries, and a coke. Perhaps the only thing more American maybe when it's made by an immigrant Muslim family business that puts their own twist on the meal. While I don't eat burgers and fries frequently, I tend to crave them whenever I'm traveling. As luck would have it, Orlando has become a pit stop for business trips, and you'll never hear me complaining.
"Few places have gained more rave from Zabihah.com reviewers than O'Town Burgers N Wings in Florida. Managed by Marco (who has more reviews about him than any restaurant manager I know), O's has gained a cult following for its cleanliness, simplicity, and flavor. As hot bod dad summer is right around the corner, my next guilt-free order will consist of the Mexi Burger combo and an order of wings."
—Shahed Amanullah, founder of Zabihah
Houston, Texas
"Houston has become—without exaggeration—the halal capital of America. We are spoiled over here and that's totally fine with us. Sandwiched between Dallas and Houston, we have many daily options to enjoy. At the top of the list for everyone we know is always Aga's.
"The place has become an institution for its balance of service, affordability, and incredible food. Its signature dish, the grilled goat chops, is so popular you can buy an 'I Got Goat Chops at Aga's' T-shirt. Seasoned to perfection, the five-piece entrée melts in your mouth, leaving your desi aunties and uncles (or Chad from high school) with big smiles. Be sure to add the Goat Peshawari Karahi when you family-style. Don't forget the grilled garlic naan and mango shake. Now wear that T-Shirt proudly!
"After much demand, Aga's now offers the chops to-go for all the out-of-towners who drive all the way from Dallas to get their share. Come hungry!"
—Faraz and Ambreen Ahmed, founders of HalalPalate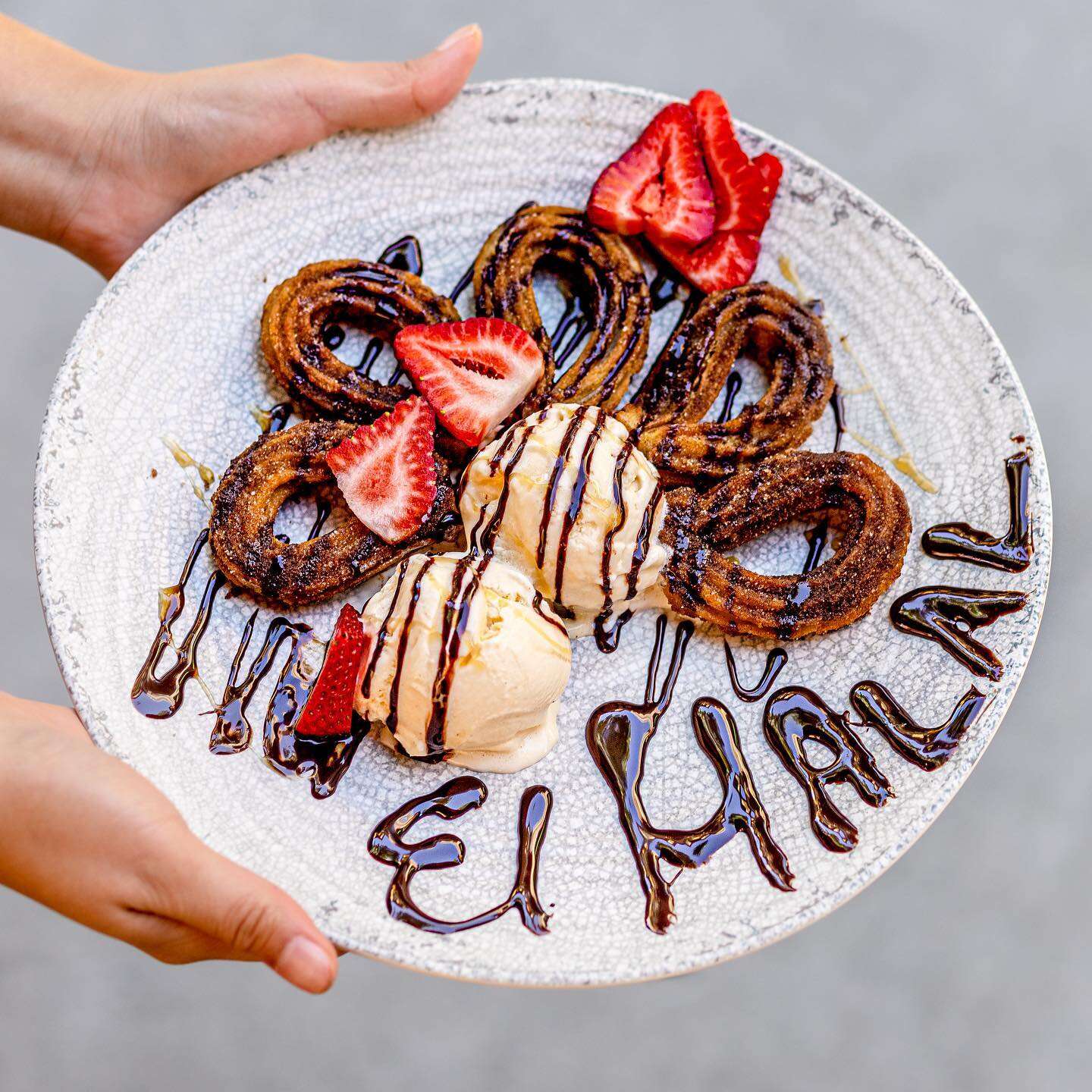 San Jose, California
"For many, the pandemic became a moment of personal transformation. For half-Filipino, half-Palestinian chef Hisham Abdelfattah, COVID turned into a moment to bridge his identities, work with the people he loves, and serve up the types of dishes that he believes brings communities together.
"Hisham started a food truck during the height of the pandemic in 2020. His friends, who were also trying to make sense of what COVID's impact would be on the food industry, became his first colleagues. Fast forward today and he is a proud owner of his first brick and mortar restaurant, conveniently located in a former burger spot where he used to work as a cook.
"El Halal Amigos has incredible food and service, but head over in the middle of the week when Hisham hosts Birria Wednesdays. I have it saved on my phone calendar. The Birria Tacos deserve all the hype they get. Plus, the beef stew-style commissary sauce that comes with it is far too similar to the Pakistani dish Niharri—both are cooked in beef fat with simple spices. Many of their meals are cooked for hours overnight and flat grilled outside. It's mouthwatering. While my go-to is the brisket burrito, there is nothing I wouldn't recommend. Before you leave, cool off from the Nar (fire) sauce with their creamy horchata."
—Irfan Rydhan, co-host of The Artistic Foodies podcast
Knoxville, Tennessee
"Tucked away in Knoxville, Tennessee is Yassin and his famous falafel house. While he will forever be known for making kindness and compassion go viral in his pursuit to use food as a tool for bridge-building, no restaurant can stick around this climate without amazing food alongside the community he has built."
"My go-to is the grilled chicken shawarma with pickles, french fries, and garlic white sauce wrapped inside a fresh pita. To be clear, French fries inside a pita are always a good idea. The gyro comes in a close second thanks to their homemade tzatziki sauce and beautifully baked bread. Grab the vegan baklava on your way out and don't forget to say shukran
to Yassin before you go."
—Manal Kahi, founder of Eat Offbeat