Refreshing Hard Teas You Should Drink This Summer
Your afternoon tea just got boozier.
Facebook/NotYourFathers
Facebook/NotYourFathers
Iced tea is the drink of summer. It's refreshing, it contains health benefits, and it has enough caffeine -- depending on the type of tea -- to function as an afternoon pick-me-up. Overall, iced tea is a winning drink. How can such a sweet nectar be improved? With the addition of booze, of course.
The hard tea market is currently booming. There are green teas spiked with liquor that are kissed with the flavors of passionfruit. There are subtly alcoholic white teas fragrant with the summery taste of peaches. There are classic black teas, with lemon, that can rival any beer. In fact, there are so many great hard teas out right now, it can be difficult to suss out the stars from the duds.
So here are our findings: some of the best hard iced teas you'd be a fool not to drink this summer. They won us over, and we'll bet our last lemon wedge they'll win you over, too.
Loverboy is a craft canned cocktail company that started with hard iced teas. The tea comes in three flavors -- hibiscus pomegranate, white tea peach, and black tea lemon -- and each clocks in at a mere 4.2% ABV. They're effervescent, refreshing, and made with organic tea that you can really taste. Additionally, each tea is sweetened with monk fruit, so there's zero sugar per can! Personally, we love the white tea peach, which contains a floral hint of lavender. It's the perfect drink to sip on during a socially-distanced picnic.
Continuing in the tradition of Best Damn Root Beer, Best Damn Hard Tea takes a drink you know and love, infuses it with alcohol, and threatens you with a very good time. Best Damn actually has three varietals of boozy tea drinks in their roster: peach tea, sweet tea, and regular. But why choose? All three will come in handy when you want a glass full of alcohol, but you don't want people to know you have a class full of alcohol. Add a lemon (or a peach!), put on some Allman Brothers, and embrace the summertime drinking nirvana you've just stumbled into.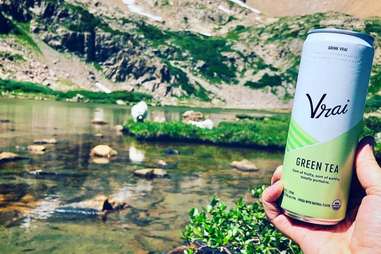 Green tea is supposed to be a drink that overfloweth with health benefits. And, since alcohol is (well... maybe) supposed to have health benefits in itself, an alcoholic green tea must be a panacea sent from the gods to cure all our worldly ailments, right? Well, if not, this stylishly packaged Vrai green tea is actually delicious, so it doesn't really matter. The surprisingly complex-tasting Vrai touts itself "sort of earthy, sort of fruity, totally portable," and for once, marketing copy actually nails it. Not only is this hard green tea one of the best hard teas on the market, it's one of the better "cocktails-in-a-can" you can buy, period.
Switching gears a little bit, Noveltea positions itself more as a spirit than a beer substitute -- and though the name may suggest a sense of temporary importance, the drink itself is worthy enough to stick around for good (in my opinion, at least). The Great Britain-based beverage comes in both a "Taste of Tangier" flavor (basically, a Moroccan green mint tea mixed with rum) and "Earl Grey" (classic Earl Grey tea mixed with gin) varieties; and don't worry about embracing your inner snobby British mixologist -- this stuff can be served straight-up. Why end your afternoon tea time session with a quick drink, when your entire afternoon tea session can be a quick drink?
LQD is all about summer. The boozy brand has an array of spiked lemonades, limeades, and -- of course -- hard green teas. As of now, the green teas come in either a peach or passionfruit flavor and ring in at 5.2% ABV. LQD's teas are sweet, so don't expect the electric tartness of a typical, fresh passionfruit or the grassiness of a strongly brewed green tea. They are, however, incredibly easy to drink, so be sure to load up your cooler for the next outdoor barbecue you're attending.
Out of all the brands on this list, Twisted Tea is almost certainly the most recognizable. After all, it's the original. The Boston Beer Company has been selling cans and bottles of Twisted Tea since the year 2000, well before this veritable flood of tea-based boozes emerged as (worthy) competitors. And the old guard still holds up. Nowadays, Twisted Tea comes in flavors as varied as blackberry, mango, and huckleberry -- but of course, the old standby original is the one you'll want to sample. This is the tea that started it all. The elder statesman. The older brother. And hey -- it can definitely still hang. Unlike your actual older brother...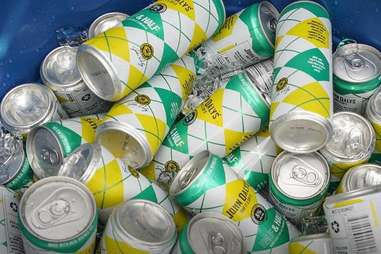 It's hard to say anything about professional golfer John Daly that isn't instantly summed up in this video. Naturally, Daly creating his own alcoholic Arnold Palmer makes perfect sense... as Daly is basically an alcoholic Arnold Palmer himself. Available in "regular with lemon" and "half and half" (half lemonade, half iced tea... all booze, obviously), with expertly branded packaging featuring Goofy Golfer Plaid, the instructions to consume Daly's first foray into alcohol are built right into the name: you grip it, then you sip it. It's like the liquid embodiment of John Daly's entire career, in the comfort of your own palm.
Sign up here for our daily Thrillist email, get Eatmail for more food coverage, and subscribe here for our YouTube channel to get your fix of the best in food/drink/fun.
Wil Fulton is a staff writer at Thrillist and a passionate doer of other stuff. For more info, you'll have to do a free background check.